This is my first published photo with my name on it. SKIING mag. And my gateway air into the foray of BIG cliffs. Located Hell Gate area Little Cottonwood backcountry.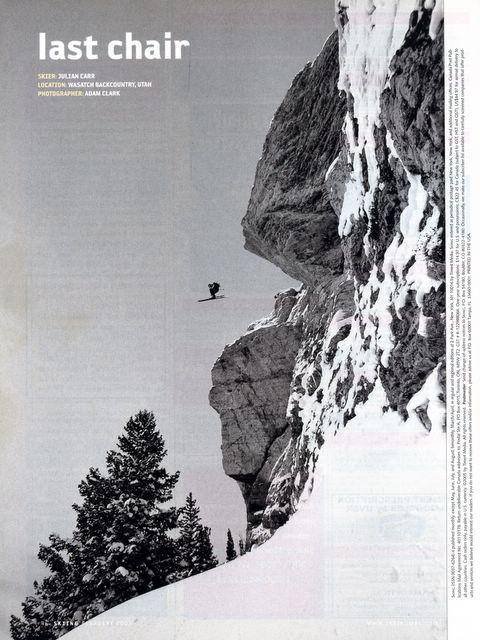 Up until this cliff, the largest cliff I had jumped was around 50 feet. This one was around 80 feet. I was absolutely stuck at 50 feet for a few years. I just couldn't wrap my head around anything bigger, it scared the shit out of me is the bottom line to think of airing anything bigger. I'd air 50 footers all day, but anything bigger? NOPE.
That is until Teton Gravity Research High Life came out, Jamie Pierre's segment was unreal. The dude shredded everything in sight and sent every air in the Wasatch, none of his airs were under 50 feet! haha. I studied one air he did in particular that was over 100 feet. What I realized was all it simply took was to keep your composure together in the air for another half a second to go from 50 feet to 100 feet. But to apply this..
The next season I was lucky enough to stumble upon this cliff. I sauntered up to the take off and had a look. Oh boy. Looked good to go. But the landing was pretty far down there. Way further than anything I'd jumped before. My instant reaction was to get off the cliff, keep moving on, "next time" or "next cliff".. maybe I'll feel better about doing it next time.. At that moment I knew there are no such things as "next time". It was right then and there, if I was going to progress my skiing, I had to stare down the barrel and pony up.
I gained a sharper focus, directed Rob Holmes (fitting isn't it?) who was with me to probe the landing, for I knew I could trust his judgement (anyone who doesn't know Rob's history in pioneering big air, find an image of his famous Alta cliff), he probed, it was golden. My take off was golden. My focus was golden. I shit you not, at that exact moment Jamie Pierre pulls up. What in the?!... Of all places, seriously it was pretty rad. First time I had met him was right there right then and there. He took a look and saw that I had done the scoping, the take off was ready and asked if I was about to hit it, I said "yes right now". No conversation was had, he was super respectful and completely stepped aside and watched me do my thing. I gave the "ten seconds!". I took a few deep breathes, remained calm and focused, I had instilled the composure into myself I knew I needed to harness and continue as I became airborne until I hit the snow.
I got off the cliff and took a tight body and found my center of gravity, and held it for days!! That extra half a second was rowdy! I was about to hit the ground and became ultra relaxesd and took a deep exhale. ..I never even felt the ground.. like a never ending pile of leaves. I popped up and skied away laughing, at that moment my life changed. I was licking my chops. At that moment I knew there was no height limitations on cliffs, it was all conditions dependent and mental dependent. The following year I proceeded to air well over twenty 100-footers including a few high-profile airs, one being a 140-footer during the US Freeskiing Nationals at Snowbird, which won me the coveted SICKBIRD award. Another in Engelberg Switzerland, 210 foot cliff which won me Photo of the Year from Powder Magazine, both of these airs are still world records for biggest cliffs with invert during competition and overall. Pretty sweet. My love of this aspect of my life isn't diminished in the slightest, as I hit the 2nd biggest air of my life just two months ago in Whistler filming with Sherpas Cinema, 185 footer as it was laser measured.
For anyone stuck in the 50-foot range, I hope you find this read an instruction manual to up your game! Cheers. I had actually broke my femur a few years earlier, my first year as a sponsored skier, I took it as a reminder that what I was doing was very very very dangerous. I promised myself to lose my loose ways and be 100% sure of anything going forward. Funny thing is I concentrated my way through hitting big airs, I KNEW I would be ok. And that was my promise to myself. So my broken femur actually forced this progression upon me. I would've never had the mental tenacity to stare something like this down without that accident.
PC: Adam Clark