The Motown Throwdown is back for the 4th year. This year Pathfinder of West Virginia has enlisted the help of Oakley, Skullcandy, and Red Bull to make this year's event one to remember. With a 30 foot stage, over 100 lights, sound rigged for the entire street, 10,000lbs of snow, 40 competitors, and tons of free gear and discounts at Pathfinder, this years event will blow the doors off anything previously imagined. With musical guests DJ Sean Nice, and the one and only MIX MASTER MIKE performing Live on High Street from 6:00pm-9:00pm Saturday, October 30th This is going to be huge! Lets Make This The Biggest RailJam in the US! Pro/Ams from New England, NC, and all over the country are competing to win two $1,000 Cash Prizes and loads of free gear. This comp is invite only, but spots are still available. For entry please send me an email with a rider resume and edit to motownthrowdown@gmail.com. I hope to see you all there. Again 10,000lbs of Snow, MIX MASTER MIKE, High Street, October 30th, 6-9pm. Don't Miss It!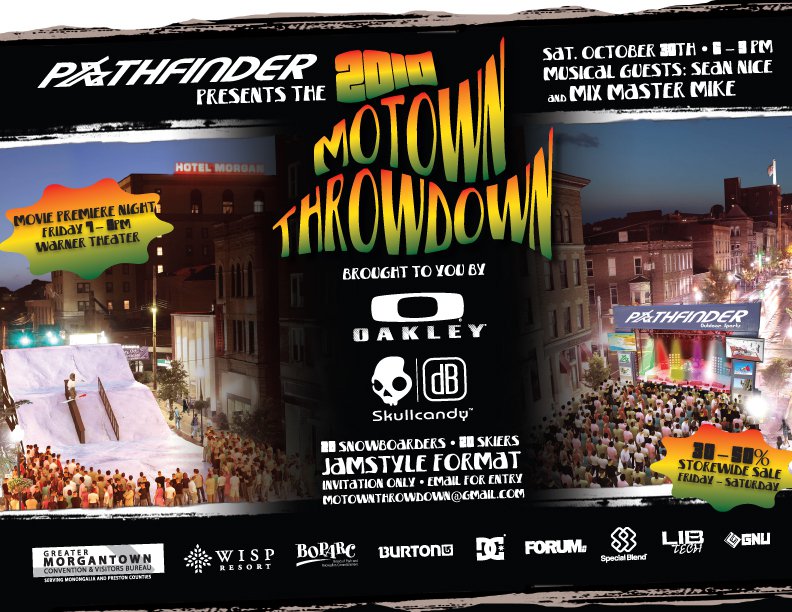 Location: High Street, Morgantown, WV, USA
Date/Time: Saturday October 30th, 2010 Jam will run 6-9PM but it's an all day event with deals in shop 30-50% off.
20 spots for skiers
20 spots for snowboarders
Entertainment by DJ Sean Nice and Mix Master Mike
Setup, as far as I know, is a stair-set with down rail on one side and down box on the other
Cash prizes and usually a bunch of product
Sponsors: Oakley, Skullcandy, Red Bull, Greater Morgantown Convention and Visitors Bureau, Wisp Resort, BoParc, Burton Snowboards, DC Snowboarding, Forum Snowboards, Special Blend Outerwear, Lib Tech, and Gnu Snowboards