The first of the Strictly Trilogy, the all-street MOST GUTTER, just dropped marking the beginning of the highly anticipated rollout of films from the prodigious crew. Strictly have already smashed it this year and the films have only just begun dropping. Riders Calvin Barrett and Parker Norvell released signature Icelantic X Strictly pro models - as well as Sam Zahner with J Skis - and the crew has hosted an array of highly successful premieres in the run-up to the season, getting the homies stoked.
Strictly left the ranks of the 'up-and-comers' a while back but this winter seems like a pretty special one. There are the aforementioned pro models; then there are three films that come together to collectively showcase one of the most talented groups of skiers out there. The three films are very different; Most Gutter (street), Wildcard (backcountry) and August Light (Have A Nice Day) which is just good skiing and good vibes.
Three stellar films from Strictly this year
_
MOST GUTTER harks back to Banged Up! as an all-street offering from Strictly. Featuring Calvin Barrett, Sam Zahner, Pete Koukov, Seamus Flanagan, and Carson Kerr this one is full of hammers and a nice array of styles. It's great to see the all-out send of Zahner paired with the creativity of Koukov, for instance. All of the riders are distinctive in their styles and that makes Most Gutter feel fresh throughout.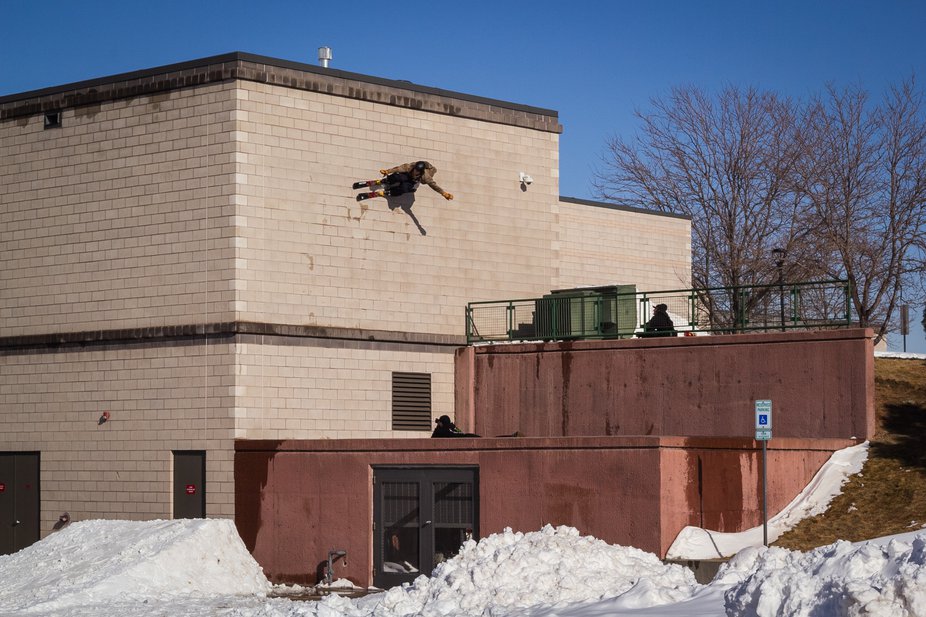 We also get our second cameo from legend Will Berman this year. You love to see it!
Another driver of that fresh feeling is the fact that Calvin, Sam, and Pete took the reins from Gavin Rudy and Andrew Mildenberger on the creative side, while still borrowing some of their expertise. They produced the film themselves, meaning we get a different feel in this Strictly piece than the others.
Community support and crowdfunding got this one going big time as well. With the GoFundMe providing the wheels for the trip - another great example of the community helping to drive sick content by putting money behind projects.
The film itself hits all the notes you'd expect from this lot. Sam Zahner is still absolutely mental but has now decided to protect those loose screws with a helmet which is dope to see. The whole crew goes hard and the production, while maybe not as high level as Wildcard, is still super well done and entertaining; we watch skiing to be entertained after all.
_
And this is just the first of three offerings from Strictly. The second installment of the Strictly triple threat is Wildcard - dropping November 30th. Ben Smith, Parker Norvell, Levi Ascher each bring along a guest for the all powder chapter of this story. Jonah Elston, Thayne Rich, and Lucas Wachs packed their bags and primed their sleds to join the crew in an all-out destruction of the backcountry. I said it in my Slim To None review and I'm gonna say it again here, God damn Benny! For a second time this year, Ben has shone in the backcountry against all-star casts, naturally also crushing it.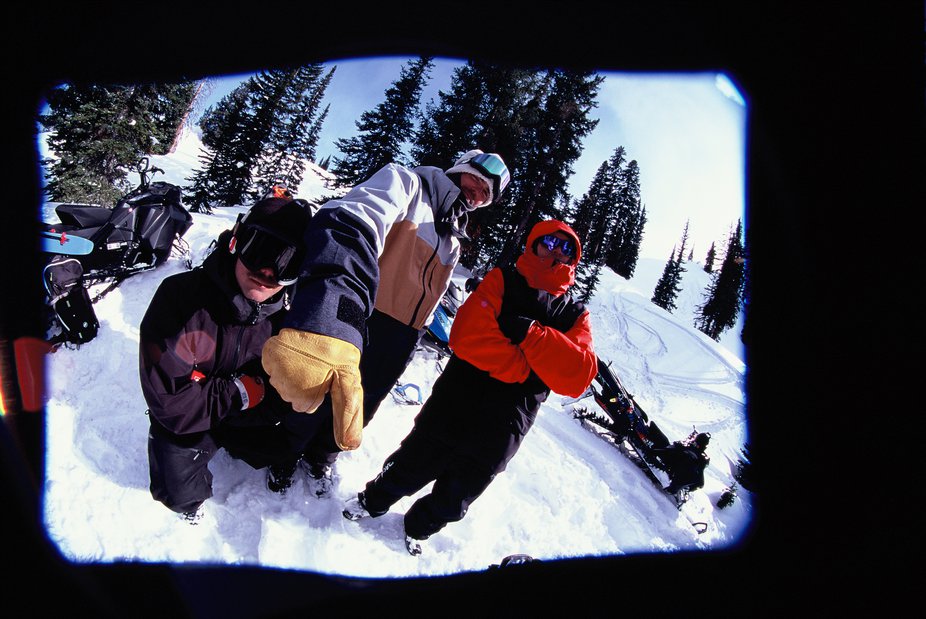 Out shooting for Wildcard
I loved the energy in Wildcard, the music choices and production were on point; all the trips looked like so much fun and the skiing speaks for itself. It all comes together excellently
_
The final Strictly movie to drop will be August Light (Have A Nice Day) and it's more of a fun-filled and entertainment heavy type of ski movie. It feels heavily influenced by Ethan Swadburg when it comes to the sense of humor of the piece. No bad thing in my opinion.
August Light (Have A Nice Day) - due for release on the 7th of December - feels like a Strictly and Friends showcase. It's an instant crew classic and shows skiing for what it really is, so much goddamn fun! There are so many awesome guest appearances; Shout out Tall T Dan for 'only-tricking' a log and Jonah Williams returning to film with a vengeance. His is skiing so clean it's gonna have to be watched again and again to be truly understood. Jonah and Ethan riding park at Woodward, Copper is just phenomenal. It's hard to imagine a better pairing of classically stylish riders. They clearly fed off each other a lot during filming and it shows. We are blessed with this one.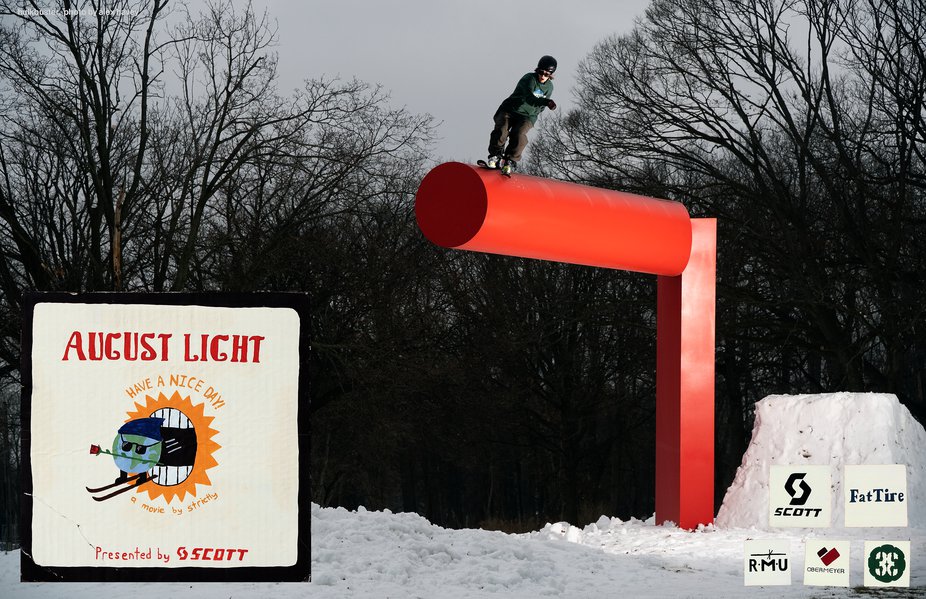 Ethan doing his thing
_
On first viewing, I was a bit skeptical of the decision to go with three separate films as opposed to one absolute heater. Spreading the shots across multiple projects has a tendency to dilute the content. And this is somewhat the case here. However, repeated viewings and taking a step back from a year I've been more oversaturated with banger content than ever - because what a year for ski films it has been HOLY SH!T - it all fits together more appropriately than it did at first blush.
Sure, Strictly could have released one project and every shot would have been a banger. That would have been sick too. But the three films compliment each other so nicely that the trilogy turns out to be a welcome change of pace. It's super dope to have the creativity and vision dispersed through what is a huge and talented crew. They've also managed to capture three different kinds of stoke in these films. One can watch Wildcard for inspiration when it's dumping, MOST GUTTER to get super hyped, and August Light for some feel-good vibes after a great day on snow.
I've already stated this is a landmark year for Strictly and I think choosing to go down the triple film offering will cement that more clearly than one project. They've showcased their unique crew of riders pretty damn successfully while the filmers, and editors have done things their own way too. The whole collective, under the umbrella of Strictly Create, stands out from the crowd far more than a single film would have. When you look at these films together it paints a clear picture of how prolific and influential these guys really are. They all rock different styles yet they feel cohesive all the same.