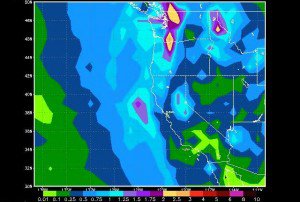 Alpine picked up an incredible 119 inches (10 ft.) in total over the past week, with the final 2 feet falling Friday into Saturday. That is not the end of the snow as we have another storm headed our way starting on Thursday.
The sun came back out on Sunday giving a much needed break from the 6 days straight of snowfall. Clouds have returned today as another storm moves down off the coast of CA just missing us. We could see a few snow showers today and tonight as the storm passes but not expecting anything more than a dusting of snow.
Then another cold and slowing moving low will move down the coast and rotate in moisture off of the Pacific starting sometime on Thursday. This should continue into Saturday as the low sits almost stationary off the Pacific NW coast. The models are back and forth on whether or not the low can pull in moisture from a storm coming under the ridge which is sitting around 150w in the North Pacific. Without that happening we are looking at 20:1 snow ratios and 1-2 inches of liquid, so that should be around 2-3 feet of snow. Depending on whether the low can tap that additional moisture and how much, we could be talking more snow.
One thing that tends to happen with storms in this kind of pattern is that the snow amounts go up as the storm gets closer like this past storm. Areas of convection wrap into the coast that are not picked up by the models this far out. We have to keep an eye on this storm over the next couple of days.
The trend for next week over the past several days was that the ridge stays around 150w in the North Pacific and more lows come down the coast bringing more snow starting as early as next Monday. This morning the last 2 runs of the GFS model have a different scenario. It suggests that the ridge moves up over Alaska with a large low moving into the Gulf of Alaska forming sort of a Rex Block. This would delay the onset of the snow next week till later in the week as the pattern develops.
If this pattern were to develop it would mean storms would be rotated into the West Coast by the low but they would be pulling in moisture from across the Pacific. This is the type of pattern that brings in warmer storms with more liquid, although still cold enough to snow on the mountains. A similar pattern brought us the big snows in December.Either way the pattern looks to remain active over the next few weeks with a strong -PNA and no blocking downstream to jam up the pattern.