This past weekend saw the much-anticipated, and (at least for
me) surprising opening of Quebec's largest resort: Mont Tremblant. Usually those
of us residing in the Quebec nation have been skiing for a couple of weeks by
this time of year, but not this season. I won't go into the agonizing play-by-play
of how bad the East Coast weather has been for skiing so far because the people
that live here are well aware, and for those that don't the photos will speak
for themselves.
So here's how it went down: "cold" temps at the start
of last week allowed Tremblant to blow snow at the very top of the resort and
by the time Friday rolled around 4 trails were ready for die-hards and confused
American tourists visiting for Thanksgiving. It wasn't going to be pretty but
at least it was skiing. Calls were made and Doug and I headed up on Friday to
shred le gnar.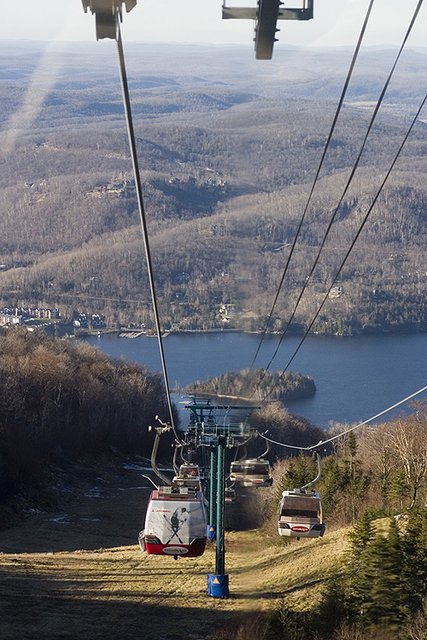 This is the upload to the top of the mountain from the base of the South Side.
As you can see downloading at the end of the day isn't much of a choice.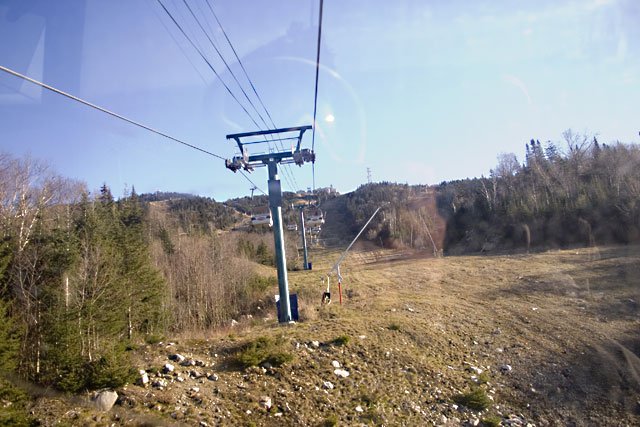 We held out hope that conditions would improve as we moved up the mountain,
but not for long.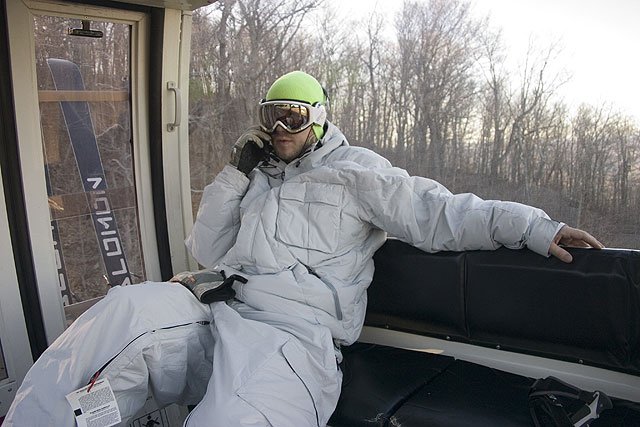 Doug takin' care of some bidness during our upload. NoPoles was busy slaving
away trying to get our server issues sorted out, and here we are skiing. Sorry
Paul! We love you!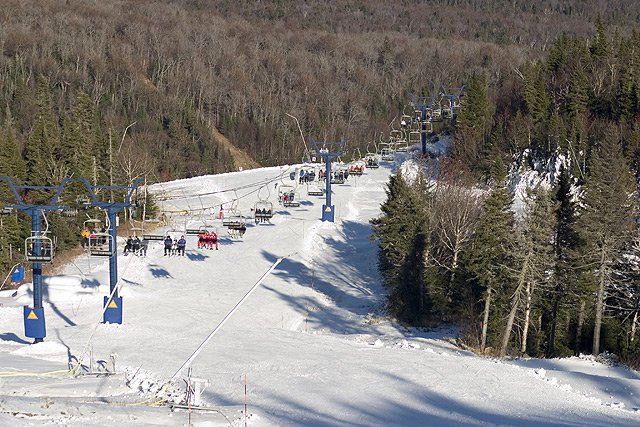 And here's what we all came to enjoy. Props to Tremblant for blowing enough
snow that I didn't see any rocks or sketchy debris on the main runs.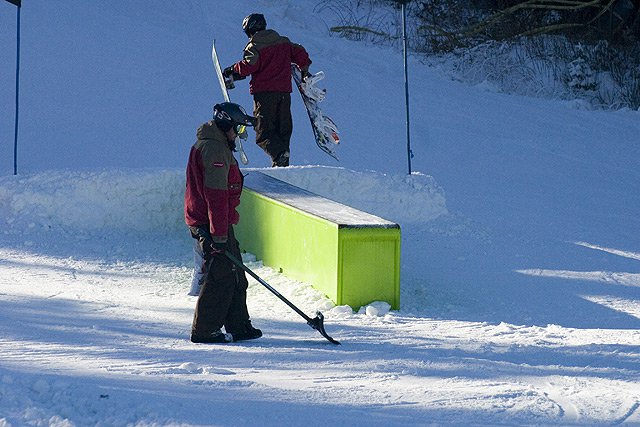 To top off the goodness, 4 boxes were installed on the main park run so that
everyone could get their feet back under them after a long off season. This
feature lacked what we in english like to refer to as a "landing",
but hey I'm not going to complain given the circumstances.
A healthy dose of NS members showed up too which was nice. This guy gave me
the "Newschoolers!" shout from the chairlift, combined with the finger
pose for the camera. Sorry if I wasn't able to recognize who you were, for some
reason I decided to wear the low light lens in my goggles for the sunniest day
ever. My retinas are still recovering.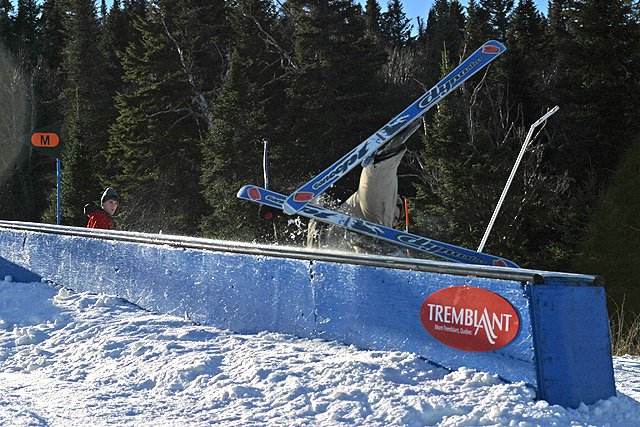 Of course not everyone was in their best form. First days rule!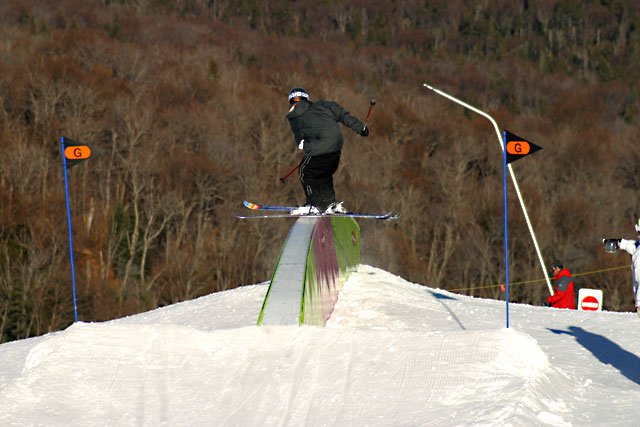 As you may be able to see on the side of the shot, Doug's right hand was on
follow cam duty. Unfortunately due to some unforseen errors the footage didn't
turn out so it's all up to my photos to tell the story. Sorry guys.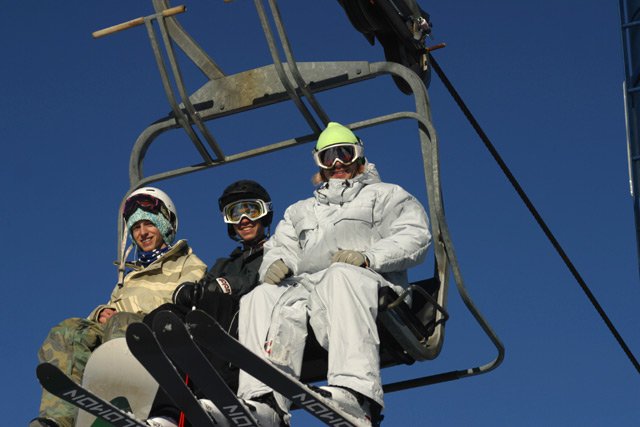 Doug and the crew are probably stoked on the follow-cam run they just busted.
Sadly we'll never know if they were just faking it for the photo.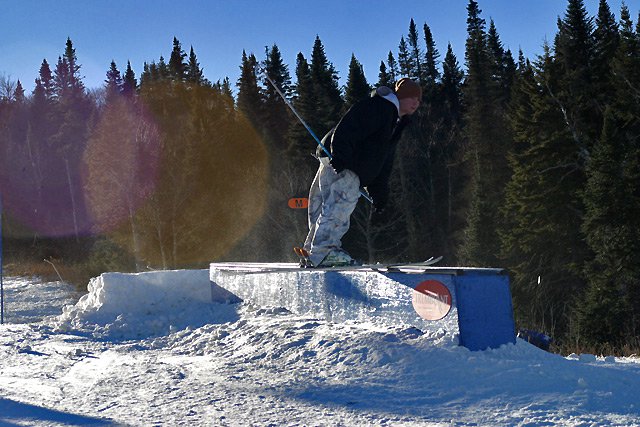 It's never too early to starting working on that nose...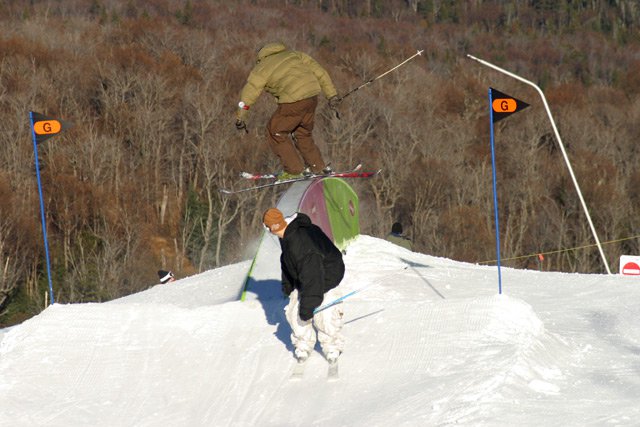 Or those trains that seem to be so popular with the kids these days.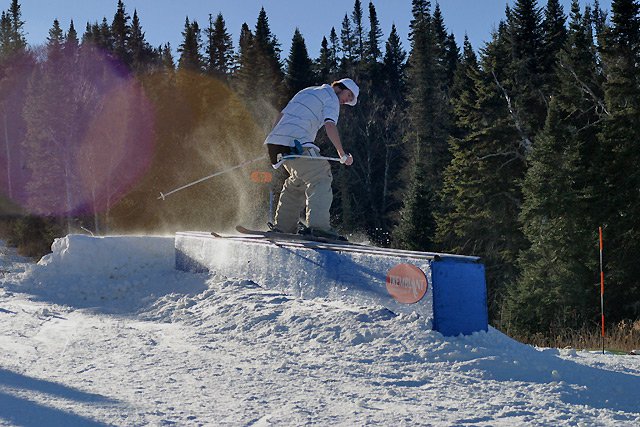 And this is something you don't see too often until April in Tremblant: exposed
skin!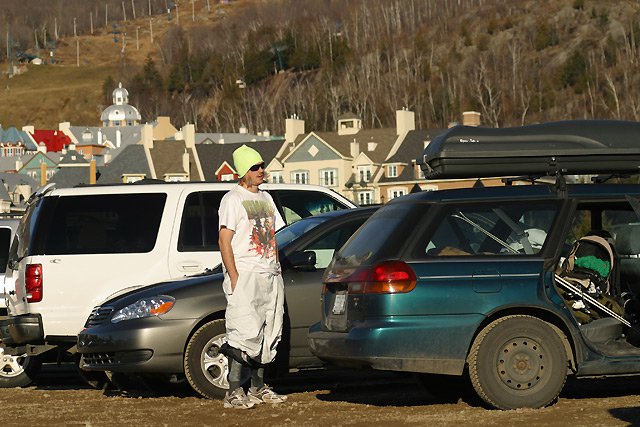 Well that about
sums up our super successful first weekend of skiing at Tremblant. Everyone
got their first or second taste of snow for the year and no injuries were reported
(minus some mild entertainment involving a first time skier from Florida and
the finer details of unloading the chairlift - it was youtube material for sure).
Colder temps
are in the forecast for this weekend, so we've all got our fingers crossed that
the East Coast winter will start for real some time soon. Thanks to Julie and
Virginie at Tremblant for the tickets. Hope to see everyone up there this winter!
-cko