Words & photos by Jeff Schmuck
Last month, Momentum once again changed the game at summer camp in Whistler by hosting their first ever Exposure Film & Photo Camp.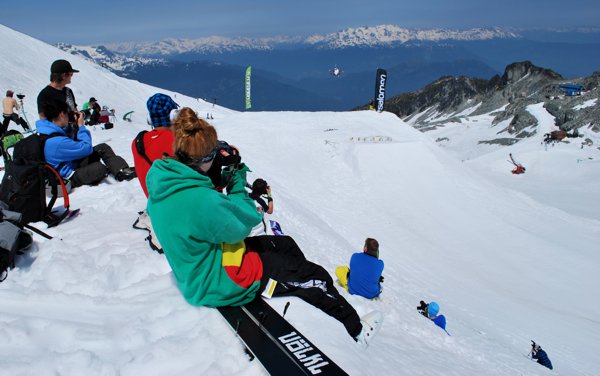 The first of its kind during the 20+ years of camp in Whistler, Exposure was catered to people behind the lens, as opposed to those who look to excel in front of it, and provided an opportunity for filmers and photographers to join in the fun of summer camp. During the week-long session, the Exposure campers received all the perks that Momentum has to offer (including plush accommodation, three succulent meals a day, a host of fun-filled after camp activities, and of course, skiing), but instead of being taught how to do tricks, Poor Boyz Productions' Johnny Decesare, Voleurz' Darren Rayner, and professional photographer extraordinaire Blake Jorgenson came to town to teach them the ins and outs of videography and photography.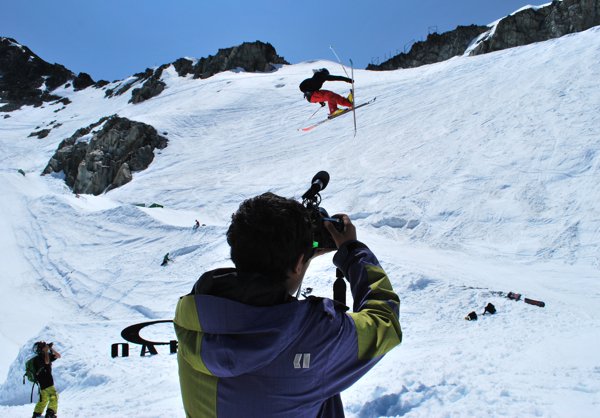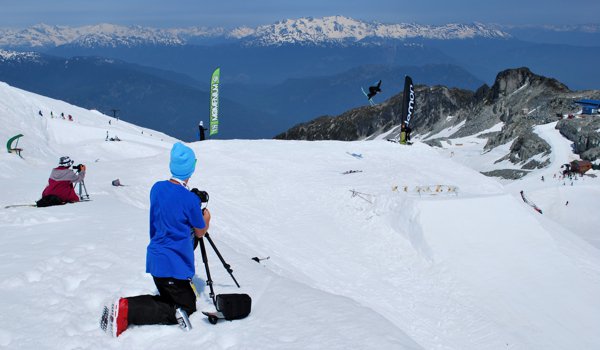 Over the course of the week, the Exposure campers had the opportunity to work with Momentum coaches Tom Wallisch, Gus Kenworthy, James 'Woodsy' Woods and many more to produce their own edits and slideshows under the watchful eye and helpful guidance of their coaches...and the results were top notch.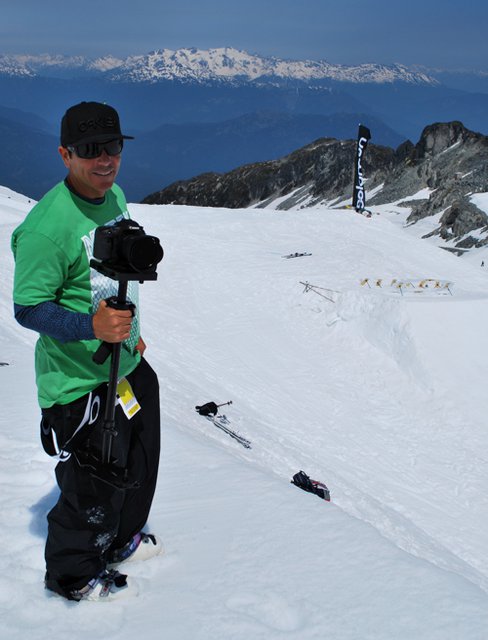 The man who started it all, Poor Boyz Productions' Johnny Decesare.
"Exposure was an eye-opening experience, even for myself," says Johnny Decesare. "I had a great time, and really enjoyed the company of all of the kids and was super impressed by the other coaches, because Darren and Blake are on point and really know what they're doing. I found the camp to be really refreshing, as it was cool to go back to my roots in a sense, because I remember back when I was learning those things and getting my first taste of filmmaking. It was also amazing to see how good the campers are at such a young age, and I was so impressed with one of them, Nicolas Guy-Caron, that I ended up asking him to create a DVD extra on Exposure for our upcoming movie, so that will be featured in the bonus section of WE. All in all, I was absolutely honored to be a part of Exposure, and if I was asked to be part of it again I'd be stoked to go back, and would strongly encourage as many kids as possible to sign up for next year."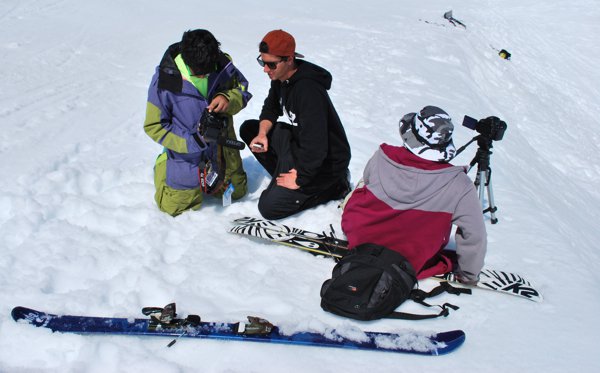 Voleurz' Darren Rayner with Exposure campers Rajin Suchdev and Kian Moayeri.
"It was my first time teaching filmmaking and coaching kids, and it was an amazing experience for me," says Darren Rayner. "With the talent of Johnny Decesare and Blake Jorgenson, Exposure gave kids an opportunity to basically skip the line and potentially save a few years in their goal to learn how to produce films and shoot photos. I feel like they learned in one week what it took me two years to learn."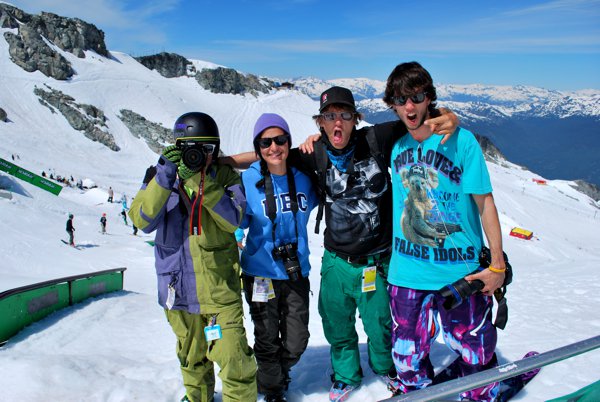 Blake Jorgenson with Exposure campers Rajin Suchdev, Ilana Barkusky and Callum Dornan.
"I thought the first year of Exposure was amazing and is only going to get better in the future," says Blake Jorgenson. "It's mind blowing how fast people can learn in this environment with hands-on instruction from a wealth of knowledge and experience, and I wish I had something like this when I was younger. I learned quite a bit myself and I think camps like Exposure are going to help push the future for young people and help put them on the forefront of the industry just like it has done with the skiing side of camp in creating world-class athletes."
Here's a look at the campers' edits and slideshows, along with their thoughts on their experience at Exposure...
Ilana Barkusky's Slideshow
"Exposure was super awesome. It was an opportunity I wouldn't have gotten any other way, because I got to shoot with best skiers out there and meet so many people in the industry. It really opened up a lot of doors for me and showed me that I really want to pursue this as a career. Overall it was pretty eye opening, pretty fun, and I'm really glad I did it." – Ilana Barkusky
Liam Campbell's Edit
"I'd say Momentum Exposure was the best week of my life, and the reason I feel that way is because of the coaches. They had the best coaches, both for filming, photography and skiing, and I learned a lot working with all of them. It was awesome." – Liam Campbell
Callum Dornan's Slideshow
"I'm just starting my photography business so it was a great opportunity to meet people in both the ski world and photography world. As far as professional development goes it was probably the best opportunity I've had, and I would definitely do it again if I had the chance." – Callum Dornan
Nicolas Guy-Caron's Edit
"It was such a good experience. I think the best part was meeting Johnny, Darren, Blake and you guys from Newschoolers, because we got a ton of information that we wouldn't normally get and would take so much time to learn on your own. Anytime I had any type of question I could just ask and get a super helpful answer. It was the best video camp I could have gone to." – Nicolas Guy-Caron
Kian Moayeri's Edit
"I honestly learnt so much more than I thought I was going to at Exposure. I got to shoot with a ton of pros, had the best coaches, and had one of the most fun experiences of my life." – Kian Moayeri
Will Ogurian's Edit
"Exposure was wicked. I got to learn so much more about my camera and my abilities, and having the opportunity to take pictures of top athletes in this setting, edit them afterwards, and then put together a slideshow was a great learning experience for me. Blake, Darren and Johnny were great coaches and they really helped me a lot. They showed me the ways of both photography and videography, and I had a great time." – Will Ogurian
Luke Smart's Slideshow
Luke Smart's Edit
"I learnt a lot more than I was expecting to. I do both photography and filming, so it was nice to get lots of info from both the photography and videography coaches. Overall I had a great experience and most of all it was super fun." – Luke Smart
Rajin Suchdev's Edit
"My experience at Exposure was awesome. It's the best camp I've ever been to by far, mainly because I got the opportunity to film and work with guys I envy like Tom Wallisch, Gus Kenworthy and more. I've always wanted to film with people like that, so to finally get the chance to do so was incredible." – Rajin Suchdev
Mathias Wensveen's Edit
"I showed up not knowing what to expect, and I left knowing how to film. I couldn't have asked for anything more. I think for it being the first trial for the actual camp they did an amazing job, and once it gets refined as the years go on it will keep getting better and better." – Mathias Wensveen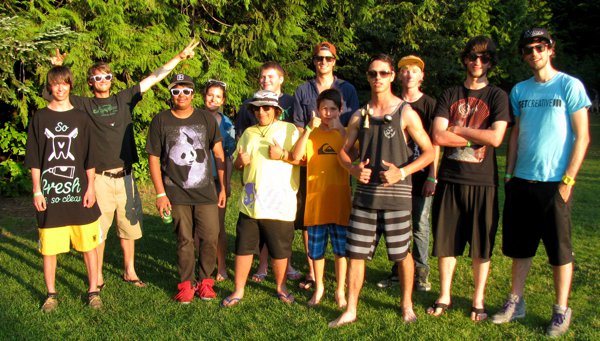 On behalf of Johnny Decesare, Darren Rayner, Blake Jorgenson and everyone at Momentum, thanks to all of the campers for coming out and for their hard work on their slideshows and edits, and if you're interested in attending Exposure next year, be sure to click here for more info.