As closing day draws nigh, I have a few bigger comic/story projects that I'm still working on for NS that aren't quite ready to see the light of day. I'm stoked to share them with you, but they need a little more time for me to dial them in and perfect them. So this week, I decided to dig into the archives and throw you all a selection of maps I've made over the last few seasons. Most depict areas local to me, but even if you've never skied the Teewinot range, and have no intentions to, I still think it's interesting to pour over maps. But then again, I'm the guy who used to be obsessed with the map at the beginning of The Hobbit, so your mileage may vary. Either way, here are some maps!
5 Years of Avalanche Activity on Teton Pass
Earlier this year, after a great day skiing pow on the pass, my partner got a text from a local avalanche educator and friend: "Hey did you guys set that skintrack up Columbia Bowl? You put it in the wrong place, that slope is a frequent flier."
At the time we'd evaluated the slope carefully for stability, charted what we thought was the safest way up it, and spread out, crossing the slope one at a time. But, as our friend pointed out, the slope we'd climbed was one of the only slopes in that drainage that has slid a few times in the last couple of years. So even if we'd crossed it safely, we'd left a skin track that other, less careful skiers might get caught on.
That incident, combined with a general lack of knowledge about what slides a lot (I still can't believe how many people don't understand how often Taylor and Glory slide) inspired me to put together this map. I used the data from the Bridger Teton Avalanche Center event map to approximate the number of avalanche events popular slopes have had in the last five years. This map isn't meant to be used to determine what is and isn't safe to ski, instead, it just provides context as to what slides often. Just looking at it is a good reminder to myself why I only ski big lines off Taylor in very low avy conditions. Your local avy center probably has some sort of similar event map, it's always worth plugging in a wide range of dates and trying to figure out general trends of what does, or doesn't slide often. This information probably shouldn't ever convince you TO ski a line, but helps give context for lines that aren't worth the risk.
Here's a link to a free download of that map file if you want to get it printed on 11x17 paper and hang it in your house or something.
Download the full-res version here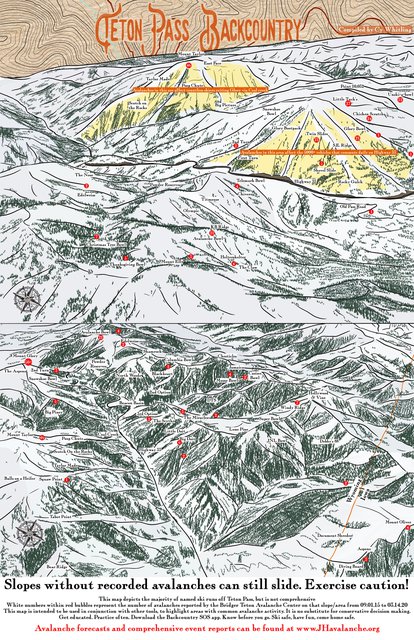 On a lighter note, sometimes my friend group likes to refer to lines in Grand Teton National Park by emojis. For example, Shoot the Moon to Shooter Buck, is pretty easy to spell out without words. So I got the hair-brained notion to try to make a whole emoji map. I managed to come up with 34 emoji names for peaks, canyons, and lines. How many of them make sense to you? What local runs can you describe with emojis, or maybe .gifs?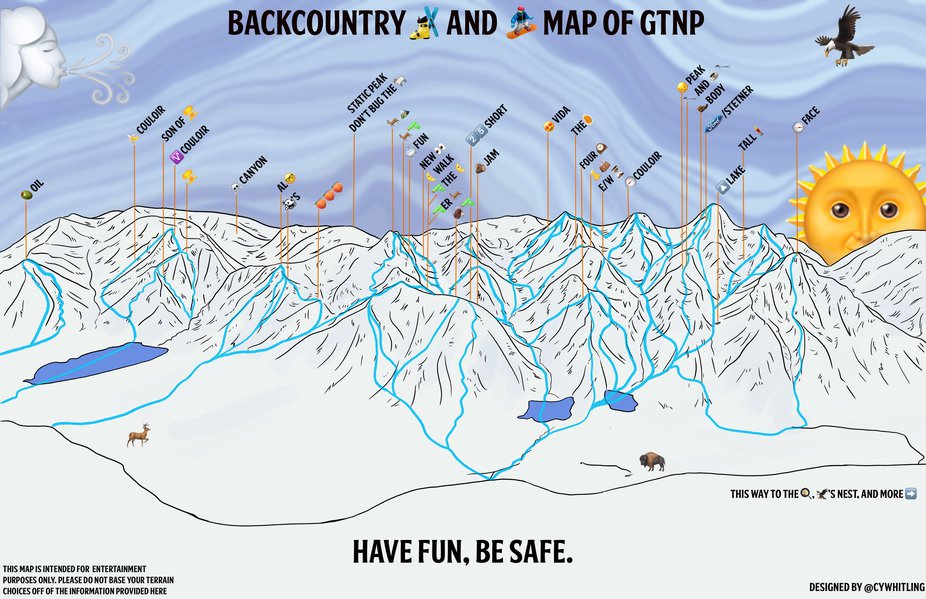 Grand Targhee Backside Map
This was one of the first maps I ever did, it illustrates the Grand Targhee backcountry. It's about time to revisit this one and clean it up. Ideally, I'd like to do a new map of the backside, along with labeling all popular named booter locations, but that may take some time to dig up all the names. Maybe a project for next season.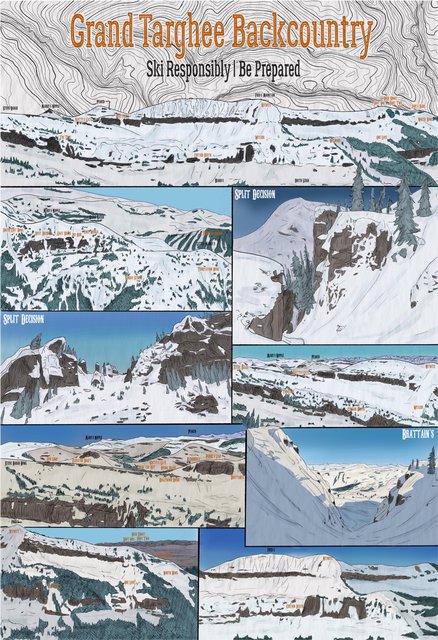 Hollywood Headwall
This was a really fun project for Big Sky Mountain Products. Chris Kussmaul just put out the definitive guidebook for skiing in SW Montana (seriously, even if you never intend to ski in Montana, the book is just great ski porn) and didn't have a great reference photo for the classic Hollywood Headwall. BSMP commissioned me to do an illustrated ad/map. I love it when I get to do something for a brand I really believe in, illustrating useful information, in one of the coolest guidebooks I've ever read. This one was so fun.
GTR Map
Finally, right before COVID hit and messed everything up, I was working on this inbounds map of Grand Targhee. It's not meant to compete with the incredible official trail map by James Niehues, instead, it just gives fun visual shoutouts to some of the highlights around the mountain.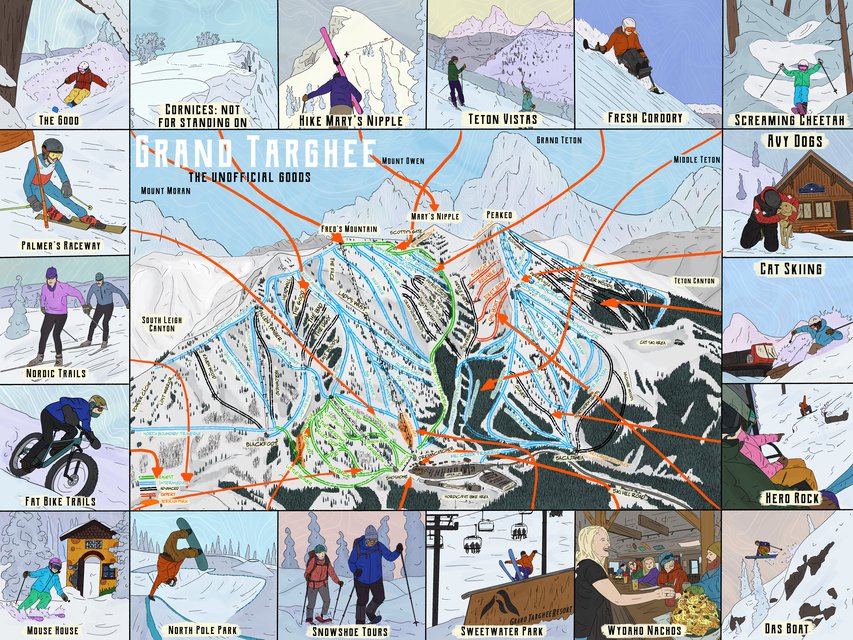 Maps are hard to draw, but oh-so-fun to work on. I've got a long way to go, but I can't wait to get cranking on more drawings of places. What maps would you like to see from me in the future?