Intro
Since my last few weeks have been a whirlwind of consistent high pressure systems, crappy snow, and intensive avalanche rescue training, I don't have a nice fluffy piece about how delightful skiing is this week. Instead, as I'm gearing up to do a few Roof Box reviews for NS, I figured now was as good a time as any to dive into brief overviews of a few pieces of gear that have really stood out to me so far this season.
These won't be full, in-depth reviews, instead, these are a few pieces of equipment that I think might be flying under the radar for skiers on this site, that they might appreciate. I don't have any gear sponsors. Instead, these are generally products that I obtained on my own, and stood out enough to me that I wanted to share them with a broader audience. Let me know in the comments what equipment has been making your life better so far this season.
Dynafit Radical Pro Boots
I've struggled with my touring boots for quite a while. I've been sold on three piece boots inbounds for a decade now, first in Full Tilts, and now in Roxas, not necessarily because of any specific flex pattern, but rather because their fit works well for my combination of a wide, fat forefoot, very high arch and instep, and average heel and ankle. Throw some tailor's bunions into the mix, and I cry about my boots a lot. But Roxa R3 130's fit me out of the box, with no major boot work. The problem is that they don't walk that well, and they take a long time to transition.
So I've used a string of touring boots, with mixed success, and a whole bunch of foot pain. Most recently I was in the Scarpa Maestrale RS, which did a decent job of fitting my feet with no pressure points, but just fell apart. By the time I retired them the ratio of original to replaced parts on my pair was very low. But, my friend David Steele (@Literature on this site), mentioned that the new Dynafit Radical Pro had a forefoot that fit like "an airplane hangar". So, after failing to find any locally to try on, I bought a pair site unseen off ebay. I know, that's not how we're supposed to buy boots, but holy crap, this was worth it!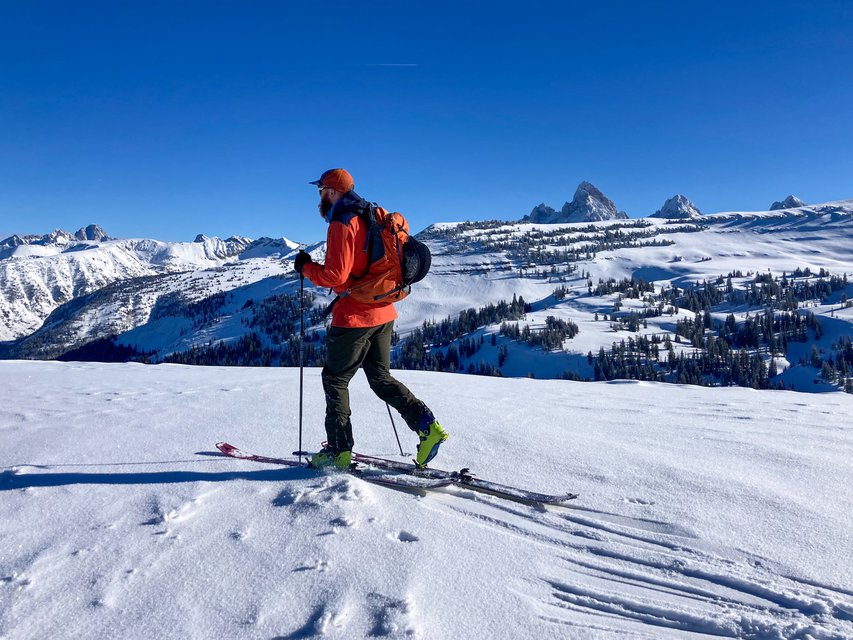 The Radical Pro is as comfortable a boot as I've ever worn. I did swap in some Tour Wrap liners, the stock liner is fine, but tongue liners in general really make my insteps hurt, and the Tour Wrap was much more comfortable for me, even though they don't walk as well. If you're ready to make the leap from touring on your inbounds setup, you like jumping off stuff, and you want a much more tourable boot, I think the Radical Pro should be high on your list. They ski really well (they feel similar to an eight flex Full Tilt to me), walk well enough, and the Hoji Lock makes transitions easy. This is the first AT boot I've used in ages that I wouldn't mind skiing jibby laps inbounds with regularly.
I know, this is not the sort of site where Dynafit boots are regularly recommended, but if you're a three piece boot fan, looking for something that feels similar to your Full Tilts or Roxas (or even Dalbellos) the Radical is worth your consideration. Especially if you have wide and/or tall feet.
Black Diamond Cirque 22
Continuing on that theme of "gear that the average NS user might not be considering, but maybe ought to", is the Black Diamond Cirque 22. The more time I spend touring the more I really care about my pack. I've owned a bunch, but never one I liked as much as the Cirque 22. The Cirque is a vest style pack. It doesn't have a traditional waist strap and frame, instead the shoulder straps have large pockets and are joined by smaller belly and sternum straps. That means that I carry all of my food and water in the front of my pack, where it balances out the weight, and is accessible without taking off my pack. It looks a little funky, but, especially on ski days where I'm jumping off of a lot of things, and especially when spinning, the pack feels more balanced and comfortable on my back than any other pack I've ever used.
Generally, if I'm building a jump or trying new tricks in the backcountry, I'll stash my pack somewhere so it doesn't get in the way. But the Cirque 22 never feels like it's in my way, so I'm much more willing to get silly while wearing it.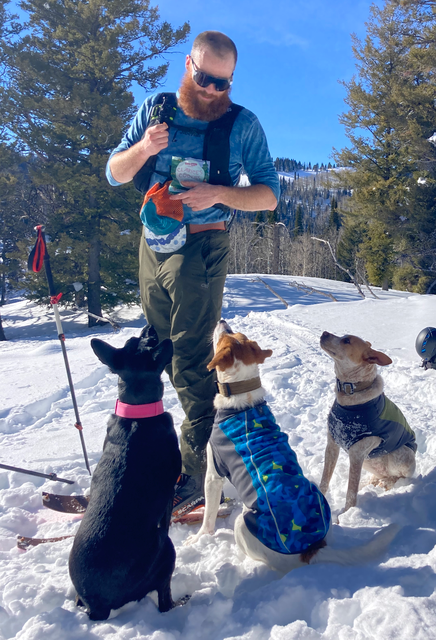 I know, this is not a great picture of the pack, but these dogs are pretty cute.
The Cirque is targeted towards SkiMo racers looking for an everyday pack, but I would argue it's even better for more jibby backcountry skiers, looking for something lighter and more comfortable. The capacity is plenty for any tour that doesn't involve a rope and a rack, the skin pocket fits 120mmx190cm nylon skins easily, and it's got plenty of space for a full sized shovel and probe. The only downside is that the included ski carry doesn't work with wider skis. It's easy to remove though, and you can just use ski straps on the included daisy chains.
Running vest style packs seem like a weird call for newschool backcountry skiers, but this pack has surpassed all of my expectations, and I wouldn't hesitate to recommend it to anyone looking for a better way to carry avy gear and jump off stuff.
Atomic Bent 110
Yes, I do have a full review of this ski coming for NS later this year. But I've gotten a fair number of days on it recently, so I wanted to give a brief overview. In my opinion Atomic nailed it with this ski, and they're going to sell a whole bunch of them. The pair of 188 cm Bent 110's I'm on weigh 1860 grams per ski, which puts it in a unique place of being a touch heavier than most brands' touring options, and a touch lighter than most similar inbounds skis. And that weight, combined with an energetic but forgiving layup, and a playful shape that manages to feel pretty stable, is killer. The only potential downfall is the jump in sizing from the 180 to the 188 cm version.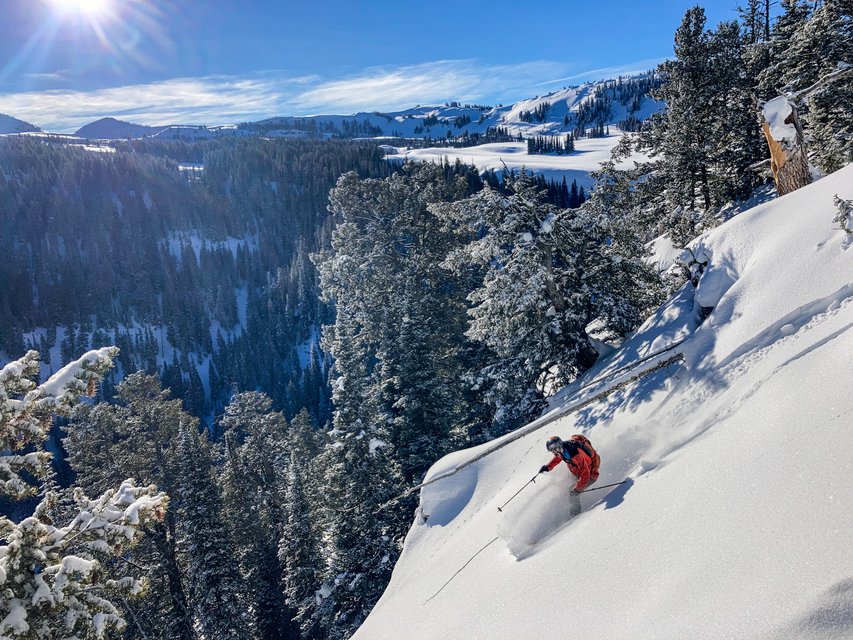 I could happily ski the Bent 110 as a West Coast one ski quiver for the rest of my life. They're fun to jump off stuff with, they spin easily, and they're stable at speed. And for once I don't feel like there's a specific genre of bindings that you "should" be mounting these with. They'd be awesome with Shift or Cast, they'd be fine with a pure inbounds binding, and they're great with the lightweight pin bindings I've been using with them so far. A whole bunch of people are going to get along really well with this ski, and I'm excited to write the full review.
Mammut Barryvox
I understand that there are too many factors in play to make decisive statements about one avalanche beacon being "better" than another, but I'm in my third season of using the Mammut Barryvox S, and so far I'm uninterested in using anything else. Most of what I'll say here also applies to the cheaper non "S" version as well. This beacon has great range, and is very quick and easy to use. I've spent a lot of time using BCA beacons, namly the Tracker 2, Tracker 3, and Tracker S. And those are fine beacons, it's not that hard to get fast and proficient with them. But for me, and my partners, it takes much less effort to get fast at finding a buried beacon with the Barryvox beacons. They're more intuitive, and easier to use.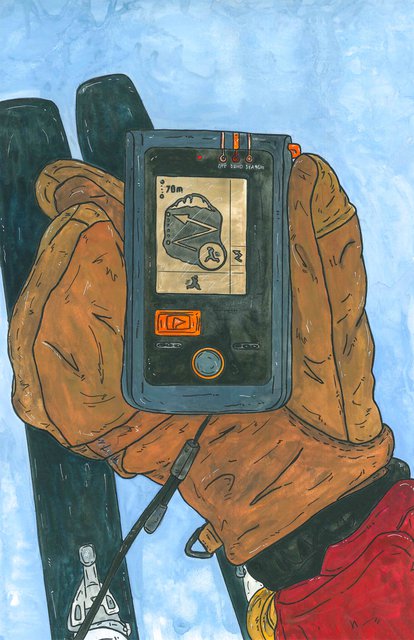 With the Tracker 3 and S, I've noticed a fair number of folks (myself included) really struggling with doing a fine search when two beacons are buried anywhere near each other. With practice, it's not that hard to do, but for folks who don't practice much, or are new to touring, those fine searches can be brutal. With the Barryvox S, I've found that my fine search is happening faster, and getting me more precise results. I'm rarely probing more than twice before I get a strike.
According to the powers that be, every three antena digital beacon on the market is "adequate". And with practice, I'm sure anyone can get proficient with any beacon. But for me, in trainings, and real situations, I'd much rather not be fighting the beeping box of electronics in my hand. And with the Barryvox I feel like I'm working with the technology, instead of against it more than any other beacon I've used.
Sticker Yeti Patches
Earlier this year I was tasked with figuring out a way to brand a whole bunch of soft goods that see a fair amount of wear and tear. Woven patches are expensive, have high minimum order quantities, and are hard to apply, as are most other patch options. So when I stumbled on these, I thought they were too good to be true. But so far, they haven't been. They iron on easily (make sure not to melt you gear) and then stay put pretty well. I've used them on puffies, on a pack, and on ski pants, and after about two months they still look good and are holding up.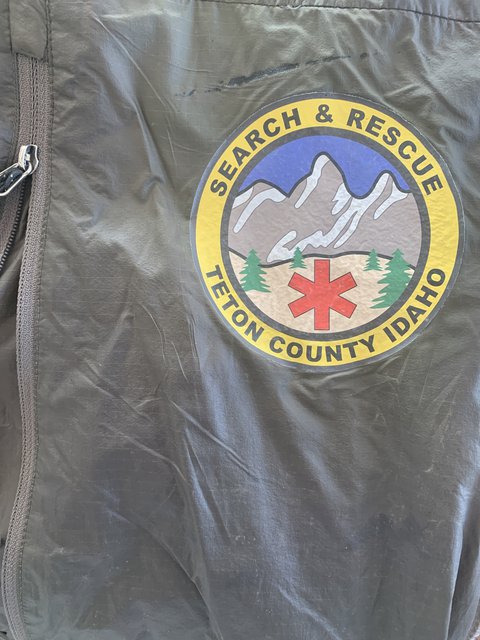 And with a minimum order quantity of five pieces, it's easy to justify grabbing a few. So if you are part of an organization where you're trying to create uniforms on the cheap, or you just want to make funny patches for your friends (our dog walking/skiing club is getting matching coats customized with these), they're an affordable, easy to use way to personalize gear.