Matt Heffernan is no stranger to the Utah ski scene. After spending last summer living out of his car in the Oregon woods he has spent his fifth and possibly best winter yet in the beehive state. On any given day you can find Matt slaying handrails in downtown Salt Lake, going on tours miles into the Wasatch or possibly sending double corks at PC. Checked in with Heffy over some afternoon piffs and beers to catch up on his first injury free season in a few years.
Age- 23
whats in the headphones- Probably that new freddie gibbs album, piñata
Favorite BC line you skied this year?
Its hard to say one good line, I skied superior for the first time this year, that was really sick. Got to ski the hallway in Days fork with 19 inches of untouched, that was insane. Every line I skied this year, once I got on dynafit's was sick. Felt strong at the top every time, but lots of good lines this year. Hard to pick just one.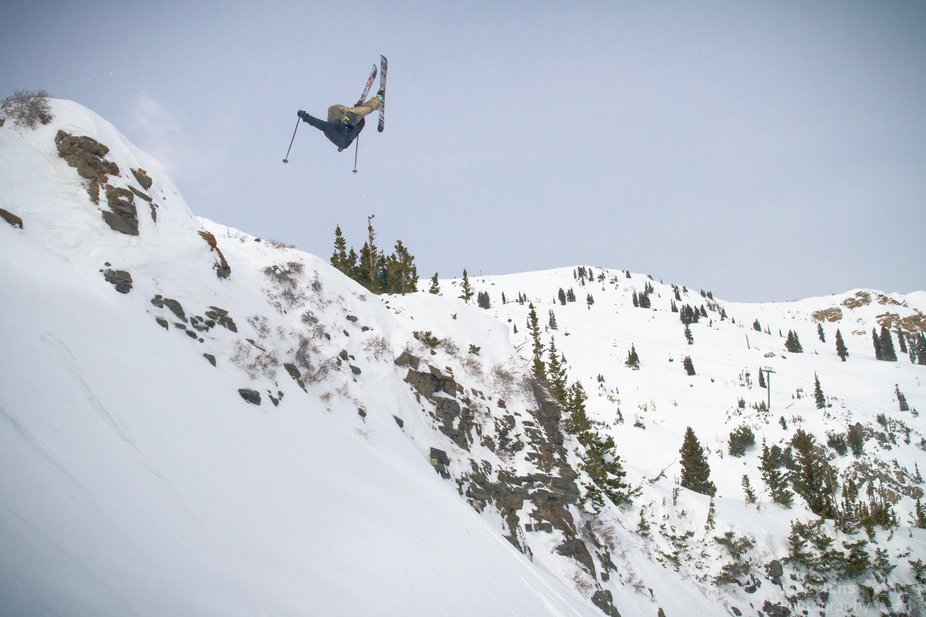 photo john lykins
Whats in your backpack on a touring mission?
Down coat scrunched up at the bottom, gets chilly on the top. All the necessities, shovel, probe ect. Some hand warmers, a good snack, maybe a piff, coffee in a thermos is always clutch and probably something to record my run with. Its always the best getting home and checking it out again.
Give us a little background on yourself, where did you grow up skiing?
From a suburb of Ohio, I rode boston mills and brandywine. Super small resort, you could hit maybe four features in a run, a jump if you were lucky. I got to travel around with Brad Bulzan a lot as kids, his dad or mine was always taking us up to ski in PA at Big Boulder, New york or down to Perfect North. It actually felt like a huge scene at the time. Then I moved out west for college.
How did coming from the midwest affect you as a skier, pro's? con's?
Lets see, coming from the midwest, you get really good at hitting rails thats for sure, you get in this mindset of hiking rails. You can get rusty when it comes to hitting jumps. I definitely moved to Utah to hit the PC jumps a bunch but when I found myself getting back to rails, it all came back easy. Bad things about the midwest? Pretty obvious, the resort was pretty small but at the time its all relative, every weekend going to fun spots. Its not too bad, a real good handrail scene for sure.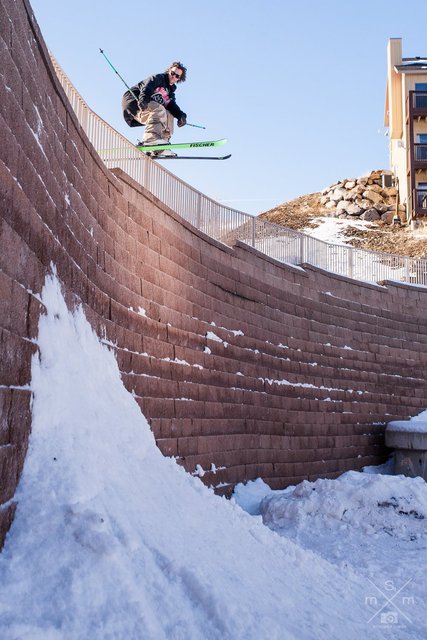 photo: Matt Sklar
do you think growing up in the midwest makes you more hungry and appreciative of the mountains then the average Utah/colorado kid?
I think every kid coming out of the midwest has that mentality that they are really hungry, that they appreciate the mountains more than kids who grew up out west. But that's just an assumption, obviously there are kids who grow up skiing in these mountains and its all they know, and I'm sure there are kids who grew up in the midwest who are more appreciative. There are definitely kids who grew up out west who are just as hungry, look at Jonah Williams.
You have held season passes at nearly all the mountains in Utah, which are your favorites and how did they shape you as a skier?
Shoutouts to moms and pops for always helping out with that and One Love ski club for always getting the hot deals. I have always had a PC pass. You just cant beat riding with all your buddies and hitting that jump line. Rode brighton for two years, linked up with this dude who was a Senior at the time, Jose Urrutia, was just stoked on everything. He got me riding with a bunch of the brighton locals, Eric Balken and all those homies. Was able to sort of learn how to ride pow, super fun just dropping cliffs, the best days. Finally I was like, time to ski something bigger, maybe a bit steeper and faster so I tried Snowbird and Alta. It makes the winter pretty cool because you can go to PC early season and ride the park setup then skip a few canyons over and ski Alta or go touring. It makes the winter pretty unique.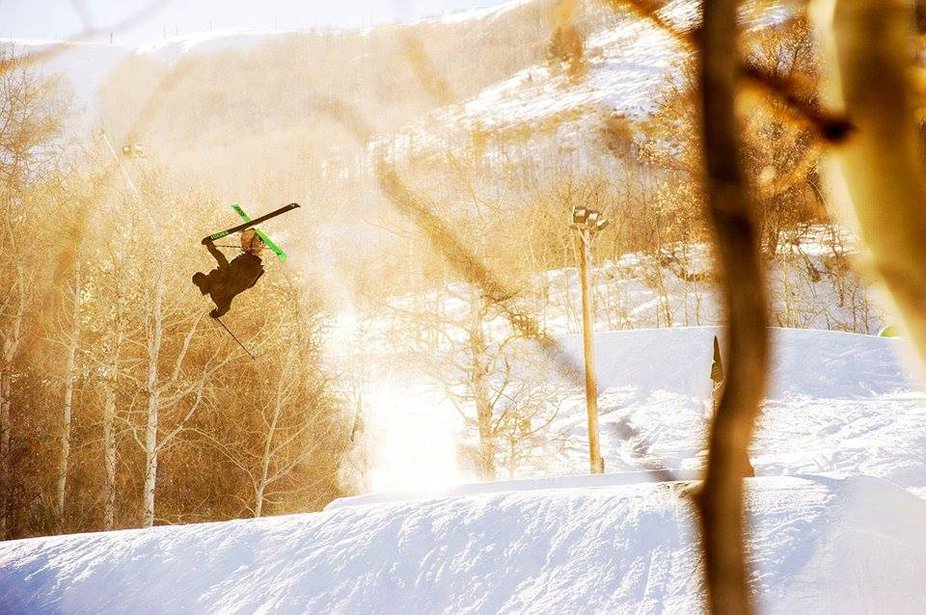 photo: Ross Downard
You don't usually see kids coming from the midwest getting into the backcountry with that much ease and success, what drew you to start exploring the wasatch? did you have anyone in particular who helped show you the ropes out there?
Jose Urrutia, he's the one who got me stoked on touring and getting out there. Freshman year I got to film with Bently Atterberry and DOS media, he always wanted to go build jumps so that kinda got me into the skins and trekers thing. I first rode pow my senior year of high school when I came out here to visit and after that it was just like, yeah I want to move to Utah...then I got a taste of the pow freshman year. I would attribute success to always going out when the conditions are safe, not trying to push it when they are sketchy but also going out and skiing melow stuff when it is sketchy out and see whats going on around me. But you wont find me going by any big shit when conditions are bad. Also the people I look up to, Brody Leven who grew up skiing park an hour away from me in Ohio. Then I saw him out here touring around, definitely gained a lot of inspiration from him.
How did you get linked up with the hood crew kids? Whats the appeal of skiing, filming and hanging with those bums?
I was watching a hood crew mixtape a few years back and saw Meeks in his tightpants and was like pshhh loser. Then I got to know him hiking at a rail jam at PC and came to find out him, Alec nelson and some other homies lived right across the street from us and we started kickin it. I saw them all at Hood that spring and skied with them and started hanging with them. Its always super fun and positive, never too serious. I mean sometimes its frustrating trying to get shots because everyone is just turning up or whatever but most of the time shit gets done and its always a good time.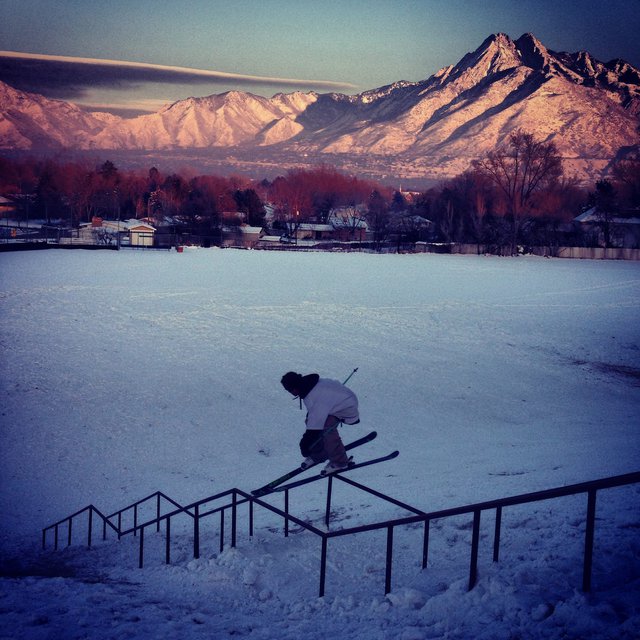 photo: the kid's iphone
With your bag of tricks why did you not ever get into comp skiing?
Bag of tricks? boy what are you lookin at... I came out here freshman year remembering Wallisch moving from PA and was just like, man, you can really progress at PC. Got out here and just had a bunch of fun and learned a bunch of stuff. Went to Mammoth and learned some dubs and was super hyped for the next season but that was just the start of an injury train which just sucked. Every year when I would start getting my stuff dialed an unexpected injury would happen so the comps never really worked out.
You sustained a number of injuries over the course of the last 4 years. Take us through your broken ankle and femur.
Yeah, Sophmore year we got some snow, it was like the record snow year for Utah. I had eleven pow days before thanksgiving, we were just up at Brighton and touring around. Then crazy Karl hit me up to hit spots, there was this kinked rail I had always wanted to hit and unfortunately took an unlucky fall, my binding didn't come off and I broke my ankle. That was that and I came back strong and rode snowbird a lot that spring with a good crew and that was fun.
The next year was a very bad snow year, just rode a ton of park at park city, I was feeling really good and was about to do the Gatorade free flow finals at snowbasin and the aspen open and then caught my tip on a stupid switch lip at the end of the day, separating my shoulder and putting me out for a month.
The following season was starting out good again, the park game was fun, we were filming a bunch early season at PC. Then the day before I was supposed to fly home for the holidays I rolled up to Alta, the parking lot was slammed so I was just like "alright I'll go up for a quick skin up flagstaff". I get to the top, run into some homies and we go further east towards silver fork. They drop into silver fork and I still plan on dropping into Little Cottonwood. Then I run into Brody Leven and Tim Jones and we ski these runnels called the Emma ridges. The first runnel skied sick, super deep. And then the second little one, we were trying to traverse to the right of it and I thought I could kind of go in and traverse up the wall and last second I realized it was super steep. Turned out to be a rock wall and that was the femur.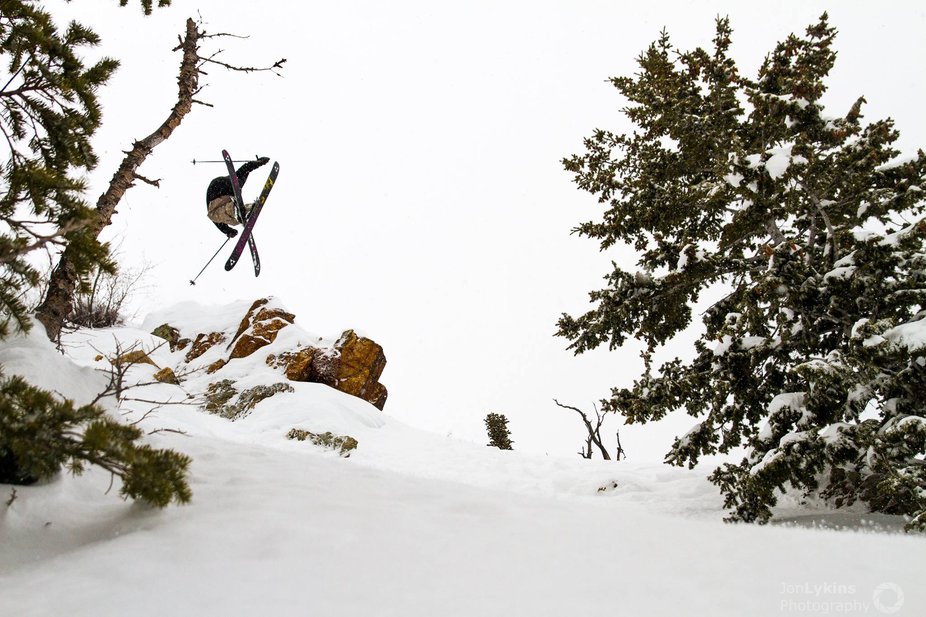 photo: John Lykins
Did receiving season ending injuries multiple times change your outlook on skiing and how were you able to remain positive when you were laid up, did it make you reconsider the risks you were taking at all?
It definitly makes you think a little bit more about things before you hit them. You are always trying to hit smart features and assess the risk a little more. You dont want to do it to much to the point where your syking yourself out. But I stepped away from a few features this year because the bennefit didnt outweigh the cost.
Again school, kept my mind super busy and an awesome girlfriend who was super nice and encouraging was awesome. It just makes you hungrier because you see all of your homies out there. Thats also the nice thing about touring, riding the mountain. You dont need to come back and start murdering the park. You can go tour and enjoy and rehab a lot. I think its just the hunger, I love skiing.
what is the appeal to you of filming and taking pictures as well as editing?
Personally I have always had a little sony handycam whether it was for skateboarding, skiing or whatever it may be I always enjoyed putting little edits together. Especially when you are going touring. Its funny how many people will go to the resort and say what an average day it was, you go touring and its just so much better, you get awesome pictures and sick video.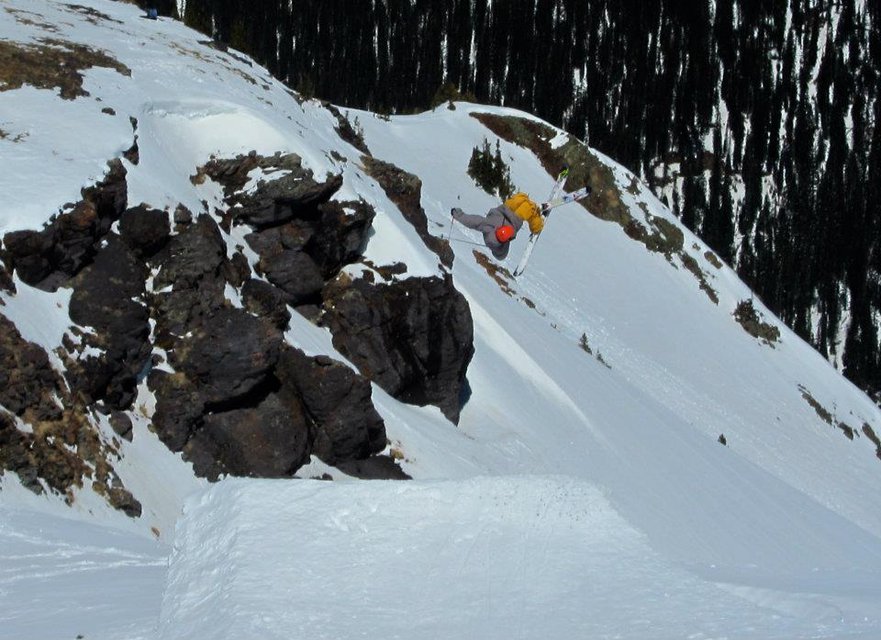 photo: Tyler Horne
So your graduating from the University of Utah this year, how were you able to balance skiing over a hundred days a year with getting a degree in accounting?
Injuries. Just time on the couch, time to do school. You need to keep the mind busy and school is the perfect outlet for that. Cool teachers too.
How did you get linked up with fischer? They have a very diverse line of skis, are there any particular skis in their line that you think stand above the rest and how do they help you take care of business?
Fischer has been super awesome with supporting me and keeping me in a positive mindset...you know calling them and having them be like "yeah get through it, you'll come back strong don't worry about it" so shoutout to Matt Berkewitz especially and Chris Smith out here in Park City. They have always made super solid skis, been independent since 1924 which is pretty cool. They make a park ski, the Fischer night stick. Its a stiffer ski, I love hitting big jumps and those things are perfect, light weight and snappy.
Then the pow ski that is coming out next year is sick, I have never ridden something that big. That was a new thing, riding around snowbird I was looking for something a little bigger and more stable then I got the Big Stick, 193 length, 122 underfoot, the first day i got it I was thinking "man this is gonna whoop my ass" but took a couple runs on it and I fell in love with this ski.
Their touring ski, The Ranger. I'm riding a 186, has a flat tail, soft, early rise shovel, camber underfoot. They rip on the way down which is sick because sometimes you feel like your sacrificing some performance to get a lightweight setup but they charge.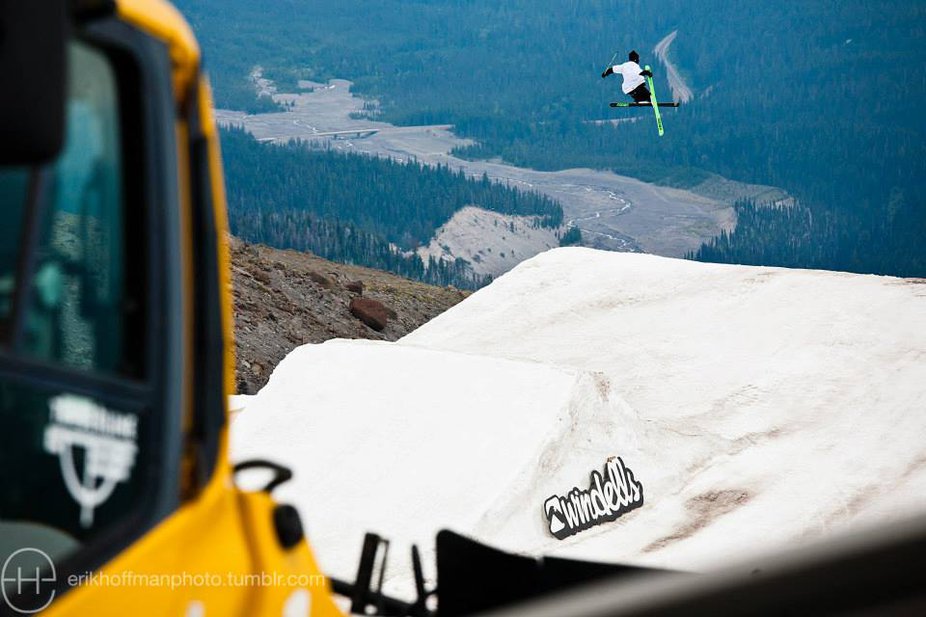 photo: Erik Hoffman
You have put out a little tumblr blog chronicling your skiing adventures this year, what inspired that? were you trying to accomplish with the blog?
Well definitely something to stoke the sponsors out. The family loves checking it, that way when we don't talk for a bit they can see whats going on. What inspired that though was I'm not competing, I don't really plan on competing. I wasnt traveling, I was gonna be pretty busy with school so I figured, take a bunch of screenshots from video's, write some stuff up and take some pictures. Its a really effective, efficient, easy way to get stuff out there. I put it in a format thats simple and I think simplicity is the best way to keep peoples attention.
Last summer was your first full summer at Mt. Hood, what was your job position out there? take us through an average day out there
I worked on the salt crew. It was sick, we lived down in Rhododendron, shout out to camper Kev and Anders for letting us sleep in the driveway. Alarm usually went off at 445 AM. Scratched my butt a bit, checked the gram then hopped out of the car, more time for breakfast. Usually made a sausage and cheese bagel for the lift and ate cereal while that was cooking. Cruise up to the mountain, me and Meeks usually bumped pretty hard on the way up. Get to the mountain and walk to the Disco which is the shack below the mile, clock in, warm the boots and be tired. Be out on the lift at 6:15, June we saw really gnarly icy, snowy weather down low so we would help the lifties swing chairs and get 'em out. Cruise to the top of palmer, grab 7 or 8 slow signs and let me tell you, PVC snow signs, a drill in one hand and icy ass palmer and you have yourself quite the ride. Set those up, roll back up top...throw out salt while dealing with coaches barking orders at you, but you just gotta turn your cheek and say "yeah you'll get it". Bust ass for the first 2 hours then take laps, collect empty bags and say whatsup to the homies on hill. Then your off around 1230 and we just lap Windells till close. Shoutout to Jeff Curry and Chase the head digger.
What brings you back this spring and summer?
Probably the women of government camp.
With graduation coming up in a few weeks what are your plans and goals for the next year or two? Are you feeling pressure to join the work force or continue school?
I had to have that serious conversation with a girlfriend and so many other people.....I don't even know. I'd like to ski but incorporate work with it, I want to keep skiing as much as possible. We'll see what happens only time will tell, I'm very indecisive when it comes to planning for the future.
Shoutouts?
moms and pops, Matt Berkowitz at Fischer, Hayden Price at Smith, Kevin Brower at snogression, Shane Peet at Stash Poles, Jeff and Kevin at Treefort Lifestyles, The hoodni99, Hoodcrew, Ohio homies, Boaz, Gretchen and Victor at timberline, SLC ratchet squad, Brody Leven and Tim Jones, Idahomies, 4BIcrew, The bunch, northwest homies, Jason Mousseau