Cover photo of Nick Goepper by Christian Pondella
The Mammoth Grand Prix is the penultimate chance for men's US slopestyle skiers to grab one of the three coveted spots for the PyeongChang Olympics. The fourth spot will be chosen at the coach's discretion. Going into this competition Nick Goepper and Gus Kenworthy were ranked first and second, while the third spot was tied between McRae Williams and Quinn Wolferman. I would be hesitant to say that PyeongChang could be anyone's game at this point, because there is a distinct split between who could still qualify and who most likely will not.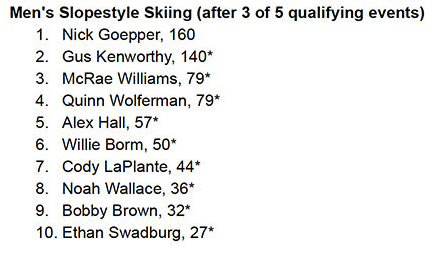 The men's qualifiers finally went off today after a couple days of delay due to wind conditions. It was reported that there were some speed issues on the course with many of the skiers coming up short on the last jump. The women's qualifiers are still postponed until January 21st due to more weather concerns. That shouldn't come as a surprise for anyone given that it's a slopestyle contest held in the middle of winter...
Out of the US skiers that have the potential to qualify for PyeongChang Nick Goepper, Mcrae Williams and Bobby Brown all qualified for the finals which will be live-streamed on NBC Sports. Alex Hall, Quinn Wolferman, Cody LaPlante and Gus Kenworthy did not make it to finals. Fear not - the US men skiers all have one last chance to qualify after the Mammoth Grand Prix.
Men's Qualify's Results: