You finally did it, you bought the Collective! Good for you, seriously. You just set yourself up to have one of the most legendary winters in history on some of the sickest terrain that exists. You'll be talking about this season for years to come, that is, if it snows of course. Ahhh relax I'm just kidding it's gonna snow! Anyways, while this pass is unbelievable, it can be overwhelming. So that's why I'm here, to show you a few of the possible ways to make the most of your trip this winter. With a little bit of creativity and a lot of miles on the road, you can tick off more than a few of these bucket list destinations. So slap together some pb & j's, burn a couple playlists, and fill up the tank- because it's time to hit the road...
Trip #1: Are we there yet? (Aspen --> Telluride --> Taos)
Fly: In/out of Denver
Mountains: 6
Acres: 8,811
Average Snowfall: 317 inches
Drive: 1042 miles
Sure you could watch two full seasons of Game of Thrones in the time it takes to make this drive, but that's what legends are made of, am I right? Grab your buddies and some icy hot because that's ideal company on this trip as you tackle some legendary steeps in the high country.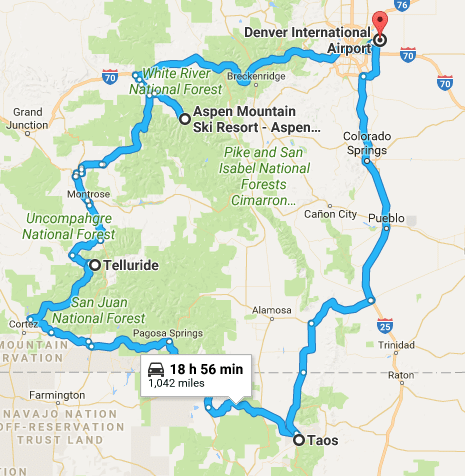 Bonus: Ditch the glamour of Aspen or Telluride for the day and check out one of Colorado's smaller areas. Sunlight, outside of Glenwood Springs and Wolf Creek, near Pagosa Springs will be sure to bring you back to your roots while providing some exceptional sliding.

Trip #2: Out for a rip, eh? (Sunshine --> Lake Louise --> Revelstoke)
Fly: In/Out Calgary
Mountains: 3
Acres: 10,679
Average Snowfall: 281" (However, Revelstoke gets 400")
Drive: 873 kilometers
I dare you to find a more beautiful place than Banff/Lake Louise… I dare you. Oh and Revelstoke has the largest vertical in North America and gets absolutely puked on. Just don't forget to pack your down jacket. Enjoy.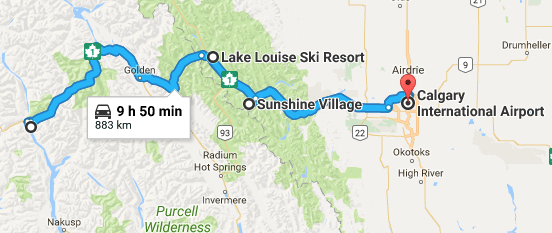 Bonus: Eat like the locals do and see how many Tim Hortons establishments you can visit during your trip. Canadians never tell a lie and they seem to love this place almost as much as hockey.
Trip #3 Enter the White Room (Jackson Hole --> Sun Valley --> Snowbasin --> Alta/Snowbird)
Fly: In/Out Salt Lake City
Mountains: 6
Acres: 12,354
Average Snowfall: 433"
Drive: 931 miles
Yes, this is also a heck of a drive but chances are you'll get snowed in at one of these places and won't be able to leave anyways. Packing list must include a snorkel and possibly a face mask depending on how long you get stuck in Salt Lake traffic. Regardless, any trip that includes visits to the Teton and Wasatch ranges is well worth the drive.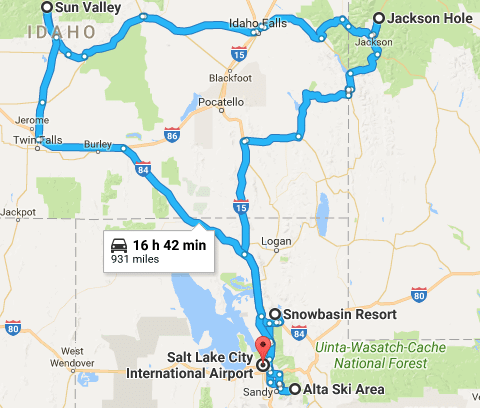 Bonus: BYOS- Bring Your Own Schnitzel. The boys over at Teton Jong masterminded this savory meal. Slam some fried chicken between two waffles at Corbet's Cabin and rest assure you've got the perfect fuel for all day shredding. No need to wait 30 minutes before diving into the couloir, either.
*Schnitzel @1:45
https://www.newschoolers.com/videos/watch/773503/Chicken-and-Waffles

Trip #4 Sunscreen and Sierra Cement (Squaw --> Mammoth)
Fly: In/out of Reno
Mountains: 6
Acres: 9,500
Average Snowfall: 425 inches
Drive: 399 miles
Whether you're skiing spring slush or bottomless January cement. Whether you have a bachelor's degree in sendology or your pretzel game is Auntie Anne's quality- these two resorts will keep you entertained. Mammoth boasts the top rated park in the country according to the very reputable Newschoolers.com and Shane Mcconkey made Squaw his home base (enough said there). These two mountains have a little bit of everything and should occupy a solid spot on any skiers bucket list.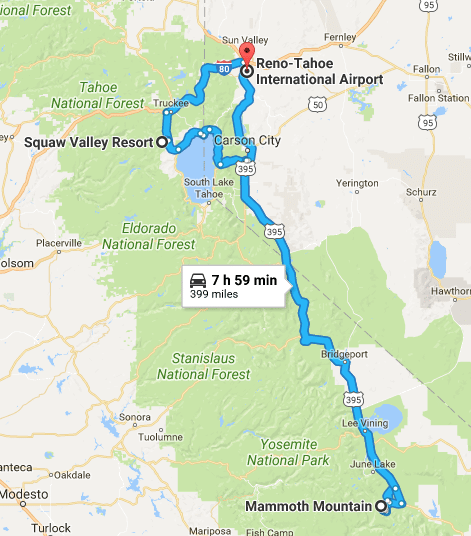 Bonus: Save this trip for late spring and add a surfing detour. If Tahoe gets half the snow they did last year they will be skiing here long after lifts at other resorts have stopped turning.

Bonus Trips
- Rent a Van and explore Coronet Peak/The Remarkables as a part of a South Island adventure. Or you could ditch the ride, channel your inner Bilbo Baggins, and go for a nice walk. Either way, New Zealand has exceptional big mountain skiing and possesses incredible beautiful
- Bring your best manners, some chopsticks, and the fattest pair of skis you own on your trip to Hakuba Valley/Niseko United, Japan. This is the mecca of powder skiing, a pilgrimage every skier must make- take advantage of it while it lasts as the Collectives affiliate partners change every season
- For all those Boston passholders definitely make a weekend trip up to Sugarbush. When the snow is good, Vermont is unbelievably fun. You'll know when a storm rolls in this winter because it's all that anyone will talk about, and when it does, ditch the bruins game and head north. Nothing like an East Coast POW day.