PRE SEASON PRODUCT TESTING: LUCKY PROS ENJOY FRESH POWDER TURNS ON WHISTLER BLACKCOMB OCTOBER 6th!
The countdown to Whistler Blackcomb's official opening day, November 24th, is on!
WHISTLER, BC, October 7, 2011– Pro Skier Callum Pettit, pro snowboarder Mercedes Nicoll and the "Godfather" of freeskiing Mike Douglas, skied and rode on Blackcomb Glacier yesterday enjoying some very early season powder turns.
Mercedes Nicoll, Mike Douglas and Callum Pettit shredding Whistler-Blackcomb...on October 6th!
"Being able to ski this early in the season is unbelievable," said Callum Pettit "I can't wait for Whistler Blackcomb to open." The three athletes were joined by videographer Jeff Thomas and legendary ski photographer Paul Morrison, who were able to capture some footage of the incredible conditions.
La Nina, the weather system to thank for this early blast of snow, brought 1,567cm (617 inches) of snow last year, which was the second snowiest season in Whistler Blackcomb's recorded history. Meteorologists are calling for another La Nina weather pattern this winter.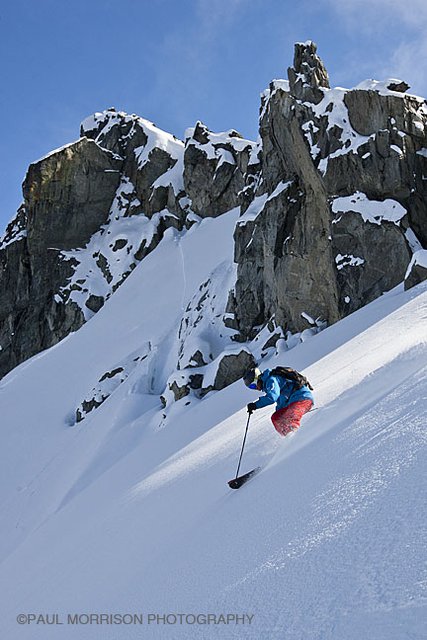 Mike Douglas
La Niña – What is it?
• The La Niña weather pattern typically means cooler than normal temperatures and consistent heavy precipitation during the winter months.
What does this mean for Whistler Blackcomb skiers and riders?
• Incredible snow conditions and plenty of powder filled days on the mountains.
• Last season, also a La Nina winter, brought 1,567cm (617 inches) of snow.
• La Niña accounted for the highest total snowfall ever in a single season: 1,693cm (667 inches) of snow in 1998/1999.
Make the most of snow at Whistler Blackcomb
•
"Early bird" seasons passes are available through to October 10th saving guests up to $300 CDN.
• EDGE Cards, available to Canadian and Washington State residents, are available at the early bird price through to November 21st and saving guests over $20 CDN on a single day lift ticket.
• Save 36 per cent off a Whistler Blackcomb vacation if booked by Nov 15th.
This season Whistler Blackcomb guests will also be able to revolutionize their mountain experience by downloading the free Whistler Blackcomb Live, Powered by TELUS app to their smart phones. The app allows skiers and riders to view snow and weather conditions, track their runs using GPS, view trail maps, track the total vertical and distance they have travelled and clock their maximum speed. The app allows users to share their speed and vertical as well as take and share photos with friends via Twitter and Facebook.