Photos by: Tom Kirmond-Paine & Samuel Ålander
Summer skiing in Zermatt has been on my ski bucket list for a long time. This summer several stars aligned - not all good ones, sorry Twig! - which meant I got to go and fulfill a long-time dream of skiing slush and staring open-mouthed at the Matterhorn almost every day.
An initial mandate of getting some Roofbox Reviews done and creating some content over a two-week period quickly shifted. I think about 4 days (or was it hours?) into the trip I knew a fortnight wouldn't be enough, for myself and my recently expanded role for Newschoolers.
After asking my friends if this was definitely a good idea - the resounding yesses weren't exactly a surprise - I made a nervy call to my employer back home to say I wouldn't be back for at least a month; although they didn't want me back at all and I didn't care.
'Shit jobs are temporary, ski memories are forever,' or something like felt like enough of an age-old adage to base decisions on.
It's hard to explain quite how well Zermatt met almost all of my expectations. You really do have a seemingly endless supply of things to do, should you have any ounce of energy left after sending it in the sun at 3,500m. I'll have to go back (and for longer) to even get close to ticking off the extensive list I had. Sunny beers in front of the 'horn were a big weakness…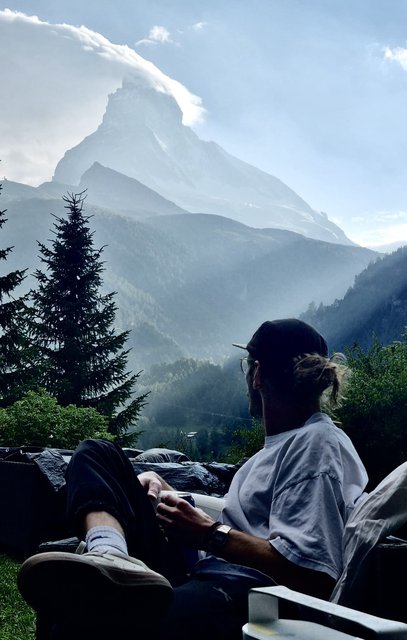 It's hard to say no to this kind of temptation!
Glacier skiing is something special. It's extra special in Zermatt. If you've never taken the summer pilgrimage I urge you to do so, sooner rather than later mind. It's a different type of park riding for sure, you get a hell of a lot of laps in with a fast T-Bar - even faster when there's an unfilled bar going. The conditions change faster than winter and the line between icy and prime slush can sometimes be a fine one, and that's just something you've got to be ready for. As well as the reflection of the sun up your nostrils... it's a good place to apply suncream.
It's hard work up there but it's worth it. The shapers did an excellent job and the park was progressive in nature and was topped off with a 22m flat to down Z rail challenge rail for a couple of weeks. This was without a doubt the biggest rail I've ever hit and it was so dope to watch the battles commence on it.
My efforts on the big daddy in the park
What really blew me away was the standard of riding and the people that passed through the park in my time up on the glacier, both were ludicrous. I definitely got a little star-struck by the Olympic and X Games medals amassed by those in the park, as well as the riders who just put out dope videos and bring their creativity wherever they ride. Sometimes it's easy to forget how good these cats are until you see them in person.
Sure, some days it's easier to sit in the deck chairs and soak up the sun than get into a fight with whatever feature you're trying to master - especially if you lost the fight the day before. Either way, the vibes are off the chain and the skiing, people, and weather unreal. Just make sure you've got a few francs for those Swiss prices!
The risk to stay out paid off too! I've forgone the security (and mundanity) of a regular job in order to keep mashing words together about skiing for your - and my own - enjoyment. Expect weekly content including; interviews, movie reviews, and some of my own personal musings on the state of freeskiing or simply how I'm keeping the stoke alive in rainy Glasgow - easy enough when the snowdome is open!
My next stop is the High Five festival in Annecy to catch up with riders, watch movies and maybe drink a few halves of shandy to let off some steam, watch this space!
I'd like to make a big shoutout to all the homies who made this trip possible, the friends I made along the way, and Snowpark Zermatt for keeping the park frosty all summer!