Words by Nicko Brooke
Photos by by Peter & Peter
Video by Jonny Simpson
They say that good things come in small packages, and this year's Relentless Freeze Festival in London, England was no exception, as the reduced timescale of the event made for two days of intense ski and snowboard action, complemented by top music acts including Groove Armada and the Streets.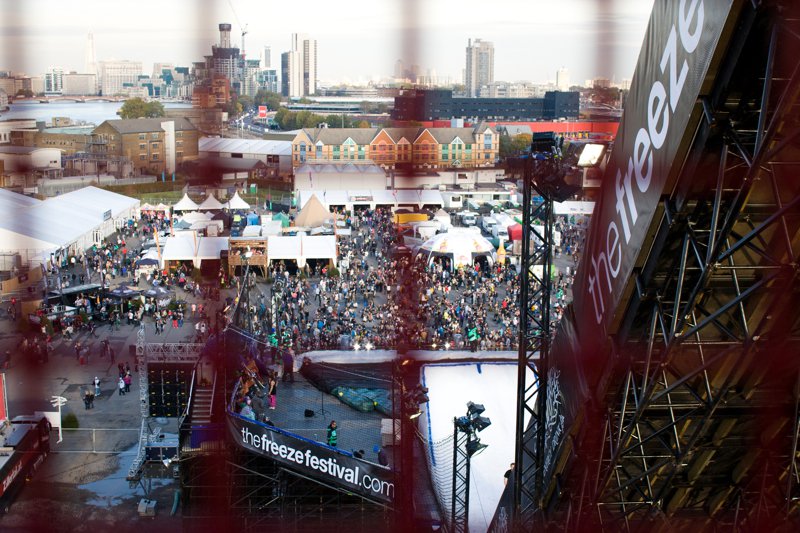 The view of London, England from the scaffolding tower.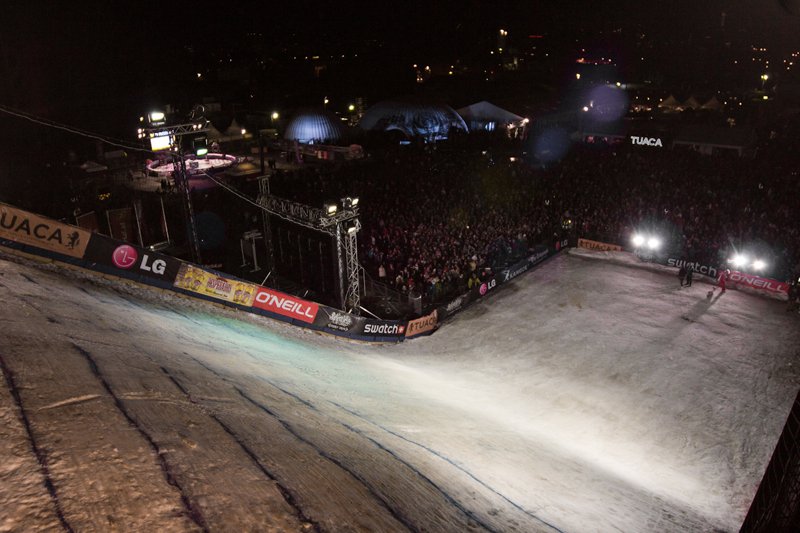 The capacity crowd at the bottom of the ramp.
Although smaller in duration, this year's festival was huge in stature with a 100-foot tall ramp dominating the site, which stood next to an equally huge music tent for the main acts. With some of the world's top skiers competing over the course of the two-day event in front of a sell out crowd of 15,000, it was set to be huge.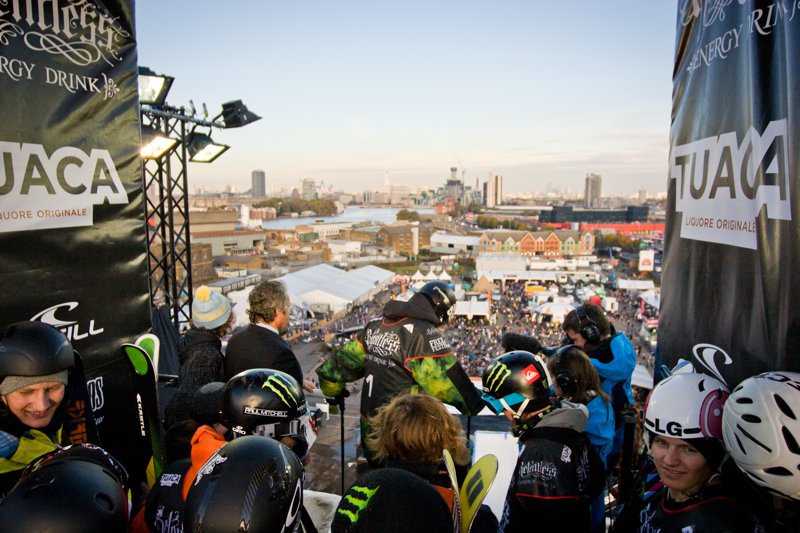 A sea of stoked riders at the top.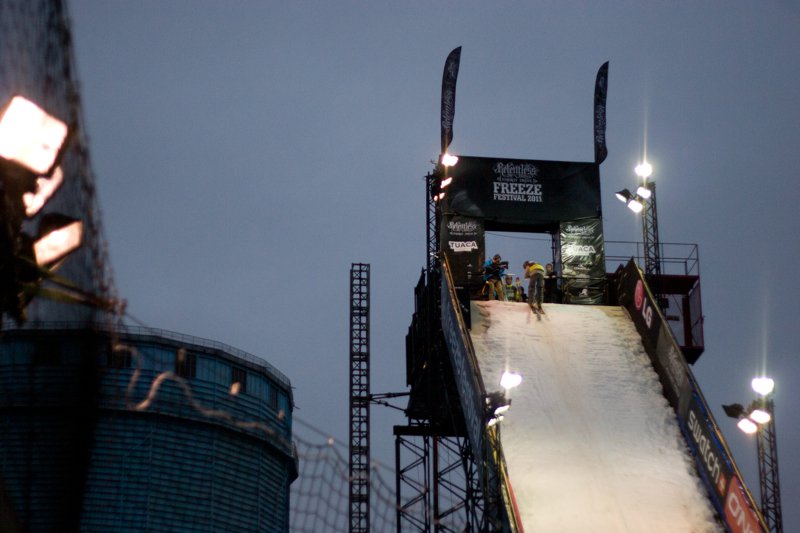 Oscar Scherlin dropping in.
The Freeze Festival has had some difficult times in the past with the unpredictable English weather causing huge problems for the dedicated team of shapers and snowmakers, from unprecedented levels of snowmelt to inner-city avalanches. However this year the conditions were kind, and upon arrival the riders were met with a perfectly crafted big air set up.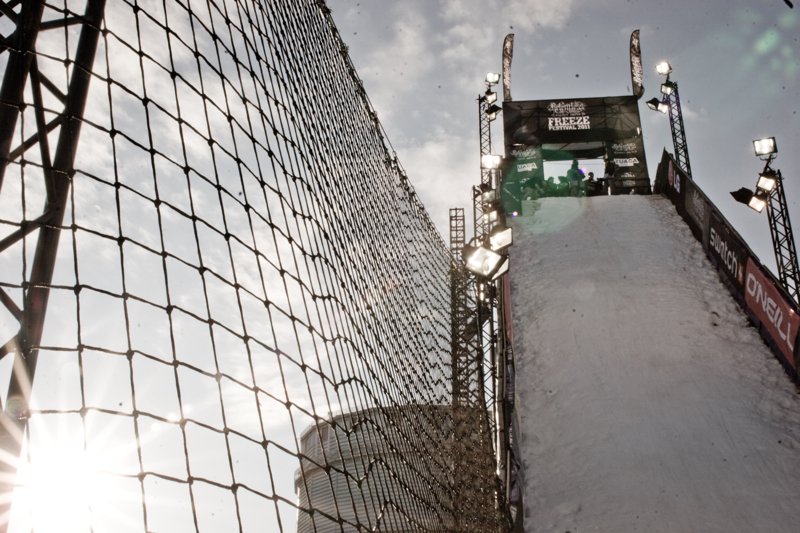 The snow thankfully stayed on the ramp this year following last year's first ever inner-city avalanche!
Battle of Britain
First up was the Battle of Britain event, where the UK's home grown talent got a chance to show that you don't need mountains in your backyard to excel in our sport. The Freeze Festival is the biggest event on the UK snow sports calendar and the riders were eager to bring their best to Battersea.
Slightly soft landing conditions caused the riders a few initial problems in practice, but nothing was going to stop these guys from throwing down in front of a home crowd. In the two-run qualifying stage, Scotland's Andy Matthew threw down a huge misty 7 to earn him top spot, with James Machon close behind with a clean 720 mute. Veteran Andy Bennett threw down some sick switch 5's, changing up his safety grab to a double during his second run to secure a spot in the finals. Nathan Connolly absolutely stomped a truck driver 7; earning a finals spot just behind the UK legend and Olympic hopeful James 'Woodsy' Woods.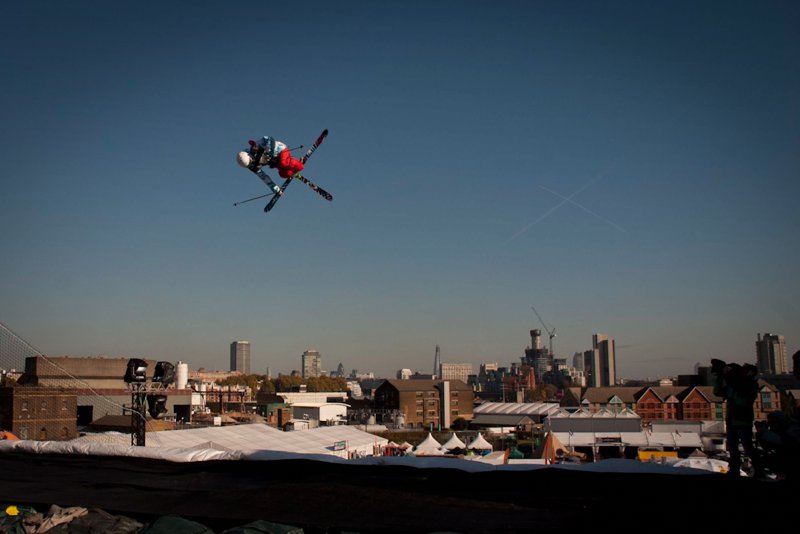 Andy Matthew
There was a tense moment as Julian Ball took a bad fall after stomping the landing on a cork 900 japan, as his ski got caught in some soft snow and he took an awkward fall and came up holding his knee. Luckily the injury wasn't as bad as feared, and he'll be back riding in a few weeks. However the finals spot earned with his first run had to be given up to Pete Speight, who had landed a smooth cork 7 tail grab.
Rounding out the finals line-up was George Walton and Andy Collin (who were both coming back from injury), with George's steezy shifty 7 nose putting him just above Andy's massive and stylish floaty 3.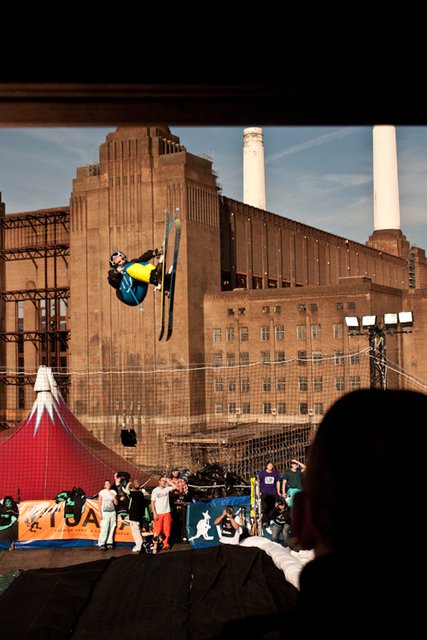 In the head-to-head finals, the riders had two runs, with the best score from each run counting. With four eliminated, the remaining skiers would go on to the one-run super final. In the battle of the Andy's, Andy Matthew prevailed over Andy Collin with his super consistent misty 7 mute, while Nathan Connoly's rodeo 7 helped him squeak past Andy number three, Andy Bennett, who nailed a switch 5 double grab and insane zero spin shifty.
George Walton knew he had a tough task being drawn against the European X Games bronze medallist Woodsy, but put in a good attempt with a big shifty 7. However Woodsy stepped it up with a perfect double cork 12 mute following his ridiculous 720 double blunt to truck driver. The remaining super final spot went to James Machon, who stomped his 7 mute again over Pete Speight's 7 tail.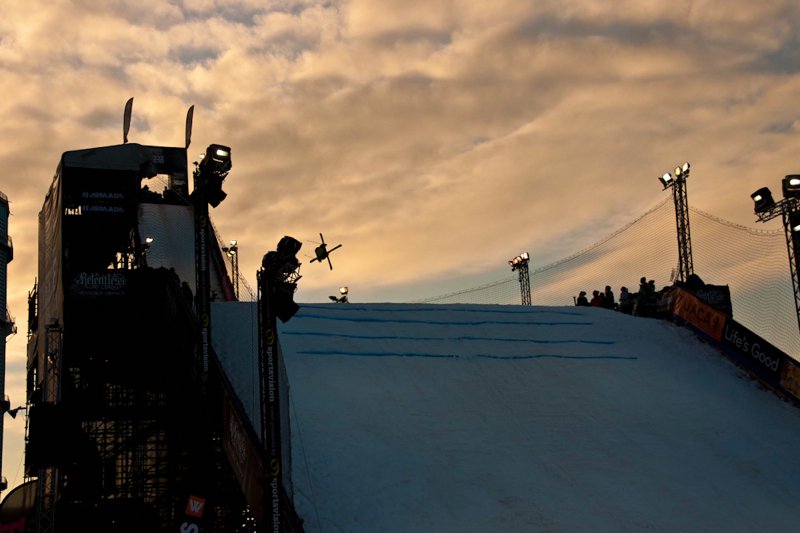 With just one run in the super final to cement their position, the four riders tried to perfect the tricks that had got them to the final four. In the end, James Woods proved that he is the hottest talent in the UK right now, and destined for another great season, by stomping another double cork 12 to take the win in the Battle of Britain.
James Machon - 3rd place
Andy Matthew - 2nd place
James Woods - 1st place
International Freeski Big Air
After the snowboarders practiced for the FIS competition the next day it was time for the international ski competition, and a chance for the growing UK crowd to see some of their skiing idols throw down live in front of the iconic Battersea power station. The 34 skiers would be whittled down to 16 in a best of two runs qualification, leading to a head-to-head then four-man super final.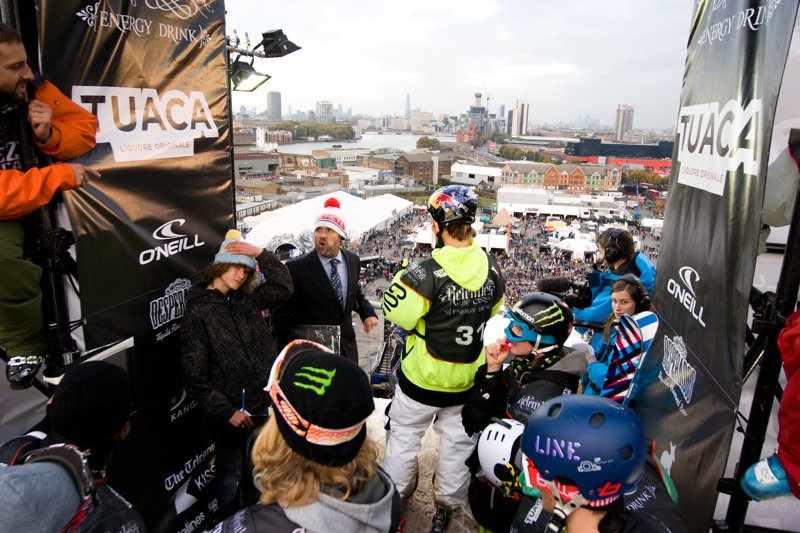 The competitors discuss tricks as Jon Olsson gets ready to drop in.
Four years since PK Hunder threw the first double cork ever landed on UK soil, London was treated to a double cork fest as it seemed almost every rider in attendance had one in their arsenal to throw down in qualifications. The always-entertaining crowd favorite Colby James West changed it up a bit with a huge double flatspin, but unfortunately it wasn't enough to get him through to the finals. Also missing out on the 16 available spots were the super-stylish Lolo Favre, whose switch 7 screamin' seamen to tail grab left the amassed crowd amazed, along with the UK's own James Woods and James Machon, who both just missed out on the necessary points to make it to the big show.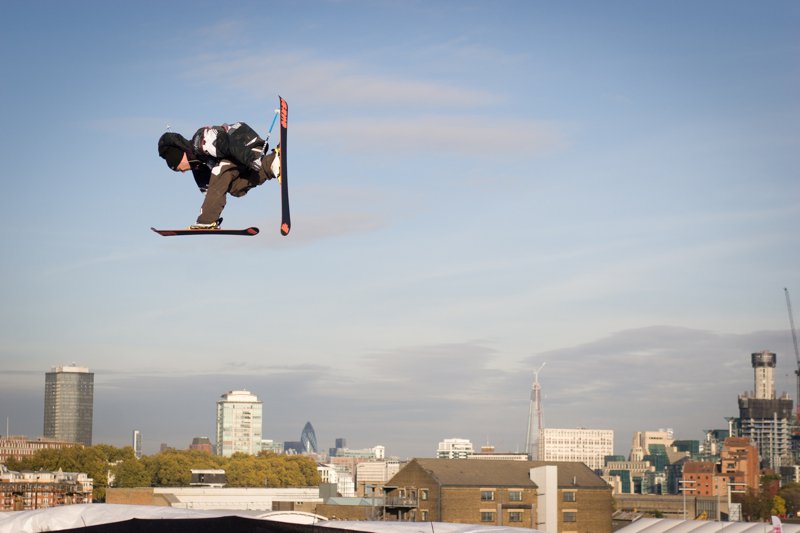 Laurent 'Lolo' Favre consistently impressed the crowd with a series of tricks that showed off the Frenchman's unique style.
Of the riders progressing to finals, it was Telluride, Colorado's Gus Kenworthy taking the top spot with a massively clean and stylish dub 10 blunt. Ole Musted recovered from a big first run fall, which sent his ski high into the air, with a switch double cork 10 double grab. Jossi Wells was consistent with his switch double cork 10s, while Oscar Scherlin took the fourth place qualification spot with a huge switch double cork 12 mute. And Klaus Finne's squeaky clean dub 10 double mute got him through ahead of Switzerland's Elias Ambuhl along with Joss Christensen and last year's champion Jacob Wester.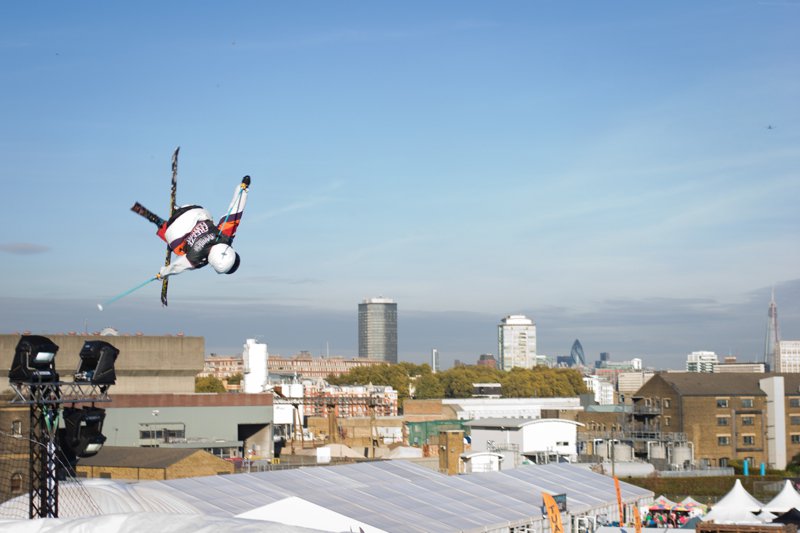 Gus Kenworthy
As the crowd grew while Rizzle Kicks performed to an equally large crowd in the main tent, the head-to-head finals got underway, with each man having two jumps against his opponent, with the best score counting.
Right off the bat, Gus Kenworthy's double 12 high mute beat his opponent PC Fosse's dub 10, while PK Hunder advanced against Joss Christensen with a switch double cork 12.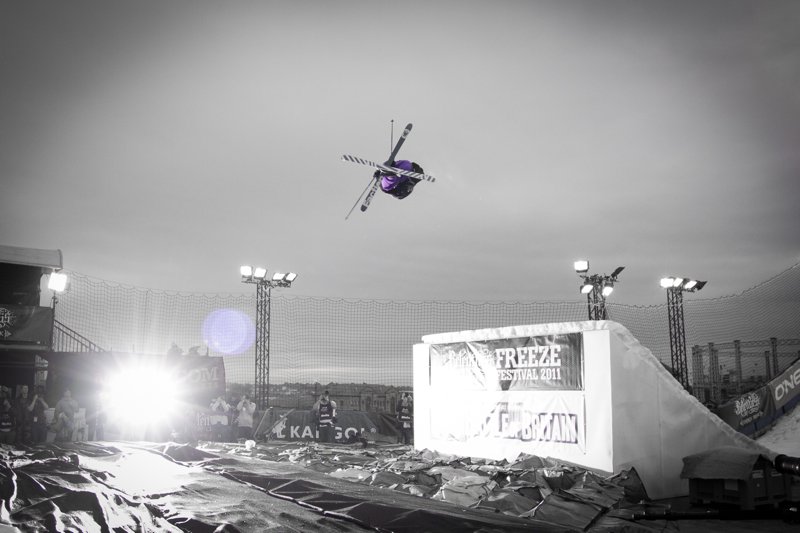 PC Fosse was throwing super stylish dub tens all day.
Elias Ambuhl's huge double 14, gaining the day's loudest crowd reaction so far, helped him best Mikkel Jorenstaad, while Jossi Wells had time for an equally crowd-pleasing backflip after stomping his switch double 10 on his first go at it against Frenchmen Jeremy Pancras. Oscar Scherlin also advanced with a clean switch double 12, proving too much for Jonas Hunziker's double 10 double mute with a cheeky poke.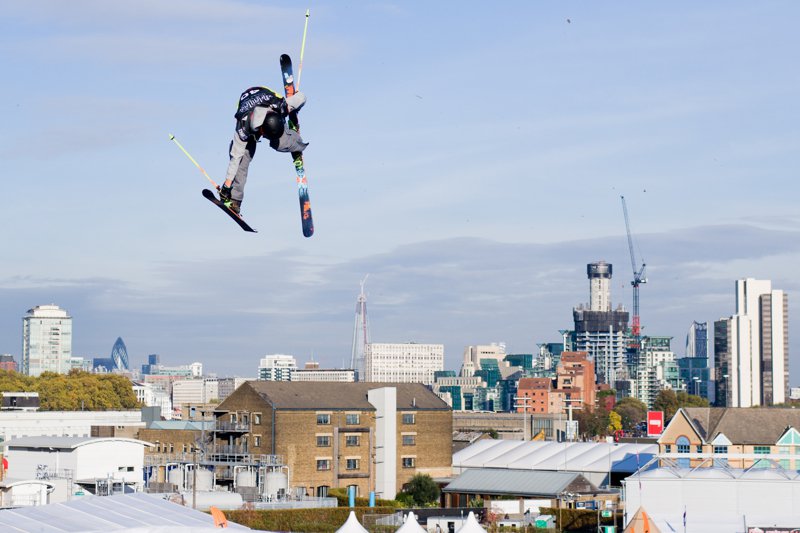 Oscar practices some crazy grabs on his way to an eventual podium finish.
Crossover king Jon Olsson proved once again that his time on the race course hasn't diluted his big air skills, with a super clean double 10 japan against Klaus Finne, while Fridjof Friedriksson held the grab all the way through his double 12 double mute, allowing him to prevail over Kai Mahler's failed attempt at a massive double 10 that took him too far down the landing.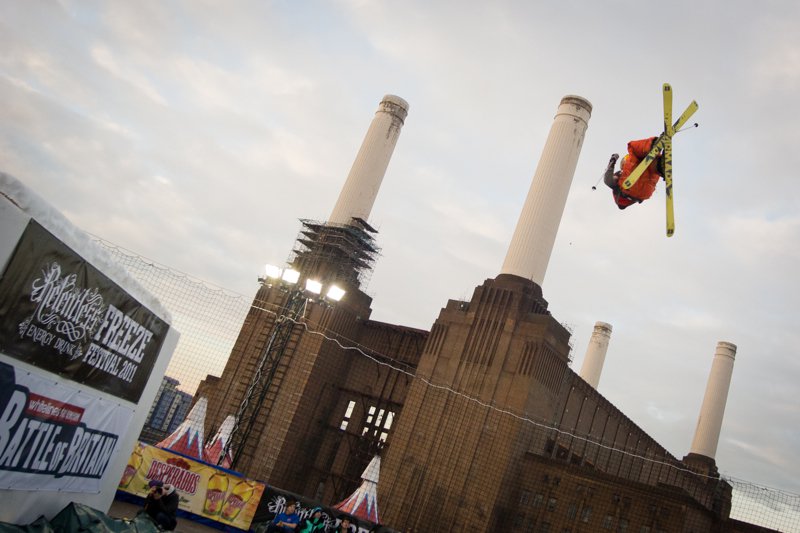 Last year's London Freeze winner Jacob Wester.
Jacob Wester's dreams of a repeat win were dashed by Ole Musted (re-named "Ollie Mustard" by emcees Tim Warwood and Christian Stevenson, who were both in top form all day), whose first attempt at a huge double 12 nose scored him higher by one point. Despite already making it through to semi-finals, Musted went for another huge double 12, tweaking his ski off mid-air. Luckily he was uninjured and in good enough shape to proceed.
Semi-Final
It was then down to eight men for the semi-finals, and as Groove Armada started up next door, the UK was treated to the finest freestyle skiing ever seen in our country. PK versus Gus was up first, with Gus's sick double 12 blunt and huge double 14 not quite enough to see off Hunder's huge and authoritatively stomped switch double cork 12.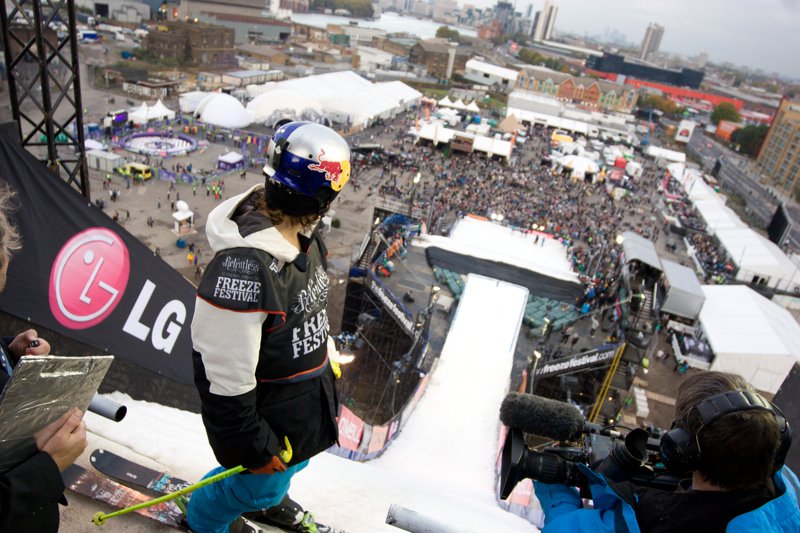 PK Hunder at the top of the ramp.
Elias Ambuhl tweaked a double 14 high mute to the adulation of the crowd, who seemed sure he was on his way to the finals, however Kiwi Jossi Wells was hungry to make the most of his trip from the other side of the world, and his switch dub 10 safety, which oozed with style, put him ahead by one point. Elias then went for the dub 14 again, hoping to increase his score, but couldn't put it to his feet, allowing the man from down under to once again entertain the crowd with a super tweaked zero spin.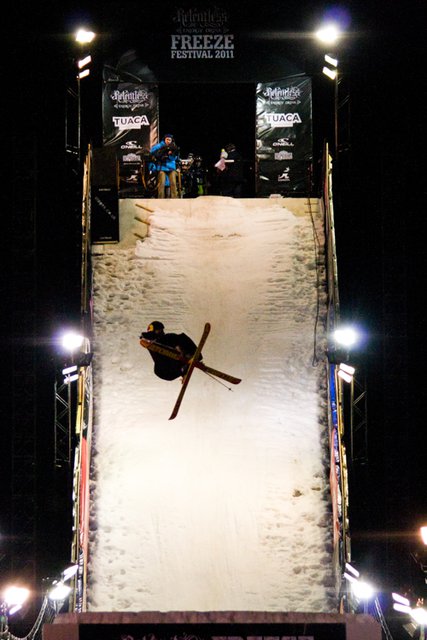 Elias Ambuhl grabbing his double cork 14.
In the words of Tim Warwood, it was Obi Wan vs Darth Vader as Oscar Scherlin took on Jon Olsson, with Oscar's absolutely massive switch double 12 taking precedence over Jon's switch kangaroo flip. With only one spot left in the final, Fridjof and Ole Musted battled it out, with Ole's poked double cork 12 gaining him a place in the four-man super final.
Jon Olsson was narrowly beat out by his long time protégé Oscar Scherlin.
Super Final
As four of the world's finest freeskiers lined up at the top of the ramp, the emcees warmed up the crowd with a Mexican wave, getting them primed for a two-run final where the best jump counted.
Ole Musted, aka Ollie Mustard, ended up just shy of the podium in fourth.
Ole Musted - 4th place
Taking fourth place was Ole Musted, who just couldn't put his double 12 attempts to his feet in the final, crashing on both runs. In the first runs, PK absolutely nailed a switch double 12 high mute in super smooth style, earning a huge 92 points from the judges. Oscar's switch dub 12 was absolutely massive, landing with a heavy head that Joe Schuster and Ian Cosco would be proud of and besting PK with 94 points.
PK Hunder, en route to the third place spot on the podium.
PK Hunder - 3rd place
Jossi Wells, who had been skiing consistently all day, reverted on his switch double 10, and was awarded only 40 points due to this, as the judges knew that at this level, every aspect of the jump has to be perfect.
With Oscar Scherlin in the lead, and just one chance left to claim the London Freeze championship again after taking gold at the inaugural event in 2008, PK Hunder dropped in switch and landed the first switch double 14 of the night, complete with a perfect high mute grab. The crowd went crazy, but due to putting his hands down on the landing, the judges could only award 80 points to PK.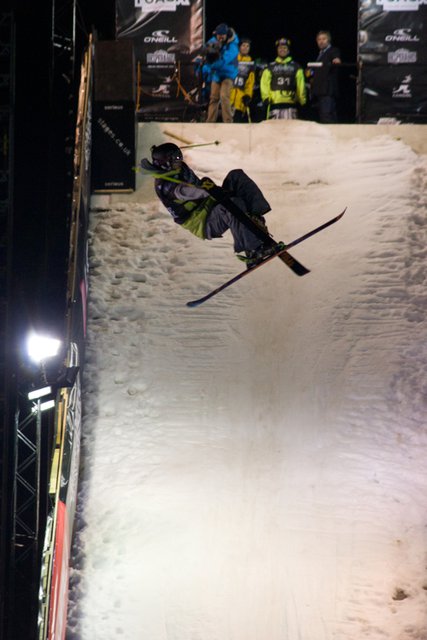 Oscar Scherlin puts down a solid 94 points in the super final to take second.
Oscar Scherlin - 2nd place
Oscar Scherlin, still set to win, went for a crazy grab on his double but couldn't put it down, keeping his 94 as the best score so far.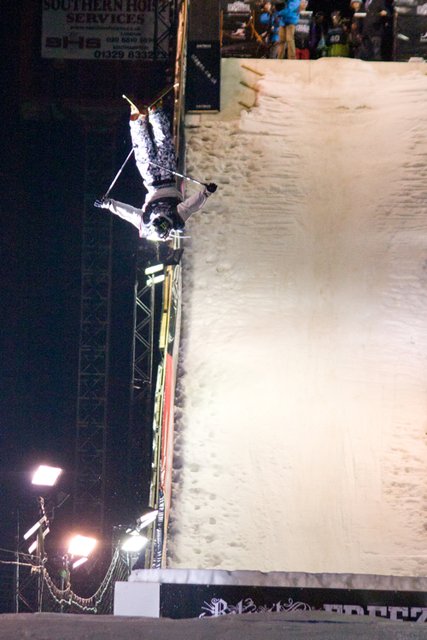 Jossi pleases the crowd with a backflip before winning the event with an immaculate switch double cork 10.
Jossi Wells - 1st place
Looking super stylish in a sunglasses/helmet combo, Jossi Wells absolutely stomped the living crap out of a huge, super corked switch double 10 safety, immaculate in every way. This earned a gargantuan 96 points from the judges and awarded Jossi the top spot on the podium during his first time competing at the London Freeze, which he celebrated in traditional style by dousing his fellow competitors, the emcees and cameramen in champagne.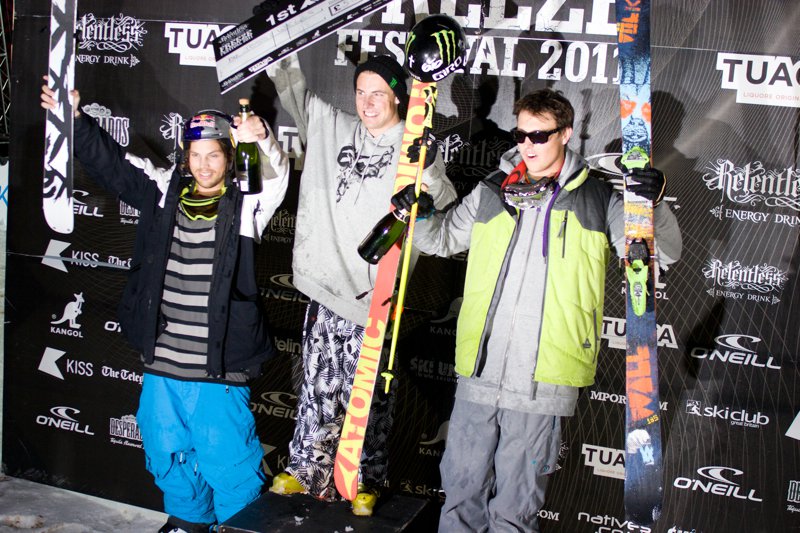 PK Hunder (3rd), Jossi Wells (1st), Oscar Scherlin (2nd)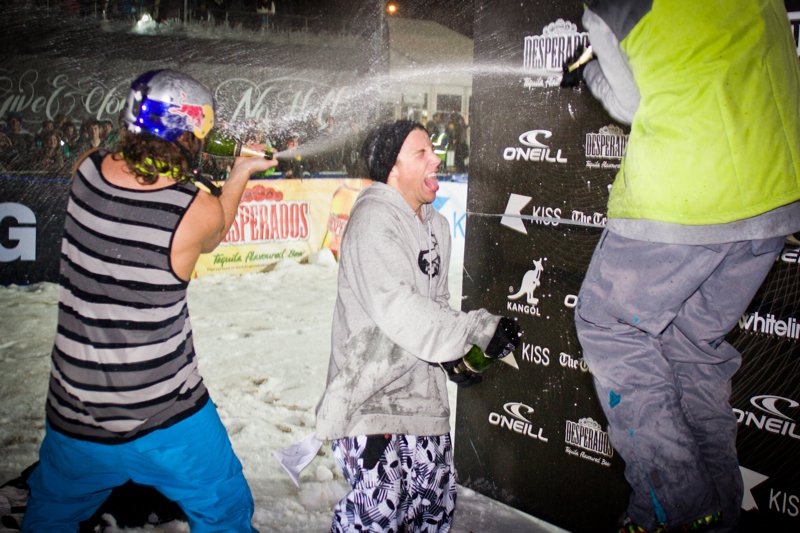 This year's Relentless Freeze Festival in London was without a doubt the best yet, squeezing two more days more of skiing in than most Brits see in an entire year. You stay classy Newschoolers, and enjoy the hilarious behind the scenes video below, which features some of skiing's most entertaining athletes, along with an action-packed edit on what went down during the competition.
Behind The Scenes at London Freeze, starring James
Woods, Elias Ambuhl, Colby James West, Jon Olsson, Paddy Graham, Laurent
Favre, Jossi Wells and others.
Video Highlights from London Freeze