Hello. I'll tell you a little story about our urban shootings. JunglePark team was today me, Samuli Sandelin and our photographer/filmer Niko Ranta. First we were skiing urban powder and some drops. Skiing urban powder is so much fun. You just go to nearest downhill and you can ski powder. Thats simple and great fun! Back to story about our day... We hitted drops few times and get some nice shots. Every time must be some action...I hitted about 6 metres drop and hit my shoulder and back little bit but nothing bad.
After powder and drops we headed to local kebab/pizza place. I ordered pitakebab and it was great...as always. :D After we chilled little bit we move to local school for shoot some jibbin and wallride. First we shooted somekind of dumbster jib. It's hard to explain about dumbster but it was flat on top so you can slide on it...you know. :D We made some handdrags etc. out of dumbster. So much fun just jibbin! I made 180 in and try to do sw 180 out but I failed that someway and hit my shoulder again. Bad luck or something? But I'm still ok. :D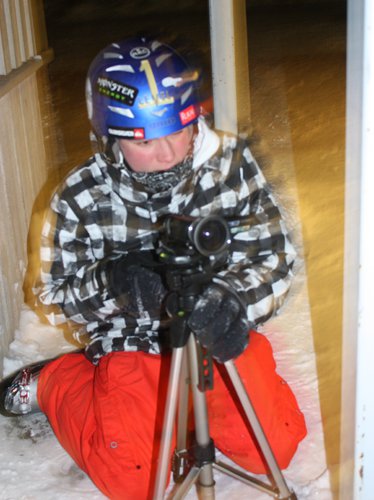 Henri filming wallride. Photo by Niko Ranta.
After dumbster jib we started to build kicker for wallride. Wallride worked very well and we get great shots again. Actually it was my second urban wallride I ever hitted. I love urban wallrides much more than wallrides on slopes! :D We decided to end our sessions and start to destroy kicker and clear snow away.
Great day and 5 and half hour urban skiing behind. We captured lots of great material and the most important... we had fun! That was our story about urban skiing. See you next time! Follow our ns.com blog...next update coming soon!
Samuli hitting wallride. Photo by Niko Ranta.