Student athlete, Maggie Stout just earned herself a place amongst the top ten of The North Face Ski Slopestyle and Superpipe Series in Waterville Valley and a title as one of our leading ladies at Windells Academy! Ranking 4th in women's slopestyle and 6th for women's superpipe this weekend, Maggie continues to progress this season and represent for the ladies. Here, Maggie shares her experiences as a freestyle skier, a road warrior, what her favorite mountain is and what other girls can do to progress in skiing as well. Congratulations, Maggie!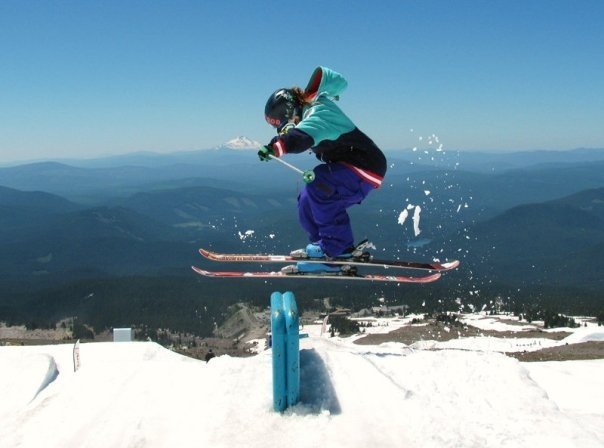 WA: Maggie, how long have you been riding and competing?Maggie: My dad taught me how to ski when I was two years old and I've been shredding ever since! In previous years I would just do little competitions at my home mountain in Pennsylvania. This season I'm entering bigger comps.WA: What's your home mountain? You've traveled a little throughout the years what has become your favorite mountain?Maggie: My home mountain is Blue Mountain in Pennsylvania, the best mountain ever! I've been fortunate enough to travel to a handful of mountains but there's no mountain like Blue. It's definitely the 'funnest' mountain you will ever go to. If you ever get the chance, make your way over there!
WA: It takes a strong person to bounce back from a torn ACL and we've seen you return from multiple knee surgeries. Where do you draw your inspiration from?Maggie: Getting back from my various knee surgeries has always been hard but I always try to keep my head up when it comes to injuries. Hey, it's a part of the sport. You just have to work through it and it will eventually get better. Don't give up on anything.WA: Very inspiring, Maggie. It also takes a strong lady to travel with a bunch of dudes! This season you've been quite the road warrior, traveling to competitions all over the country. What's it like traveling with all of the guys in the tour bus (AKA Academy van)?Maggie: It's not bad! The boys and I all get along great, so we always have fun. A plus side is I get my own room when we travel so I never have to live in the smelly mess!
WA: What advice do you have for girls who aspire to progress in the sport of women's skiing?Maggie: GO FOR IT! We need more girls in the sport! There have been so many competitions I've gone to where I compete against myself and that is always such a bummer. So make your way out there ladies!WA: OK, so let's get serious. Kesha or Lady Gaga?Maggie: NICKI MINAJJJ BABBYY!
WA: Any shout outs?Maggie: My wonderful momma- I love you, thanks so much for making my dreams come true. My Dad- love and miss you, RIP<3. Connor- thanks for being so supportive through everything, love you. All my friends and family back home. Halor Gang. And a huge shout out to the home town, reppin it hard for the 610!