words & photos: Julie WeinbergerThe season is not done yet, and that certainly showed when the wind started to whirl and the snow began to fall at Echo Mountain Park on Saturday, April 29.Echo played host to spring time bash Last Park Standing, an amateur rail jam followed by an invitational event. In typical Colorado fashion, the weather was a bit lost in the late afternoon. It's almost May. Be warm! But, riders were there to slay some rails, not to worry about the weather. Only those of us standing around with a camera in our hands were thinking about that.Registration for the noon event began at 10 a.m. I rolled up around 10:20 and registration for the 50-person amateur rail jam was already closed. Reports floated around that some kid got there at 6 a.m to make sure he got a spot. Another dude supposedly hitchhiked all the way from Utah. If that's not dedication, what is?At noon, the event kicked off with the amateur rail jam. The 50 skiers and boarders lucky enough to get a spot jammed for two hours. The course consisted of a rainbow box, an up-flat-down concoction of a box and two picnic table boxes, a flat-down box, a down rail, the Smith limo, two C boxes and a black tube-like thing that stood straight up.Skiers absolutely attacked the course. It was a 270 fest. But, that's ok because there were some flippin' good 270s. There were also lots of switch-ups and a few awfully clean 450s. Most skiers avoided the up-flat-down box/picnic tables and went for the flat-down box next to it. The Smith limo was a popular item to spin on, switch up and spin off of. No one really hit the black tube thing. Instead, some riders hit the surrounding snow as a jump. Of note was Nevil Wilder's back flip off this mound and Grant Salvidge's 270 on, 270 out on the Smith limo as well as his 270 on, 360 switch-up, 270 out on the rainbow box. It is a mystery as to why he did not place. "The course is really, really good for a rail jam," Salvidge said. "It's really smooth and everything flows nicely."After the early afternoon rail debauchery, the invited athletes showed their stuff. Hayden and Jane Howard—the winners for the guy's and girl's from the amateur jam—got the chance to throw down along side the invitees. They jammed for an hour and a half under snowy, windy skies. The top four then moved on to a 20-minute jam final. Ian Cosco dominated from run one. He was spinning so much, it's a wonder he did not get dizzy. His 450 on, 270 out was easily one of the best tricks seen all day. After riding the amateurs earlier, Howard showed he had the goods, making it all the way to the final four. In the 20-minute final, he tried raising the bar by going bigger. While he was crashing hard, he was certainly givin' 'er. David Lesh and Everly Gohman also killed it. Lesh's cab 270 on, uphill switch-up, 270 out on the Smith limo was certainly a crowd pleaser. Gohman was probably the most consistent rider, nailing just about everything he tried. "The course set-up was really fun," Cosco said. "It got a little slushy but other than that Echo did a good job."Echo Mountain Park would like to thank the event's sponsors and contributors including Sobe, Smith Optics, Glaceau Vitamin Water, Channel 93.3, Westword, Rome Snowboards, Unity Snowboards, Never Summer Snowboards, 32 Snowboard Boots, Freeskier Magazine, Volcom, 686, Bern, Line, Roxy and Quicksilver."We just wanted to put on an event to thank our customers and our sponsors and have a big end of the year party," said Eric Petitt, Director of Marketing at Echo. "I think everyone had a great time and it looks like everyone is leaving happy."ResultsAms:Girls'1. Jane HowardMens'1. Hayden Howard2. Scott Bloomer3. Bryan GallantBoys'1. Quinn Harris2. Krein Harris3. Bobby BromInvitational:Finalists:David LeshIan CoscoEverly GohmanHayden HowardWinner:Ian Cosco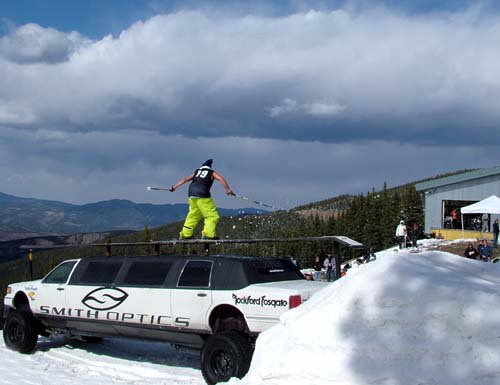 Brent Stickler ditched the sleeveless idea when the temperature dropped 15 degrees shortly after this hit.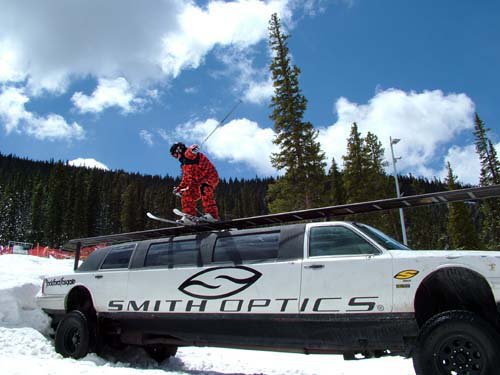 Grant Salvidge: 270 on, 270 out.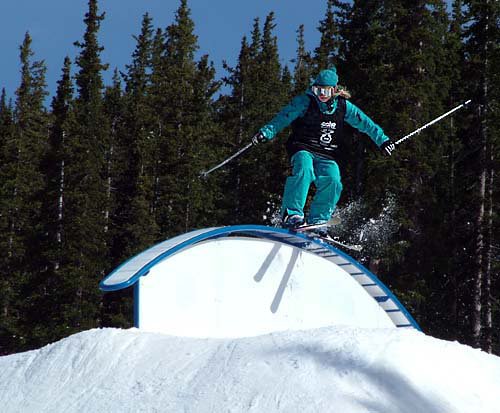 Steph Myers greasing the rainbow box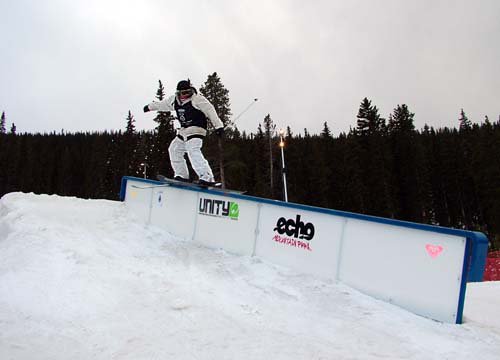 Everly Gohman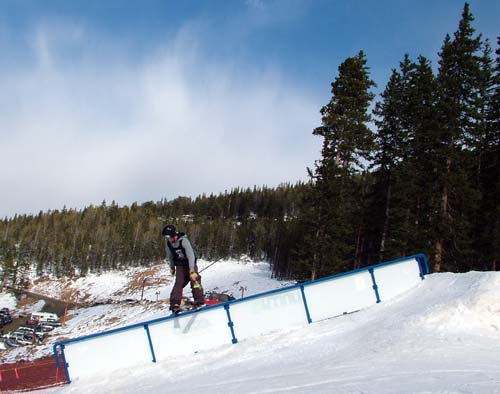 Jeff Rutkowski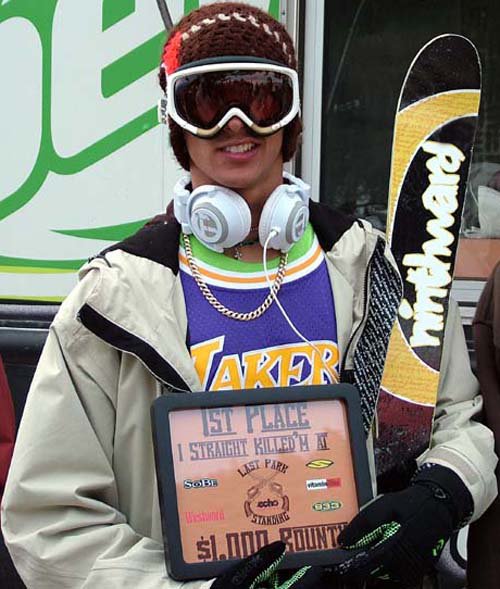 Winner!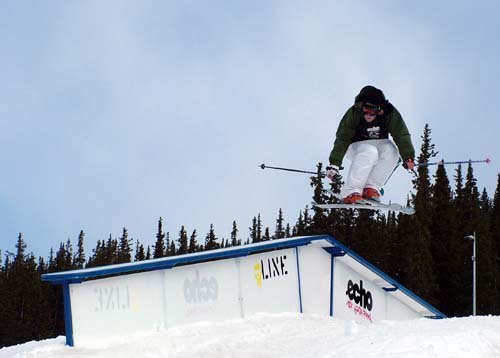 Ryan Spinks forgot there was a flat part of the box.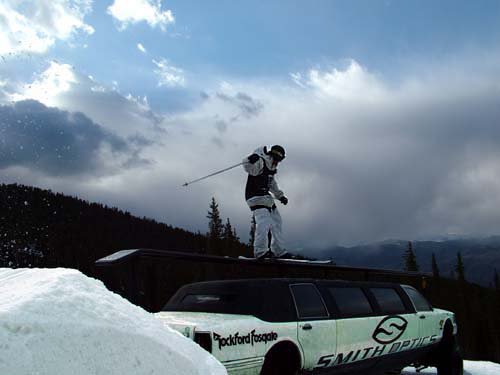 Yikes! Look at those clouds.