For the third time, Winter Jam will challenge some of the world's best skiers and snowboarders to take on the gigantic jump built in the Stockholm Olympic Stadium. At this action packed event the riders will take huge air accompanied by great DJs and winter sports fair.
Many riders have already accepted the invitation to Peak Performance King of Style 2008. Apart from Sweden's own freeski stars such as Jacob Wester and Jon Olsson, previous year's winners, Sammy Carlson, USA, and Richard Permin, France will be competing. The YouTube-based video qualification for the final two places will be open until 10 November, so there is still a chance for the public to try to join the competition as well. Simply post a maximum 60 seconds long video of yourself on YouTube and then apply by sending Peak Performance a link, containing the video.
Find out more about the video qualifying and the competition at http://www.peakperformance.com/events
About 70 snowboarders compete in the LG FIS World Cup in Stockholm. Chris Sörman, winner of Ice Air in San Fransisco, and Jonathan Nilsson, best Swede in last years Winter Jam, are already confirmed. Other big riders like Peetu Piiroinen, Finland, winner of the Big Air premier in London, Roger S Kleivdal and Ulrik Badertcher, Norway, have also confirmed that they will be competing.
"This year, I hope the arena will be filled to the brim with enthusiastic and excited people," says Ulf Mård at Louder. "And when visitors feel inspired and want to try out their skills, there is a DC rail-arena with smaller competitions for both amateurs and professionals."
Furthermore, the Red Bull FMX show brings two more big riders to the Stockholm Olympic Stadium; Fredrik Bodin, winner of Air n Style 2007 on snowmobile, and Fredrik Johansson who was the first person in the world to do a flair on a motocross.
As with previous years, ski and snowboard suppliers of hardware and software, will be displaying their new collections at Sweden's only winter sports fair. Entrance to all of this is free of charge!
Join the event on Facebook, for continuously updated information, and don't forget keep an eye on the official website http://www.lgwinterjam.se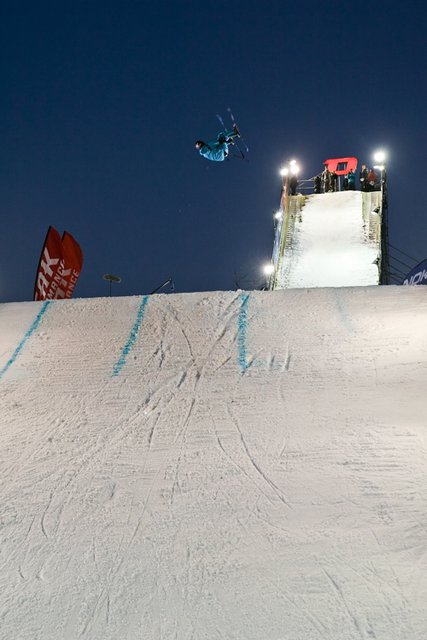 Jon Olsson at last year's King of Style
Preliminary schedule for LG Winter Jam – Saturday November 22nd
11.00 Official start of LG Winter Jam 2008, Winter sports fair, DC rail-arena opens for public, Snowboard training and qualification throughout the day, skiing qualification 09.45.
16.30 – 16.40 Red Bull FMX warm-up
16.40 – 17.00 NRJ DJs
17.00 – 18.00 Final LG Snowboard FIS World Cup, live on SVT2
18.15 – 18.40 Red Bull FMX show
18.40 – 19.00 NRJ DJs
19.00 – 20.00 Final Peak Performance King of Style, live on SVT24
22.00 – 03.00 Party
Partners: LG, Peak Performance, Stockholm Capitol of Scandinavia, Scandic, NRJ, Transition, Tacky, Freeride