Words & photos by Jen Merrihew
The last time I heard someone talk about Homecoming, it was soon followed with discussion about football games, class floats, and dances. This past weekend I attended a Homecoming that was unlike your typical event. The Seven Springs Homecoming was more thrilling than a last minute touchdown, as the host was none other than Kristi Leskinen, the X Games athlete who has racked up a multitude of achievements since stepping onto the male-dominated ski scene. Learning of a professional ski event being hosted on the East Coast, I, along with many other riders, made the trek to Champion, PA.
Cruising through Pennsylvania was like watching slide after slide of farm lands and soggy grass, occasionally dotted by a bustling town. As a skier, it was a devastating thing to see. While we all love t-shirt riding, the sight of brown grass overtaking the hills is like a rash consuming what's left of the snowy-white skin of the Earth. I feared the worst until I reached Seven Springs. The sight of white gold dripping down the side of the mountain gleamed in the eyes of fellow riders as they pulled their cars into the parking lots, pausing to admire the gem of accumulation that they thought was gone until next year.
Growing up in Uniontown, PA, Kristi was a frequent visitor of Seven Springs, forming many great memories and skills there. As Kristi came back to Seven Springs this past weekend, it was obvious she was excited to be basking in that cozy feeling that you only can find at your home mountain. "I learned my passion for skiing here," she said. Just like extended family, your home mountain helps you become what you are, even if it means packing up and moving some day. In hopes of sharing that feeling with friends and young riders, Kristi organized an event unlike any other in the industry.
As the spring temperatures typically rise, so do the number of competitions and events, but Leskinen's girls-specific event stands out from the typical line-up. Kristi wanted to "have an event [that] I felt was going to help progress the sport." Working with the staff at Seven Springs, along with Snow Park Technologies and Kristi's vision, the park was designed to house features that can help showcase girls skills and abilities. It was Kristi's goal that the girls, "always be smiling," and make it so the "jumps aren't intimidating." Watching the girls play around on the features during practice on Friday, it was obvious that Saturday and Sunday's events would be fun for the pros and other riders.
Saturday started off early as the riders came to receive their homecoming sashes. Roz Groenewoud, one of the athletes in attendance, noted how they added to the fun vibe of the event, recognizing that a typical bib became an annoyance. Along with Kristi and Roz, other sashed athletes included Meg Olenick, Kaya Turski, Jess Cumming, Keri Herman, Angeli Vanlaanen, Amy Sheehan, Whitney Wickes, Anaïs Caradeux, and Grete Eliassen among others. Representing for the snowboarders included Maribeth Swetkoff, Hana Beaman, Silvia Mittermuller, Chanelle Sladics, and more. The slopestyle event was compiled of a flat bar/trap box option, a flat-down box/urban down-rail option, followed by a three-jump line. Judges Ashley Battersby and Sarah Burke, along with commentator extraordinaire Luke Van Valin, were unaware of the show that was about to be put on.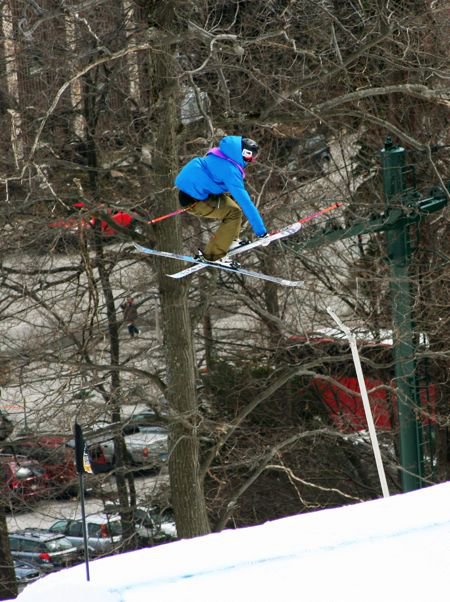 Meg Olenick makes sure to get her grab.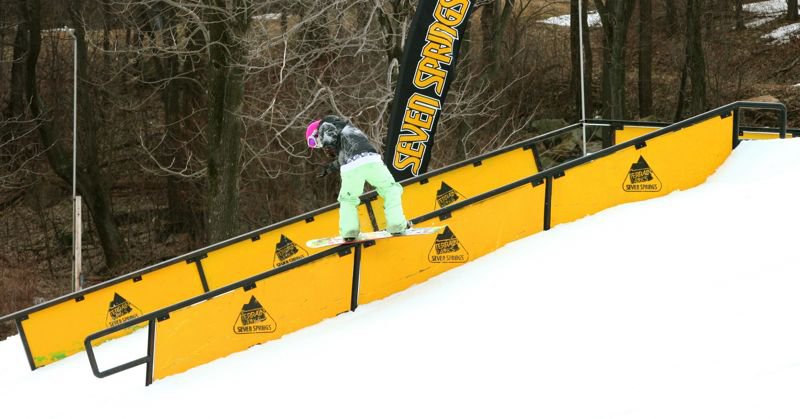 Maribeth Swetkoff presses out the down rail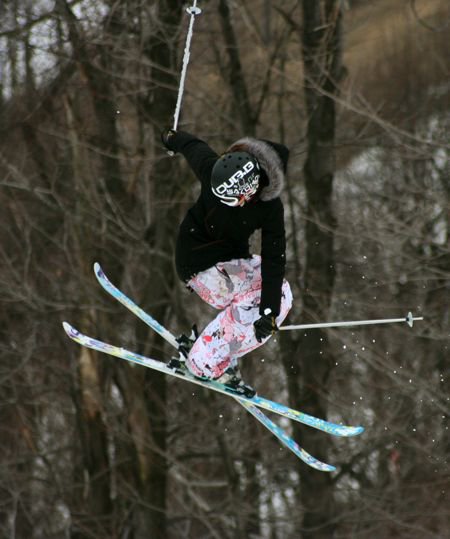 Homecoming Queen, KayaTurski
You could tell that the vibe of the event made the riders able to have fun and feel comfortable. The crowd below witnessed countless 540's, slayed rails, and even a cork 7 from Kristi. Pro-snowboarder Chanelle Sladics held it down for the boarding ladies, later winning the event, as she constantly went big and effortlessly floated over every jump. While the judges kept their eyes open for the clean grabs, the undisputed winner of the skiers was Kaya Turski, who launched a switch 9 off the last jump without warning. As the crowd cheered, the other riders were also extremely impressed. Ashley Battersby even noted that she hasn't seen Kaya throw her switch 9 in years, and was stoked to see her do it. "Girls work a little differently than guys when it comes to competing," said Kristi, and because so much time was spent making the comfort level top notch, the girls weren't afraid to throw down. It was exactly what the event set out to proclaim; don't take your eyes off the female riders because you never know when they are going to come up and surprise you.
The riders made their way over to the podium to crown Kaya and Chanelle as Homecoming Queens, while also awarding second place trophies to skier Grete Eliassen and boarder Silvia Mittermuller. Third places trophies were snagged by snowboarder Maribeth Swetkoff and the host, Kristi.
Chanelle Sladics and Kaya Turski showing off their crowns.
Immediately following the ceremonies, some of the athletes headed over for a poster signing session. As a line of kids and adults alike wove around the room, faces began lighting up as the girls introduced themselves to every fan. While the fans admired the handful of girls, some of the riders now signing posters remembered looking up to, and meeting Kristi. By the looks of the young girls who were in attendance, the cycle of great women skiers is nowhere near over.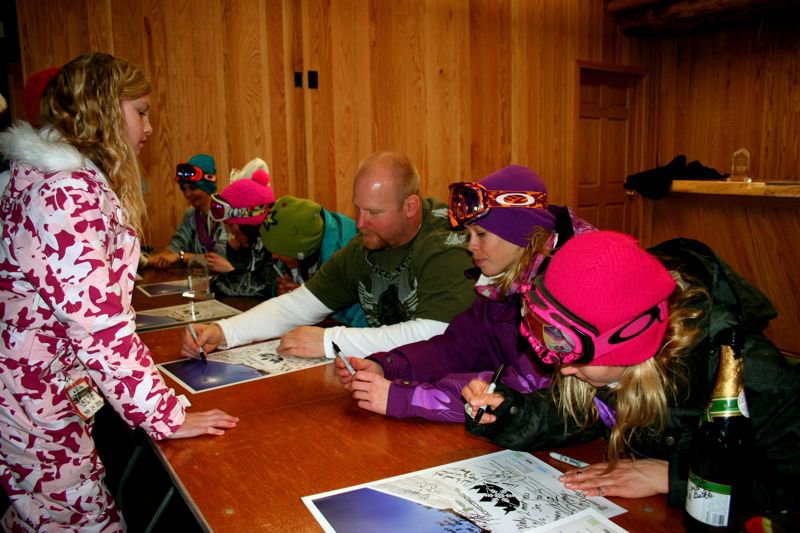 left to right : Silivia Mittermuller, Kaya Turski, Maribeth Swetkoff, Hana Beaman, Pittsburgh Steeler Chris Hoke, Kristi Leskinen and Chanelle Sladics sign posters for admiring fans.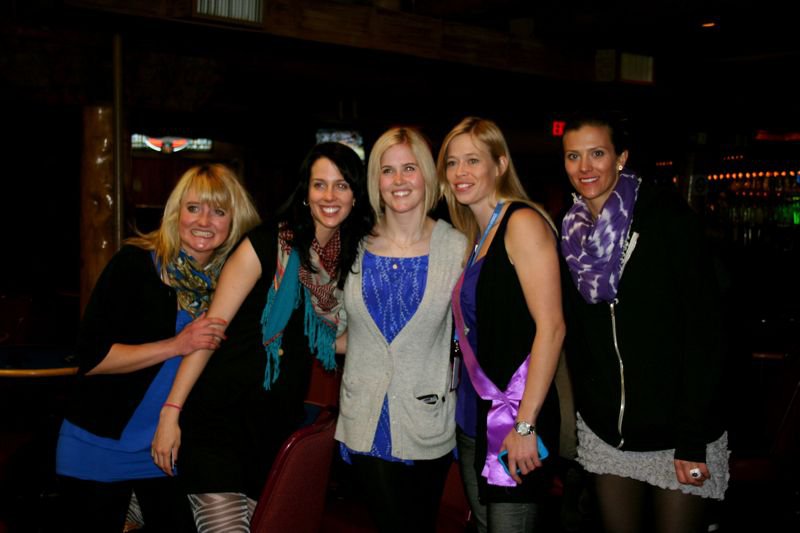 Amy Sheehan, Roz Groenewoud, Sarah Burke, Kristi Leskinen and Jess Cumming at the Monster Party.
The successful day was then capped off by a night of fireworks and partying, but the morning came quicker than expected. Arriving at the base of the hill on Sunday, a group of thirty youngsters had already gathered, eager to participate in the "Ski with a Pro" day. As the day wore on, more and more of the pros began to show their faces.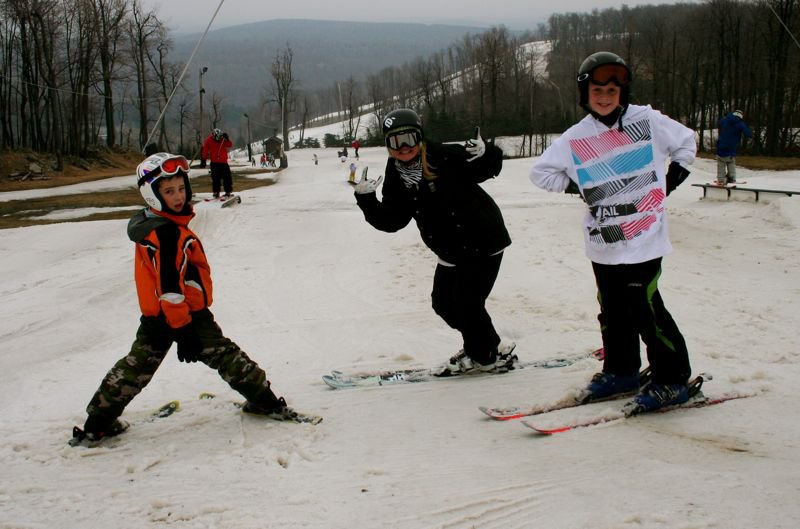 Amy and some new ripper friends.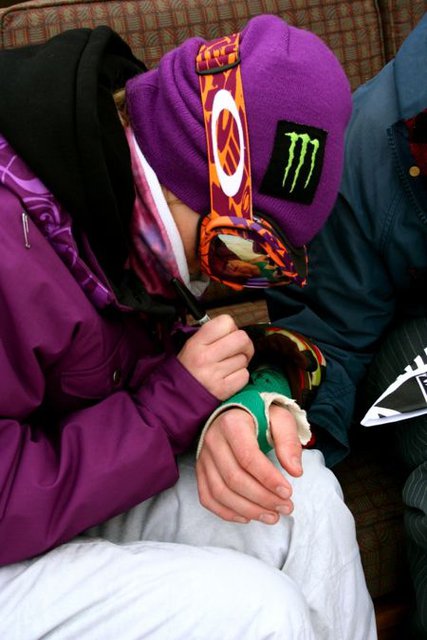 Kristi signs the cast of a local rider and talks about injuries.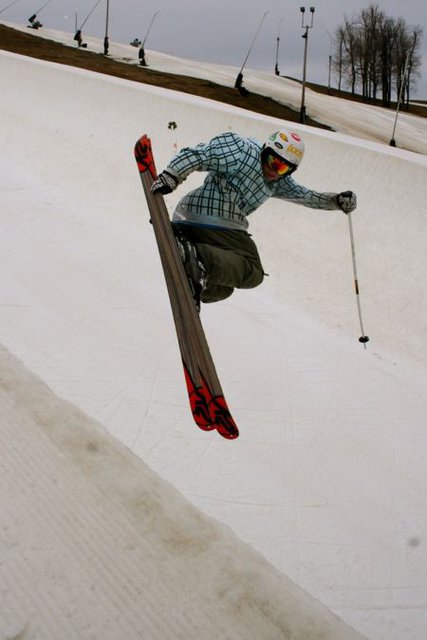 James boosts out of the pipe during Ride with the Pros Day.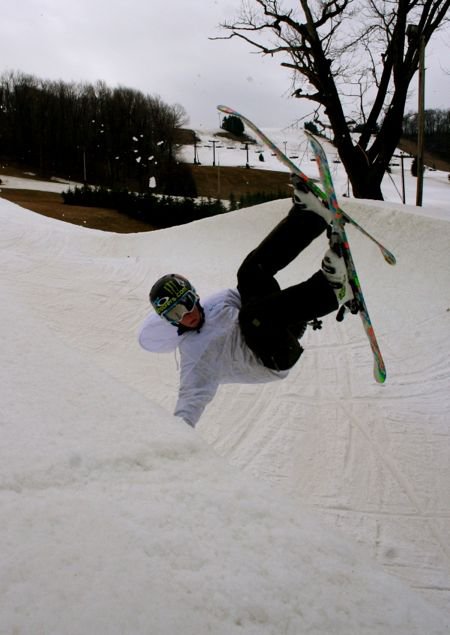 A Local NS'er shows off his handplants.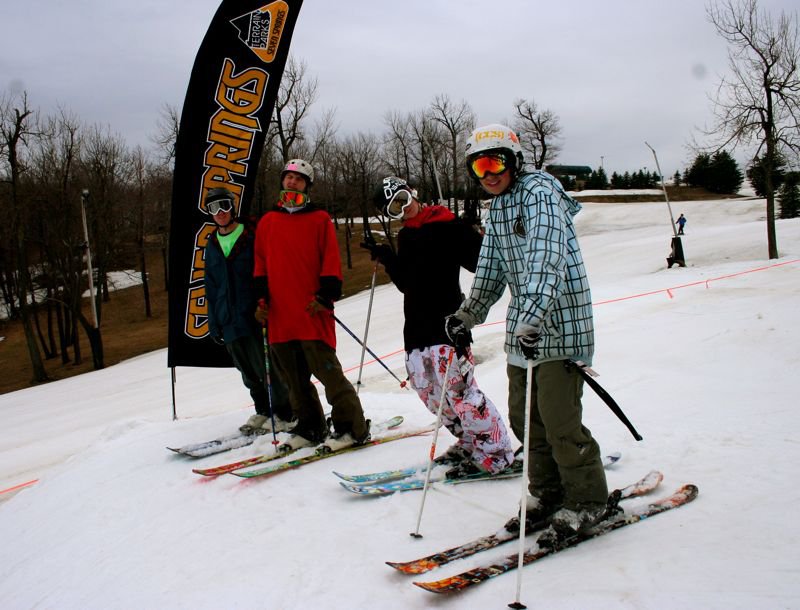 Logan, Dave, and James with new friend, Kaya Turski.
Some of the best moments of the day occurred when the kids were hanging out with the girls. While you could tell that a lot of them were still in awe, others jumped right up and wouldn't leave their sides. Amy spent time showing some of the younger kids how to get onto boxes and slide them, while Kaya, Jess, and Kristi watched some of the older ones work on their rail skills. After practicing all day, the kids had the chance to show off in either a 13-and-under rail jam or the 14-and-over jam. Both groups threw down super hard knowing that not only their friends were watching, but some elite athletes as well.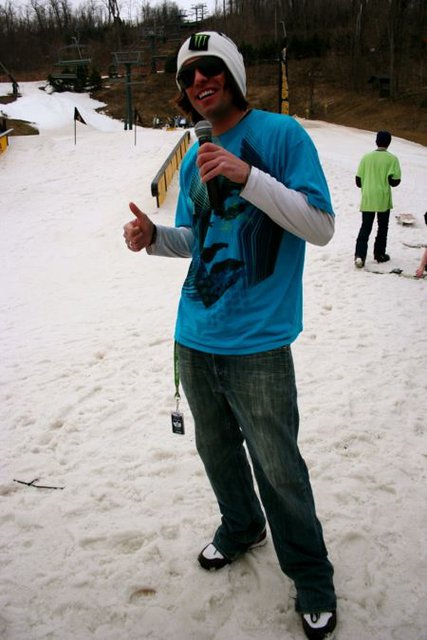 Luke Van Valin keeps the crowd laughing during the rail jams.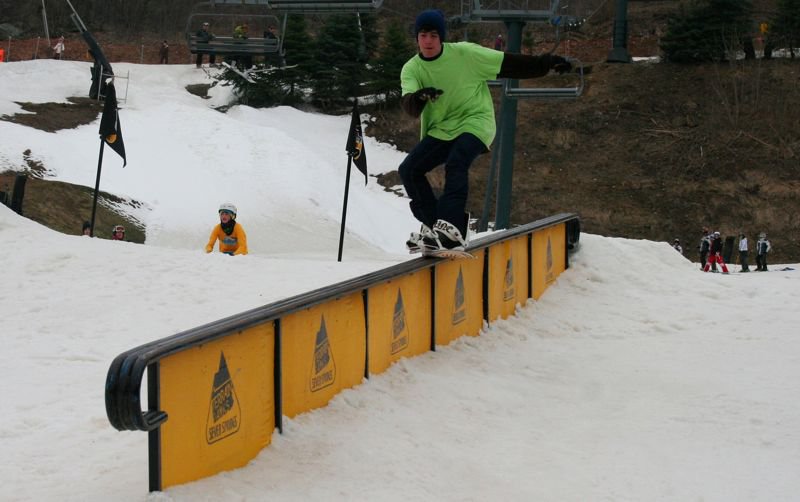 Snowboarders and skiers competed for prizes, throwing down hard on the flat-down rail.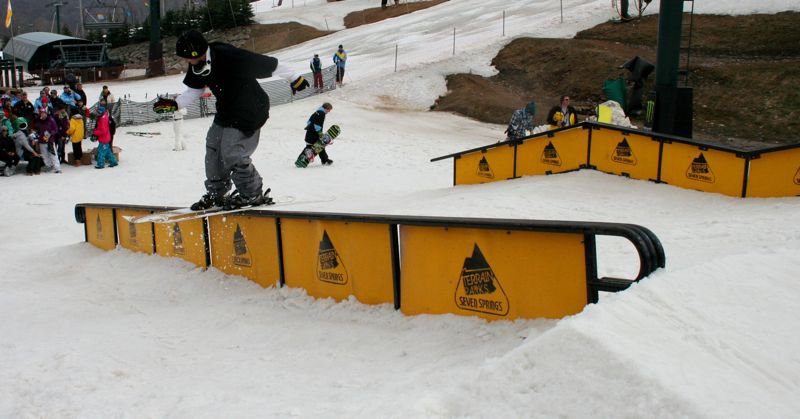 Caught fellow NS'er, Ryan, smoothly sliding in the jam.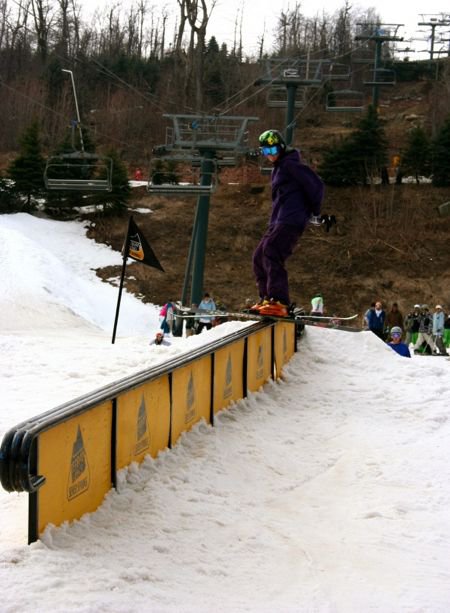 Roz Groenewoud (and Kaya) couldn't help but jump into the jam.
Talking with the girls after the event, it was unanimous that everyone had a good time. The environment that Kristi and Seven Springs worked to present was intimate and relaxed, providing an amazing opportunity for every participant, professional or not, to get to know one another and just have fun. Kristi explained how she wanted to, "have an event I felt was going to help progress the sport." By witnessing the happiness and skills that radiated off the mountain this past weekend, I think it's safe to say she did exactly that.
Fantastic host, friend, and athlete, Kristi Leskinen.
Special thanks to: sponsors Monster, Willi's Ski & Board Shop, Rome Snowboards and Oakley, Alex, Melissa, and Joel at Seven Springs, along with all of the other staff and spectators for their support. A super big shout out to all of the girls, especially Kristi, for their hospitality, kindness, and every day dedication to the sport.