Kootenay Riders started their competitive season in fine style grabbing some podium at the first comp of the year - a slopestyle at Big White. Vis was poor and things generally soggy but that didn't stop the lads from gettin' er done beating out strong local and national competition.
Notable results included:
Males 14 and under:
Miles Fortolotzky - 14 yrs - 2nd and 3rd
Liam Stevens  - 12 yrs - 1st and 5th
Males 15 to 18:
Adam Whitehead - 17 yrs - 3rd and 3rd
Males FIS:
Tommy Pitman - 16 yrs - 5th and 5th
Derek Coulter - 18 yrs - 7th and 8th
Mitch Pitman - 16 yrs - 7th and 9th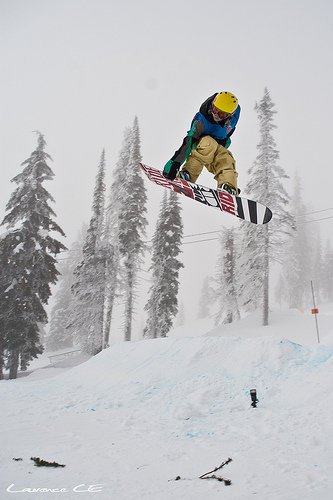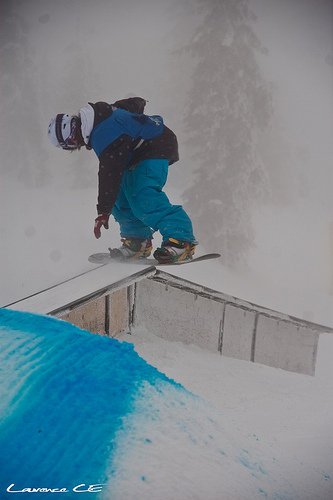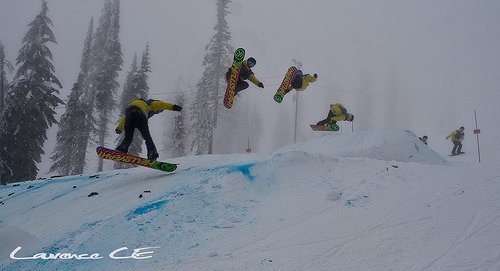 Worth mentioning is that Miles rides for the Kootenay Riders and attends the Kootenay Snowboard Academy at Rossland Secondary School. Miles is with us all the way from the Snowboarding Mecca of Brandon, Manitoba after having trained in ... get this ... the Netherlands! (elevation - 2 m). Well indoor slopes ignited the passion and he's refining it on the slopes of Red and doing just fine.
Miles before he discovered mountains: