Rider Profile: Mark Von Roy
Name: Mark Andrew von Roy
Date of Birth: 8.10.1987
Nationality: German/New Zealand
Place of Birth: Munich, Germany
Hometown: Munich, Germany and Auckland, New Zealand
Sponsors: Armada, Level, Leedom
Cor.e: So Mark, what is your terrain of choice?
Mark: Backcountry when there is powder, park the rest of the time.
Cor.e: Good combination, well rounded. What is your favorite food or drink?
Mark: German Weiss Beer
Cor.e: What do you love most?
Mark: Friends and Family
Cor.e: And what do you hate most of anything?
Mark: Unchilled people.
Cor.e: So what are you currently listening to, whats on the top twenty-five of the ipod?
Mark: Currently its an amalgamation of Hip Hop, Reggae, Dancehall and Drum n Bass.
 
Cor.e: Good stuff. Ok, time for the real questions. How do you feel about NZ's freeski movement?
Mark: It's going crazy at the moment, there are so many insane little rippers coming up that nobody has even heard of. Finally there are New Zealanders getting props on the international stage as well, Jossi has been killing it for the last two years and he has a whole lot of brothers following in his footsteps. Just recently Lyndon Sheehan took  ninth at the US Open and he is the most motivated skier i have met, he is just getting better and better. And on top of that, there is a whole bunch of NZ big mountain riders that have been killing it on the international scene.
Cor.e: Wow, sounds like you guys haven't missed a beat. Are you happy with this progression?
Mark: For sure! Every year the best pros from around the world come to NZ for our winter, so whilst riding at SnowparkNZ you get exposed to the absolute best riders in the world and makes everyone push themselves harder.
Cor.e: I hope you realize kids will be coming from around the world next season because of what you just said. So, why do you travel to Europe so often? SnowparkNZ is the dream destination for many riders from around the world, and its where you live. Why leave?
Mark: Europe is my second home. If i had the money i would go there at least three times a year. I have great friends there that i rarely see, and the alps are where i spent ten years of my life skiing. They are my second home.
Cor.e: Understandable, the Alps are also the dream destination for many skiers from around the world. What are your plans for this season?
Mark: I am going to the University of Otago [which is three hours from SnowparkNZ] to study Psychology and Philosophy. In the winter season i will be skiing 70 percent of the time. By November i would have hopefully made enough cash to afford to go to Europe to ski my little heart out. I really want to spend a month in Morzine in France.
Cor.e: Sounds like you are going to be skiing 365 days, this of course in a year and a few months. This being said, what do you really think of SnowparkNZ and it's variety of terrain?
Mark: Snowpark is the sh*t! At peak season it has the dopest park in the Southern Hemisphere for sure. This year was a bit of a let down as they put most their money and effort into building and setting up the restaurant and hostel at the bottom of the park, But the atmosphere up there is worth it for sure. I spent last season skiing there pretty much every day and i made some really good friends that i hope to see again when they come back this year. Everyone is so chilled at Snowpark and we had some EPIC parties there last year, Armadageddon was f*cking crazy!
Cor.e: So SnowparkNZ is the sh*t, but have you ever skied in America?
Mark: Yep, back in 2002 and I sucked anus in the Park. I def want to head back there, its just too expensive and id rather go to Europe, Canada or Japan before the States.
Cor.e: Do you find the word "Kiwi" offensive?
Mark: No way! We are proud to be Kiwis.
Cor.e: There is nothing like the NZ pride. Whats a trick you would like to land this season?
Mark: I just want to innovate. Im really sick of the same tricks being pulled with no original style. So [pause] i want to land a rodeo 9 with a busdriver grab.
Cor.e: Busdriver? [Mark demonstrates, see picture below.] Ahh, i see. How are you so steezy, is it something you guys put in the food there?
Mark: [Laughs] I like to be chillin like Bob Dylan as much as Possible.
Cor.e: How do you feel when you are in the parks in NZ? You see that in Scandinavia the
standard of tricks is very high. How do you feel about the standard in the parks
of NZ?
Mark: The level of riding is getting more and more intense every time i go skiing. Just yesterday i was at this really sh*tty indoor ski field close to my house and this little 13 year old threw a 450 disaster out of thin air onto a box of death. 
Cor.e: Wow, so equally as high. Now time for the word association, is that ok?
Mark: Sure
Cor.e: McDonald's or Burger king?
Mark: Puke!
Cor.e: Zucchini.
Mark: My first job planting this vegetable similar to a Zuchini
Cor.e: Achilles
Mark: Pain
Cor.e: Armada
Mark: Monster steeze
Cor.e: Switch
Mark: Threes
Cor.e: This one is for the Europeans. Crazy Frog Beverly Hills Cop Remix
Mark: Funny story. My oldest sister is currently working on a feature film about Crazy frog...
Cor.e: If you could tell the people of NS something about NZ in 13 words, what
would it be?
Mark: Thirteen words could never explain the beautiful diversity that exists in New Zealand.
Cor.e: [Laughs]Why not?
Mark: Come and visit Cory! You will know what i mean once you are there. There is always a couch here for you to crash on.
Cor.e: Thank you man, I will keep that in mind. Thank you for the interview. Newschoolers.com Loves you.
Mark: No problem man, peace NS!
BUS DRIVER
"CAN I KICK IT?"
TAIL GRAB
YES, HE DID IT.
WHAT GOES UP, MUST COME DOWN
CORK 9 MUTE
LAST SEASON, INVENTIVE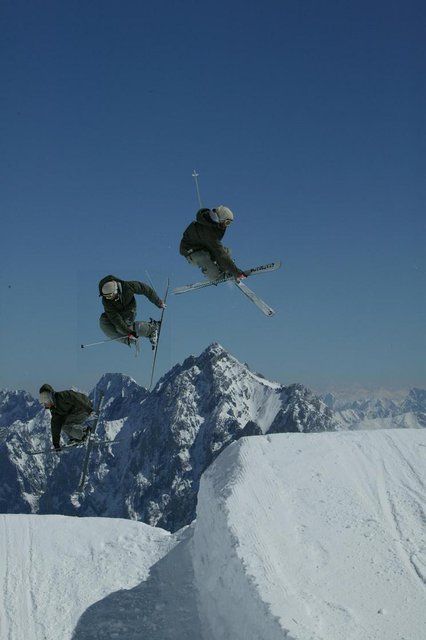 AND THATS ALL FOLKS!
Keep an eye out Newschoolers, the next tour stop for the Nokia Snowpark Tour is Zugspitze, Germany. Im going to be there, and im going to make you feel like you were there. Oh yeah!
Peace NS, Much love!