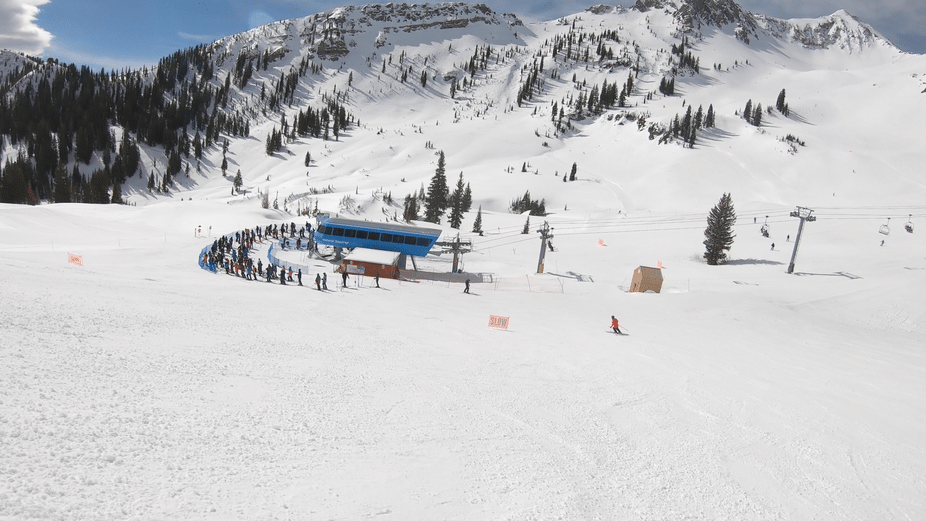 A line for the Mineral Basin lift at Snowbird in March 2021. This winter, visitors will be able to skip this wait entirely with the purchase of a Fast Tracks pass.
Background
Ski resort operator Powdr is launching dedicated fast-access lanes at select ski mountains for the 2021-22 season, as reported by the Wall Street Journal. For a premium, guests will be able to skip the lines and directly load the lifts at Colorado's Copper, Vermont's Killington, Oregon's Mount Bachelor, and Utah's Snowbird. This is not the first time that Copper has instituted a fast-access lane program, although the resort did not offer one last season. However, the initiative is completely new for the other three mountains.
Daily Fast Tracks passes will start at $49 per day, but prices may be higher during peak times. Passes go on sale November 1.
PeakRankings Take
All four of these mountains can get quite crowded; their crowd flow scores range from 5 to 7 in our Mountain Scores, with Killington faring the worst and Copper managing the best.
This decision is sure to make money for all the resorts involved. However, we imagine general guests—especially season pass holders who already spent thousands for access—will be annoyed by the potentially longer wait times and feeling of commercialization brought on by the program. It's unclear how many people will actually sign up for these Fast Tracks passes, so we'll just have to wait and see how much of an impact these policies have on crowd flow.
It's worth noting that based on our research and conversations with locals, the crowding impacts from Copper's old fast-access policy were relatively minor; however, the other three resorts aren't quite as good at handling crowds as Copper. We'll be sure to stop by these resorts next season to see for ourselves.
For more information on these ski resorts, check out our comprehensive mountain reviews of Copper, Killington, Snowbird, and Mount Bachelor.
See the full article on peakrankings.com: https://www.peakrankings.com/content/killington-snowbird-copper-and-mount-bachelor-instituting-dedicated-fast-tracks-access-for-2021-22