Who is Khai Krepela?
Who am I, some kid from Park City Utah who likes to ski.
You started the year off pretty well with your big win at Killington's Rails to Riches, how did that change your outlook or motivate you for this season?
Well I guess it just kick started my year right off the bat. Right after that I was just fueled with motivation to keep the ball rolling. And with all the money from R2R I was ready to make it happen.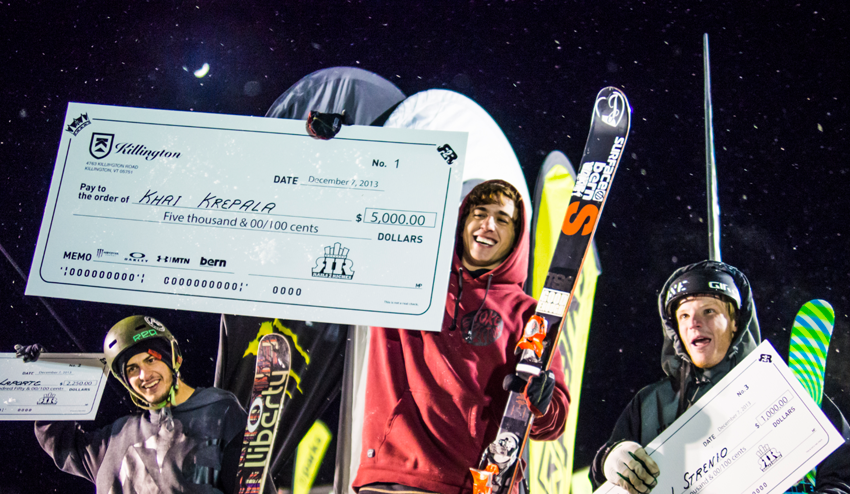 R2R Podium // Photo: Jason Mousseau
What do you think about the 10 (or 20) percent rule? Per Sam Turner & Jason Mousseau's write up looks like you honored it that night?
I think I did about an 8 percent rule, I told myself I would honor the rule but I wouldn't spend more than I would spend on rent cause I couldn't justify that. I definitely took a couple of the Bern Unlimited guys down and saw Badfish and got fairly drunk.
Best purchase you made with the prize money?
To be honest, I didn't really make any big purchases, I pretty much used it to fund my entire season. I don't get much money from sponsors, so having that to travel really helped. I got to quit my job at the pizza place I was working at and was able to spend most of my time on the road, which led me to getting the most shots I've ever had in a season! Hopefully turn out some good parts next fall.
Speaking of R2R, how did you manage to get to the contest without even having a lift pass, and how did it feel to log onto Newschoolers and find a group of anonymous strangers discussing your contracts and financial circumstances? (See: "SO WHO WILL PAY KHAI KREPELA")
Ooh (laughs) well I got super lucky and Bern who was one of the sponsors of the event offered to fly me out to compete. Which I was super stoked on because I had never skied the east before and thought it would be a good time. Once I found out about that thread I had it deleted but then another less intense one was posted. I thought it was funny at first but then it just turned into a hate on surface session which I just thought was disrespectful. It's definitely funny to have kids making assumptions about my life.
What would you say is your favorite feature to hit?
Hm, favorite feature to hit. My all time favorite thing to hit is either an S-Rail or a high flat rail. There's just something about those that I thoroughly enjoy and could hit them all day.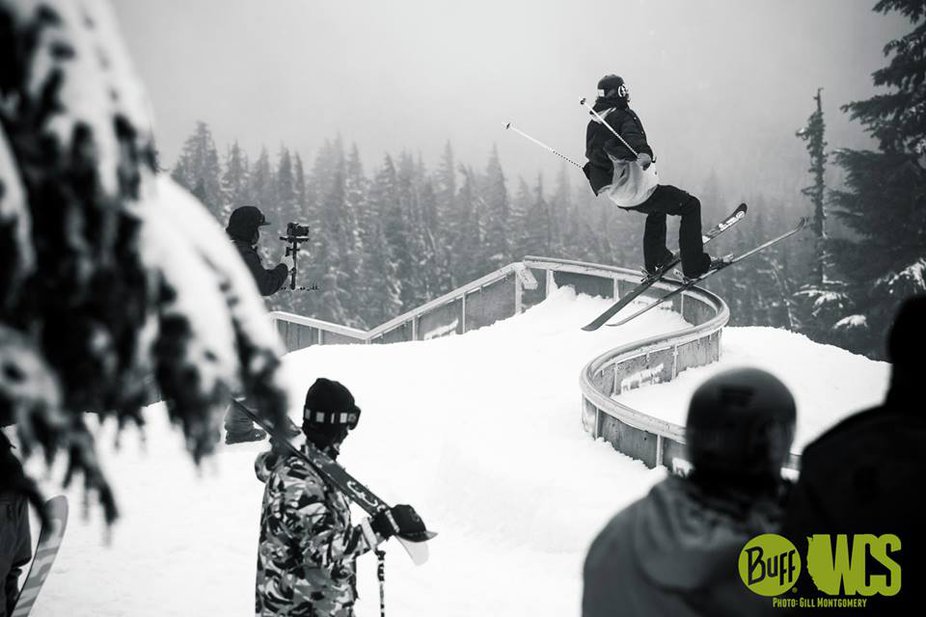 West Coast Sessions 8 // Photo: Gillian Montgomery
The ski community often raves about your style, what would you attribute to it's development?
When I look at the ski community, and kids think of style, it's all about XL tall t's, hunch back, and swag on. It's good, I enjoy watching that style, but it's not me, I don't even really listen to hip-hop or anything like that, I'm not going to ski like that so I just kinda ski how I want to and kinda take a little inspiration from my background of rollerblading, and music I listen to and I don't know, I wear what I would wear when I'm not skiing.
You ended up on BBC during your urban trip to St. Paul with Level 1, what was that like to be put on a world news outlet?
I was definitely a little skeptical at first but watching how they just wanted to make an accurate description on "urban skiing" and not just another ski edit. It's nice to have something that I can show my family outside of skiing too. To them what I do just doesn't make sense so when I can show them that I worked with BBC it helps them understand.
Were you able to stack shots while in Minnesota, or did Mr. Scrooge follow you around the whole trip?
(laughs) No, no, we did just fine, the trip to Minnesota was myself, Logan Imlach, and Sandy Boville. We were all able to stack quite a few shots that I think we were all really stoked on. Seriously F@$& that guy!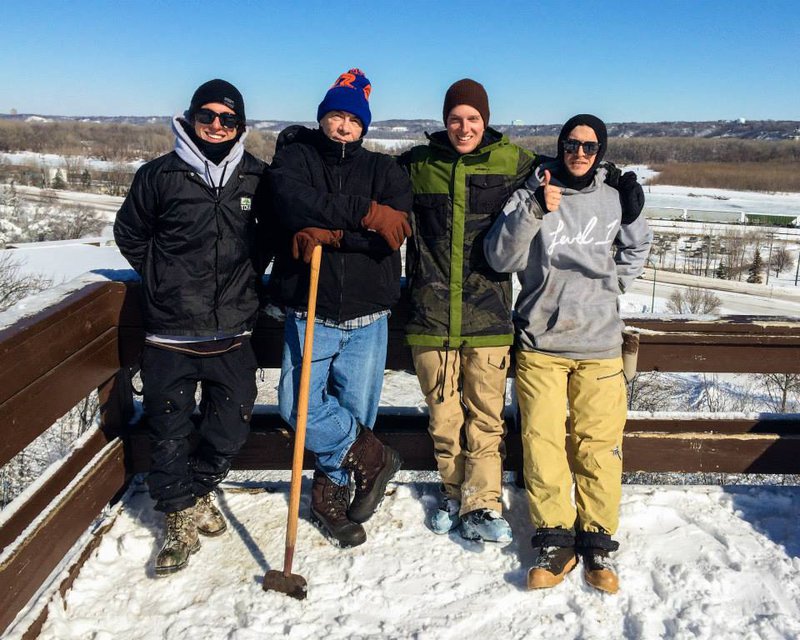 Khai, Sandy, & Logan posted with Mr. Scrooge // Photo: Jake Strassman
All the gear got stolen out of the vehicle, which made your experience in Canada with Level 1 quite a bit less than desirable. Were you guys ever able to locate the stolen goods?
So we actually got our stuff stolen in Minnesota, St. Paul, actually nothing of mine was stolen but Logan's backpack and Sandy's backpack were both taken and Sandy had his passport, $500 cash, etc., and Logan had an iPad, 7D, and hard drive. It was definitely a step back cause you know you get your stuff stolen, Sandy had no way to get back into Canada so we had to figure that out. But it was kinda cool to watch Sandy, cause he lost probably the most of all of us, and an hour later he was like 'let's go ski, let's get some shots, as long as I'm here I'm getting shots'.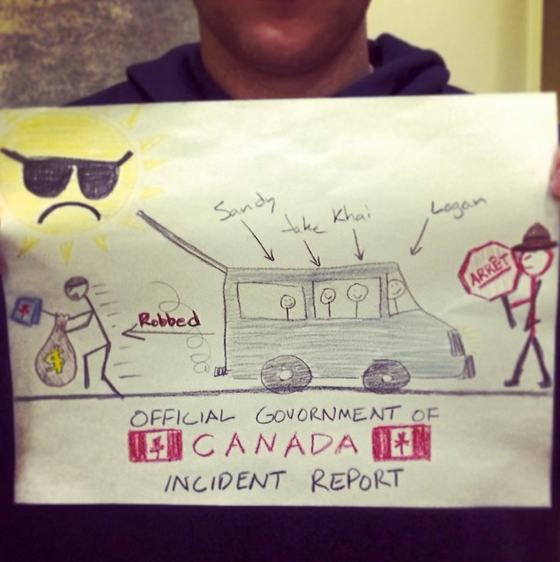 Art: Sandy Boville
What went down on the Yoke Spring Break Kill All Possums Tour?
Ah man, we took off from Salt Lake and drove straight to Bear Mountain where it was probably the most summertime skiing I've ever done, it was super super hot. Stayed at Jeremy Veilleux's house and Cole Gibson's. Then drove on up to Mammoth and probably skied the best park that I've skied all year. It's really cool cause the Yoke team, they don't go out there and say you know 'we want the best of the best', they're like these guys are cool, they all have their own style, everyone gets along. Getting to ski with Jon Hartman, as well as Charlie Dayton, it was like two ends of the spectrum- young guy, older guy, it was just an awesome time, awesome way to almost wrap up the season, but can't wait to do it again next year.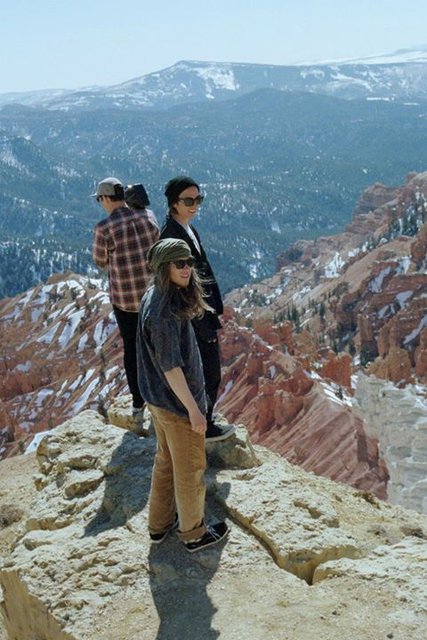 Photo: Charlie Dayton
GoodEnough has recently been gaining a lot of attention, what makes filming with them different than other crews?
Really it's not like 'oh yeah we're going to film with the crew', its more like, 'alright guys, lets go up and ski' and its just going out and having fun with your friends, and Garrett just kinda points a camera at it. It's kinda cool at the end of the day to have something to show for all your efforts with your friends. It's fun, because a lot of the stuff that we do, we do it because we think it's funny and we don't know how people are going to react, and seems like people are liking it cause Garrett is doing a killer job, Noah's doing a killer job, Jason's doing a killer job. It's cool seeing everything kinda come together and having people like it.
http://www.newschoolers.com/watch/709011.0/Khai-Krepela----Down-Stream
Khai Krepela // Downstream || Segment in GoodEnough's 2014 Film, "NOT QUITE"
You've accomplished a lot this year, what would you attribute to arguably your most successful season yet?
Well, every year I've kinda added up like 'well I don't think it's going to get better than that' and then the next year it does. This year getting the chance to film with Level 1, and film with 4bi9, and all this stuff, it seemed like every week I'd be on the phone again like alright, I'm doing this tomorrow. Which was really cool, because I feel like every kid especially me growing up, being like I just want to live the life of a professional skier on the road, and hang out with your friends, stay in hotel rooms in different cities and different mountain towns and stuff. The fact that I got to do that this season, like I was home barely at all was awesome. I didn't even ski my home mountain until March, cause I just was never there which kinda sucks but is awesome at the same time and I hope it gets more successful next year.
Sounds like you got a lot of spring skiing in with the Level 1 park shoot at Schweitzer, West Coast Sessions 8, and an appearance to SuperUnknown at Summit at Snoqualmie- any highlights from these trips?
Definitely had some weather all of those trips, but there was highlights to each one of them, you know hanging out at Schweitzer. Got to meet Adam Delorme, watch Tim McChesney and him kill the lift gap and take tons of sled laps on the rail line. Then off to West Coast Sessions and watching the jump sesh go off there was insane Alex Hackle landing his first triple 10 and meeting a ton of new people, it was great. And then topping it off with SuperUnknown and getting to go ski with ten kids I've never even met before from all over the world. Seeing how everybody acts together, shooting shit, playing card games, drinking beer, then waking up and skiing. Watching all these guys kill it, it was insane, I could watch all those guys ski all the time, any day.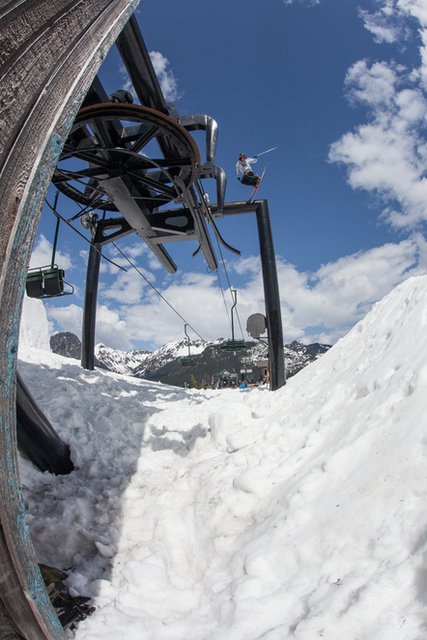 Nose Tap at SuperUnknown // Photo: Matt Sklar
http://www.newschoolers.com/photo/711434.0/Khai-Krepela--Nose-Tap?c=3
The season has pretty much run its course, what kind of hobbies do you enjoy on your down days?
Fly fishing. I recently got into it and I still have a ton to learn, but pretty much when I get back to Park City I'm going to be working and then fly fishing, thats all I'm going to do all summer, it's just too much fun you know hanging out on the river.
Are you still shredding on your rollerblades or is that a fad of the past?
(laughs) I had a feeling this one was coming, no, I haven't done that in quite a long time, I do want to do it again, I stay in contact with quite a few of my old rollerblading buddies and definitely watch edits from time to time, but it's been quite some time since I've picked up a pair of blades and got out.
For those who can't get enough of your style, where can we expect to see you feature in this fall's movie releases?
I will be in Level 1's new movie and 4bi9's new movie, as well as I don't know if kids know but GoodEnough puts out a movie every year, it's only a few shots but once again its just another thing for us to watch and hopefully kids like it.
What's on the to do list for next season?
Europe. Europe and Japan. I love skiing in the United States but I really really want to go over the big pond because I've heard urban in Sweden, and I wanna go ski pow in Japan, cause I'm definitely getting established as just an urban park guy and I definitely love to ski upper mountain as well, so I'd definitely like to do that, save up the money through the summer and hopefully make it happen.
Any thank you's or shoutouts?
Surface Skis, Joystick Poles, Causwell Outerwear, Bern Unlimited, Yoke Collection, Outdoor Tech, Full Tilt Boots, GoodEnoughbgk, Level 1, 4bi9, my mom, shout out to my dad (SIP), everyone I ski with, Jonny Durst, Jake Strassman, Brian Landrigan, there's just too many to name.
PS I'm quitting smoking