Words: Doug Bishop
Photos: Alex O'Brien & Doug Bishop
As an East coaster, I like many people on this website are very in tune with the park scene, and spend much of my time in it. We focus on fashion, tricks, the scene, contests and who does the sickest tricks. However, as many skiers know there's a whole other world of skiing when you leave the confines of the East coast and many of the small mountains that exist there.
Kamp K2 was an experience that gave me a taste of what the true ski bum life was like. Sleeping in cars, partying at night and skiing pow all day long. I can't thank the boys enough for making me a part of this event, and let me tell you I don't think there will ever be something as truly epic as this was.
I'm going to take you through a photo story of my experience at Kamp, and hopefully if you get bored of my text, just read through the captions and enjoy the photos. Hopefully I can manage to give you insight into the way that the maniacs over at K2 work.
My trip started out with a real gong show...managed to completely forget when my flight was, and was sitting at this table drinking beer while it departed: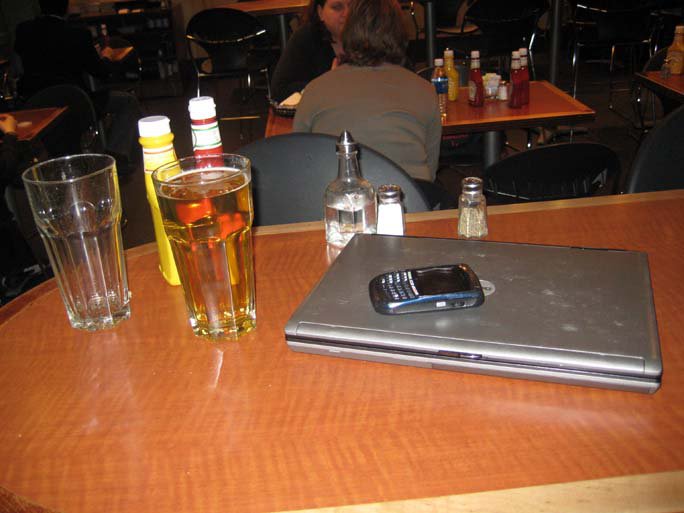 My table that caused the flight missing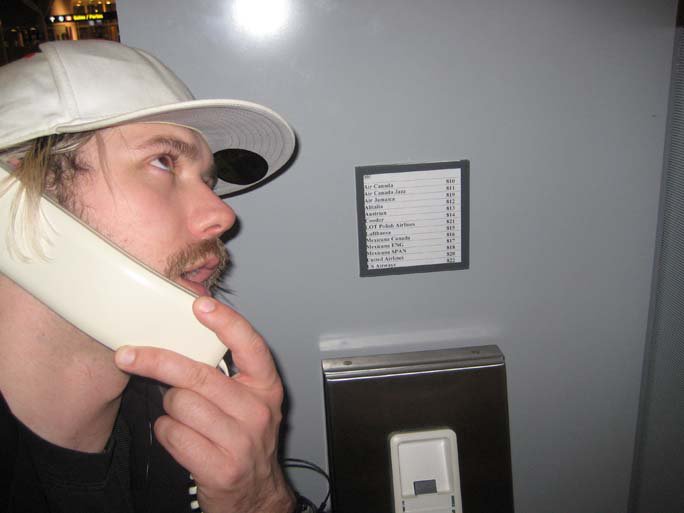 Dealing with the airline and begging to get another ticket to Vancouver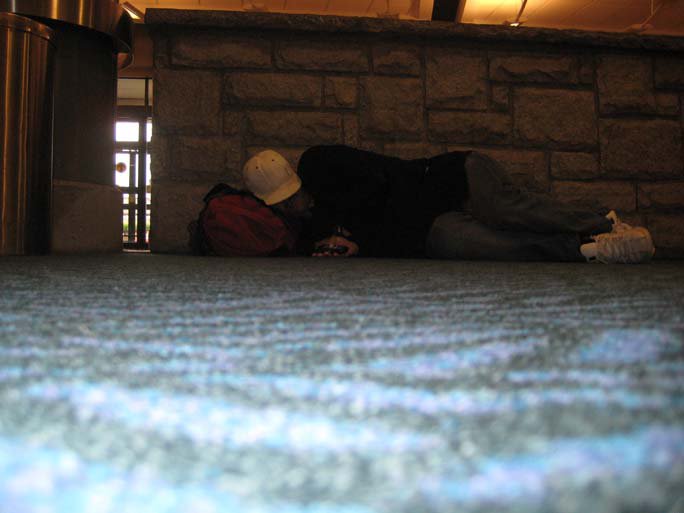 Sleeping in the airport sucks balls.
Basically I ended up having to stay the night in the Toronto Airport, sleeping on the floor and hoping to God I could find a way to Mt. Baker, and that my luggage wouldn't get lost. I was certainly stressed because I knew that this was going to be the most epic event of the season, and I refused to miss it.
Getting to the Vancouver airport in the morning with only an hour to make my connecting flight to Seattle, I desparately prayed that my bags would make it up with me. Sadly to say they didn't and the airline wouldn't let me on without my bags crossing the border so I realised I was completely fucked. Desparately I made phone calls to anyone I knew who might be heading down there. I had given up hoping to have any of my gear, and just wanted to make it there! Then enters...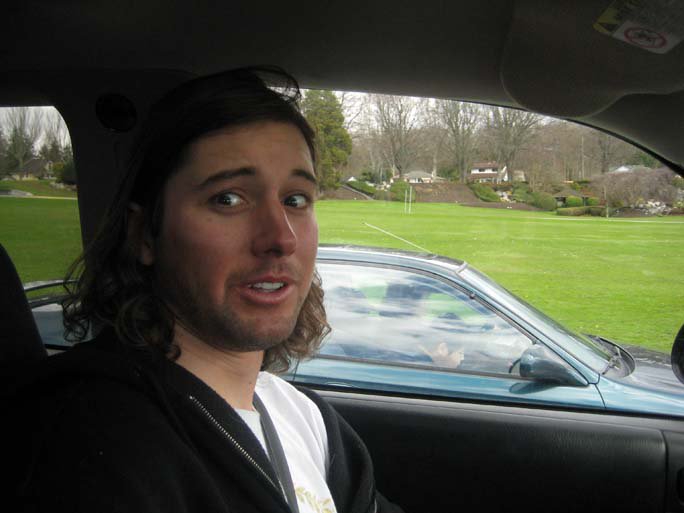 Frank "The saviour" Raymond picking my sorry ass up at the airport.
Luckily Frank Raymond was in Vancouver and right near the airport. I tried to get my bags delivered to Baker, but the airline wasn't having it and I just had to jump in the car with nothing more than the clothes I was wearing and my briefcase. What the hell, I'm sure I could figure it out.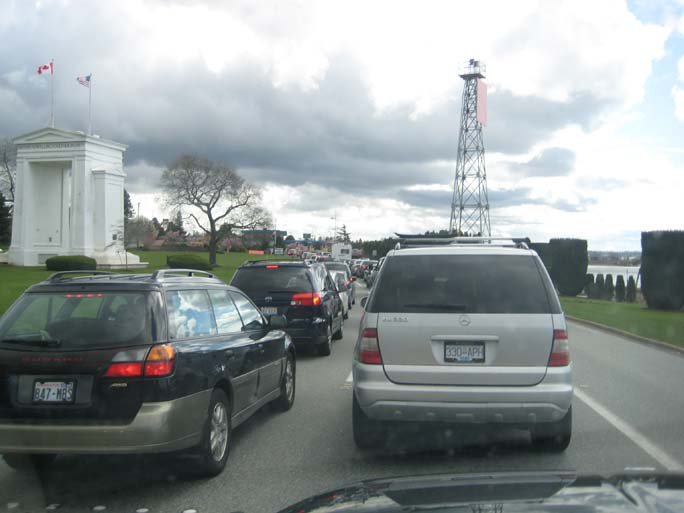 Crossing the border is a bitch...I hate lines.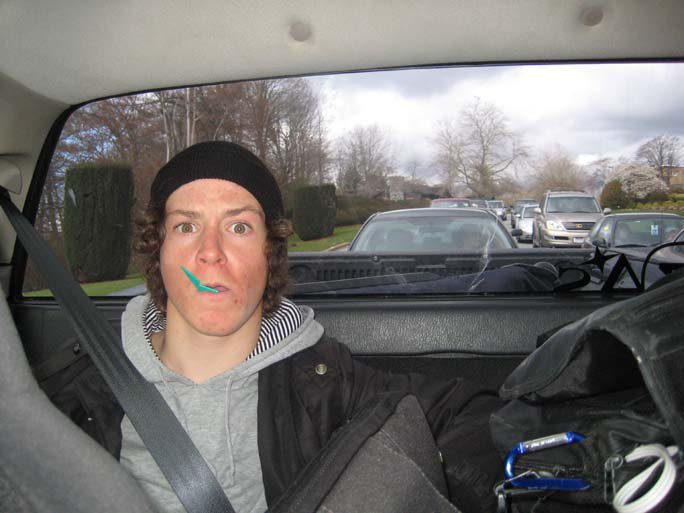 Sean Pettit was crammed in the back the whole way down, but all of us were excited to get rolling.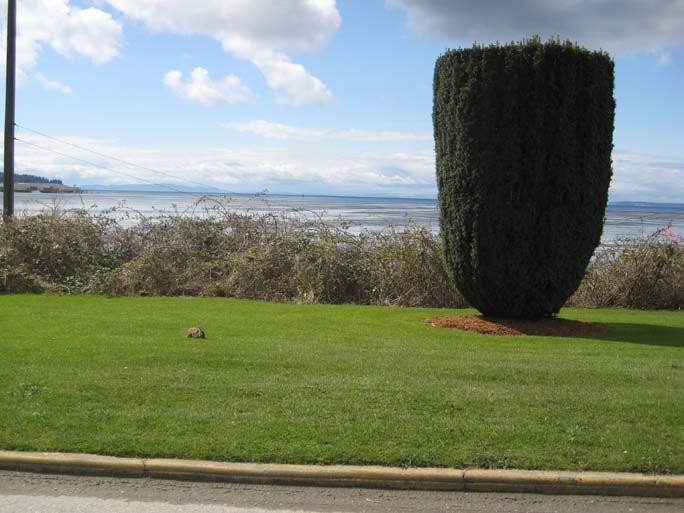 Look at how cute this bunny is and how weird the bush looks.
The trip was long, but Frank's GPS brought us to the promised land. It was a bit overcast, but as we approached our destination we could see a massive mountain poking out through the clouds. I started to get really excited. The whole trip it was raining, and we'd heard rumours that it might be snowing when we got there. Snow would be a blessing this late in the season, even if it was a bit heavy and slushy. To our excitement, as we drove up the long and winding road to Baker the snow was falling progressively harder...
Just a little video of the drive up, plus some banter with Sean and Frank.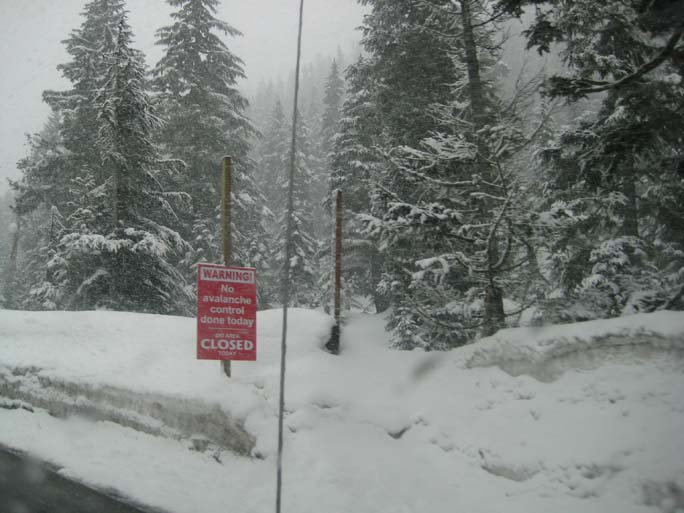 The higher we got, the more snow was falling. By the top of the road it was absolutely puking snow.
This is the sign to Baker, everything was covered in snow and we turned left to take us into the exclusive entrance.
Like some sort of exclusive club, the entrance to Mt. Baker was only slightly open, and there was a doorman with a list. If your name wasn't on the list, you weren't getting in. Luckily all of us were and we passed through the gates into wonderland. As our truck drove past the myriad of RV's we ran into none other than K2's Mike Gutt, excited to welcome us into what would be the best three days of my life.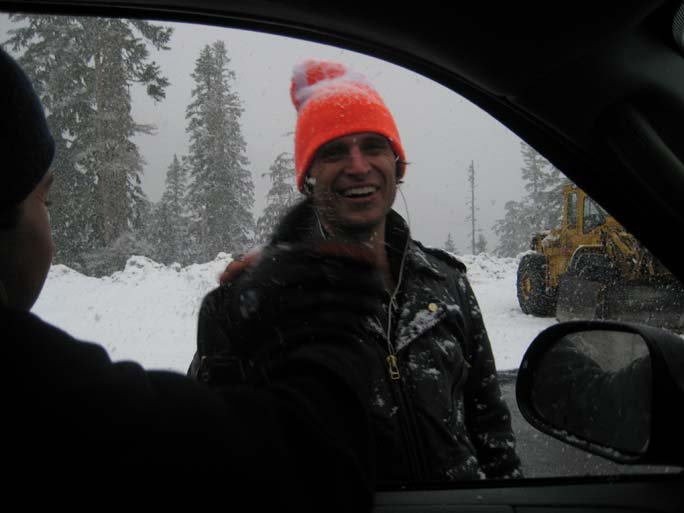 Mike Gutt clad in the staff orange hat and spread eagles biker jacket. K2 made sure to direct each and every vehicle into the perfect parking spot.
The scene was incredible. 51 RV's had been rented and all parked in systematic order around the Mt. Baker lodge. Tents were erected for partying and sleeping for those without RV's, and we had all kinds of incredible immenities. This truly was some serious ski bum shit, and by the energy in the air you could feel that you were the luckiest person in the world to be there. By the end of the day, 350 people had descended on Baker, and the gates were locked ensuring only the rif-raff and not the public would have access to this exclusive K2 Event.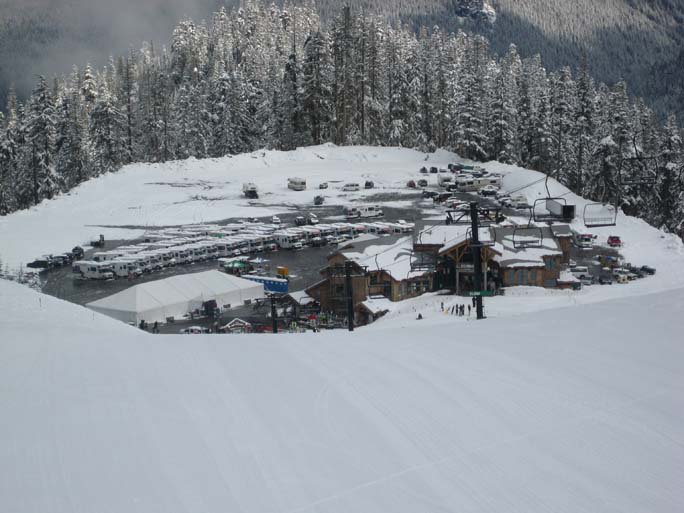 This was the site of Kamp K2...something like 51 RV's, 1 massive sleeping tent, 1 massive party tent, hot tubs, shower truck and the Baker Lodge for food.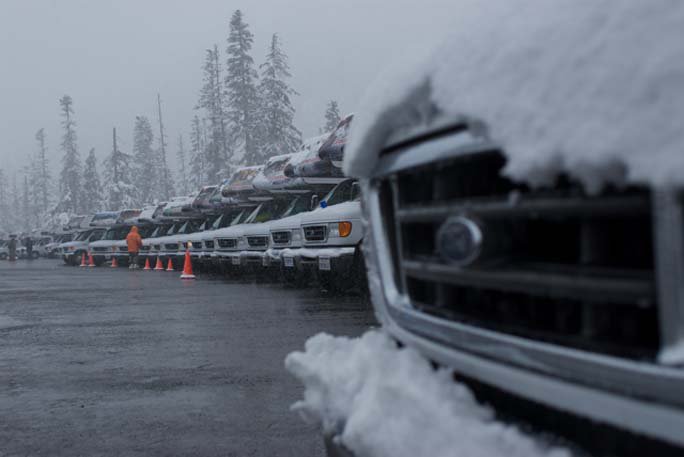 I'm certain I've never seen so many RV's.
Registration was quick and easy due to the highly organized team of registration ninjas that K2 had.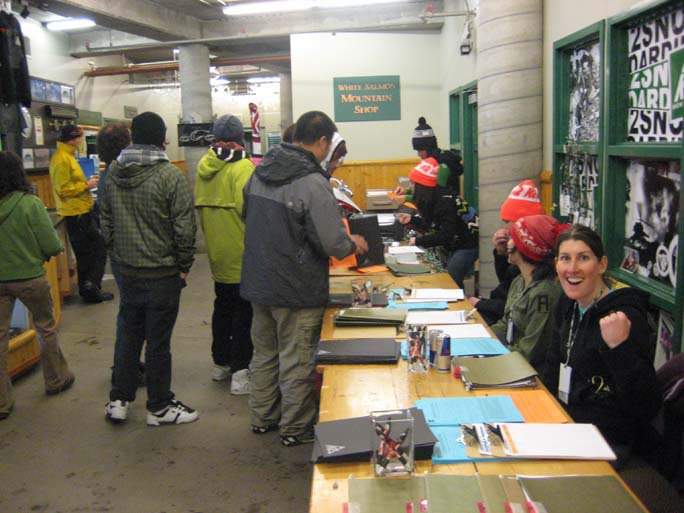 K2 hooked us up to the gills…punch cards for free PBR and free CUSTOM DESIGN Extremes or the custom designed Turbodream snowboard. Man I mean seriously, custom skis? Not to mention the 52 kegs of PBR that were rumored to be hiding around the skis…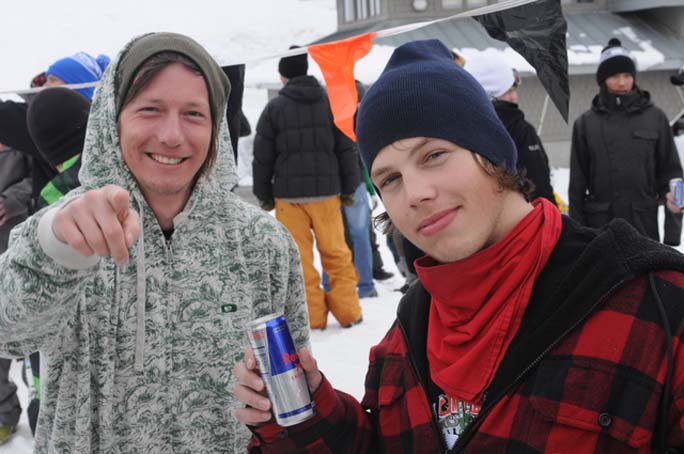 Pep and PK both super stoked to be there.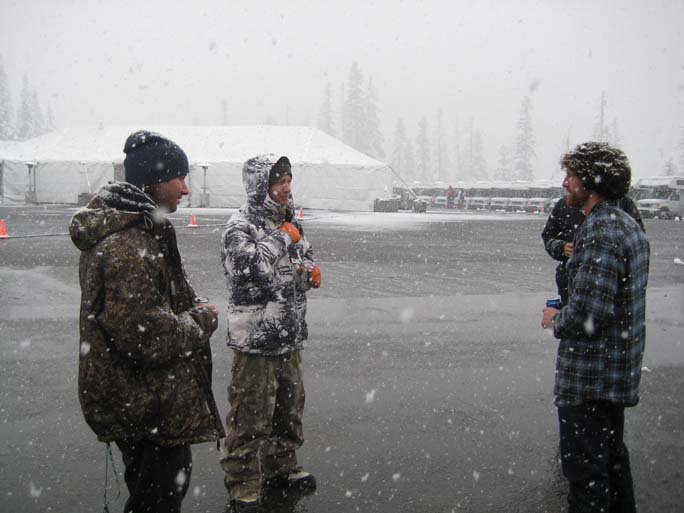 The snow just kept falling, and falling...and falling...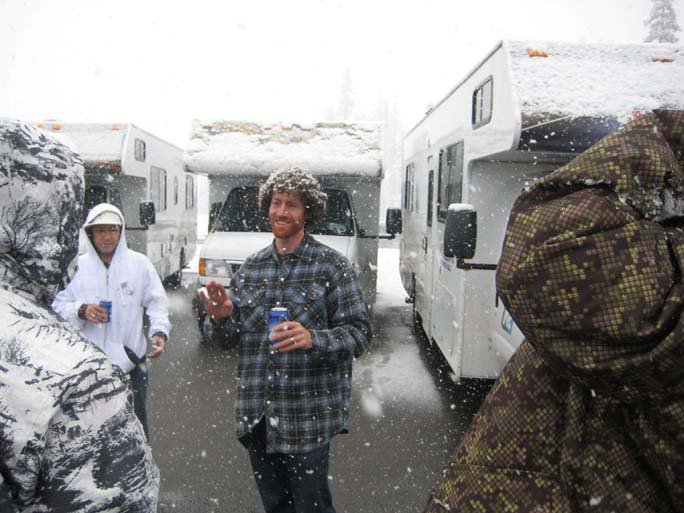 Shane's hair was quite the collection of snow. Shane actually decided to forego his space in the RV (thanks for the bed BTW) and pitch a tent on top of his sleddeck.
With everyone collecting, as adult skiers tend to do we all figured it'd be a great idea to dip into the beers. There was one rule: you had to keep your beers in your RV as that was apparently considered "Tailgating." This was pretty much the activity between arrival and the evening party, so I meandered around and tried to find a couple of guys to hang out with. Note: only having street shoes when it's snowing like this in a parking lot sucks balls. :)
I managed to find a bunch of my buddies there, and we decided to chill in one of the RV's and have a few drinks. I couldn't help but feel extreme elation for the Aspen Extreme-style ski bum dream that I was living. Hiding here at this powder hippy resort with locked gates and nothing but an RV for warmth and shelter. It was dumping outside and the mood was higher than you could even believe.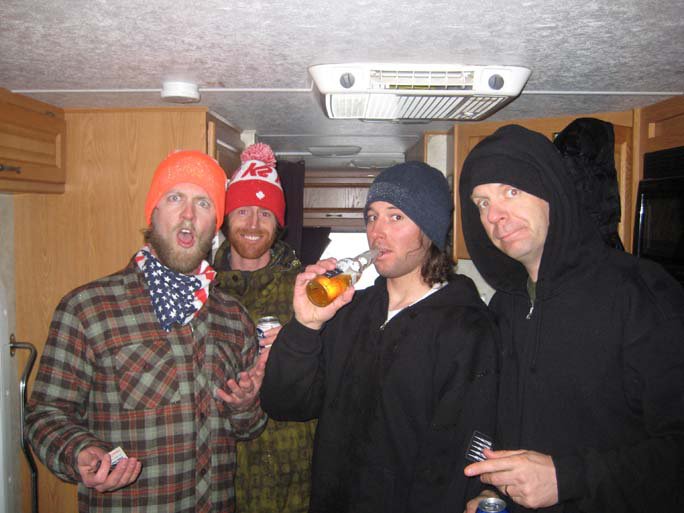 Rocking it tailgate style in the RV with the K2 Boys.
After a few hours hanging out in the RV's (and a couple of people using the outdoor hot tubs) it was time to head into the lodge for dinner and the event announcements. All 350 people packed into the lodge and mowed down after a long day of travel. After dinner we were informed of all the team activities that were going down. Everyone was split into teams, and there were activities every single day to work towards which team was superior to all the rest.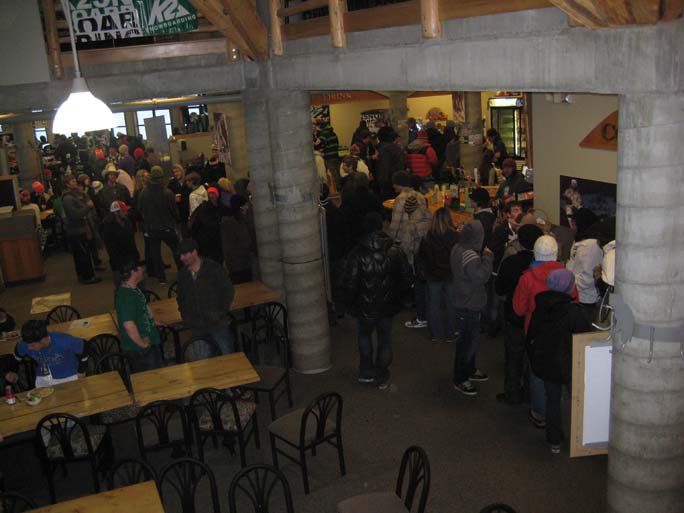 Collecting up for dinner... fully catered and cooked by the Baker staff. I think we ate grilled salmon this night, as K2 spared no expense.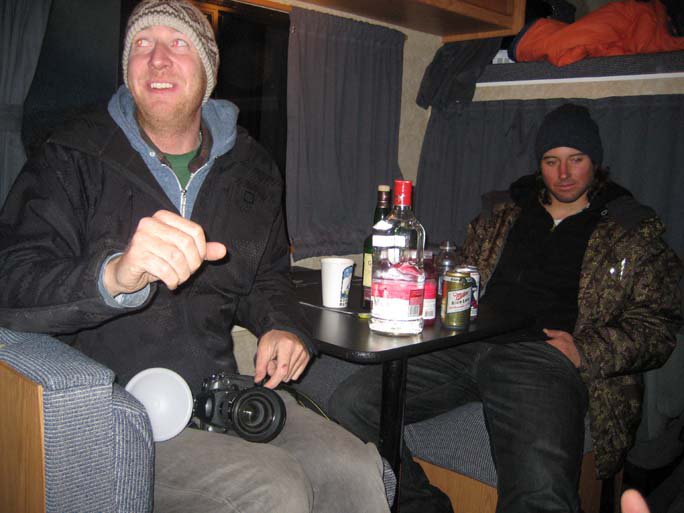 After dinner, more Tailgaiting with Alex O'Brian and Frank Raymond...
As the evening moved on we were all preparing for the first of a series of parties in the K2 giant party tent at the centre of the parking lot. This eve it was DJ Mullet rocking the wheels of steel, and a first crack at the 52 kegs of PBR stacked up outside.
The crowd packing into the tent ready for action.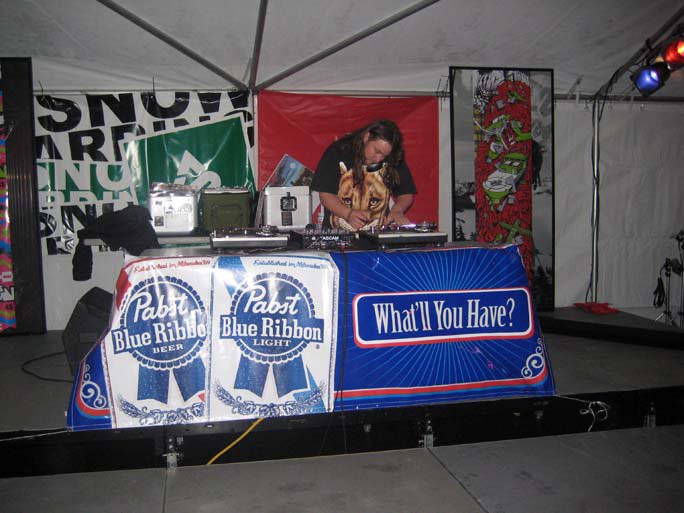 DJ Mullet slaying the turntables.
Not going light on this event at any place, all night long you could session the mini-ramp at the back of the party tent. Made for great entertainment, and fun for those who brought their decks.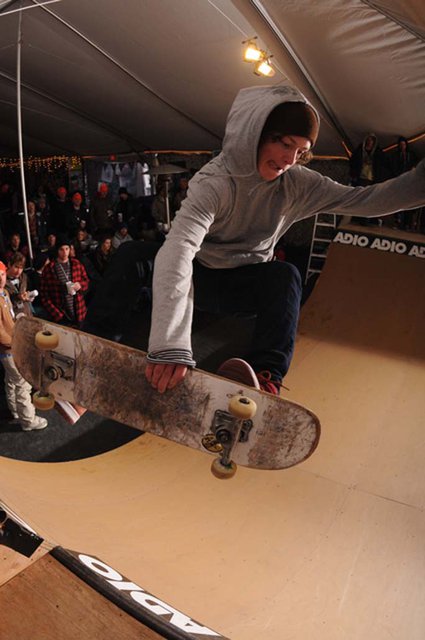 Sean Pettit slaughtering the mini-ramp.
Then of course not to disappoint, K2 brought out a mechanical bull. I don't know if you've ever tried to ride one of these things, but its fucking impossible. My attempts were pretty futile, as I think the guy running it had it out for me. 10 seconds is a long time on one of these things, as it's such an unpredictable motion.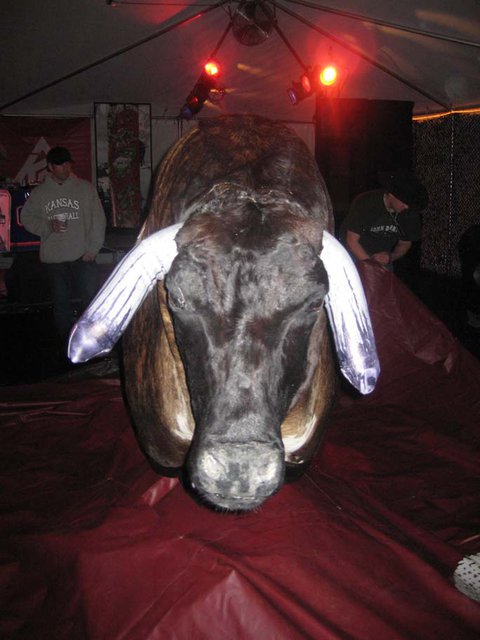 You can almost hear it snort...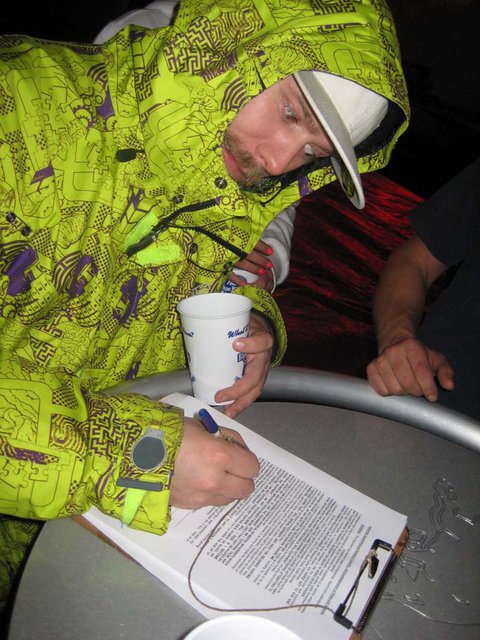 Schmies convinced me that signing up was a wicked idea...but I was a little nervous.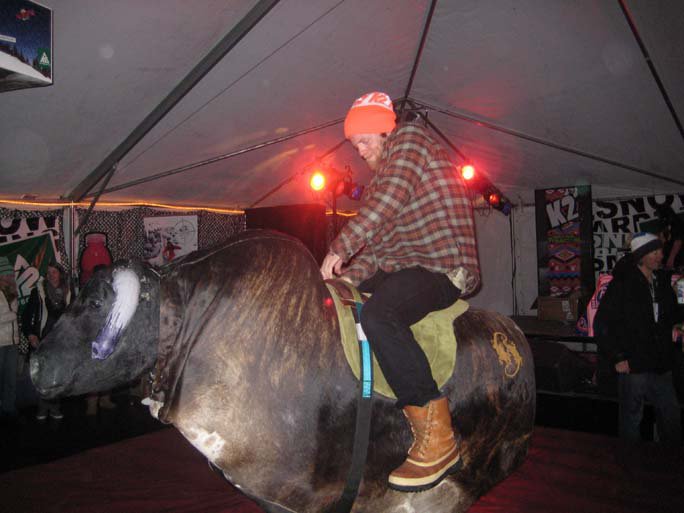 Schmies was slaying the bull all night long, and fuck could this thing buck you off.
 
Many people actually decided to take it pretty easy (relatively) this evening, because you could jsut see the snow absolutely pounding down. Everyone knew that we were in for a good day of snow the next day, and wanted to be somewhat together to enjoy it.
Mt. Baker is a very interesting place. If you've been here, you probably understand what I mean, but if you haven't there's no better way to describe it than just a ski bum's paradise. Coming from the eastern land of small hills and terrain parks, generally when I go westward I've ended up at the larger resorts. The glam, the parks the resorts the big hotels, bars and all other amenities that one would expect at these places. Baker is different though. There's no phones, the entire resort is run off of generators , and you're more likely to see giant beards covering faces instead of bandannas and grills. It's a no bullshit haven for powder junkies, and I was absolutely stoked to session it.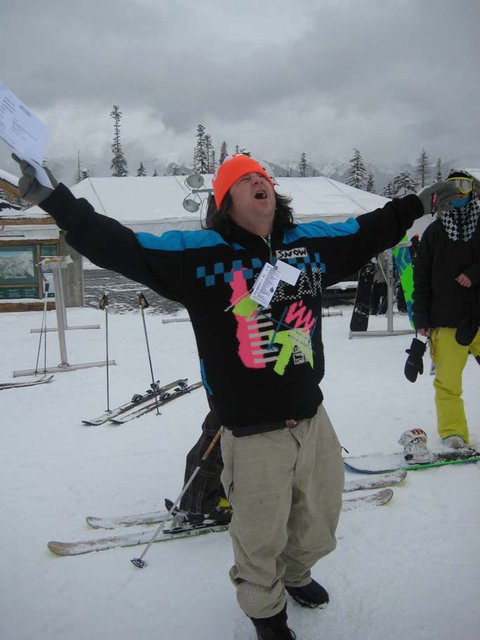 You could hear cheers all day long from eveyone stoked that the snow was going to be amazing.
I only had one problem left though - absolutely no gear. I ran into the rental shop for the first step: Boots. I rented a pair of the shittiest boots I have ever had on my feet, with not even proper buckles on top only snowboard-style straps. Whatever though, I needed to ski. When it came to outerwear, I had a jacket but no pants, so Shane Szocs offered his pants to me. As I was looking through his bag, he said "Well you could also wear the one-piece..." and as a slave to fashion rather than mismatching I decided to go for hilarity. I mean come on...what better way to ride Baker than representing the gapers?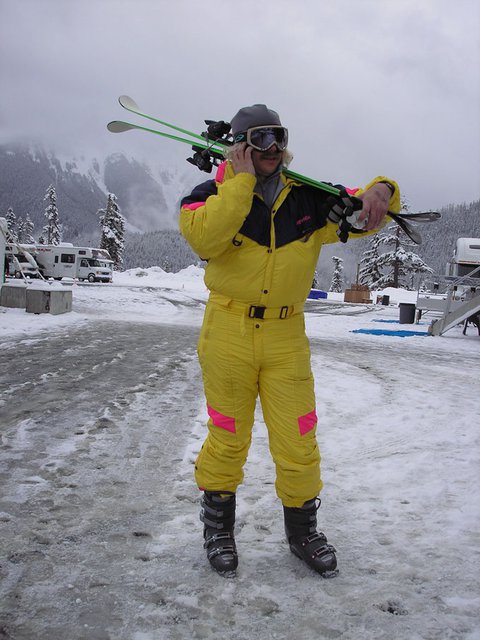 Here's me at Baker. Rental boots, 1988 Nevica one-piece, no poles and borrowed fatties.. People really didn't have any idea how to take it.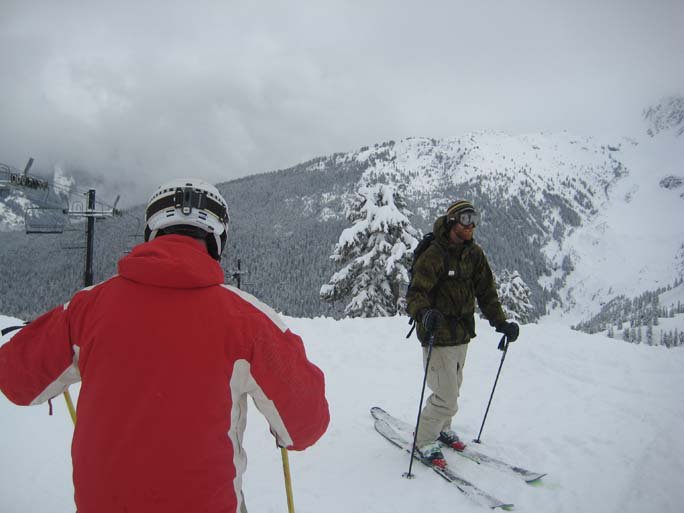 I met up with Shane to go and session the goods with a couple other of the Kampers.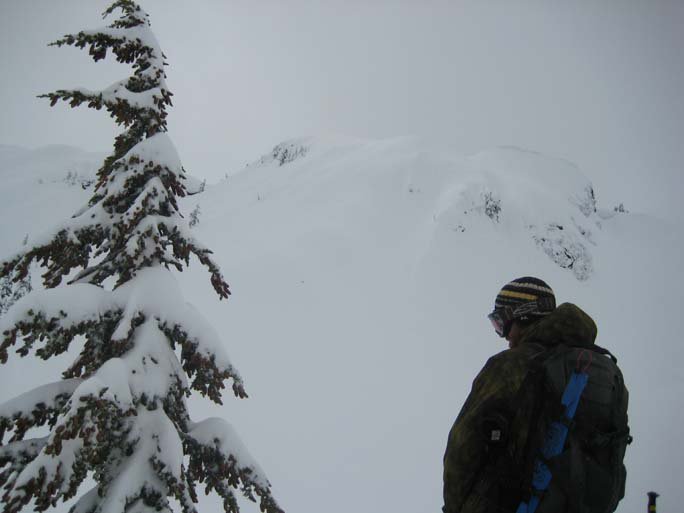 I find the pee shots hilarious... check the snow on the trees and the limitless terrain that was at Baker.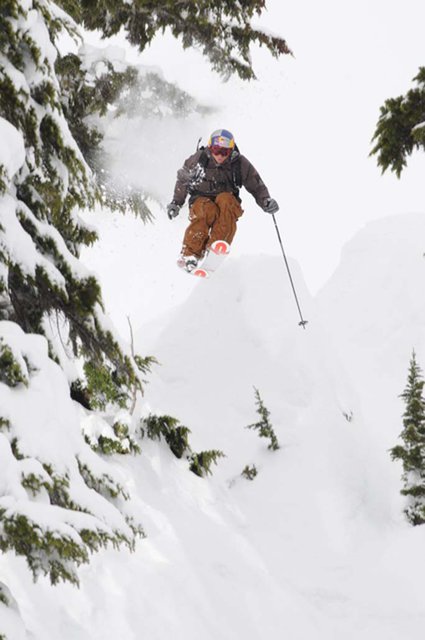 Everyone was getting killer tracks all day long. The snow was deep, reasonably light and feeling absolutely amazing.
My day was absolutely amazing. I couldn't believe how much snow there was, and I just spent the entire time following around people who sort of knew where they were going. Today everyone sessioned the in-bounds stuff mostly, just ducking lightly out of the ropes to have a few good times. I was absolutely astounded with how much snow there was, and rental boots or not I had one of the best pow days of the season.
After a long day of shredding, down at the bottom more team events were getting ready to rock. There was a banked slalom course (which I absolutely blew out of and fell on my back) and a small rail jam for the riders to shred. I took on the role of announcer, and therefore sadly don't have any pics for you guys. However, it was a blast and all the teams threw down on the various features set up by Schmies and the Baker park crew.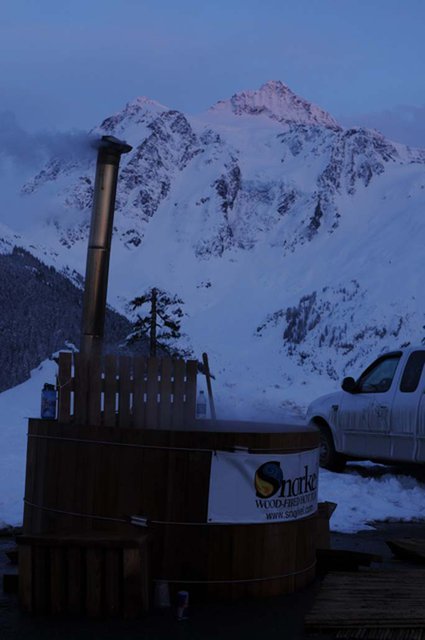 For your aches and pains after a day of skiing, nothing better than a real wood hot tub.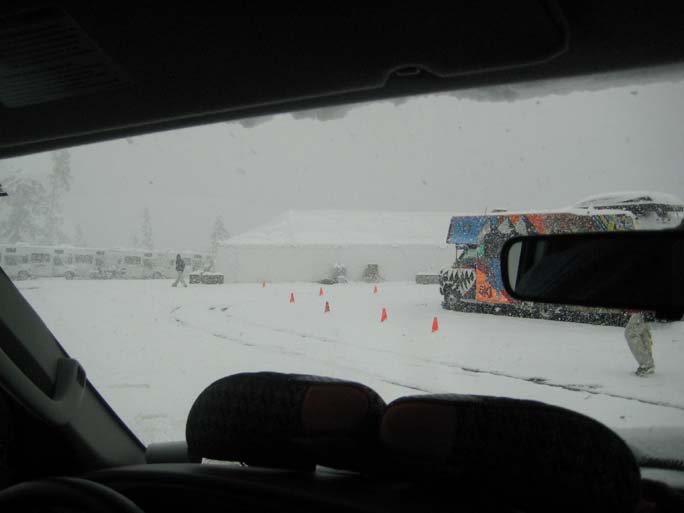 Once again, as we were sessioning the RV's the snow began pounding.
This night the partying was still somewhat at bay as we could all see the snow coming down and wanted to save some energy to make it happen. However, there's no harm in going for it a bit, and where better to do it at the Rock Party featuring Hells Bells, an all-female AC/DC cover band.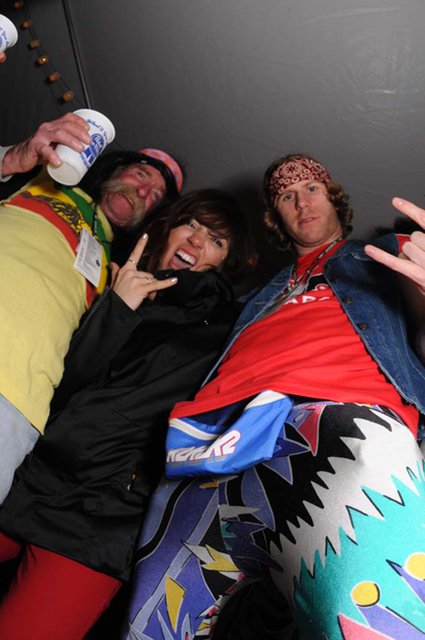 Haven't seen a package this tight since christmas.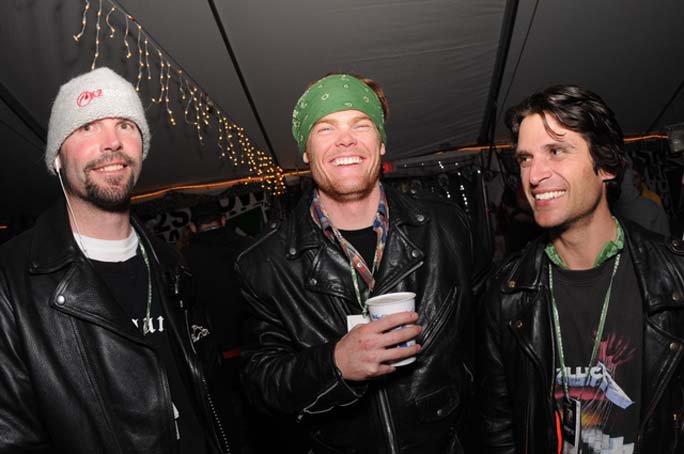 The Spread Eagles out in full form. Left is Jeff Mechura, and right is Mike Gutt.... and dammit for the life of me I can't remember your name in the centre. We sure did have fun though!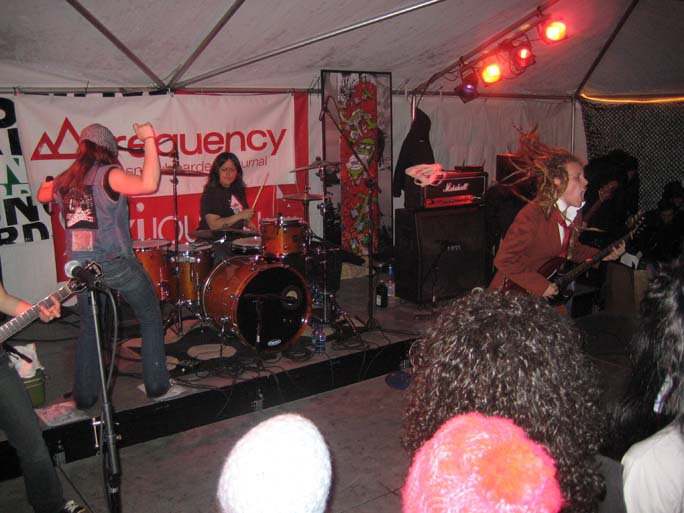 Hells Bells kiiiiling it on stage.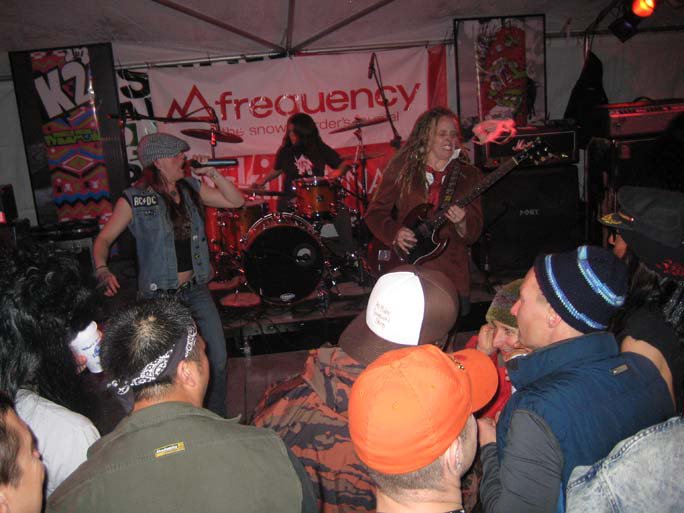 There even was a mosh pit as things got crazy.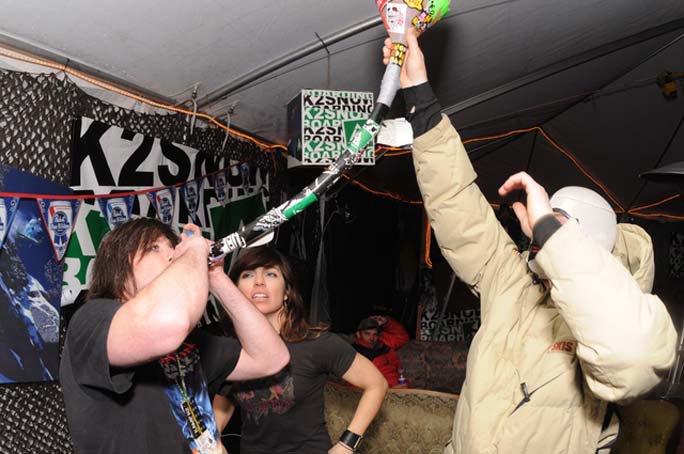 And really if you're at a rock party, what would it be without a little Beer Bong action? Atta boy Powell.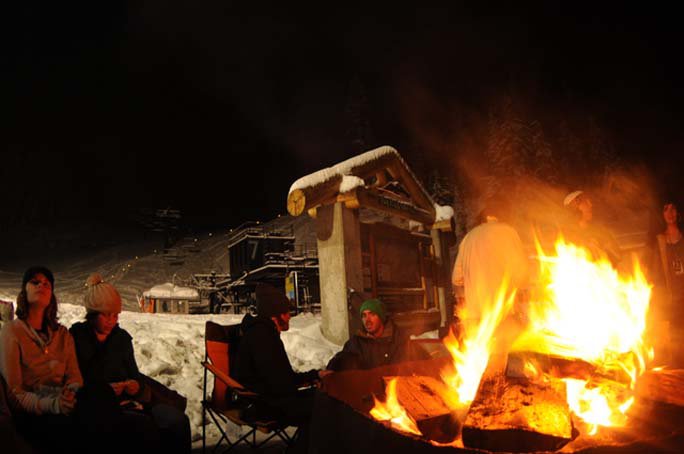 For those looking to kick back and take it a bit easier, there was firepits and a relaxation area outside.
Day 2 of riding was when shit absolutely went off. Everone grabbed their tranceivers, shovels and avi packs and eagerly raced up the hill. Baker has many awesome spots accessable easily with a small hike, and everyone took advantage of it as much as is possible. I couldn't believe some of the lines that I got to see go down that day, and I had some of the best runs of my life (again). Kamp was rapidly turning into the best experience ever. I mean what more could you want than sessioning pow all day and partying in RV's in a parking lot all night?
At the top of the first chair you got your taste of just how sick some of the stuff was going to be to session.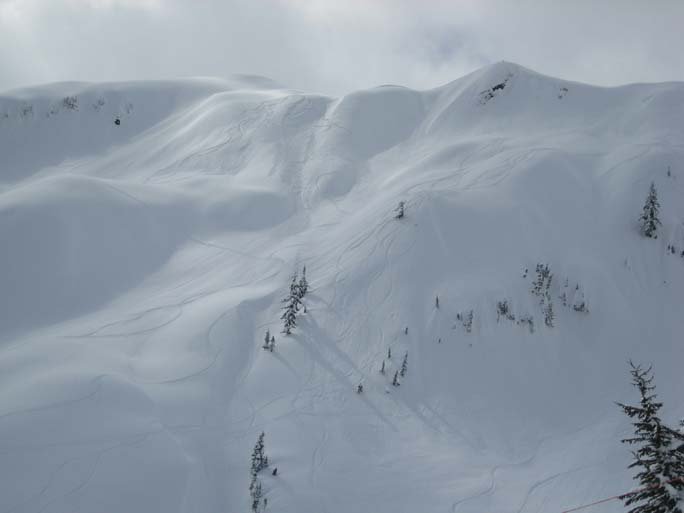 Untracked snow was to be had all day long...with only 350 people at a resort with locked gates, there wasn't anyone out there to take your goods save maybe the ski patrol.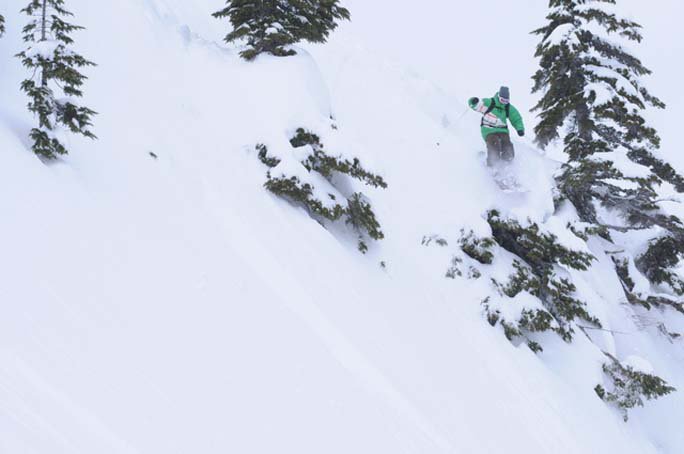 Christian Sirianni slaying a little drop somewhere on the mountain.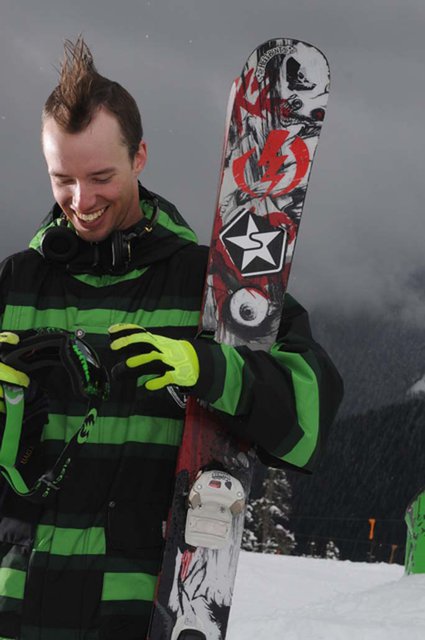 Andy Mahre taking a cool-down after a long day of sessioning.
 
Check this video of Gabe Schroder (Smith Team Manager) slaying some of the pow here at Baker. In true powder junkie format, he showed up in a VW bus.
At the end of yet another awesome day of skiing, once again everyone congregated at the bottom tiny jib park for a game of elimination. The judges would call the trick, and each rider had to perform it or face elimination. I took the roll of announcer again, and proceeded to give the athletes as much shit as is possible. All the riders threw down, and there was a winner somewhere along the way, but the key here was having fun. Points were being scored for every team, and they were working towards victory.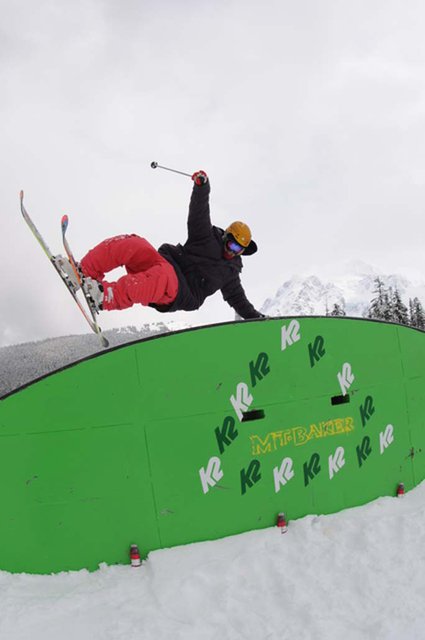 PK was doing hand drags and this crazy inverted 360 handplant over this thing... it was sick.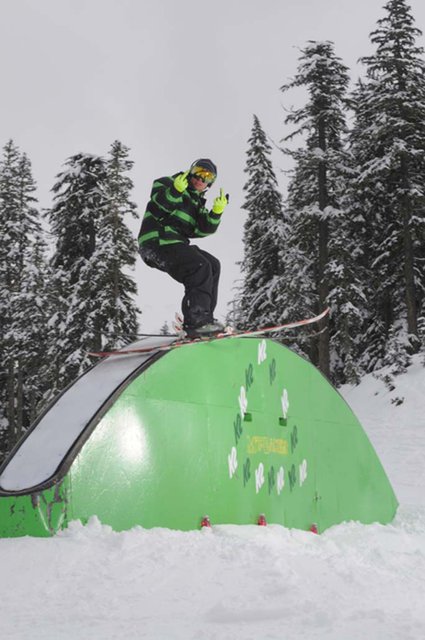 This is Andy's response to the "Tail Press with a gang sign" over the box. I don't think he was pleased when we were egging him on that K2's new policy was for athletes to use poles. I mean you gotta sell poles somehow... :)
(Note: K2 does not actually have a pole enforcement policy)
One thing that many of us like to do is drinking games. Lets face it we've all played this stuff, and when you've got a camp of adults it's almost mandatory. One of the events was the infamous Tricycle race (as seen in Revenge of the Nerds) where contestants had to chug a beer and eat a hot dog between every lap around K2's own RV. There probably was a winner, but the mayhem was fun enough to entertain nonetheless.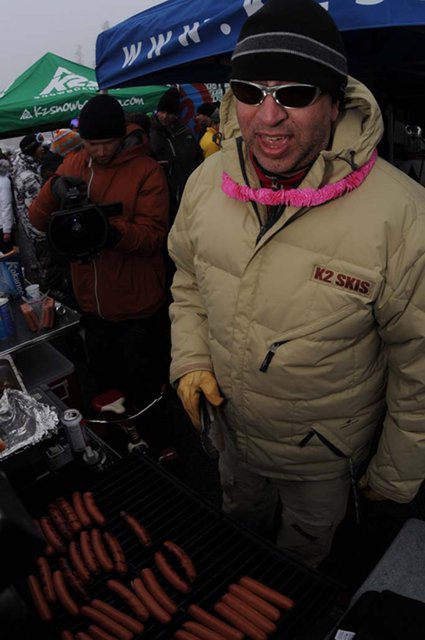 Cooking up the doggies for the contestants to consume.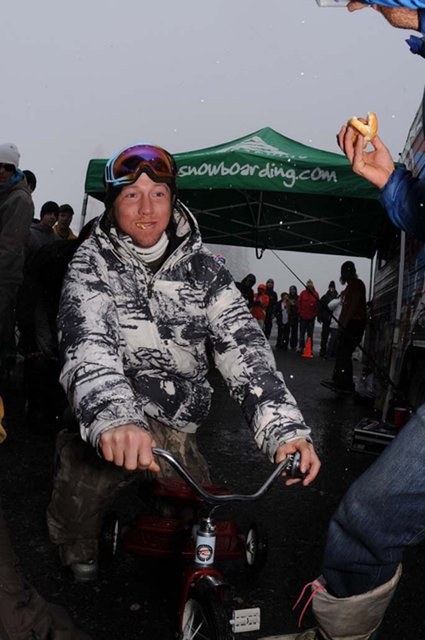 Pep with a mouthfull of dog trying to control the tiny little tricicle...let me tell you this was some hilarious shit.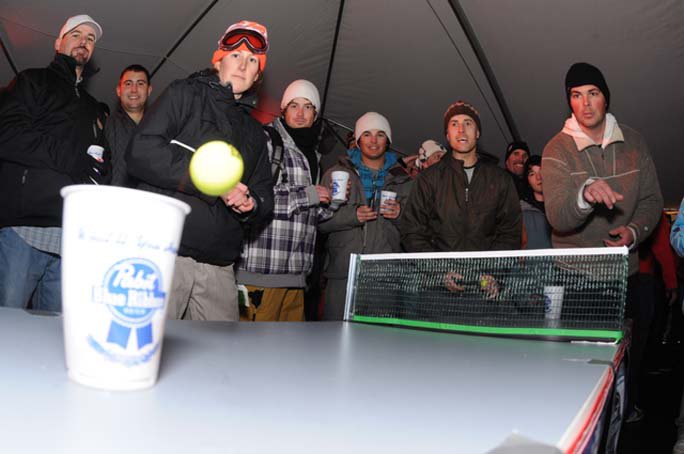 What party would be complete without a little beer pong?
Here I must tell you a story that catapults Mike Powell into absolutely legendary status. You see, before dinner there was a flip-cup tournament worth many points and an important victory in the overall contest of the weekend. Each team picked four representatives, and the idea is simple: Chug the beer, put the cup upside down on the table, and then by flicking it make it stand up. When your cup stands up, your next team mate can begin chugging. Simple enough, and Powell was holding the place of announcer.
However, partway through the contest one of the teams didn't show up. Instead of giving them a bye, Powell decided to take on the task himself. Lo and behold, Powell proving to be the king of flip cup took victory against the astounded other team.
The crowd cheered ridiculously loud, and chanted ensuring that Powell would move onto the next round. Who cares what the rules are, he won fair and square.
The contest proceeded and Powell managed to knock out every team on the way up to the victory. Before the final room though, he had to make room and was egged on by a crowd of rowdy Kampers to puke in the garbage can while claiming, "I am the god of flip cup."
After purging, Powell anted up and beat the final team. Personally, I have never seen something like that and the best part is usually he isn't even a big partier. Regardless, Powell was certainly hero of the day for that event.
That evening was the Neon party, with a Red Bull DJ spinning, and knowing that the resort would be closed the next day the crowd decided to go all out. I got a little deep into the complimentary Grey Goose in every RV and managed to pass out before the party, but they tell me it was the sickest one yet. I must at this moment admit defeat to the whole SBC crew, and especially Mike Berard who just handed it right to me.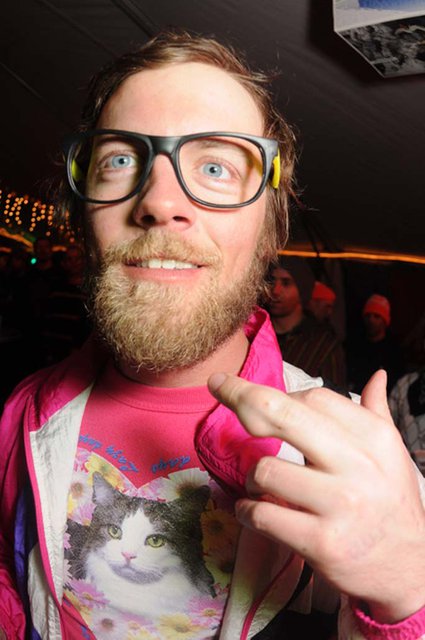 Ryan Schmies, always the one to take things over the top. Ryan here displaying what he calls "The Beaver Reliever"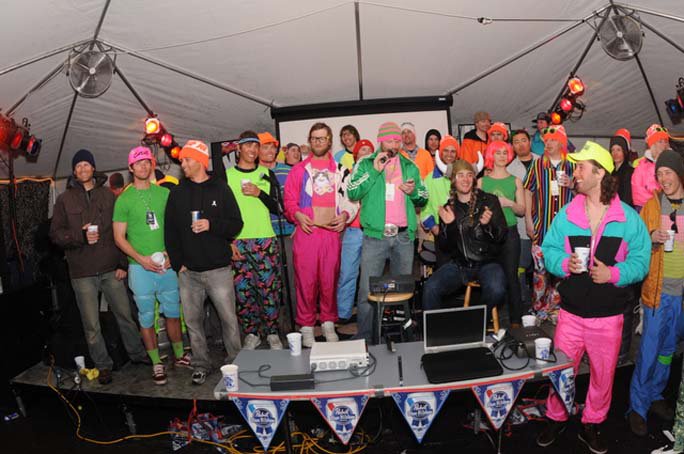 The whole neon crew looking absolutely stunning.
I'm going to let this insanity speak for itself.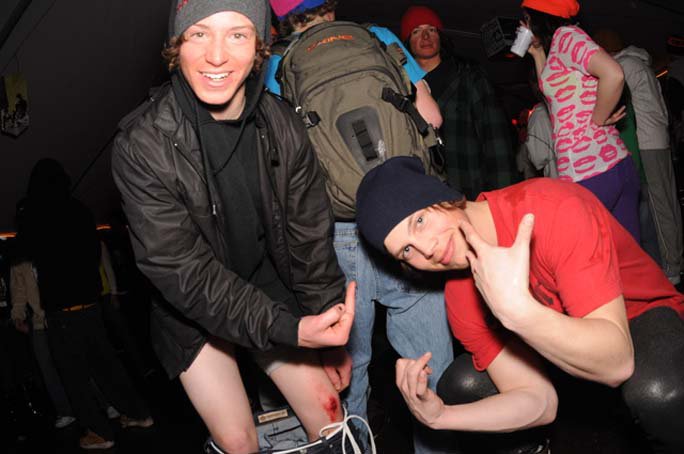 PK and Petit getting a bit wild...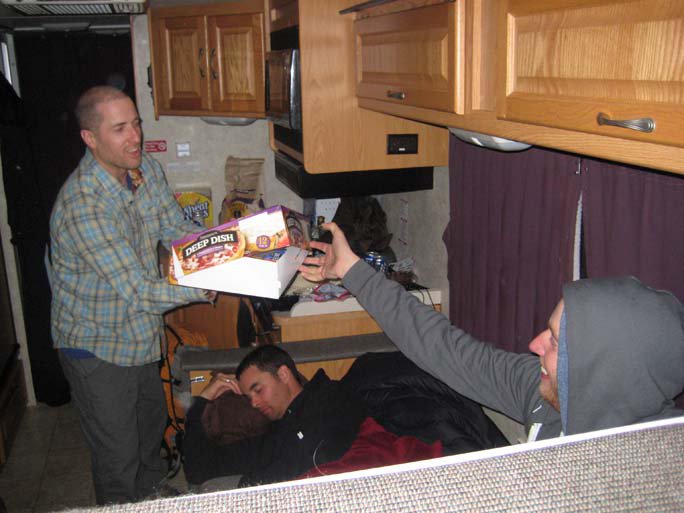 K2 kept each RV stocked with Pizza munchies, this is what I woke up to after realising that I'd slept through the party. Let me tell you it was damn good!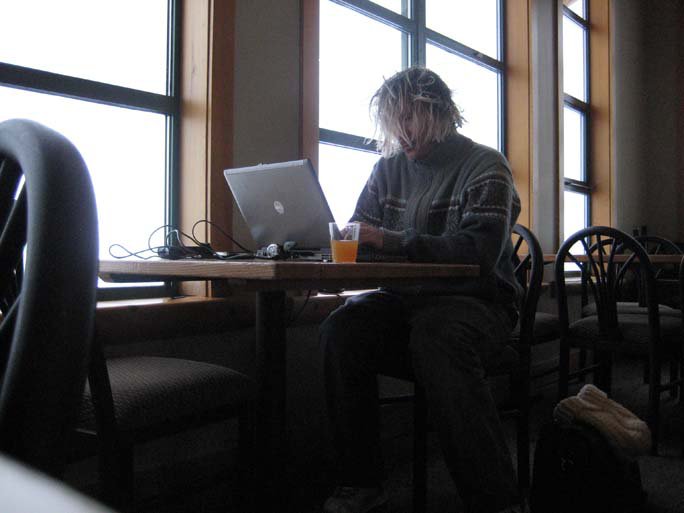 This is me at Baker beginning to write this article...I won't lie, I've felt much better in my life than at this moment.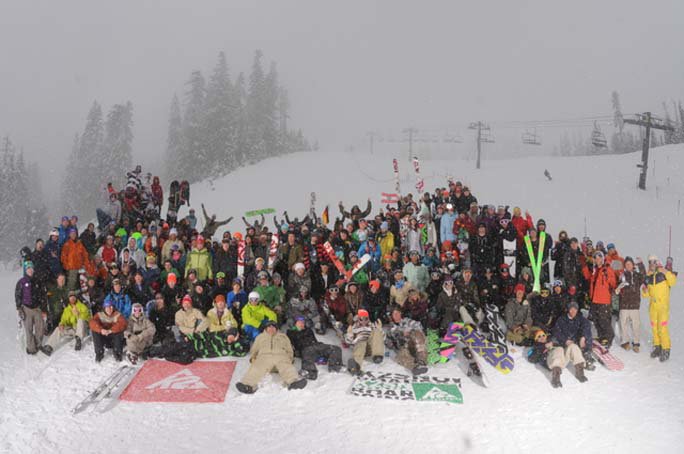 The whole Kamp.
All in all, Kamp K2 was one of the best times in my life. It was like some sort of powder hippy adult camp wonderland...and yeah there's a lot of partying, but there also was a lot of serious skiing. Baker is an absolutely unbelievable resort, and having K2 set something like this up was the stuff of dreams and fantasies. The resort being more of a locals secret than a tourist's haven keeps the rif-raff out, and the ski patrol even begged me to give a terrible review of the place.
Not the most typical NS fare of a story, but for the adults out there you can appreciate how amazing this was, and for the kids when you get older maybe one day you'll have a chance to check out something as cool as Kamp K2. I certainly learned that there was a whole different world out there than the glossy resorts and shiny terrain parks that are my usual fare. Perhaps those dirty hippies with VW buses and powder covered beards are really onto something.
Huge shout-out goes out to K2 for putting on something that truly represents the soul of skiing.
You guys did good, and gave me some of the best days of my entire life.