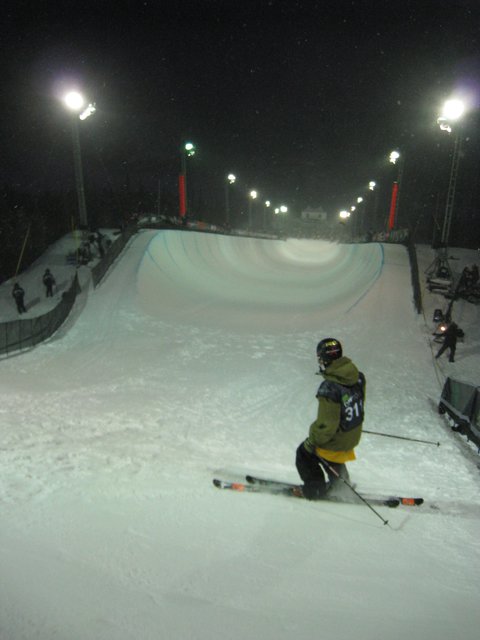 Hey guys,
   Sorry I haven't gotten updated you guys on how my early season trip to Colorado went earlier...I just got home from the first stop of the "Dew Tour" the other day... had a bit of a hectic trip home due to a plane lighting on fire at the denver airport and some weather issues. I ended up having to fly to Calgary (about a 7 hour drive away from Vernon) and somehow managed to hitch a ride with a friend of a friend a day later.
   Anyways, I had never done a contest this early in the season so I was slightly skeptical about being ready for the "Dew Tour". I only had a couple weeks on snow before the event and was coming back from knee surgery in the fall. Thanks to Coppers early opening of their halfpipe though, I was able to get some solid time in the pipe before the contest and get most of my tricks back. I have also never hit the gym so hard in my life which has helped me immensely and already saved me from injury a number of times.
   When it came time to throw down in the contest I qualified 2nd for in prelims which was a huge confidence booster going into finals. That confidence was much needed when the weather turned for the worst on saturday night which made skiing the pipe extremely challenging. It was around -30 degrees with the wind chill... I have never skied in winds that strong but luckily I didn't get tossed around to bad during my runs. I stomped my first run which was pretty conservative (left flat 3, switch 7, right 9, right flat 3, switch right 7) so that left me with no reason not to send it on run #2. The plan was to up my amplitude on my next run and change my 2nd hit from a switch 7 to a switch 10. I ended up stomping it and finished 2nd to Tanner Hall.
   All in all I am extremely happy with how my season has started. I have never felt stronger or more confident and I am ready to do some WORK this season! Hope all is well and I will keep you posted on my current endeavors! Thanks for your support... Happy holidays!
Justin Dorey