Words & Photos: Ethan Stone Video Courtesy of RightSideProductions So to start this story off right, it's about 4am on a Friday morning and I'm slumped over my luggage and half of a train seat, trying to block out the dim glow of the moonlit Scandinavian forest hurtling by outside the window and the rattling, screeching, not-at-all-soothing grunts of the train that is bearing me from Stockholm to Are, Sweden for the Jon Olsson Invitational. I had originally planned to get to Are about the same time as the riders and the rest of the media, around Tuesday or Wednesday, but somewhere along the line my calculations didn't add up. I think it had something to do with the fact that taking the train from southern Germany to northern Sweden takes a bit longer than I had estimated, about a day and a half longer, actually. My travel budget—probably about a day's stipend for other ski journalists—rolled over and died at the very thought of buying a plane ticket, which is why I'm here now, wearing what I left Munich in two days ago, iPod out of batteries and a snoring Swedish girl next to me who has permanently debunked any stereotype I might have had about the attractive qualities of that nationality. Nevertheless, I am an ardent believer in the ski trip axiom "Getting there is half the fun," and this trip is no different. I've already fought off prostitutes on Hamburg's Reeperbahn, a sort of mini-Las Vegas in Germany (like I said, my budget doesn't allow for imprudent expenses… wait, did I just call two girls for 60 euros imprudent?), gone drinking with the dumbest group of Americans I've ever met (the kind I came to Europe to avoid), befriended a Swedish singer-songwriter with a CD coming out in May, and travelled through two European capitals. And anyway, if I'd just jetted into Ostersund like everyone else, what kind of shitty event coverage would I be writing? "Last weekend in Are, Jon Olsson dominated a field of international competitors at his own Invitational, winning the big air with his new competition trick, a double-flatspin he's dubbed the Kangaroo flip…" I hate writing that shit. Don't worry though, I'll get to it soon enough. Anyway, I roll into Are on Friday morning and check into my room, which I'm sharing with Fred, a cinematographer with Plehouse Productions. I'm full of energy even after a sleepless night on the train, but Fred just digs deeper under the covers and when I ask him what I've missed the past few days, the thick French-Canadian accent mutters "Partying… partying… partying…" I can see already that it's going to be a long weekend. Run down to the media center, gawk briefly at the hulking monstrosity that Jon has built for the weekend's competition, pick up my press creds and hit the slopes- I didn't haul my skis 1,500 miles to sit on my ass with a camera. Are's terrain is good, not as steep or expansive as the Alps but still with lots to offer, even cornice drops into untouched pow in April. But you don't want to read about Ethan skiing, you want to read about Jon and Simon and Sammy and TJ skiing, so I make sure to get back down to the base in time for the evening's session, the preliminary event to the final head-to-head comp for the big foam checks going down on Saturday. Jon's organized this year's event to include a no-stress jam session on Friday afternoon, where riders have the chance to get used to the ridiculous boot on this kicker while competing in mini-contests for bottles of vodka at tonight's party. The first competition is the 540 comp: whoever throws the sickest five—switch, right, left, cork, screaming seamen, whatever you can think of—takes the cake. Tim Russell's right 5 far mutes are grotesquely good but as everyone knows, this jump is Jon's, and he proves it with lazy switch cork 5 truck drivers that would make even Pollard cry. When the judges of the evening, Boyd and Philou, are finally dragged from the bar, they give Jon the thumbs-up for the vodka that he's paying for anyway. Next up is the 720 contest, and little Jossi Wells from New Zealand, who is fast becoming one of my favourite skiers, absolutely dominates with switch 7 double nose grabs that put any grab within two feet of the bindings to shame. The final contest is old-school, where the riders get the chance to air out ski pants sweaty from hitting such a monster jump during three-second spread eagles. I'm hoping for a Moseley 360 mute or a huge switch backflip (that counts as old-school, right?), but Josh Bibby has other methods, namely a 720 screamin seamen to iron cross to spread eagle… what? After the session, Fred and I follow the riders up to the Tott Hotel, and the full scope of the Jon Olsson Invitational starts to hit me. Jon has hooked it up big-time for the riders: rooms and dinner in the Tott, free food at the Broken in the town square, VIP space in the club at Bygget… hell, even gold keys to the city inscribed "Jon Olsson Invitational" to be worn on a chain around the neck and to be flashed on any occasion: getting a taxi, food, feminine companionship, etc. As Jon said later after claiming his $10,000 prize check, "It's a good thing I won some money, because otherwise I'd be broke!" Saturday dawns over a city of hung-over skiers from across the world, all hoping for a piece of the massive prize money and guaranteed ass that's on the line in the big-air comp. The riders hit the jump in turn while the MCs bellow off their names, like announcing an NBA line-up, and then qualifying begins for the eight-man final. After two jumps from each skier, the list is narrowed down to Jon, Sammy Carlson, Andreas Hatveit, Corey Vanular, TJ Schiller, Simon Dumont, PK Hunder and Peter Olenick, and the head-to-head, one-jump finals get started. Sammy gets the shaft early and is pitted in the first round against Jon, whose "kangaroo flip" is seemingly unbeatable. Jon calls it a double flatspin 540 but I'd say it's basically a double Lincoln 180, which is cool, but not as impossibly cool as, say, a double cork, which Jacob Wester had been throwing down but didn't stomp to the satisfaction of the judges. At any rate, Jon lands the kangaroo flip clean, and Sammy's situation sort of reminds me—just hang on here—of the Polish cavalry in 1939, facing a full-on blitzkrieg from Hitler's tank crops. Like the ill-fated cavalry charge of the Poles, Sammy's switch 12 just seems outdated, and Jon moves on. The other rounds are decided easily by crashes, as Vanular, Dumont, and Olenick all can't hold it together under the pressure. The kangaroo flip prevails again against Hatveit's 1260, and Jon is into the final. TJ and PK Hunder face off to see who will meet him, and although TJ rides out clean from a lost ski on the landing of his rodeo 12 mute, it's not good enough to beat PK's switch 7 uncrossed far mute that he's been taking to the bottom of the landing all night long, and holding the grab for longer than an episode of Seventh Heaven. In the final, Jon stomps the kangaroo flip for the third time to claim victory. TJ and Andreas jump for third place – both throw 12s, but TJ's tweaked mute gives him the edge. Afterwards the evening slowly winds into madness as the athletes, the locals, and seemingly hundreds of full-blown pro-hos descend on Bygget for the afterparty. I seem to remember champagne dripping from the ceiling, free alcohol flooding the VIP section, safety meetings on the balcony, arguing with Iberg about lemurs, Sammy shouting "older girl, big titties," a band covering Blink 182 songs, beautiful Norwegian girls on a school ski trip, Fred stumbling by with a bottle of vodka, and a sweaty, drunken mass writhing on the dance floor for hours. Check the Video (19.2 MB WMV)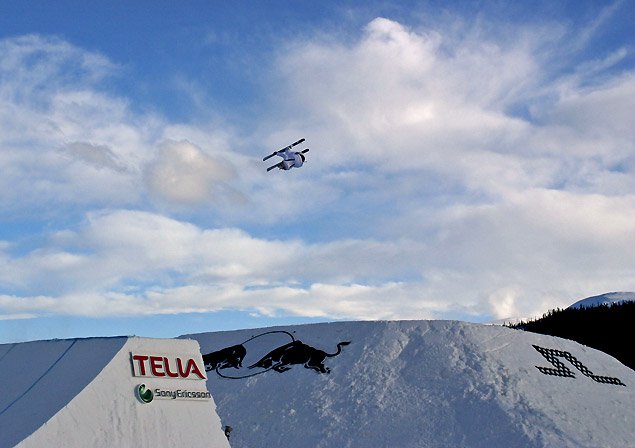 Jon Jon Jon!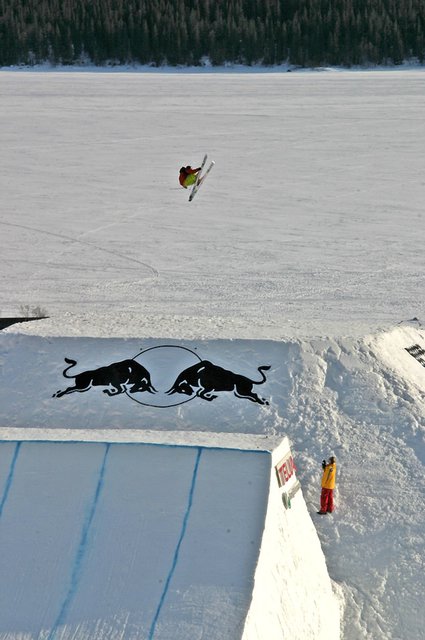 The infamous Jossi Wells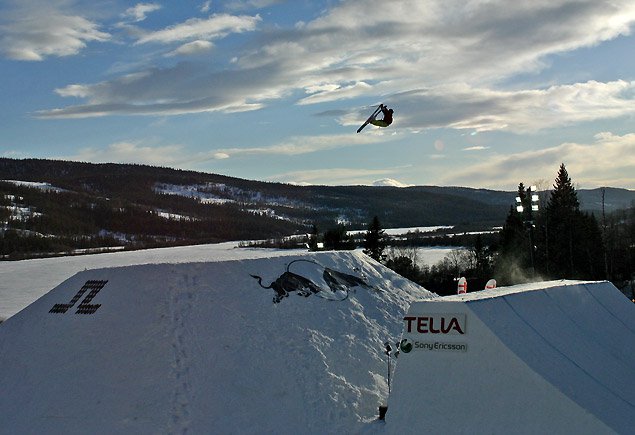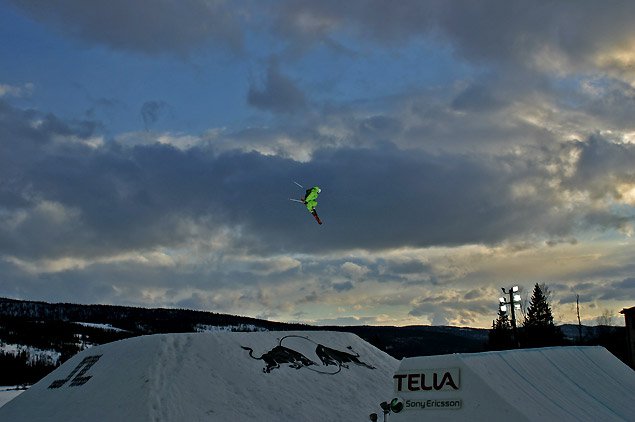 Nice to see Pep making an appearance.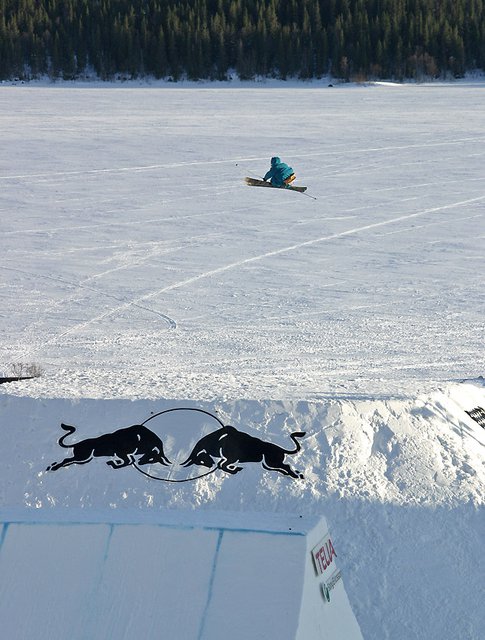 Next year's Made'ns?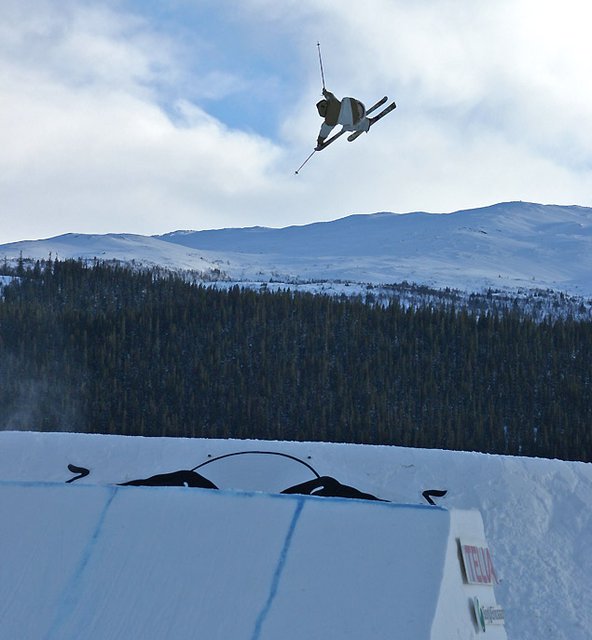 Tim Russel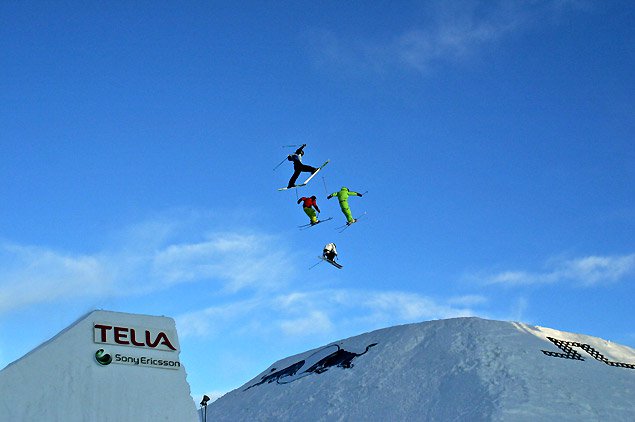 Team Hit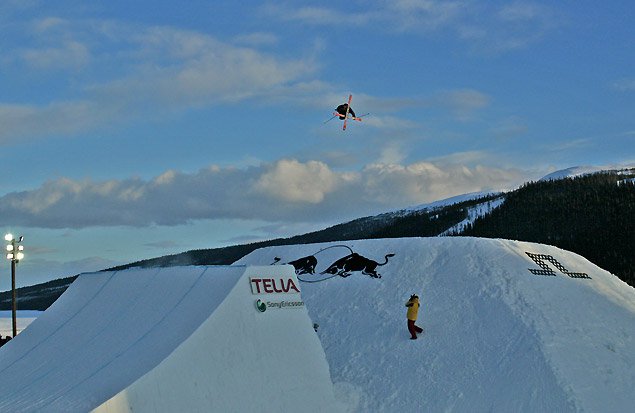 TJ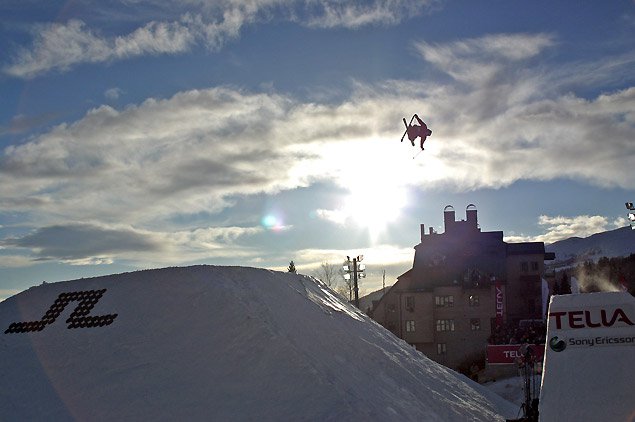 Vanular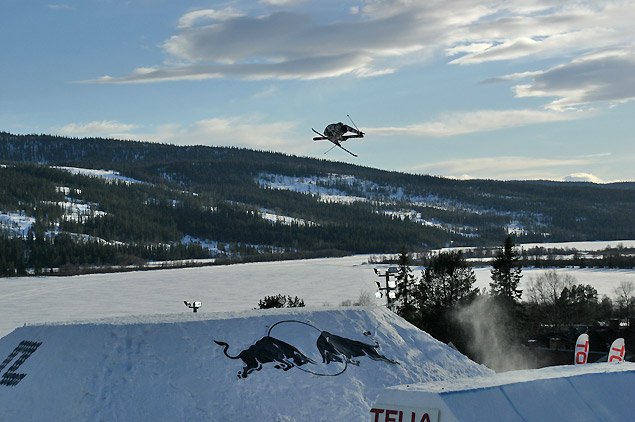 Jacob Wester