Icer Air Constant Updates
Words and Photos by Rom Marcucci
RecapIcer Air is our sport's biggest stage for the general public in North America. No other single event exposes more people to what freestyle skiing is all about. While many may watch the X-Games on ESPN, it simply does not compare to firsthand experience tens of thousands get at Icer. The venue at the ballpark is giant, and the crowds here were large. This year's jump allowed the skiers to show their most technical tricks in the finals. TJ Schiller had a disappointing final, if only by his standards. He struggled to stick the landing and when he did, skied full speed switch into the fencing. Thankfully, he was unhurt.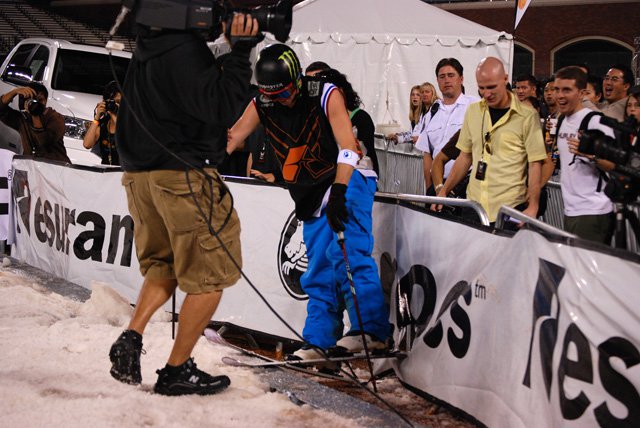 Sean Field got caught up in the double flip madness, landing his first double back in a competition (possibly ever) and attempting a double back 180. He finished sixth. Mike Riddle skied consistently throughout the evening, landing smooth, long held switch sevens for fifth place.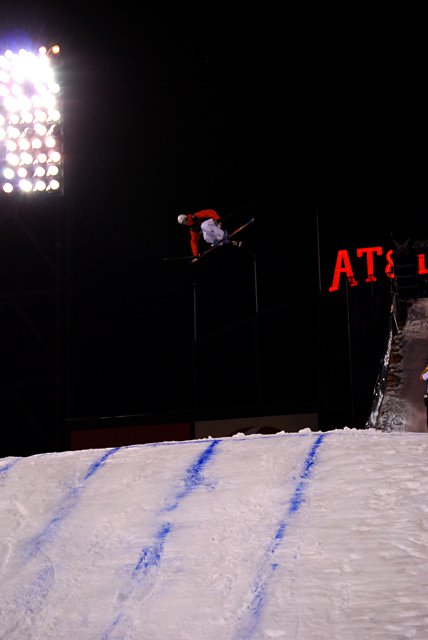 Tanner Rainville consistently upped his spin level through the finals, taking his switch 7 to 9 and eventually 10. Every trick had an excellent mute to tail, landing him in fourth.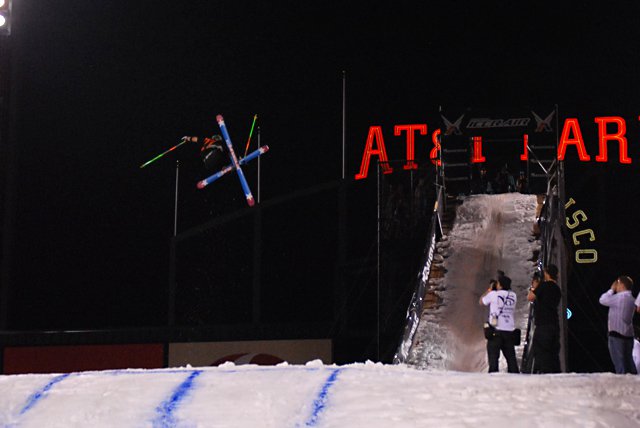 Jonny Moseley redeemed an earlier exhibition fall with a huge backflip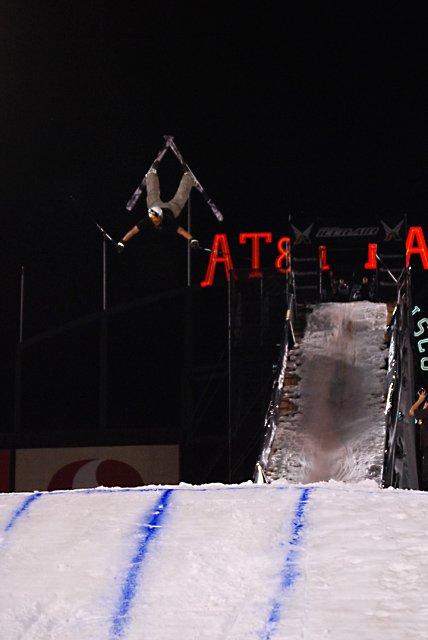 Sammy skied consistently enough with nice switch 10s for the third place position. Simon held onto first for a while but ultimately, it was Jon's night. Will 2007 be Jon Olsson's year? Based upon the way his double flip, the kangaroo, is being judged, it could be.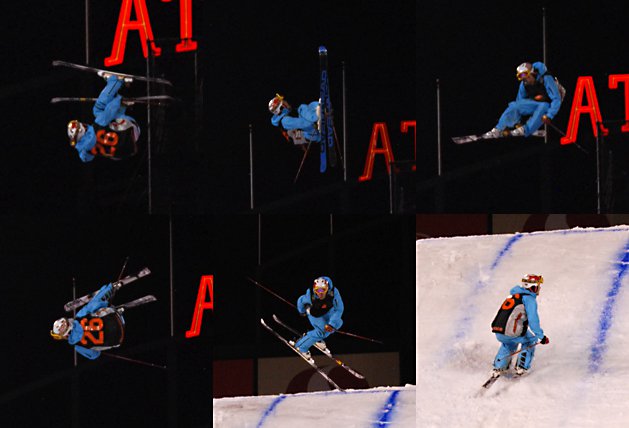 The crowd watched as Simon dropped in for the last hit of the evening, attempting to take back first but it wasn't destined to be his night.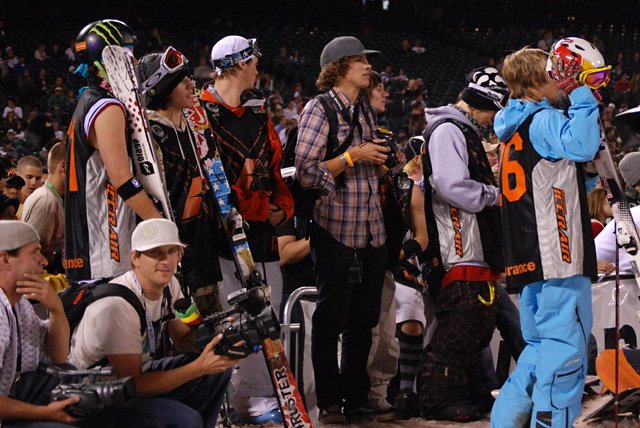 Jon Olsson: first place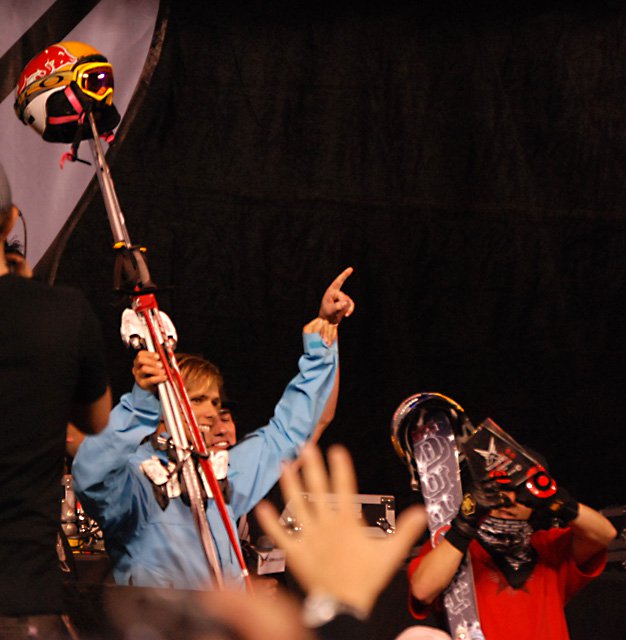 7:31Jon landed an even bigger and cleaner Kangaroo flip for a score of 95. This left Simon Dumont at the top of the inrun, in second place. As the last competitor to drop, he went for a 1260 high mute but fell on the landing, leaving Jon the winner of Icer Air 2007. More photos and stories shortly.7:13Jump 2Picture perfect kangaroo flip by Jon Olsson. He just took Dumont out of first with a score of 93.Everyone is getting in on the flip madness. Sean Field threw a double back, and J-Mo redeemed himself with a backflip as well. TJ skied switch directly into the fence at a fairly high speed but claimed to be fine when asked.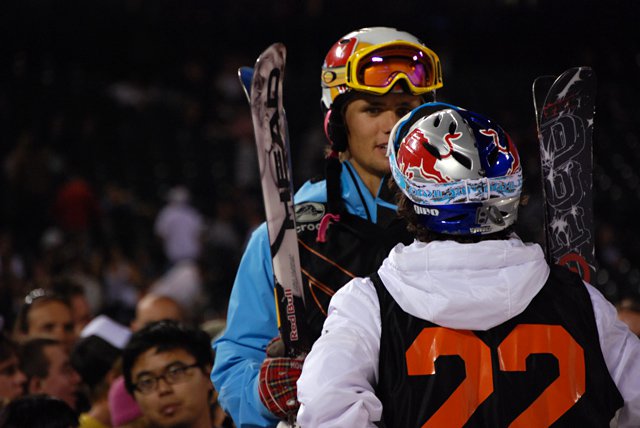 Jon and Simon having a chat after Jon bumped Simon to second
6:55Jump OneDumont 91Sammy 83T Rains 79Riddle 70Sean Field 61TJ 386:37Jump one in the finals just happened. Jon threw the kangaroo flip. Everyone else was pretty standard fare, except that TJ backslapped. Things are going too fast to upload more than this one right now.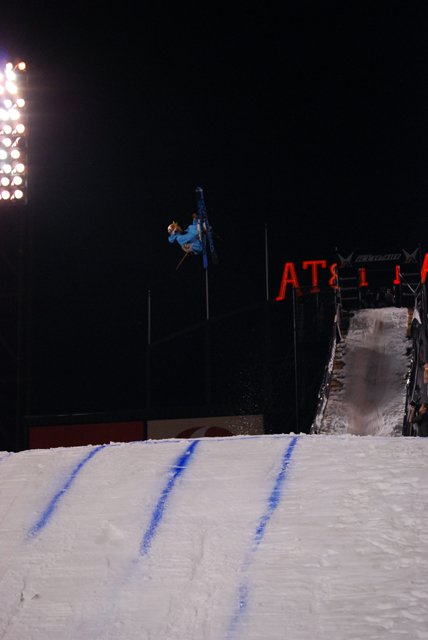 Jon doing what Jon does best
5:45Skiers who qualified for the finals are: Mike Riddle, Tanner Rainville, Sammy, Jon, Sean Field, TJ, and the Dumont. The skiers and snowboarders just got a bit of practice time in and finals under the lights are about to happen as soon as they are done prepping the jump.4:44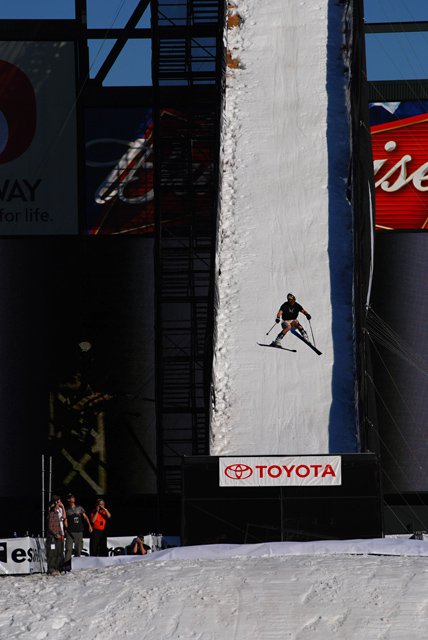 Hi, I'm Jonny Moseley. I'm wearing board shorts, a t shirt, and about to eat it.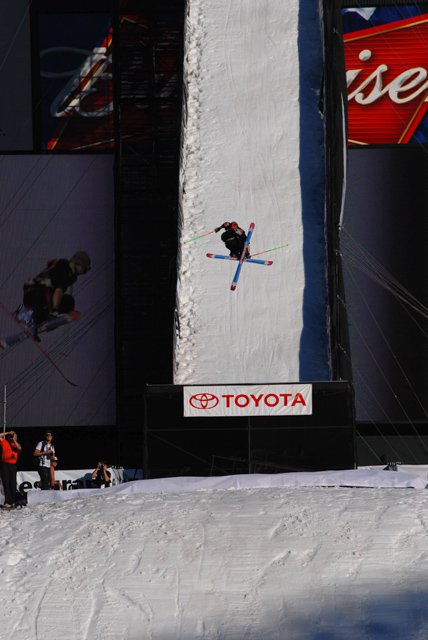 Got it that time. T-Rainville bringing the mute to tail to switch 9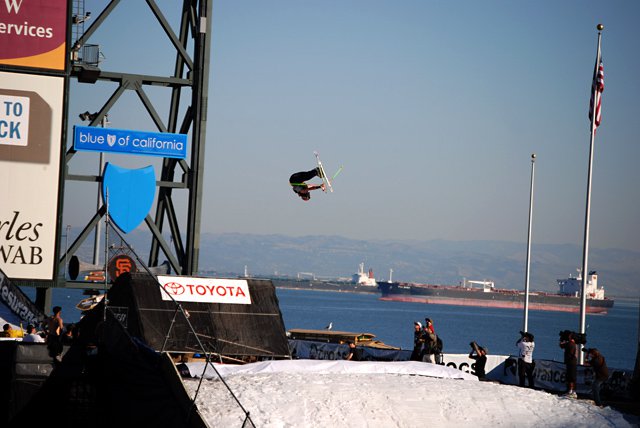 Tim Russell: Switch 7
Sammy: switch 10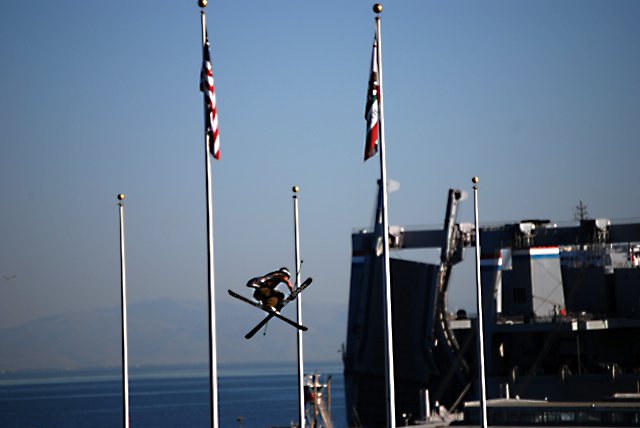 Tim Durtchi: Proud to be an American switch 7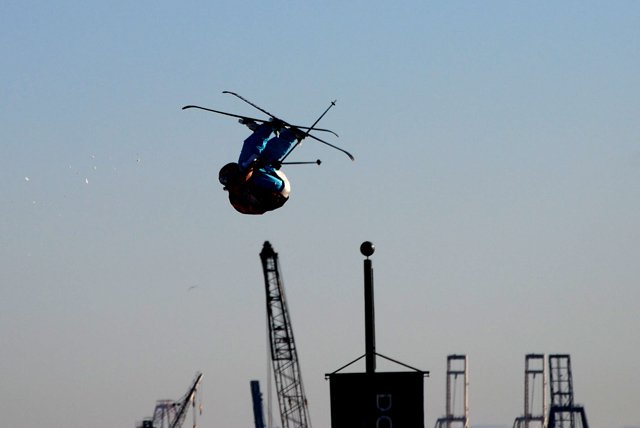 Dumont: double front, insert your own funny caption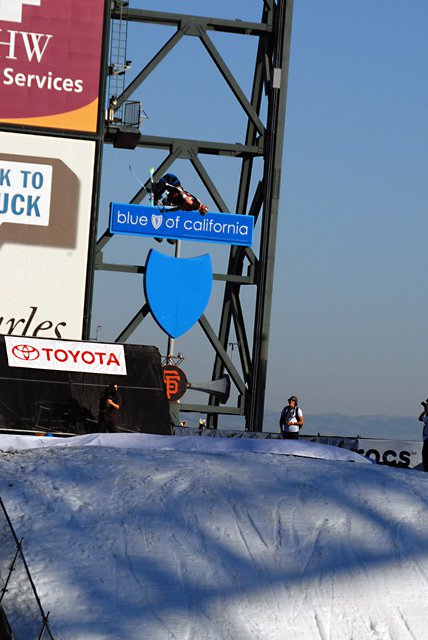 Bibby, silly upside down switch 9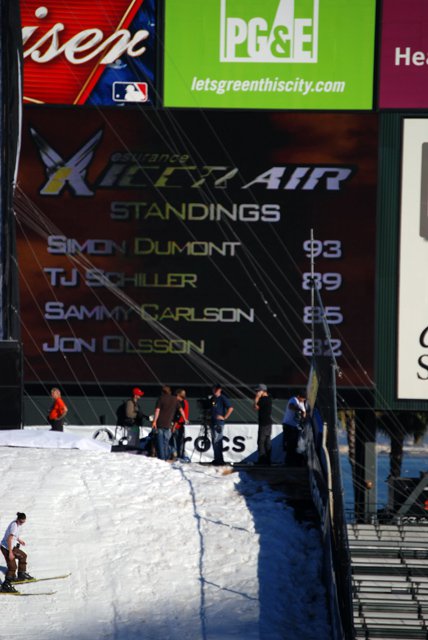 Scores after the first jump. Second hasn't been anounced yet.
2:55Run 1 of 2 in prelims is done. Dumont leads with a forward 1080 nose, Schiller is in 2nd with a switch 1080 tindy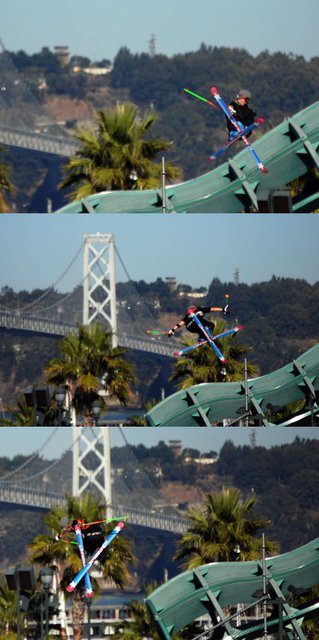 T-Rains: textbook switch 7 mute to tail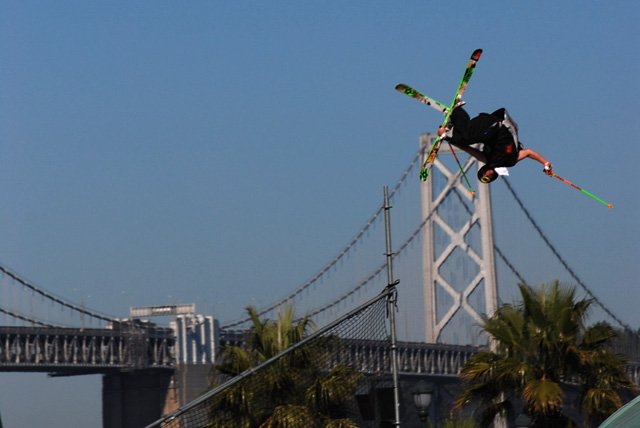 Tim Russell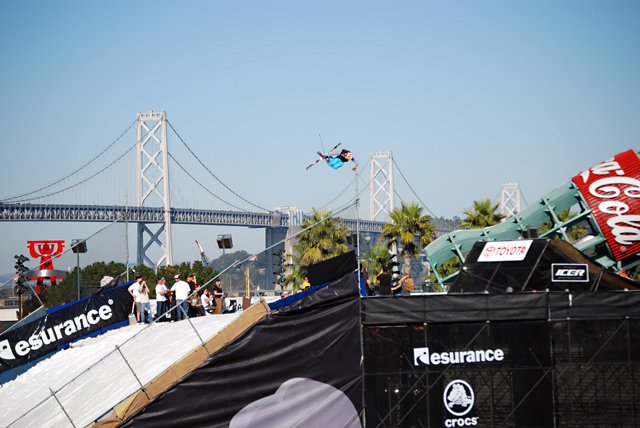 Jon: switch misty 10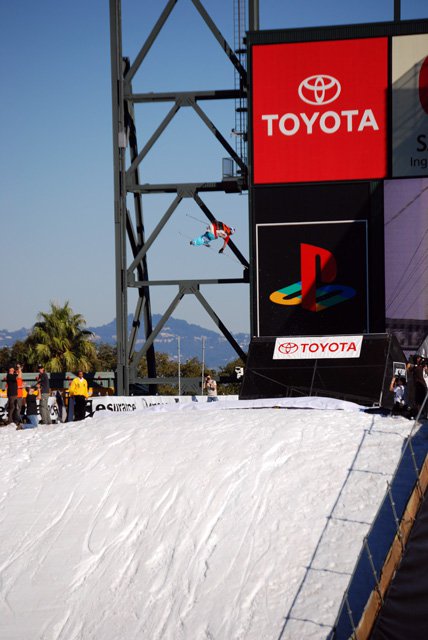 Dumont 10 nose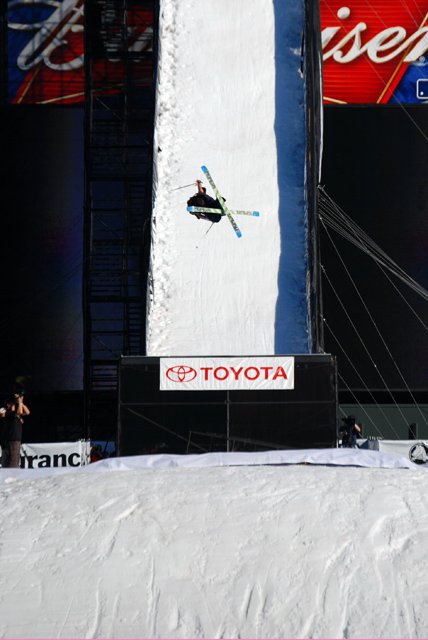 Bibby got the grab. I missed it. Apologies.
12:30Rather than waiting until tomorrow to get a complete article, I'm going to do this on the fly as the event progresses. I'll try to get on here as often as possible, so keep checking back throughout the day.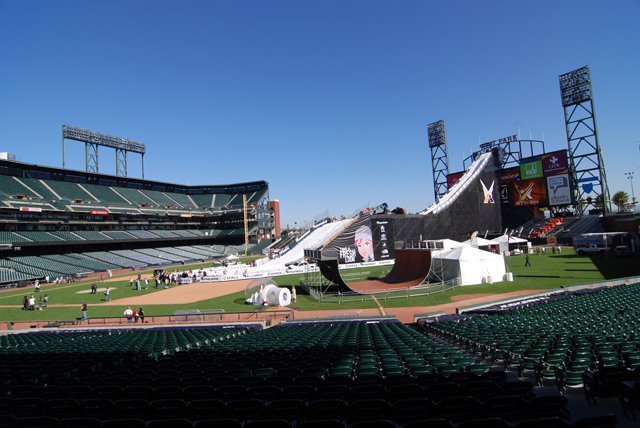 The setting: San Francisco, CA.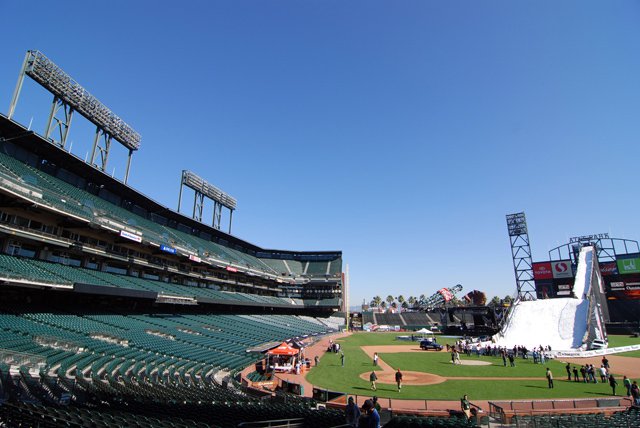 ATT stadium, home of the Giants.
It is lunchtime here on the West Coast. Walking into the stadium this morning, one huge change was evident compared to last year: the jump looks great. According to one of the builders, "It is the same jump we built for Freestyle.ch, just 20% bigger in every way. The in run is plenty wide for switch takeoffs, with really nice transitions and a wide, safe, fairly long landing."
Right now it is practice, most of the skiers are starting out with straight airs and gradually working up to some mellow spins as they've warmed up. The crew just took a break to smooth the landing, so I'm taking the opportunity to write this.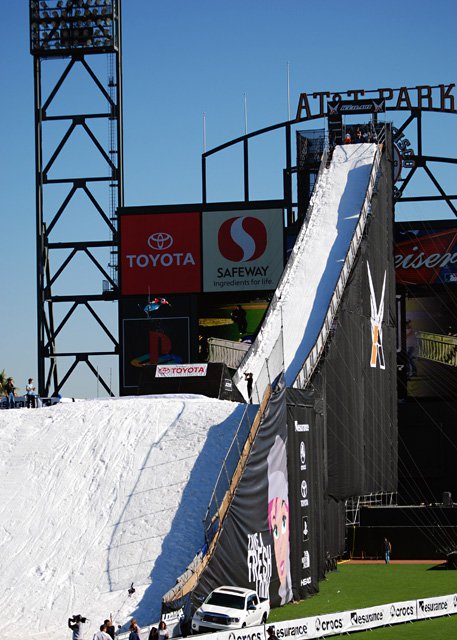 The Dumont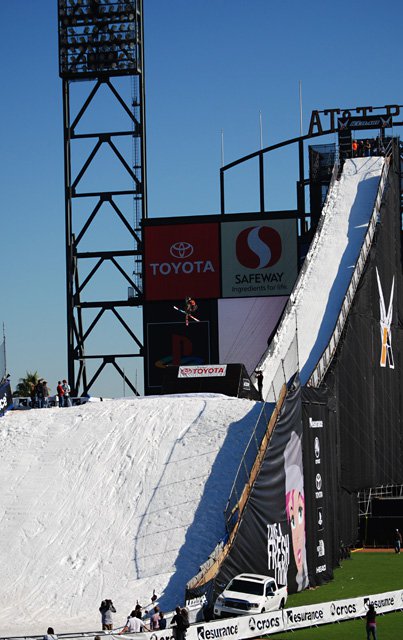 Josh Bibby Moment Skis' newest rider
The dig crew fixing the landing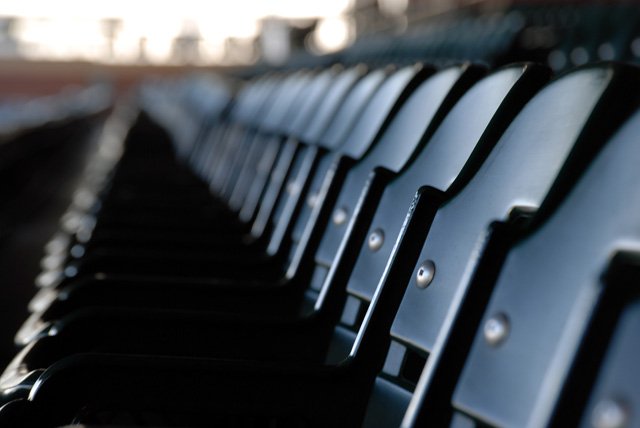 Giants seats, soon to be filled
Download Quicktime MOV (66MB)