Jiberish has teamed up with Park City Mountain Resort to bring a one of a kind event to historic downtown Park City. This Thursday September 22nd at the Egyptian Theatre (three doors down from our Vault store) we will be presenting the Utah premier of Stept Productions "Weight" followed by a special showing of Level 1 Productions "After Dark". Tickets are available to be purchased (cash only) starting 9/15 at The Jiberish Vault (314 Main) for $20, or $15 with valid college ID.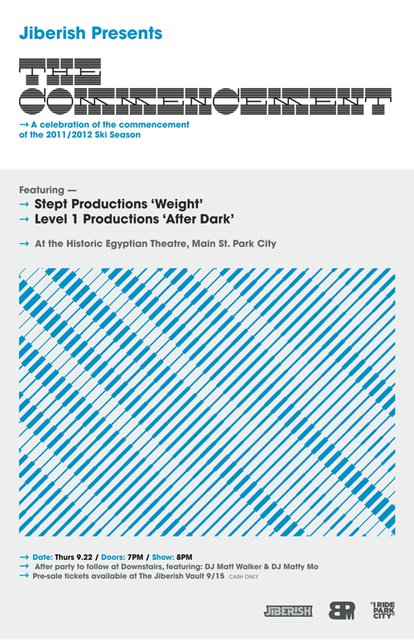 Admission to The Commencement also includes cover to the official After Party which is to be held at Downstairs (625 Main) immediately following featuring DJ Matt Walker, and DJ Matty Mo. We'll be going late into the night celebrating the start of our first season here in beautiful Park City, Utah.
Check out the official event page for The Commencement on Facebook by clicking here.