So I just got back from Japan where I spent the last two weeks doing the Asian Open of Snowboarding and Junior World Champs. Japan was a really cool place to hang out. While we were in Nagano we had a chance to go to the hot springs and hang out with some of the world famous Snow Monkeys. They were really cool until you got too close to one of the babies and the mom would growl and try to attack you.
Angry Snow Monkey
After the Snow Monkeys we still had a couple days before the event so we went free riding and and just had a good time. Now in my two weeks there I realized one thing, Americans can get away with anything as long as after you do it you say "that was the last time." The Japanese feel sorry for us or something cause they just smile and say alright. The reason I said that is because most of the free riding we did included jumping off almost every chairlift the resorts had to offer.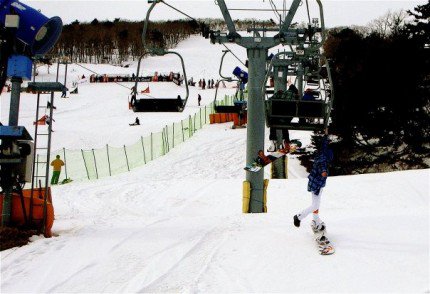 Matt Ladley hanging from the very low Japanese chairlift.
We finally got to the events where we had to ride the worst halfpipe I have seen in years. Every hit was like riding a completely different pipe. My first run of qualifiers I decked on a front 9 slammed into the pipe and cracked my helmet. I managed to recuperate and land my second qualifier run which qualified me in 2nd place. By the time finals came around the pipe had become so soft and the holes so big one of the Australian kids told me he had stuck his whole arm straight into one without digging at all. For finals I did the exact same thing as qualifiers, decked on a front 9 and slammed into the pipe. Once again I was able to get my barrings straight and land my second run which put me in second place for the event. I was stoked on the finish but I honestly don't think i have ever been so sore from one day of shredding in my life. I am actually typing this while icing my ankle and shoulder back at home. I am off to Vermont on Tuesday for the Killington Grand Prix and US Open. I will keep you posted about that.
Later!
Dylan