Words by Jeff Schmuck
Photos by Dan Brown
The Jon Olsson Super Sessions concluded last night with the grand awards ceremony at the Mix Megapol Arena in the Holiday Club hotel in Åre, Sweden, where each of the seven teams displayed the video and photo masterpieces they worked their asses off on over the last two weeks in front of a capacity crowd.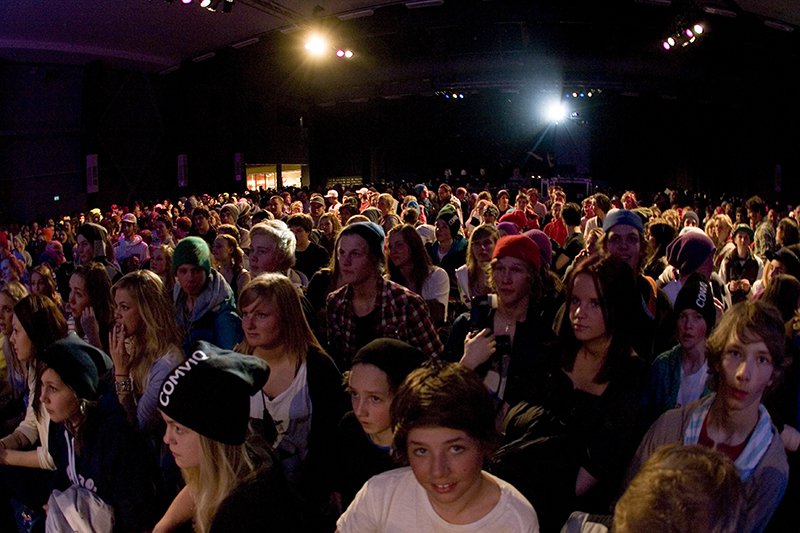 As the awards were about to begin, the photo slideshows from each team's photographers were on display much to the delight of the jaw-dropped crowd. Each team was then individually introduced and made their way to their tables that were stocked with snacks, champagne and beer. Once all was set to go, the mastermind behind the event Jon Olsson made a speech thanking all of the teams for coming and said a few words to the crowd about how truly challenging this year's event was due to the weather.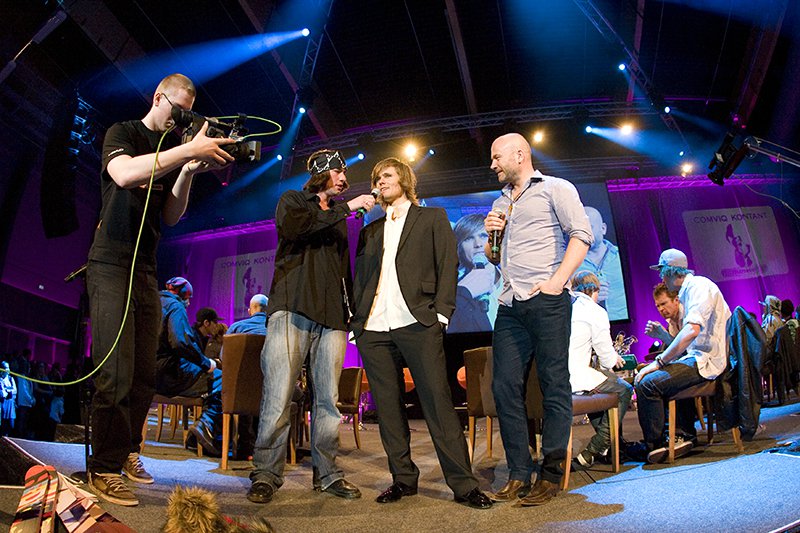 Once his speech has concluded, it was time for the moment we had all been waiting a long, hard two weeks for...the videos.
Up first was Team Canada, who's video opened with TJ Schiller being towed into a jump by a horse. Yes you read right, a horse. The video continued with an additionally cool aspect to the intro courtesy of the genius of Neil Sotirakopoulos that saw TJ throw Cosco's helmet towards him which bounced off trees and jibbed boxes until landing in Chug's hands as he slid a rail. A double wide variety of technical tricks from TJ and what will without a doubt be considered Ian Cosco's breakthrough moment in skiing then ensued, and the Canadians were later given the highest scores for the skiing portion of the event for their efforts.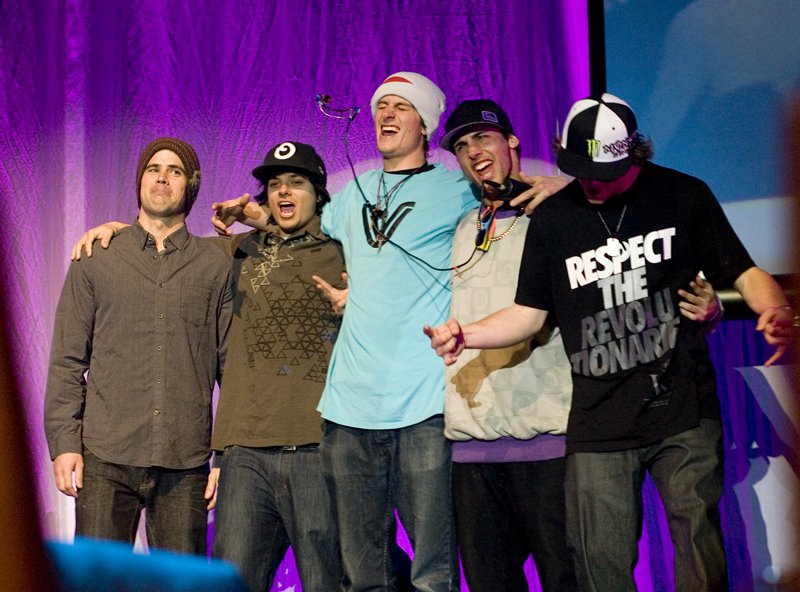 Team Canada: Damian Cromwell, Neil Sotirakopoulos, Darren Rayner, Ian Cosco and TJ Schiller
Following the Canucks was quite possibly the most anticipated video of the night from an entertainment standpoint. Everyone knew that the comedic duo of Colby James West and John Symms were going to have a jack in the box full of tricks up their sleeve coming into JOSS, but no one in attendance was quite prepared for how far they took it. The two wrote, recorded and performed an original (and side busting with laughter) hip-hop song called "My Friend is a Pro," which featured more mean mugs, aggressive hand gestures, champagne being poured all over Swedish girls and of course amazing skiing than can be possibly imagined. You really have to see it to believe it. It's so damn funny that we watched it at least four times today on our way to Stockholm.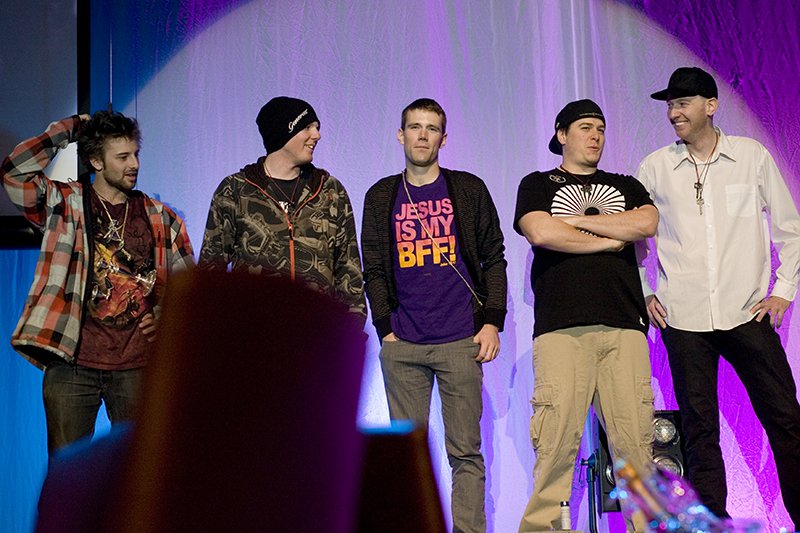 Team USA: Colby West, Josh Finbow, John Symms, Mike Thomas and Alex O'Brien
Up next was Team Down Under, who's entry was made that much better by the ace up their sleeve, Kris Ostness. To say that Kris' angles, shots and editing was, as always, on a completely different level, would be a grave and disrespectful understatement. His skills were complemented by a comedic twist in the video, as their photographer Tony Harrington happens to look a lot like Steve Erwin, the late and great Crocodile Hunter, so he respectfully mimicked the role to perfection, attacking Jossi Wells and Russ Henshaw on the hill, in the pool at the Radisson Hotel in Trysil and at Max Burger in Åre. It was awesome.
One of the front runners to take home the win from the moment their star studded team was announced, Team America, was up next, and I'm going to struggle to find words to describe how fucking awesome it was. The video opened with the Poorboyz and Level 1 logos embedded together over an American flag and began with imitation of the intro to Simon Dumont's JOSS entry from last year. Same song, same words, same shots...until Simon is sitting in the church, at which point Tom Wallisch appears dressed as Jesus, and tells Simon he is here to help him win JOSS and earn hyphy and underground status. Simon then happily and stylishly obliges in the most action-packed segment of the competition with arguably the best song of any of the videos, Party and Bullshit by Ratatat Remix featuring the Notorious BIG. The two violently raped everything put in front of them, from the jumps to a variety of sick and technical urban and everything else in between. TJ Schiller later said no segment had ever made him more stoked to go skiing, and some were calling it the best ski segment produced since Pep's in Session 1242. Prepare for minds to be blown and Simon's critics to be stunned.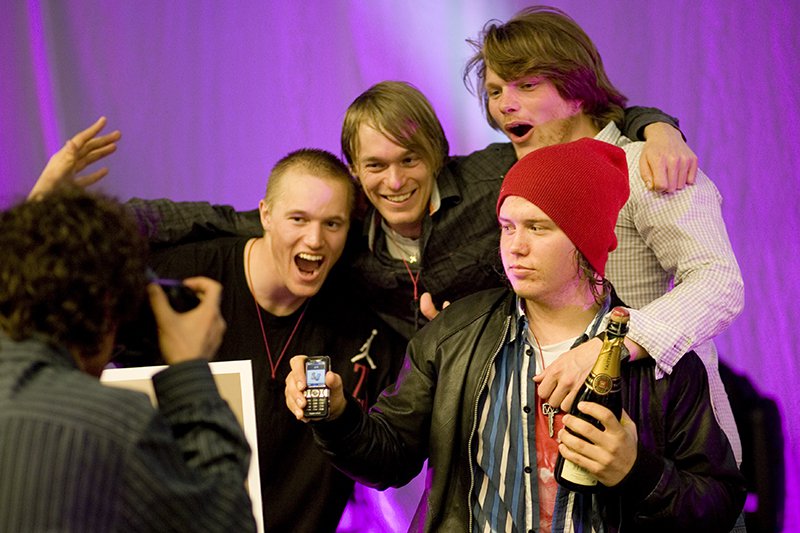 Team Norway, with PK on the phone
Due to the nature of their work ethic over the course of the last two weeks and their unbelievably talented roster, one of the more anticipated films of the contest came next, Team Norway. It was a bittersweet moment for the gang as PK Hunder was unable to be with his comrades due to a neck injury he sustained at JOI (he is currently undergoing x-rays in Norway, and we're all hoping for the best for him). The Norwegian's film was, in my and many others opinions (especially the judges), one of the most well-done films of the night, complete with a plethora of gnarly and creative urban, and air follow cam shots from Jon Håtveit (that never seem to get old) on both skis and from a paraglide.
Second to last was the darkhorse of the event, the last second team of Laurent Favre and Henrik Harlaut of Team Europe. The intro began with Laurent, all decked out in a suit and tie, discussing his thoughts on the current state of skiing and how he prefers slow, smooth spins to the doubles craze. Henrik Harlaut then interrupts him by strutting into the room in a tall-tee, bandanas galore and his trademark swagger. The two glance at eachother in a meeting of opposite minds and the segment begins to one of the loudest, most bumping and enjoyable soundtracks of the evening, and the boys slayyyed it. Urban, jumps, style...and more style. Again, you'll have to see it to believe it.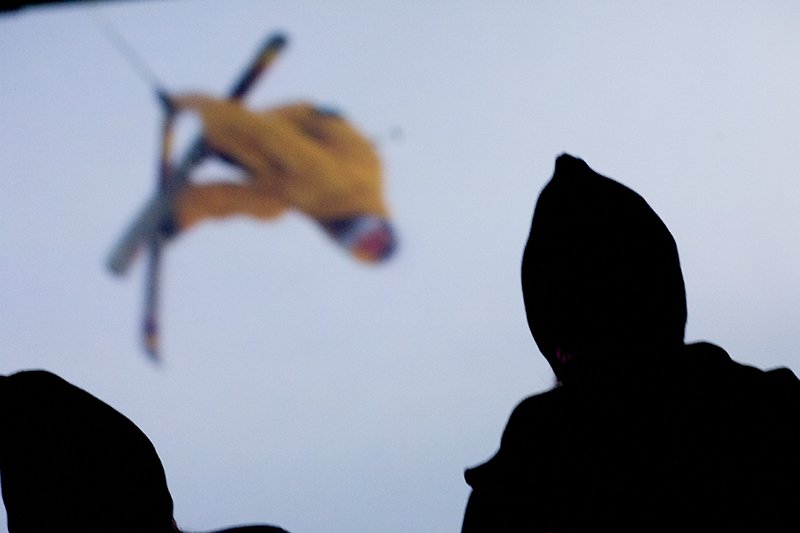 Team Europe watches Team Down Under's video
And last but not least was the host team, Team Sweden. The film opened with Jon discussing his relationship with Jacob and how impressed he's always been by him, but that at the same time he's always nervously looking over his shoulder in fear of what he's going to do next. Jacob counters by discussing how much he's always looked up to Jon and how frustrating it's been over the years to get beaten by him in competitions...but how special it is that they're now a team. The video then kicked off with a bang with the Swedes throwing side-by-side doubles, a dope amount of urban and the only heli shots of any of the competitors along with eye-popping footage from their secret weapon, the Red camera.
Over the course of the evening a series of awards were given out in between the videos as we got closer and closer to the grand prize. First up were the photo awards, which were broken down into five separate categories this year that were tallied up towards an overall score for the photo portion of the event as opposed to having a singular slideshow category like last year.
The first was Best Slideshow, which went to Nate Abbott of Team America, then Best Portrait, which was awarded to Mattias Fredriksson of Team Sweden, then Best Action, again to Nate Abbott of Team America, then Best Documentary, to Damian Cromwell of Team Canada and finally, Best Sunrise/Sunset to again Damian Cromwell of Team Canada.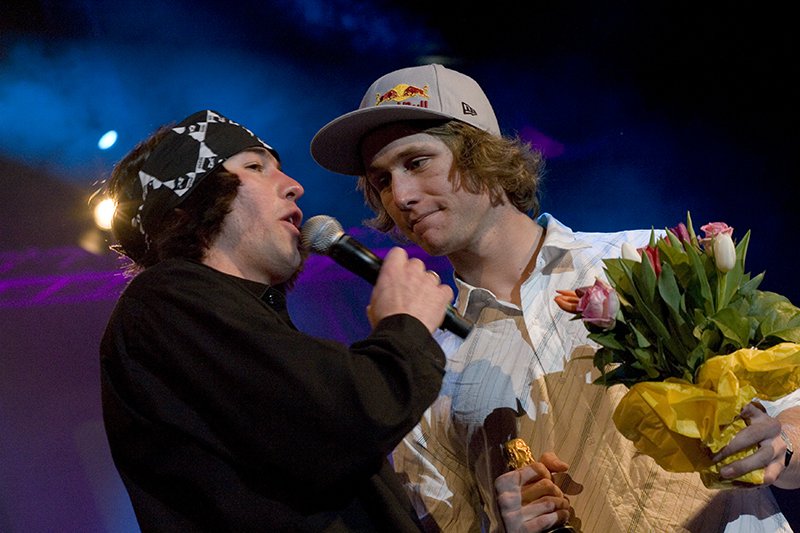 Team Down Under's Russ Henshaw accepts the award for Best Overall Performance from Luke Van Valin
A series of sponsor awards were also presented, which were fittingly presented to Russ Henshaw of Team Down Under for Best Overall Performance, Team Sweden for Best Teamwork, Team Norway for Best Energy, Jon Håtveit of Team Norway for Best Filmer, and of course, Best Comedy to Team USA.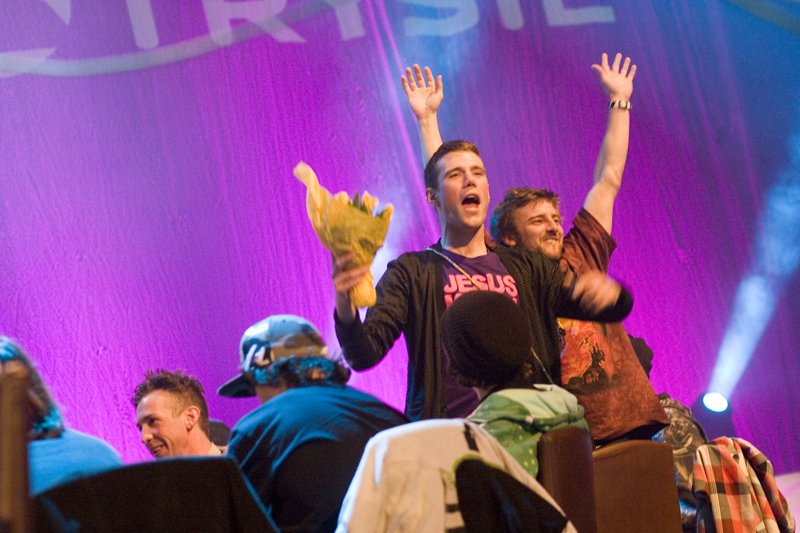 Team USA's John Symms and Colby West excitedly accept the People's Choice Award
And speaking of Team USA, just prior to the grand prize winner being announced, it was time for the second biggest award of the night. At the conclusion of each of the films Luke Van Valin held up a noise-o-meter and asked the capacity crowd to cheer for their favorite film. To no one's surprise, the award was very deservingly given to the talented Colby West, John Symms, Mike Thomas, Josh Finbow and Alex O'Brien for their epic hip-hop music/ski video. Not sure if they scored themselves any cheebah or just bragging rights, but either way the boys accomplished exactly what they wanted, as Symms and O'Brien told me at the beginning of the event, "We're not going for the win. We're going for the People's Choice."
judges Chris Turpin and JF Cusson
It then came time for the judges to announce their decision. There were five judges in total for five categories. Two for the skiing (JF Cusson and Chris Turpin), two for the video, and one for photo. As the points were tallied up, the top seven emerged...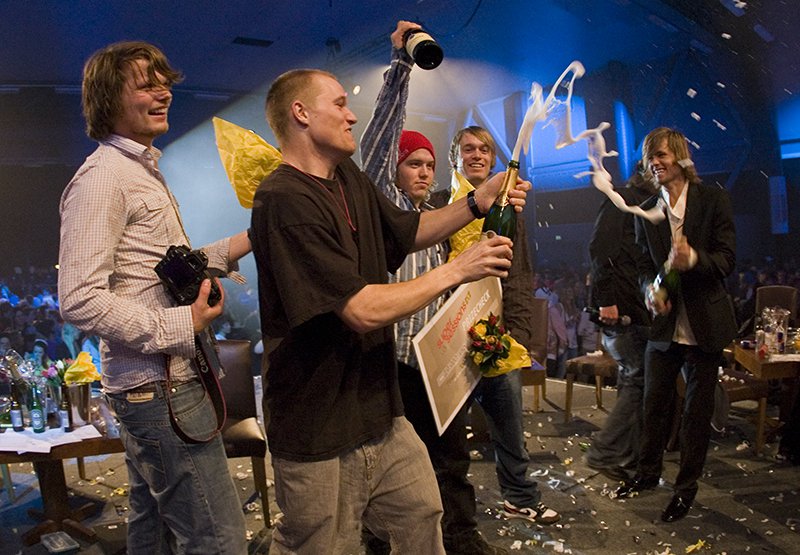 Team Norway celebrates their win
As you know by now, Team Norway took home the win, which included a $20,000 cheque and supreme bragging rights for a long, long time to come, with Team Europe in 2nd, Team Canada in 3rd, Team America in 4th (which was the subject of some debate afterwards), Team Sweden in 5th, Team Down Under in 6th and Team USA in 7th.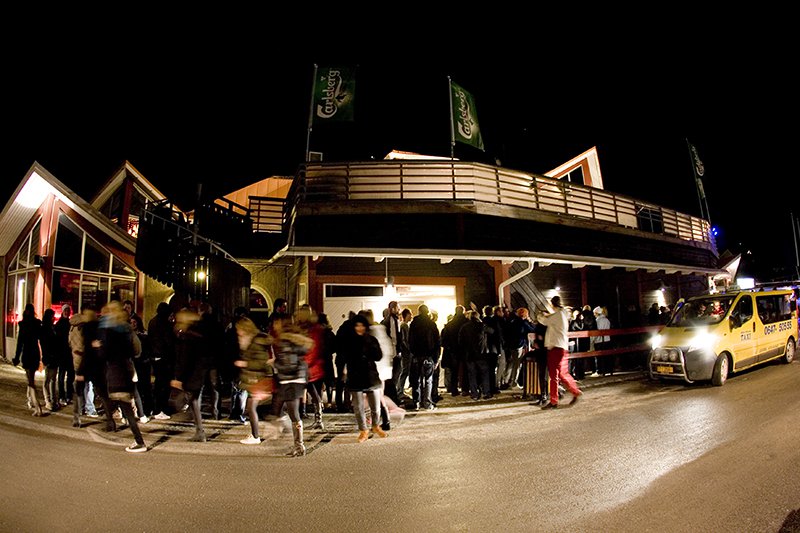 Bygget night club in Åre
After the awards, surprise, surprise, it was time to party at the kick-ass Bygget night club again, where much drinking, champagne spraying, carousing, shirt ripping and all sorts of other mayhem and fun amongst friends ensued.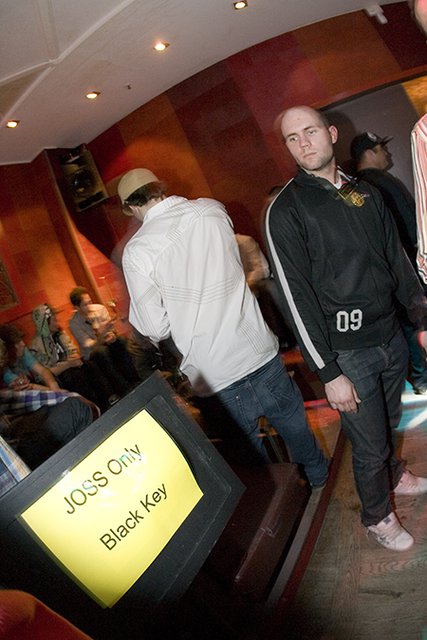 VIP shit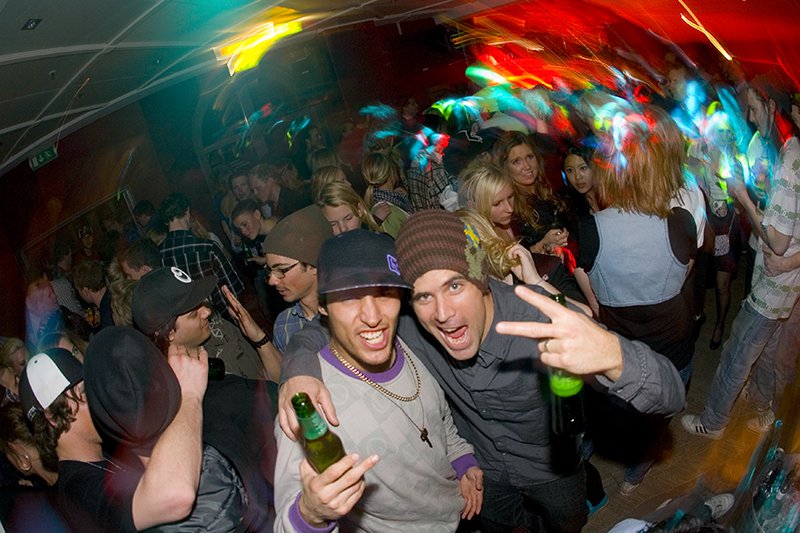 Chug and Cromwell celebrate being Canadian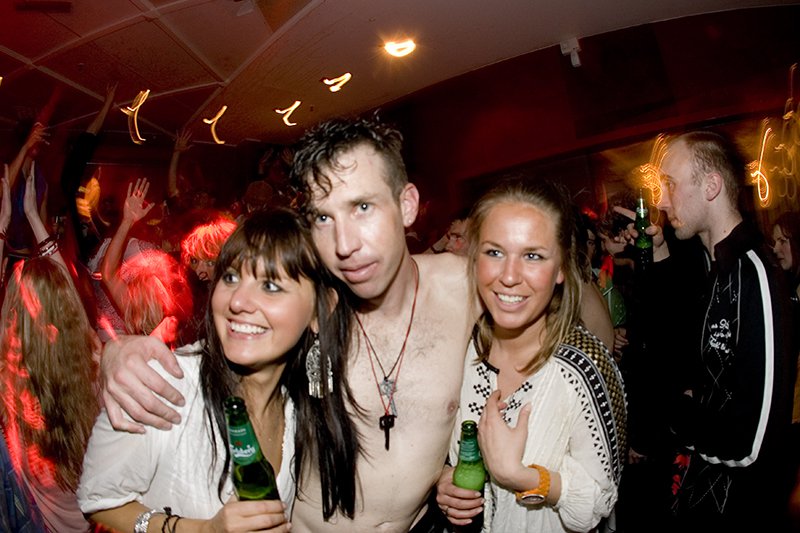 Team America's Nate Abbott falls in love
So there you have it. The second annual Jon Olsson Super Sessions is in the books. On behalf of myself, our filmer Christian 'Cheech' Sander and our photographer Dan Brown (who I'd also like to give a huge shout out to for all their hard work and for more than holding their own at the bars), I'd like to give you a great, big, JOSS-feature sized thanks to Jon Olsson, Olivia Rehn, Peter Sidebo and their diligent, patient and hard working event staff (especially their amazing filmers Crill, Josh and Carl) for the tireless amount of effort and blood, sweat and tears they put into this event to make it what it is. Thanks for the hospitality, the good times and for putting on one of the coolest events of the year.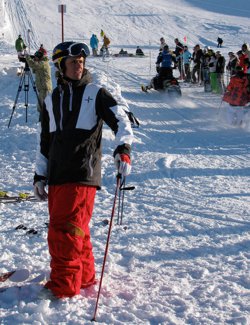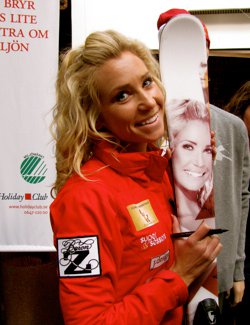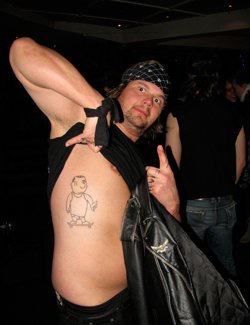 Jon Olsson, Olivia Rehn & Peter Sidebo
I'd also like to give mad props to all the teams for putting together seven of the most amazing ski segments ever produced, albeit in such a short period of time and with bad weather doing its best to plague their efforts. You guys all really outdid yourselves. Hats off to you.
NSTV: JOSS Awards
Results
Sponsor Awards
Best Teamwork - Team Sweden
Best Energy - Team Norway
Best Filmer - Jon Håtveit of Team Norway
Best Comedy - Team USA
Photography Awards
Best Slideshow- Nate Abbott of Team America
Best Portrait - Mattias Fredriksson of Team Sweden
Best Action - Nate Abbott of Team America
Best Documentary - Damian Cromwell of Team Canada
Best Sunrise/Sunset - Damian Cromwell of Team Canada
Overall
1) Team Norway
2) Team Europe
3) Team Canada
4) Team America
5) Team Sweden
6) Team Down Under
7) Team USA
Regarding the release of the videos, Jon and his team are presently hard at work dealing with the inherent headaches that come with getting seven big, high-quality videos online, and we'll have them available right here on NS as soon as humanly possible. I can only imagine that after reading this article how much more you all want to see them, and rest assured that Jon and his team are very aware of that as well and they'll be uploading them to us as soon as they can. So hang tight everyone, because it will be more than worth the wait. Trust me.