Stomach. Left Side. Back. Right Side. Repeat
Like most nights before a day of skiing, I wasn't getting much sleep. This night I was especially insomniatic after seeing several forecasts promising over a foot of snow in Rocky Mountain National Park. This season I had perfected the art of being in the wrong place at the wrong time when it came to storms. I was conveniently a couple states north of the massive system that effectively shut down the state of Colorado and blanketed it with a few feet of snow in late January. My time in Utah was spent skiing inches of slush, and not the meters of blower pow that they would receive a week later. That week Jackson Hole shut down due to a crazy winter storm? Yep, I was on my way home from the Tetons just as the storm was rolling in (although shoutout to Cy for helping me make the most of the weekend). Needless to say, I was really looking forward to the next day.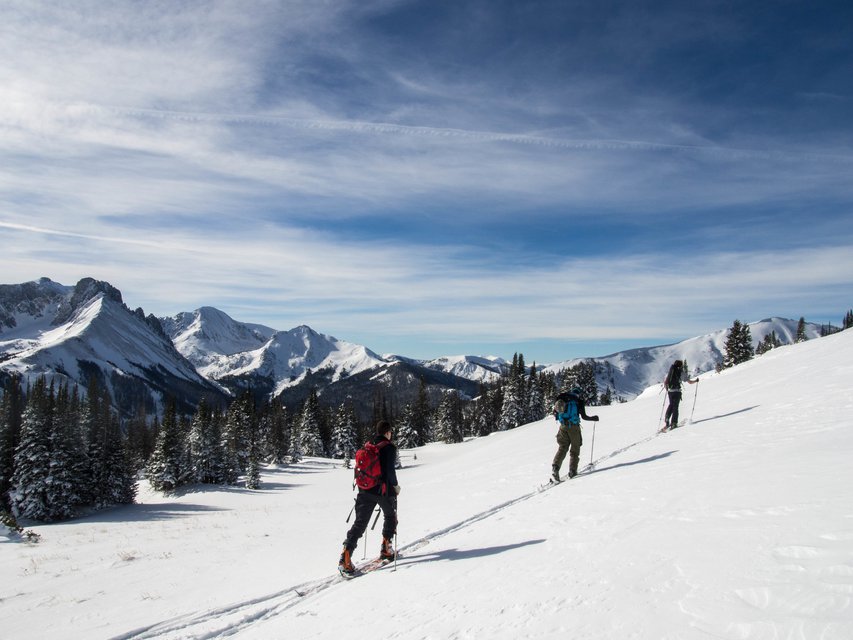 One of the many not-pow days this season
Back, left side, stomach, check the time, you can't overdose on melatonin, right?
It was late March, actually the last day of March, so this was probably my last chance at getting deep fresh tracks, barring the random Colorado spring storm. I ran through the plan for tomorrow morning in my head over and over. Alarm's going off at 5, triple check gear, brew coffee, leave by 5:30. Get to Rocky before the rangers so we can delay buying an annual pass for a few more days. Arrive at the Bear Lake trailhead. Skin up around the Dream Lake Chutes. Rip skins and get totally barelled all day, only stopping to gulp for air between all the endless face shots.
Eventually the melatonin overwhelmed my racing mind, and I somehow nodded off.
I was greeted by the harsh vibration of metal on plastic as my phone buzzed next to me. Per usual, my attempt to ease myself out of sleep by using a calming song as the alarm was useless. As my sleepy fingers attempted to find the "stop" button, I remembered why I was getting up, and for once it didn't involve reading Powerpoints through half-closed eyes or scribbling down notes about the intricacies of the supply chain of a pair of pants.
Newly motivated, I quickly set about getting the coffee going, packing up, and running through my gear checklist for the fifth time. The top line has a friendly statement in all caps: "SKIS YOU MORON," a polite reminder from myself that brings back memories of a very sad morning spent doing a whole bunch of not-skiing and even more driving. Soon enough, my buddy Chris arrived with his trusty minivan Phillip. Boots, packs, poles, and skis (good job Luke!) all got loaded in, and we set off.
The dark ride went by quickly. The Park doesn't have any snow stakes, so we spent the drive convincing each other that it must be a lot colder up there, and that all the rain on the way up was definitely falling in the form of perfect light flakes where we were headed. We still remained hopeful even after passing a wet and pow-less ranger station. But, when we couldn't drive any further and arrived at the Bear Lake trailhead, there wasn't much hope left. Stepping out of the car, we were greeted with a dismal centimeter of snow. The noise of the Park's snow plow loudly scraping dry pavement didn't exactly improve our mood. I look at my phone: April 1st. Ha.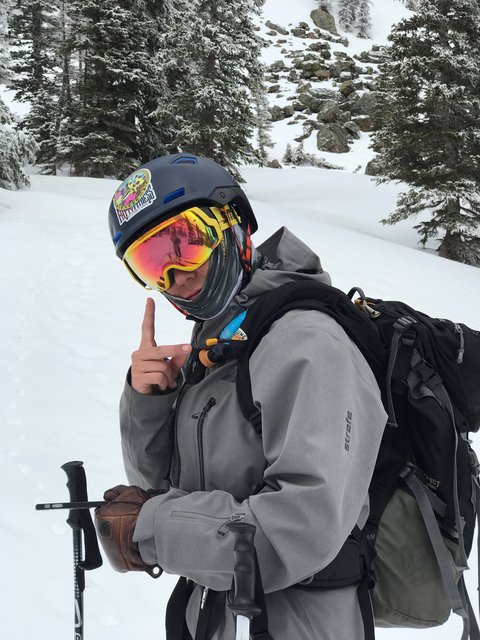 "Hey Luke, how many cm's of snow did we get?" pc: Chris Fuller
After putting on skins and making our way up the trail, there was still some tiny semblance of hope. Maybe the wind will have filled in the chutes a bit more. I bet the freezing line is just a little bit higher. They probably already plowed the parking lot, that's why there wasn't any snow.
However, the higher we went, the quicker that optimism faded. After transitioning and heading down one of the chutes, what looked like possible fresh snow turned out to be some of the worst dust on breakable-crust that I've ever skied. Once back at the lake I couldn't help but laugh while thinking about how wrong the forecast was and how ridiculous I must have looked getting bucked around on the grabby snow.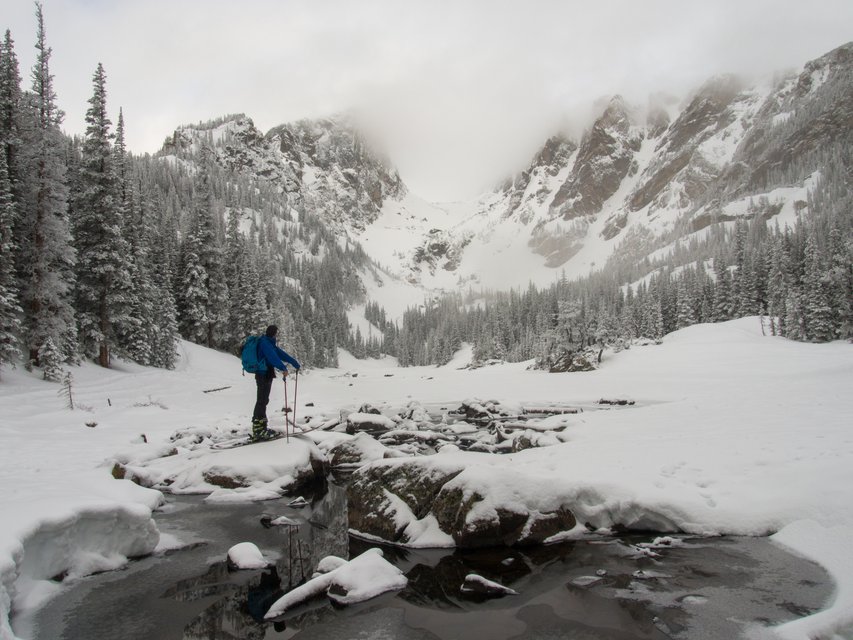 Finally able to see some stuff
At this point, I was seriously considering just heading back to the car and retreating with our heads hung low. Maybe if we leave now, we could at least get to the Donut Haus before it closes. However, I remembered that we were only a mile or so from Emerald Lake, which is one of the most beautiful areas of the Park and holds some of the best ski lines. I guess we can at least go look at it and scope some areas for next time. Even this idea didn't seem that promising, as the dense fog continued to cloud any views of the mountains around us.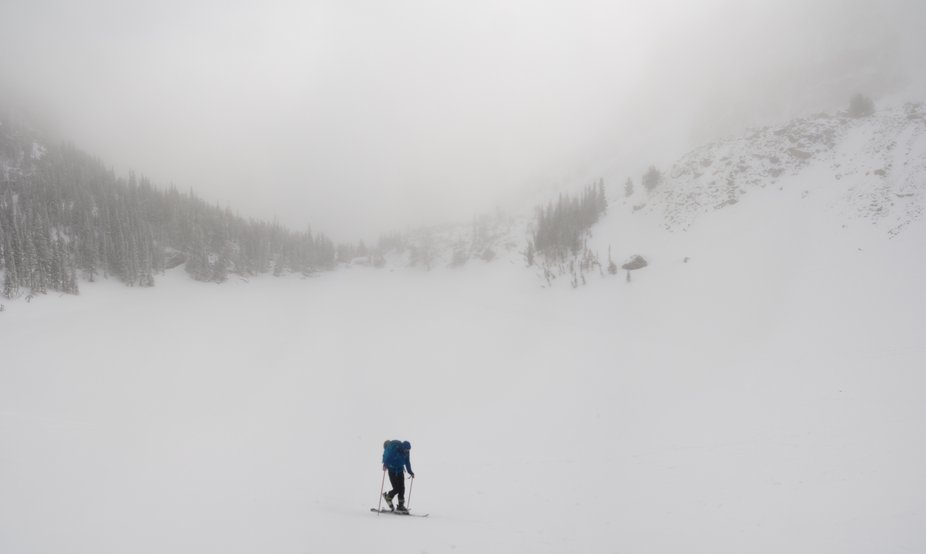 Thankfully, after an eerie crossing of Emerald Lake, the clouds finally started to break up. As we began the skin up the apron, the rocky spires and walls of Flattop and Hallett peak revealed themselves, and our decision to stay was starting to look better. By the time we arrived at the buttress that splits the Dragon's Tail and Dragon's Tooth couloirs, my mood had changed completely. The sun was out, the snow in the basin wasn't crusty, and I remembered that I had candy in my backpack.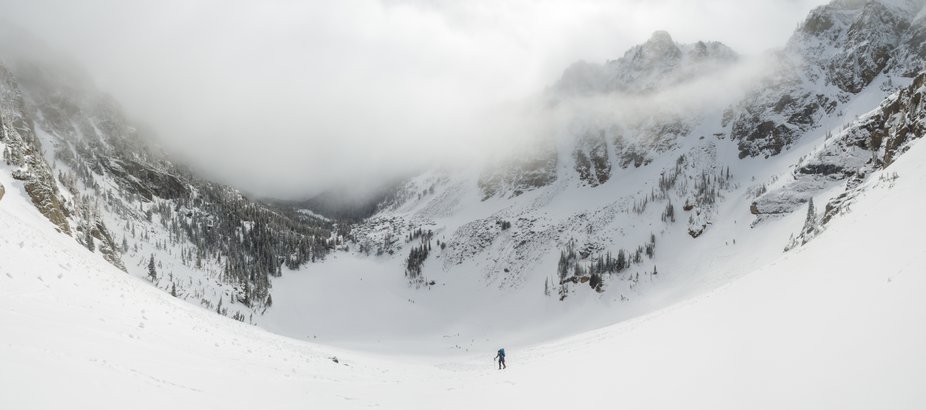 We decided on the shorter Dragon's Tooth as our new objective due to the surprisingly rapid warming of the rocks around us, and began booting up with skis on our backs. After spending much of last summer hiking for hours with skis on my back in order get to the remaining patches of snow, the familiar feeling made me happy, in a masochistic kind of way.
As I sweated my way up the big snowy stair-stepper, I analyzed my situation: I was walking up a couloir I had climbed a year ago, but this time I was going to ski down it, instead of miserably downclimbing to the bottom. Also, this wasn't even my first choice, this was a backup plan, an afterthought. A couple things about this statement stood out to me.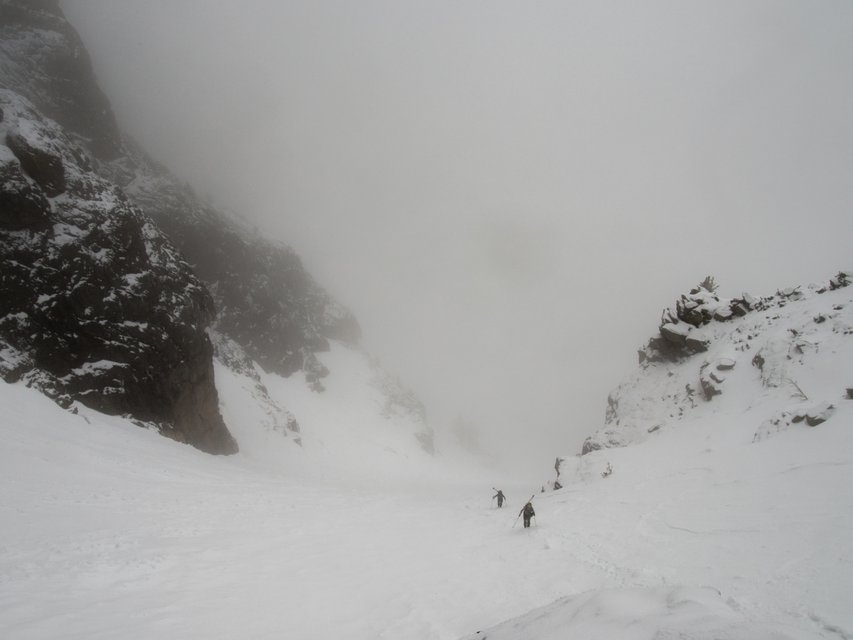 I'm about to ski down a couloir I climbed last year. Ok, if you had told me three years ago when I was living in Wisconsin that I would be able to climb up a couloir in Rocky Mountain National Park, let alone ski it, I would've suspected you'd had a few too many brewchachos. But there I was. What made it even cooler was that the downclimb last year was one of the main motivators for me to save up for a touring setup (and led to my first real post on NS). Now I was about to drop into that same line, almost exactly a year later, with skis on my feet.
This wasn't even my first choice, this was a backup plan. If my life is one where my consolation prizes include skiing chutes in a national park, I'm pretty damn lucky. Toss in the fact that I was able to do this within a few hours from where I live, and there's some real reasons to be thankful.
While flipping walk modes and cinching down buckles at our transition point, I had pretty much forgotten all about the snow forecast, and I definitely wasn't thinking about Mother Nature's little April Fool's joke as I was sliding down perfect corn back to the lake. One last look back up at our tracks left me smiling ear-to-ear, and already trying to figure out when I could get back to tick off the other lines in the basin.
So no, I didn't get hella-pitted in blower pow that day. I didn't snap that perfect Instagram of me slashing a turn to make the snow look way deeper than it was. I didn't stop midway through a run to wipe all the snow off my goggles from all the faceshots. Nope, none of that stuff happened that day. What did happen was an awesome experience in the mountains that reaffirmed my love of being outside and made me realize again how stupidly lucky I am to be able to play around in the hills. Yeah, it was supposed to be a powder day, but I'd be happy to spend more restless nights lying awake in anticipation for another one like it.