It's Snowing in Banff-Lake Louise!
BANFF-LAKE LOUISE, Alberta, Canada –

The first snow of the season has hit Banff-Lake Louise's three ski resorts! Snow has blanketed the mountains all weekend.
"With the base already building, we're sure it'll be a great season, from opening day onwards," said Dan Markham, of Ski Banff-Lake Louise-Sunshine.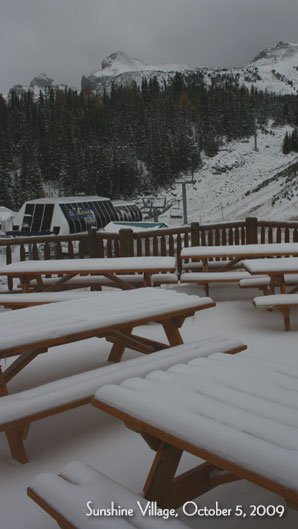 And opening day isn't far off, with Mt. Norquay scheduled to open later this month. A Halloween party on October 31 will kick off the season.
The Lake Louise Ski Area will follow closely, aiming to open on November 6. Supplementing the natural snowfall with one of North America's best snowmaking systems, the resort is preparing to again host the first, and Canada's only, stop on the World Cup circuit. The Men's races will take place on November 28 to 29, and the Women's races on December 4 to 6.
Sunshine Village plans to open on November 11, with the newly-renovated Sunshine Mountain Lodge opening 30 new eco-luxurious rooms shortly after. The multimillion dollar wing replacement has not only added luxury to the Lodge, but also lowered the resort's carbon footprint.
Ski Banff–Lake Louise–Sunshine is Canada's largest ski destination, a joint venture of three of the world's finest ski resorts; Mt. Norquay, The Lake Louise Ski Area and Sunshine Village. Available on one tri-area lift ticket, our three resorts offer almost 8,000 acres of skiable terrain and one of the longest ski seasons in North America, from mid November to late May, all in the heart of a UNESCO World Heritage Site - Canada's Protected Playground, Banff National Park. http://www.SkiBig3.com