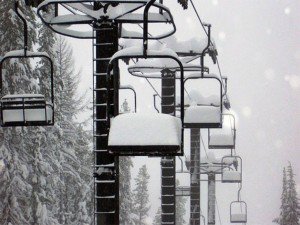 We will start with lots of wind tomorrow as the jetstream approaches the area to our North. Light snow showers could develop during the afternoon. We could see a couple of inches Monday night on the mountain and a few more inches during the day on Tuesday.
Then the heavy snow finally arrives as the cold front approaches Tuesday night and lasts through the day on Wednesday. That should drop around 2 feet of additional snow on top of what we get Monday-Tuesday. Snow showers will continue Wednesday night and Thursday with snow ratios of 20:1. So even though the liquid amounts will be light the snow will pile up fast in the bands of snow showers. I'm expecting storm totals of around 3 feet by the Friday morning snow report.
The GFS weather model is the outlier showing things clearing out for President's weekend. The other models show another wave of snow for Friday and Saturday. Depening on whether this storm comes to our South or just over us we could see anything from a dusting up to another foot of snow. Hopefully the models can come into some sort of agreement with the track of the storm today or tomorrow. Either way it will be cold with highs in the teens and 20′s into President's weekend.
Models are still all over the place for week 2. It looks as if the ridge out in the Pacific will be a little further East towards the Gulf of Alaska. This would continue to drive cold air into the area and bring light-moderate sized storms down the coast. Because they would not have the over water trajectory like this weeks storm they would have lighter snow amounts, but with the really cold air the snow could still pile up.
Stay tuned as we fine tune the snow amounts and details for this week.