Hey wonderful people of the freeskiing internet! My name is Cy, I used to make a bunch of stuff on this site. Now I'm done pretending to be an adult, and I'm back! This winter I'll be publishing a weekly comic strip / graphic novel page on Newschoolers. And I want to use it to tell your stories.
Here's an example of one of my strips, a trip report from a day backcountry skiing: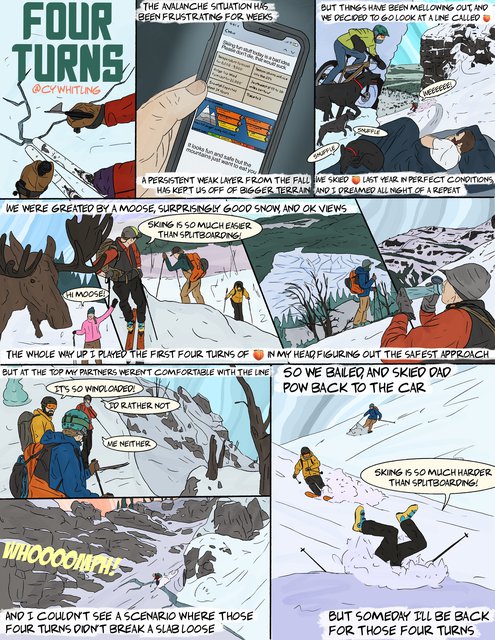 I'm working on a full-length mountain comic book that will come out sometime next fall. But I realized that if it's just full of stories about me and my friends, then it will be pretty boring. So instead, every week this winter I want to tell a story from the NS community. I want to highlight the full range of skiers on this site, from the midwest rail rats, to the underground urban crews, to the big mountain shredders. Basically, if you do cool things with skis, I want to draw you.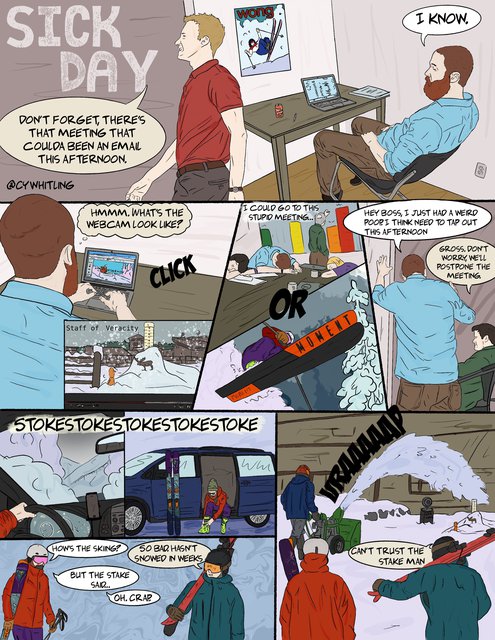 How do I submit a comic idea?
It's really simple. Every Sunday morning I'll publish a new comic page in a news article like this one on Newschoolers. Simply comment your idea for what the next week's strip should be about. Upvote the ideas you like, and I'll pick one to make into the next week's comic. So comment away on this post!
What kind of stories?
Any kind, as long as they involve mountains! It could just be about a rad day you had building a jump with your crew. Or your first day at a new mountain, or about your injury recovery, or about seeing a famous person at your home hill. Or about a yeti. Or a llama head. The sky's the limit.
Just pitch a few sentences that outline your story idea in the comments. If I like your idea, I'll PM you for more details, and some reference photos of you, or whoever else is in the story. Then I'll make a comic about you and post it on the internet.
What do you get?
The everlasting fame of being immortalized in the pages of the first-ever ski comic book! And a high res-printable version of the comic featuring you. So basically, you'll become a pro skier. The Red Bull helmet is in the mail.
About that comic book
Yeah, it's a big project, it's going to be really cool. A bunch of pages of mountain comics by next fall. All hand-drawn by yours truly. If I like your story, it will be in there. Follow my progress at @cywhitling on Instagram.
But also, if you represent a brand and would like to be involved in this project, get in touch with me. I'll be working to fund this project with sponsored content and product placement throughout the book. Let's make something really cool that represents your brand's unique qualities!
Let's get started!
Comment on this post with your story ideas for my next comic. I'll pick my favorite and get working on it.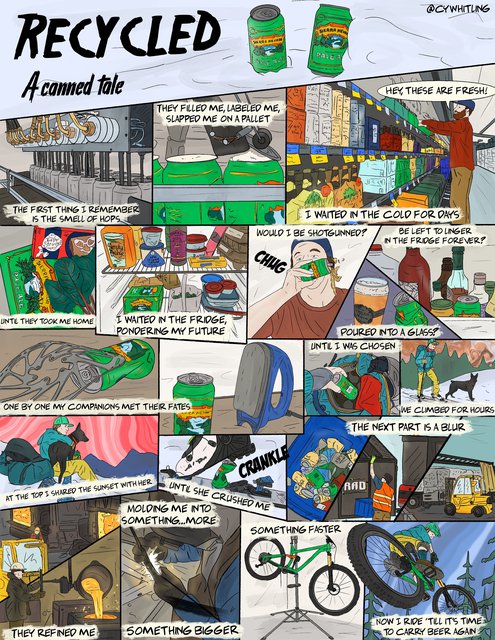 Sneak Peek:
There's definitely a comic involving a certain famous gap in Utah coming soon.