In 2008, Mount Snow announced that they would be devoting its entire Carinthia face to parks and pipes. Since then, things have really taken off in West Dover, VT. Carinthia's park has grown over the last 12 seasons into the largest on the East Coast. Features have sprouted up almost everywhere across the 100 acres of pristine Vermont terrain. Inferno, the trail that is home to the mountain's largest features, boasts some massive booters, and has hosted the Dew Tour in 2010 and Level 1's SuperUnknown in 2015. The scale of this operation is extremely impressive, considering that the mountain averages only 150" of natural snow per year.
Still, the park diggers have always made an effort to be creative and innovative. While they have no issues crafting an immaculate 80 foot kicker, the thought that goes into even their smallest builds always shines through. Whether it is welding steel or shaping snow, they have produced some of the most ingenious features in the east or anywhere for that matter. Prospector, for example, is constructed entirely out of timber sourced on hill. It looks like what would happen if Paul Bunyan got behind the wheel of a PistenBully.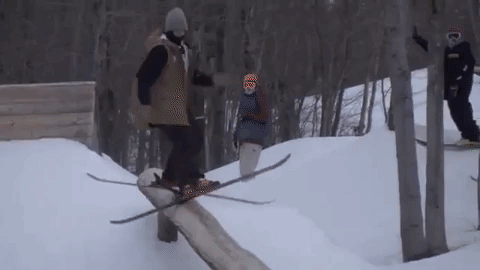 Ian Dugger on Prospector [Credit: 860 Media]
The last several years have presented a number of changes around the mountain. This includes a $30 million snowmaking upgrade, the construction of a new base lodge, and Peak Resorts (Mount Snow's parent company) being purchased by Vail. However, the team behind Carinthia Parks has shown no sign of letting up. Earlier this week, I had the opportunity to speak with Carinthia's VP of Terrain, Elia Hamilton. In the interview, he discusses the history of the mountain, as well as the team's dynamic approach to shaping parks and the sport.
✪ ✪ ✪
How long have you been working for Carinthia Parks?
I started in 1998, and we had parks over at Carinthia on Inferno and Gulch, though Gulch was called "Palmercross." It was sponsored by Palmer Snowboards and was a full time boardercross run. The 12' pipe was at Carinthia as well. Un Blanco Gulch, our historic first park was still located at the main mountain.
We operated that way until winter 2007/2008, when we took over Nitro with "Name This Park", but sadly it never came to fruition because it was a horrible winter. We created the full-on Carinthia Parks theme in 2008/2009 and have been rocking ever since. In my role, I oversaw all Peak Resorts park programs starting in 2011, but have always had a hand in the development of C.
How has the build strategy changed since you first got in the game?
Oh boy. In the beginning, management was starting to realize the size of the animal that existed in terrain parks, and they were really looking for someone to try to take ownership. I was super fortunate to be waiting at the threshold and was willing to do whatever it took to make sure people had a good time.
There really wasn't any guidance, structure, or knowledge about how jumps and rails worked. There was a ton of trial and error in the early years, and the industry ebbed and flowed quite a bit. There were the "we don't want steel on our mountains" years; the "we want more steel on our mountains" years; the "jumps are bad" years; the "bigger is better" years; the "we do this for the hype" years; and now we are in the "this is supposed to be fun" years.
It is really a great place to be- inclusive of all abilities, fun for all, and catering to the progressive riders at the same time. We have matured in our philosophy of recognizing that parks are part of the business, and we want to attract more people.
https://www.newschoolers.com/videos/watch/694170/Neo-Five--Carinthia-Superpark-Rails--Bails--and-Balls
Ski the East shoot circa 2014
It is pretty apparent that you guys aren't afraid of trying out some crazy ideas. What builds stand out as some of your favorites?
There are so many! An easier question would be to say what the worst builds were. We really have the best crew, with a depth of talent and no shortage of passion, that has been supported from the top since day one. That allows us the freedom to express ourselves while maintaining the basics so everyone is happy.
Most recently, the Ash & Steel build is next level. The irony being that there isn't a single traditional feature in that build. Before that, I think of Red Bull All Snow as an opportunity to think outside the box. It really opened our eyes to the potential for shaping snow. But back further, working with Meathead films was super fun. We built some crazy stuff at the time, and those guys were stoked to make our crazy ideas work. We bolted a flat-down box to the back of a snowcat and put it up on a block; built the gnarliest shear-wall step up ever; linked up rails that never belonged together. It was super fun.
https://www.newschoolers.com/videos/watch/956685/NITRO-BUILD
Nitro build from earlier this season [Credit: 860 Media]
After riding at Carinthia for several seasons, Fool's Gold was a trail that only crossed my mind if some fresh snow had recently fallen. How have the upgrades to the mountain's snowmaking system changed what you can do with the trail?
It gave us the opportunity to build a park. Let's face it, we don't get enough natural snow in Southern VT to build a park out of natural, so adding snowmaking opened the door. We had always loved the grade and character of that trail but were never able to work with it. The curves, progressive fall line, and protection from wind always made that a perfect option for a flowy small park. I think we were able to finally accomplish that because of the snowmaking.
https://www.instagram.com/p/B9PtlMKBFu4/?utm_source=ig_web_copy_link
Mike Dejohn and Rob Newton on Fool's Gold [Credit: 860 Media]
For a long time, a super pipe was the crown jewel of many terrain parks. What was the thought process behind cutting the walls into such a radically different shape?
Unfortunately, the 22' pipe has been the death of the public pipe. It's just really not that fun if you are not a ripping pipe skier, and it costs a bunch of money to build and maintain. Kind of like Nordic jumping isn't something you find at a ski area. So as pipe size grew, usership went down. But, our collective egos were still hanging on to the thought of needing a pipe (yours truly, old pipe jock.)
What we wanted to do was make it more inviting to all levels, but still provide the opportunity for better skiers and riders to have a full 18' wall. So we basically combined an 18' pipe with a 12' pipe, and it just looks fun from the parking lot, so more people are using it. It totally works.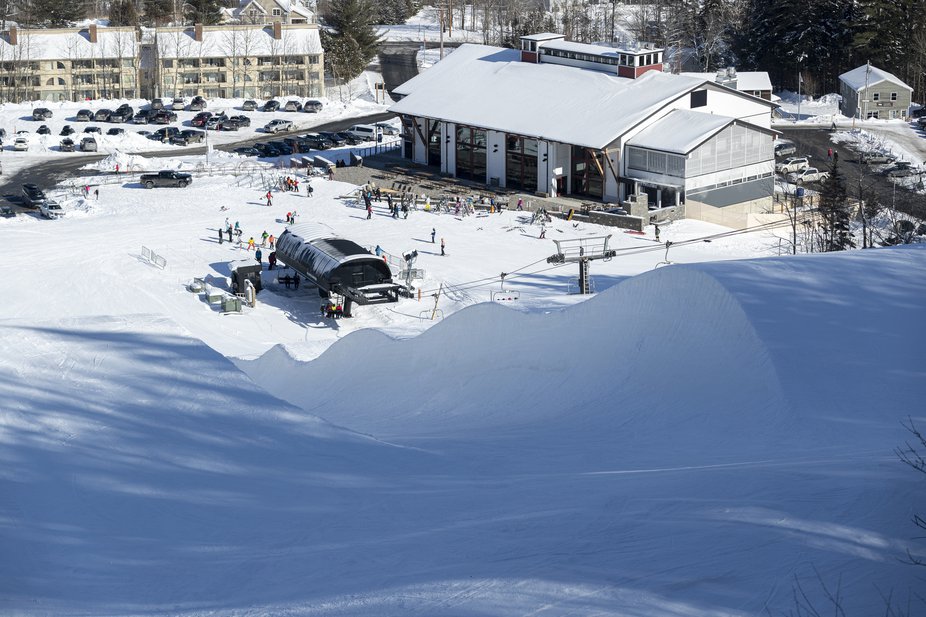 New Pipe: 18ft @ 5s West (265°)
Level 1's SuperUnknown is returning to Carinthia for the second time since you hosted it in 2015. How different is it building features for a park shoot when compared to standard resort operations?
Well, it's kind of nice, because we get to build bigger stuff and take our time with it to make it look really good. It's like making large batches of chicken tenders for the factory workers every day, then cooking a dinner for Halle Berry at your house. Same equipment, different goal.
✪ ✪ ✪
Elia and crew's enthusiasm, devotion, and skill are rivaled by few in the industry. They have continually pushed the envelope on what can be done with a snowcat, and provided for riders of all levels across the region. With increased snowmaking capabilities, Fool's Gold has become a top-to-bottom ripper centering on progression. And if the 22' superpipe wasn't your speed, it is definitely worth checking out its re-shaped counterpart. While he likens building a park to preparing chicken tenders, it is clear that Hamilton is a chef worthy of a few Michelin stars.