Proper Planning Prevents Poor Performance. So it is written in the book I read on flying in theory, but it also works for todays activities. Me and Marius drove up to Storlien at 9, and were there just about 10 this morning. Wind-gusts and heavy snow didn't stop us from skiing pow and cruising. I brought my big mama skis ( Salomon Rocker 2), so it was all good with a little extra powder. The daily frontflip was done, and everyone was happy.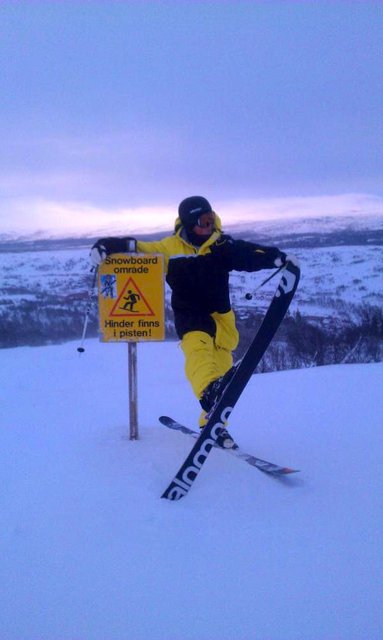 After a mellow lunch at LeSki, we headed home to switch gear from skis to work-clothes.
I had exactly 15 minutes from I got home, to I had to be in the car on the way to work. Let's just say that I made it with 15 minutes time left when I clocked in at work. Success!
What is even more perfect, is that I have one more day of work (in 6 hours or so), and then 3 days off, before I jump on the KLM-plane to Denver and Breckenridge again. I just booked my tickets, and I am leaving on Sunday. There I will team up with the Shred´n Breakfast-crew – Lars, Lasse and Kim. GOODTIMES!
Gotta get some sleep, work pretty soon. zzzZZzzz.