Ski: Simply Recreation
Reviewer height/weight: 5'9, 145lbs
Ski weights (per ski): 1773/1765g per ski
Length skied: 180
Actual length (with straight tape): 178.9
Measured dimensions: 135-100-126
Mounted: -4.5 cm from true center
Bindings: Tyrolia Attack 17
Locations: Saas-Fee, Les Marecottes, Leysin
Conditions skied: Park, icy slopes, pow, crud
Days Skied: 9
_
Photos: Hanne Lundin & Marinho Meyer
Simply is the brainchild of Laurent DeMartin and the crew at the First Track Lab, based just outside of Verbier, Switzerland. Just a few minutes from Laurents house, the lab has been making fast turnaround prototypes, and been at the sharp end of ski and snowboard innovation for many years now, including working closely with Rossignol and Movement skis. Simply is their first in-house brand, and the 100mm underfoot Recreation is their very first ski.
I've known Laurent for some years now, so it was super exciting for me to see him starting something new. I had the opportunity to visit the small but mighty factory with him, and watch the first batch of production skis, including my very own pair, being made. I've been to a few ski factories over the course of my time at NS, but I've never had the chance to write a Roofbox Review that started with the ski core being profiled and ended up with me on the skis.
_
Shape/Flex/Construction:
Being in the factory when these skis were being made, I had a first-hand look at the construction at all stages, and I got to see the care and love that goes into building each pair. On paper, these are relatively simple skis. They have a full wood core, mostly poplar with diagonal bamboo stringers for pop and energy transfer to the edge. The tech is called the 'next core' and the First Track Lab won an ISPO award for it, whatever that means. There are also two hardwood inserts for binding retention, I don't know what the name in English is though… I believe it might have been Oak. Whatever it was, it felt bomber when I mounted the skis. These skis are built to last, with the wood core extending through the fishtail and all the way through the nose, which also has a cork layer for dampening.
The shape of the skis is totally unique. It's a fishtail, obviously, which made them very hard to stand up for the photos. But unlike other fishtails, these look more like the ski was designed first as a twin tip, twin taper ski, and then the fishtail was added for purely floatation reasons. With, most fishtail skis the sidecut continues to the point of the tail. On the Recreation, there is still tail taper and a more 'freestyle' shape overall but with a cutout added later. In other words, the fishtail does its job but doesn't affect the ski in other ways. The ski is asymmetrical too, being longer on the inside edges than the outside. The fishtail is twin tipped and even though the center of the cutout is barely raised off the snow, there is just enough rise to stop it from catching on hardpack. There's a significant nose rocker, with medium length and plenty of splay, with less rocker in the tail. There's also a pretty large amount of camber underfoot.
Flex-wise, these are pretty soft skis. The nose is really soft but it isn't particularly stiff anywhere in the ski. Much of the stability comes from the camber, but I would guesstimate a 5-part perceived flex profile of something like 4-5-7-6-4 (out of 10 from tip to tail).
https://www.newschoolers.com/videos/watch/1064122/SimplyVId-mov
_
On snow:
Groomers:
The Simply Recreation is a bit Jekyll & Hyde on groomers. When the snow is good, they are absolutely riotous fun. The 15m turn radius doesn't do this ski justice in the slightest. They are pretty soft throughout the ski, so you can bend them into turns as short as I would dare, both forward and switch. I'm not sure I have ever got the switch skiing angles that I did on these skis. But this is very much a 'ski with a centered stance' kind of ski on groomers. The tip is too soft to drive with a forward stance, even mounted at recommended, and I actually found that I personally preferred skiing them with my 'park' boot (K2 Revolver with a 6 tongue) than when I swapped to stiffer tongue options, because, with the stiff boot, I felt like I was getting too much reaction from the ski.
When the snow is icy, and we've had more of that than I care for this season in the alps, I find the Recreation to be too soft. Add that soft flex to a 100mm, and it isn't too surprising that it struggles on ice, but for comparison, skied back to back with the MFree 108, the stiffer/damper ski held an edge significantly better despite being wider and more rockered. I would also point out that these skis are very sensitive to tuning. Too sharp and they are grabby, but not sharp enough/detuned, they really don't hold because the soft flex means they twist out. But when you have them tuned right, in good snow, they make groomer days incredibly fun again, which is what you want from a ski like this.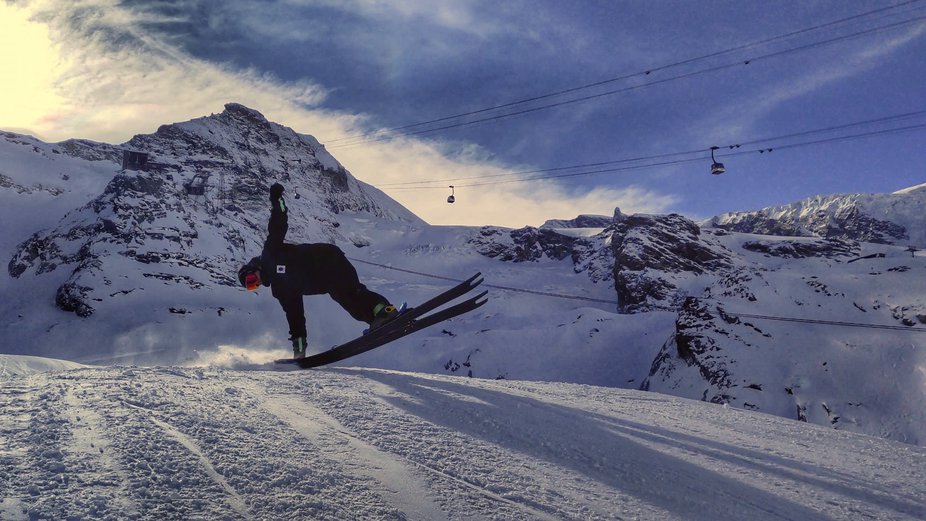 Pow:
In cold, light, fluffy snow, which we thankfully did get some of for my test, the Recreation is remarkable for a 100mm ski. I finally discovered the point of a fishtail, they aren't 100% design. The Recreation has a pretty deep cut fish tail, which means it has significantly less surface area in the tail than the tip. You can feel that the tail sinks more naturally as a result, which helps keep the tips up.
There is some very clever shaping at work here, with asymmetrical tips and tails, meaning the ski is essentially longer in on the inside than towards the outside. Combine that with the tapered shape and soft flex, and these skis go sideways very easily in deep snow, but the tip doesn't want to dive. The tail is slightly stiffer and definitely less rockered than the tip too, so it does have enough backbone for landing drops, despite being a fairly soft ski throughout. Of course, it's not a full on pow ski, but these definitely massively outperform other 100mm soft skis on deep days. There aren't many days in the alps that would be 'too deep' for these.
Heavy snow/crud:
In heavier snow, however, the Recreation can struggle with power and it isn't the ski I'd choose to go charge through messed up snow the day after a storm. My disclaimer here is I'm both pretty light, and post-ACL injury here, so I don't feel very comfortable battling a ski in these kind of conditions, so I tend to like a little stiffer ski these days. But for me, the Recreation was too soft in the shovels to really push through bad snow, through weird layers etc. For me, that isn't necessarily a particularly important point, I generally don't go skiing those days and on the ones I do, I'd take another ski, but if you're in the one ski quiver market, that's worth bearing in mind.
Park/Jibbing:
I saw Laurent, Sampo and Alice killing it on these things in the park, then upon picking up my pair, I realized the recommended mounting point was -5cm and that the lowest point of the fishtail was only barely raised off the snow. Pro skiers can make anything look good, so I was suspicious. I usually ignore mounting points, but I hit up Laurent, and he told me they all go with recommended so I duly did the same (well I nudged it 0.5cm but not much) and did not expect to feel comfortable at all. But the skis are so light you barely notice the setback mount.
I don't know what kind of wizardry is at work, but they are actually very capable park skis. In the park, if you ignore the fishtail, they feel like a park ski. So you could, if you like the fishtail look, buy these as a park-specific ski and you'd be fine. With the soft flex, they are incredibly fun for buttering off anything. The large nose rocker makes it super easy to set butters and the skis do have a lot of rebound, so they will ping you right back out again. It actually took me a couple of runs to get used to that level of response from such a soft-flexing ski.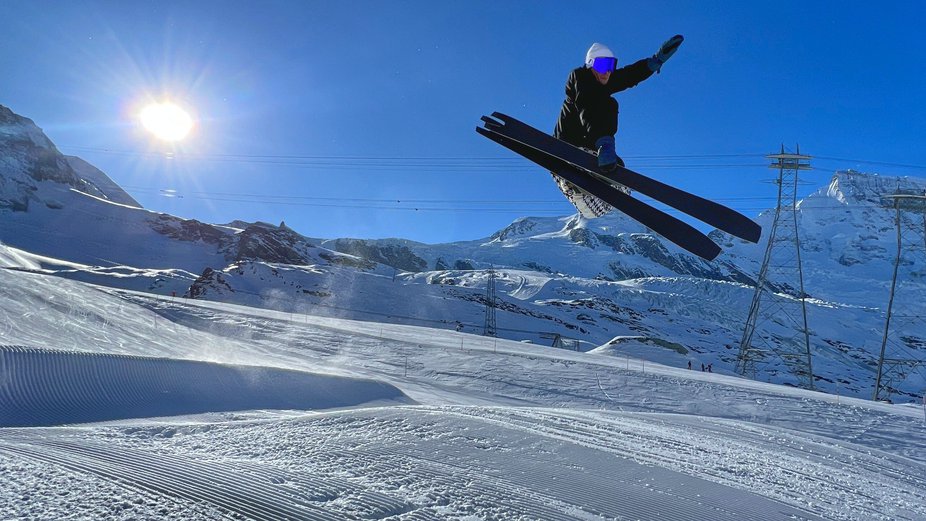 I'm not a particularly ambitious jump skier these days, but I chucked some 3s and 5s, and I accidentally took some slow and steezy (actually probably not steezy, but they feel it in my head) 180s pretty deep, so I have a decent feel for these in the air and on landings. Basically, you can feel the mount setback a tiny bit, but the skis are really light so it's not very noticeable. I do think if these were a pretty much pure park ski for me, I might mount around -3 but they are fine at -4.5. The tail feels fairly stable landing forwards thanks to the fairly moderate rocker back there. And with the extra length up front, the soft nose feels good enough when landing switch too. I had no issues on medium-sized jumps. If you're looking to hit anything bigger, you're good enough to know what you need and if these will be stiff enough. For comparison's sake, I would say stability is about on par with a K2 Reckoner 102, perhaps a little more stable in the tail.
Saas-Fee has fuck all for rails right now, but I threw a couple of runs on our kids-sized 'rails' for the sake of it and the balance of the ski felt ok. I do prefer a center mount for rail skiing, and you probably do too, but these are fine at recommended for throwing the basics, and they are really intuitive for buttering on/off.
Durability:
It's hard to say exactly how durable a ski is within a week or two if you aren't thrashing them on rails and I wasn't The construction of these skis feels surprisingly solid, given the soft flex and how little they weigh. The semi-cap isn't as bomber as some, I've taken a couple of chunks out of them, but the bases and edges have had some definite interaction with metal and rocks and held up great. I got to see them being put together, so I know for sure that the attention to detail and passion for building these skis is second to none, and it translates to a solid-feeling product. I can't say more at this stage but I'll update you if I have any issues.
_
Comparisons:
Making comparisons here is fairly difficult because the Recreation is unlike any other ski on the market right now. I would put the Recreation in the 'fun shape' bracket along with skis like the Mirus Cor, Line Sakana, Season Kin and in terms of similar skis, maybe the current iteration of the Line Sir Francis Bacon too. Of these, I'd say the Simply Recreation does the best job of being a proper 'fun shape'. Despite what you may have seen on social media, the Sakana is not a particularly comfortable flex pattern for park skiing, the tail and nose feel too unbalanced. The Mirus Cor is definitely fun, but it's too narrow for many applications and it still has that 'metal' feel. The Recreation, in good conditions, turns with the best of them, and retains a properly 'freestyle feel' unlike any of the others except the Kin.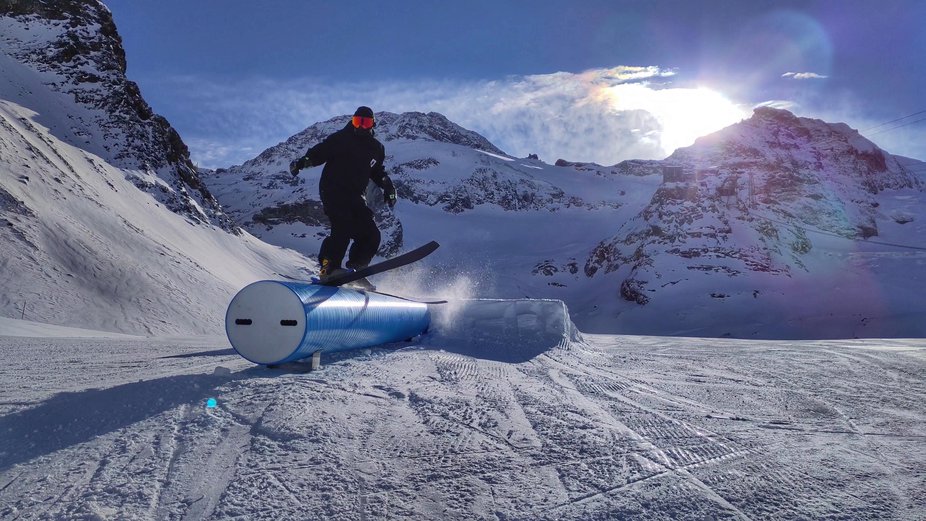 Line Sakana:
I've included the Sakana here because, at face value, they look fairly similar to the Recreation. The waist isn't a world apart and they are 'fun shape' fishtails with small turn radius. That's where the similarities end though. The Sakana is significantly stiffer and feels much more directional. There's also metal in there so they are much stiffer torsionally. The Recreation is a much more fun, fun shape, and much better in the park. But the Sakana is much better in marginal to bad conditions and for charging. I prefer the Recreation for deep snow but if it's heavy, the Sakana has more power behind it.
Season Kin:
The Season Kin is actually the most similar ski I've tried to the Recreation. If you don't judge the book by its cover (asymmetric fish tail vs near symmetrical twin) the actual bits of these skis in contact with the snow are fairly similar. Short turn radius, softish flex throughout, buttery, turny skis. The Kin skis a bit more aggressively, whereas the Recreation has a bit more 'surf' feel to it. And that translates to preferred terrain. The Recreation is a much better soft snow ski (though I wouldn't want to land switch in pow), whereas the Kin is a little more capable on hard snow and ice. For pure park, the Kin is better balanced, but both are absolute "as fun as it gets" kinda skis.
Black Crows Mirus Cor:
The Mirus Cor is, on paper, a jibby shape with a short turn radius and a fishtail, much like a narrower Recreation. But in practice, it's still got metal in there and you can feel it. It can feel jarring on hard landings and despite the forward mount and the shaping, it doesn't feel that much like a park ski to me. It also lacks camber, and therefore energy. The Recreation is much more forgiving and playful, but it doesn't carve as well, especially when conditions get hard. If you're 80% groomed, 20% freestyle, the Mirus is the shout (or something like the Line Blade), but if you're in soft snow and playing around more, the Recreation is definitely the right choice.
_
Conclusion:
The Recreation is a totally unique ski. It's literally the only freestyle-friendly fishtail fun-shape ski out there. So if that sounds like your cup of tea, pick one up before they're gone.
In practice, they ski like a cross between a Line Sakana and a K2 Reckoner 102. They have that Sakana-like turn radius for short, carved turns but otherwise, they have the flex and feel of a mid-fat jib ski. They are definitely light enough to be a touring ski, they float very well for the width and they definitely work as a park ski. For some, they have to be close to the perfect one-ski quiver. But it has to be noted they struggle with heavy, icy, and otherwise marginal conditions compared to other skis in this width... for example the MFree 99 is vastly better in crud and on ice. And like anything, once you ski rails, they lose that edge hold. In fact, because they are so soft, they are looser when detuned than many skis, so bear that in mind if you want to use them as a park/all-mountain crossover. I see them as perfect as the 'fun' ski in a two-ski quiver, with something stiffer and chargier for the days when the snow doesn't want to play ball.
This is a very hard review to conclude because the Recreation is so unique. Basically, if you want to support a great group of people and buy a ridiculously fun ski, you'd be hard-pressed to find a better way to do so than picking up the Recreation. It's one of the most unique skis out on the market right now, and it is a ton of fun, even if it isn't the best in bad conditions.
… Unfortunately, they don't ship to US or Canada this season, but if you REALLY desperately want a pair, get in touch and maybe it can get figured out somehow. For more info, you can sign up here. If you're in Europe, they are well worth a punt if you have the means and you like a fun, surfy ski. I'm pretty sure they'll put a smile on your face if you do.