Photo Credits: https://www.instagram.com/_mattstacy/
Prologue:
Last year I wrote a ski review. In that review, I wrote, "I'm sorry to say that I have no plans to get into the ski review game"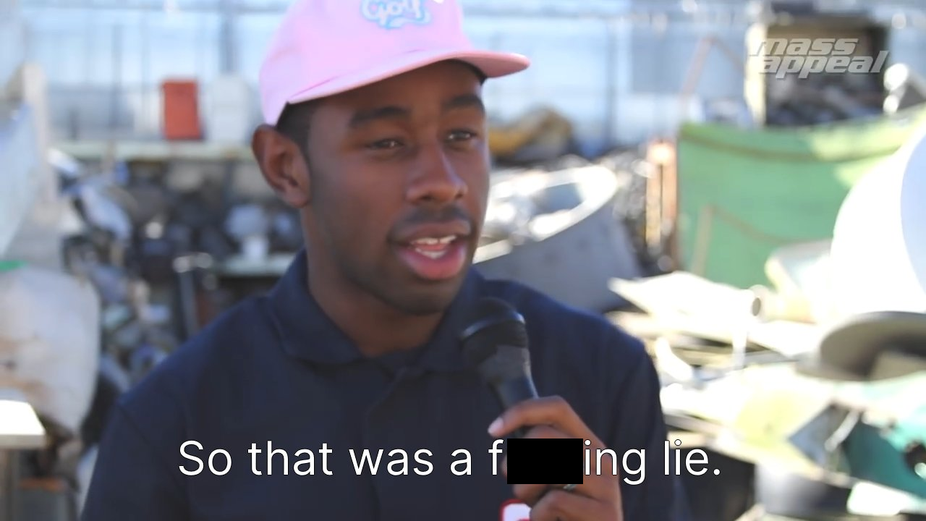 I just want to take a moment to thank everyone who gave me such a positive response to that review. It encouraged me to write more, and this year, I was able to get onto a pair of Sego Comp 110s with some help from Newschoolers own @Twig and @SegoSkiCo . Boo yah! Given that information, I have no plans to depart from brutal honesty. In case you don't want that, here's a 4 sentence review for you:
WOWIE! ON THIS SKI YOU WILL BEAT TED LIGETY IN A SLALOM RACE! THEN, THESE SKIS WILL RENT YOU A HELICOPTER IN BRITISH COLUMBIA SO YOU CAN SKI PAST PRO SKIER SAM KUCH MID PILLOW LINE! BUY THEM NOW!!!!
_
Ski Specs/Other Info:
Ski: Sego Comp 110 2022 Model
Length skied: 192
Actual Length (Tip-tail w/ straight tape): 190.95 cm
Weight: 2375 grams(came with bindings on...this number seems very accurate though comparing to other heavy skis I own)
Shape: 140-110-131
Sidecut: 21 meters
Mount point: -7 cm from true center(2 days before remount), -4 from true center(current mount point)
Binding: Salomon STH2 16 2022
Days skied: 25-30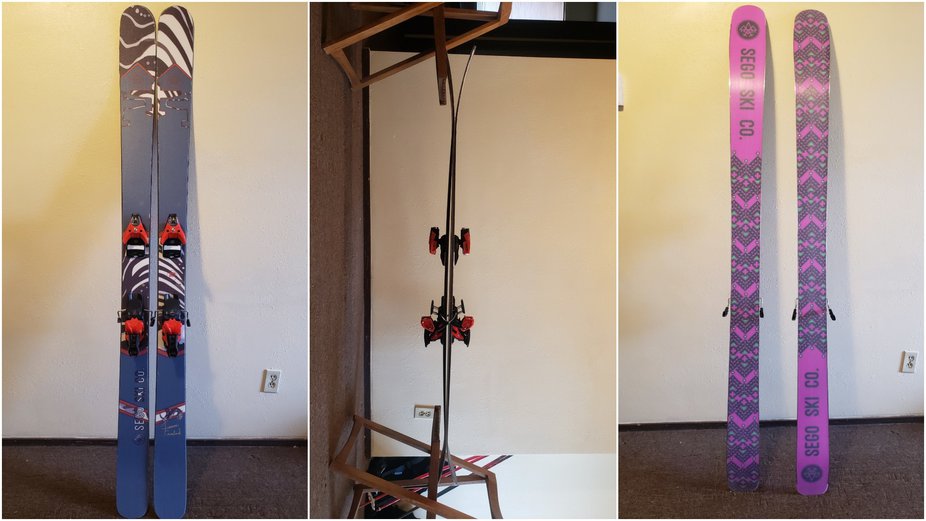 _
Reviewer Information:
Height/Weight: 6'4 185 (Dropped Beer weight from previous review and ran more)
Age: 25
Favorite Donut Type: Boston Creme
Skier Ability: While I may not be the best skier on the mountain, I am not a slouch. I go pretty fast and take some chances.
Review Locations: Snowbird; Brighton(1 Day); Woodward PC(1 Day)
Conditions skied: Groomers, Hardpack, windbuff, 3 inches of fresh over crust, icy stuff, chunder, springy corn, sidehits galore
_
Other Skis Used Recently:
Fatypus D Sender 194
Jskis Hotshot
Armada Magic J
_
Initial Thoughts:
Sego is a growing company out of Victor, Idaho that has been making great skis since 2014. They have put out some very interesting shapes over the past few years including the Comp 110. They are popular in the Tetons, and growing in popularity in other areas including my home zone of Little Cottonwood Canyon. Perhaps best known for sponsoring Isaac Freeland, they also sponsor some of the most badass lady rippers I have ever seen here in Little Cottonwood like Piper Kunst and Valerie Festevan. Sego is doing things the right way from what I can tell. This past year, they have gained some fame on Newschoolers for making skis that make the whole mountain your playground.
When I inquired as to where to mount the Comp 110, I reached out to the man himself, Isaac Freeland.(Sego made this ski for him to compete on) He told me he mounts his Comp 110 at -7 cm behind true center, +2 cm from Sego's recommended mount point. I decided to follow suit and asked Sego's shop crew to mount mine at -7 cm from true center as well, which they did. Upon receiving the skis, my first thought while hand flexing them was, "Really?" They were much more flexible than I expected, and while the ski was clearly pretty stout underfoot, I was very surprised to feel the give in it. I mean, this is the Comp, right? A tool made only for the burliest and brawniest of skiers! A competition ski should be longer than any other! Stiffer than a sip of Lagavulin 16 whiskey! Mere mortals on rental skis will tremble with fear in the presence of my goliath, gargantuan timbers! They will know they are nothing standing over their puny, fragile, pathetic little twigs in the liftline! I AM THE BEST SKIER ON THE MOUNTAIN AND ALL SHALL BOW DOWN BEFORE ME!!!! *Deep breath…exhale* Whoops! Anyway, the Comp 110 is much more flexible than I expected.
https://www.newschoolers.com/videos/watch/1031327/20220209-132348-mp4
_
First days on Snow:
My first thoughts riding the Comp 110 were, "It feels like the rocker starts in the wrong place, the ski is not intuitive while flat basing(not on edge), it feels squirrely, and I can't telegraph where the tips are. I keep catching myself on the tails and I keep getting kicked into the backseat. I chalked up my problems to needing to get used to the ski. Then, I went out to ski the next day, and found I was having the exact same issues. At this point, I was genuinely stricken. I wasn't enjoying the ski, and I didn't know why. As Thoreau once said, "Simplify, Simplify." Instead of trying to problem solve with, "Perhaps these minute design issues are affecting me," I whittled it down to:
"The ski feels too long in the front."
Brain Cell: "Okay smart guy, why does it feel too long in the front?"
"Because the mount point is too far back, and I'm used to a more forward mount point?"
*DING! LIGHTBULB APPEARS ON TOP OF HEAD*
Brain Cell: "That's right! Go remount them further forward, and see how they feel!"
I took them to Christy Sports at Snowbird(Big shoutout to Jackson, Nick and Caleb who all do fantastic work there) and we determined that I should remount them at -4cm back from true center. As soon as I skied them the next day, all of my issues had been solved. Now, on to the real review.
_
Groomers:
Even though the Comp 110 was not created for the groomed runs, I found it to be fantastic on groomers. There is enough camber underfoot to give them a great amount of pop out of each turn, and I found myself getting the lowest I ever have on any turn with these. A big part of that is clearly the factory tune. Ron and Elliot at the Sego shop in Idaho, you guys are killing it! The edges are pristine and incredibly sharp, while the bases are smooth and fast! I can grip almost anything that I want to. The support leaning into each carve is better than anything I have ever experienced. I can make a wide variety of turns from shorter, racer-esque turns to giant downhill turns while going very fast. The stated sidecut on the Comp 110 is 21 meters, but it feels quicker edge to edge than that suggests, once at speed. That said, I haven't skied many short turn radius skis, so take this with a grain of salt. I also took the Comp down Regulator Johnson, a very steep groomer at Snowbird about 2 football fields long, in a true, tucked straight line. The first time, I stayed a little bit in the backseat, expecting the ski to have some flap to it. To my delight, it stayed composed and firm, with very little tip chatter. Clearly Sego's design works when it comes to dampening the ride. It felt great taking the Comp up past 60 mph which is close to the upper limit of speeds I reach. The 2nd and 3rd times doing this, I trusted the ski fully, and it supported me incredibly well. Out of all the skis I have been on, these are right up there with the Fatypus D Sender 194 for being the most stable at truly scary speeds. Equally important as being comfortable at these speeds is stopping after attaining them. The Comp, while supportive during the turn, can be thrown sideways and feathered into a hockey stop surprisingly easily. In January, we had a dry spell in Utah. I took a lot of groomer laps during that time, and can tell you that the Comp does far more than 'manage' down groomers, especially if you maintain the edges.
https://www.newschoolers.com/videos/watch/1031328/VID-34290410-132245-817-mp4
_
Steeps:
During the time it has not snowed much, I have been able to take the Comp down some pretty steep faces with heinous entrances in a variety of conditions. These ranged from pretty icy hardpack to 3 inches of fresh over coral reef hardpack. At first, I found the extreme sharpness of the edges to be detrimental to the Comp's performance on steeps. If I'm really hauling over dry aged wind buff, I like to be able to throw it sideways and feather a turn smoothly as opposed to muscling a turn in a tooth chattering, chk chk chk chk chk, kind of grind.. As the edges start to dull out just a little bit, I'm noticing that the ski is much smoother to feather and is able to do very well on these types of faces. They are definitely more stable than my Jskis hotshot, but perhaps not quite as stable as my Fatypus D Sender 194 which was a stiffer ski through the tails than the Comp 110. Once again, I have to mention the tune, because these things are fast coming out of any straight line. If you and your friends ski in trains, prepare to be coming up on someone else's tails far faster than you're used to.
https://www.newschoolers.com/videos/watch/1031336/Cirque-Straightline-mp4
_
Mixed Conditions/Bumps/Trees/Variable Terrain:
One thing that stands out to me with the Comp is the pop it provides when you decide to leave the ground. I've had other friends who have ridden Segos, and they also mentioned this about the brand. If I had to make a guess, I would think it must be something to do with the rubber in the core. These things give rebound like no ski I have been on when flexing through a turn, or popping off of a lip. When you're skiing through a field of moguls, it is remarkably easy to take off from the frontside of one mogul and land in the transition on the backside of another.
https://www.newschoolers.com/videos/watch/1031329/Mogul-Jump-mp4The ski is not incredibly quick to throw back and forth in a zipper line because of its weight and long effective edge, but I can't say I find myself trying to rip zipper lines through moguls very often. Could you ski these like Johnny Moseley through the bumps? Sure, but it would be a lot of effort. The rebound of the ski helps to give more of that pump track feel when trying to gain speed on traverses. If you are looking for the ski to be able to quickly flick back and forth through bumps, or between trees, there are better, lighter options, but none of them would be anywhere near as stable as the Comp. The combination of flexibility in the tips and stability underfoot makes this ski unique. Want to go straight? No problem. Want to make a turn quickly, or throw it sideways when you have too much speed? Also no problem. It doesn't give ultimate stability, like a Faction 13(A ski which my friend still rides which has a ridiculous 46 meter turn radius and is a plank of unbendable ash wood) from back in the day, but it gives most skiers plenty of stability. Disclaimer: As I have said before, being able to ski well in variable terrain is far more dependent on the skier than the ski. That said, this ski is a great choice for variable terrain, unless you want the lightest, most effortless option, or a giant, heavy stable option.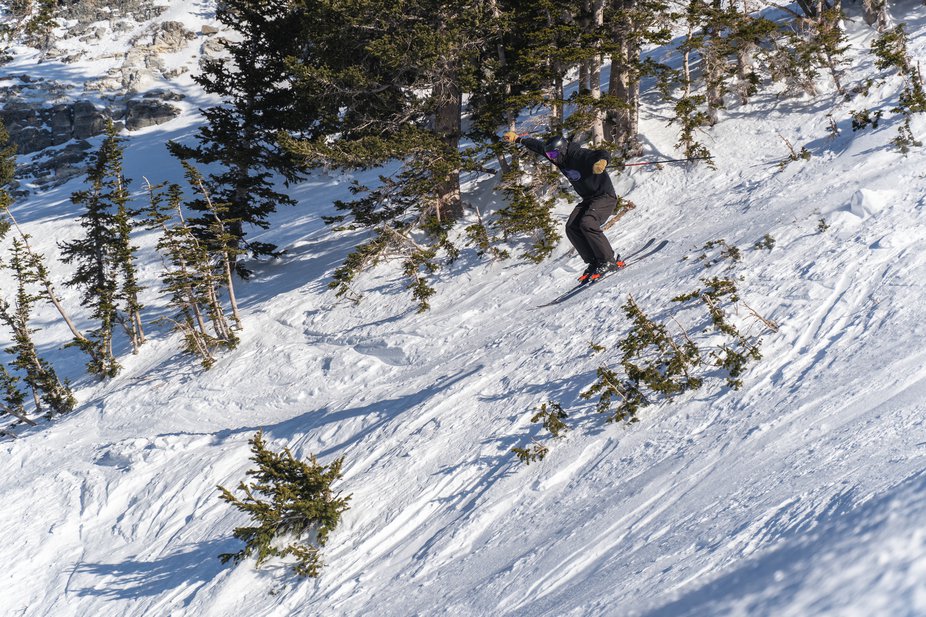 _
Freestyle and Going Backwards:
As many of you may know, I'm not a huge freestyle skier. The Comp, while on the heavier side as a ski, seems to be very easy to move around in the air for its weight. When the bulk of the ski's mass is under your feet, as with the Comp 110, the ski spins more easily than its weight would suggest. I feel very comfortable flipping my hips around and skiing away switch after a 180 off of a roller. The sharpness of the edges can make swinging around back to forward a bit spooky, but if your technique is good, they shouldn't catch on you. If going backwards is a real priority for you, you can definitely detune the rockered portions of the ski, or mount it closer to center. I personally wouldn't recommend going further forward than -4 cm from true center on your mount because of the positioning of the camber on the ski. The flexibility of the tips and tails does make it easier to butter this ski than other big mountain skis I have been on, and I've enjoyed doing tail butters off of every roller I can find. I have been able to ski some pretty fun cliff to straightline spots at Snowbird and the Comp has been awesome through those. It's stable enough to feel confident, but flexible in the tips so that you don't get bounced around as you might with a stiffer ski. One of my biggest fears in skiing is the fear of front punching, and the design of the Comp is fantastic for avoiding this. Not only does the Comp have early rise coupled with a tall rocker profile, it is supportive underfoot. When I stomp something to bolts, I don't feel the noses folding up on me. Everytime I have landed a little too far forward or backward, the Comp seems to have enough of a sweet spot to let me get back to center.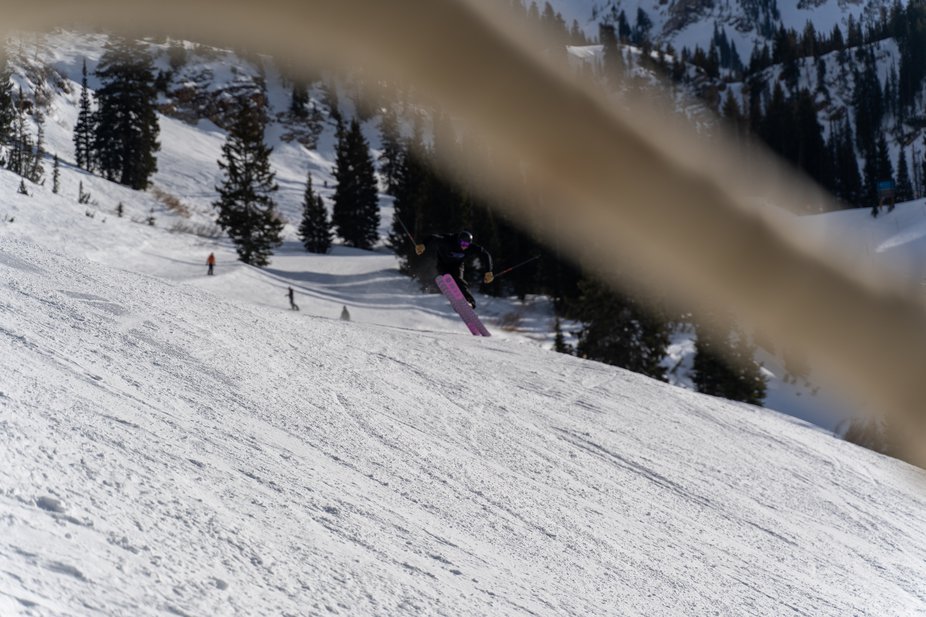 _
Terrain Park Performance:
I ski at Snowbird so no park here (update: there is now a park!). That said, I did ski them for a night at Woodward PC, and while they are big at 192, 110 underfoot, they are surprisingly playful for my daffies and spread eagles. I wouldn't take these on rails, if you want to do that, I'd definitely go with another option from Sego which will help you make the whole mountain your playground.
https://segoskis.com/blogs/news/make-the-whole-mountain-your-playground
_
Powder:
For this section I'm trying something new. Utah hasn't gotten any real snow since early January when I got these skis, and here we are on January 25th. I will be making a powder performance prediction about the Comp 110. While it is only 110 underfoot, I think that I will find this ski floaty for its size, but perhaps less maneuverable or surfy than my Magic J or other pow skis. The effective edge on the Comp is longer than the Magic J, and the ski itself is a little bit longer. I think I'll like it in powder compared to other skis of this width that I've ridden, but I will probably still want to be on something wider for a real pow day at my height and weight.
Aaaaaaand, now from the future: It is Feb 9th, and I am coming to accept that it may never snow in Utah again.
_
Durability:
While Snowbird had a wonderful December with lots of snow, January has been bone dry and the entire mountain opened fairly early. Snowbird ski patrol definitely lets you take your own risks, and will leave very rocky traverses and brambly entrances wide open to anyone who wants to test their mettle. Originally, I made a conscious effort to avoid taking the skis over rocks, but at Snowbird it is inevitable that you clip rocks, branches, and sometimes other skis in the liftline. I've definitely done more than just tap a few rocks, and the ski has some very light scratches in the base, but nothing more. The bases on these are Durasurf 4001, basically the industry standard for toughness, and they have been performing as such. At the time of writing this review, I have only light scratches and one ding that did not get to the core in the base from rock contact.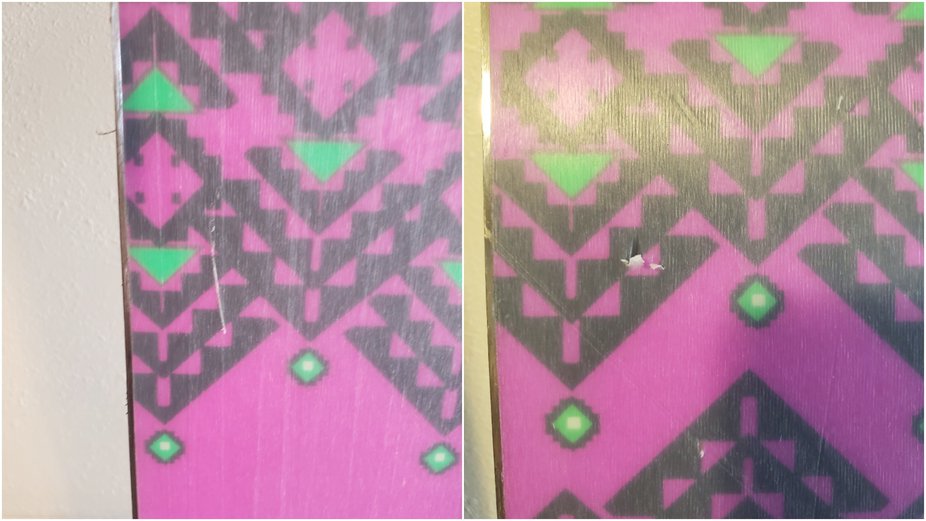 The edges are thick as well at 2.2 mm. After a month of skiing heavily, there are just a few darker spots where rocks came into contact, but no chips, cracks, or tear outs. I have been very impressed with the toughness of these parts of the ski thus far. The topsheet is a bit of a different case. It's definitely a newer, textured topsheet, but the texture isn't the issue. The issue is the edges of the topsheet, which seem to chip out a bit more easily than other skis I have been on. I don't know enough about ski construction to say why that would be, only that I've noticed it more on these skis than any other. It's not killing the ski, but I feel like I want to seal some of these zones to be certain that water isn't going to be seeping into the core of the ski. I wouldn't be too worried about chipping usually, but I can see and feel fibrous material where the topsheet has chipped out a bit. Maybe I am overreacting, but we're going in-depth here.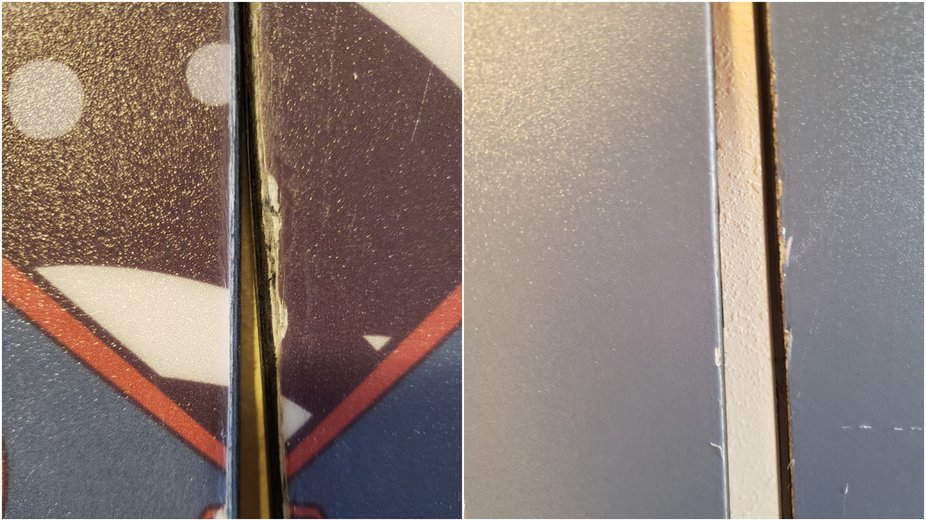 _
Final Thoughts:
I know I wrote a line up top about the dangers of extolling gear, but if you made it this far, I hope you can see this is not one of those reviews. I really, really love this ski. For what I do at Snowbird, the Comp 110 is pretty much as close to a one ski quiver as I could imagine. It carves like a sushi knife, it stomps every landing I've put it down on, and it is just plain fun to ski. Don't be afraid of the name! The comp is more accessible to ski than you could imagine, and it is the best ski I've ridden when it comes to finding the right balance between stability and playfulness. If you have a chance to ski the Comp 110, do it! It really is that amazing. I only have three issues with the ski, 1 of which is valid, 2 of which are personal opinions. Starting with the most valid(and really the only issue): As I said before, the topsheet chips a little bit too easily for my liking. This is my only real critique of the ski. Now onto my personal opinions! The mount point Sego recommends is far too directional. I didn't grow up skiing park, and I don't ski center mounted skis. Even without that background, -9 cm back from true center(the recommended mount point) seemed too far back. -7 still felt too far back for me, and -4 felt just right. If you prefer a truly directional ski, by all means don't listen to me, mount point is a very personal thing. If you do like a large, directional ski, there are other options that will fit your style better, like a Rossignol Sender Squad. And finally, the 3rd thing, which is really more of a suggestion: Perhaps consider changing the name of the ski. I'd imagine this was what happened over at Sego headquarters when they drew this ski up: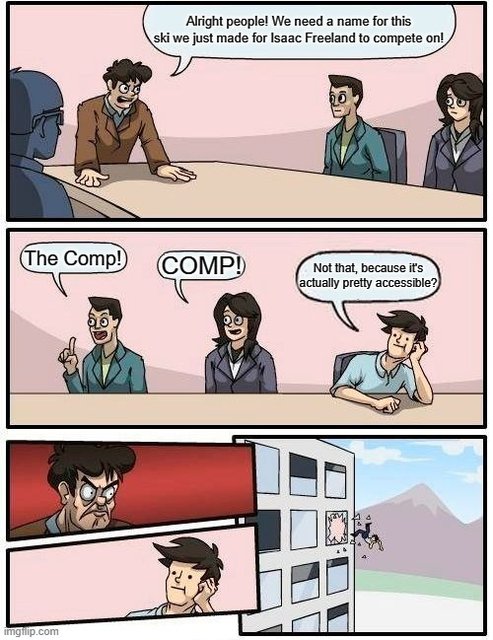 Perhaps I shouldn't be biting the hand that fed me a great ski, but I have to be honest. In my opinion, naming something 'The Comp' implies that it is a big, heavy, stiff, monster of a ski. We certainly have evolved past the days where big mountain competitions warranted breaking out a ski like the Blizzard Bodacious, or the Faction 13. Nowadays, big mountain competition skiers want something they can play with, while retaining just enough stability to have their full bag of tricks available to them. The result of this evolution is that modern competition skis are now much more accessible to leisure skiers, like me. This new breed of ski is exactly what the Comp 110 is. I wouldn't recommend it to a beginner, but for an intermediate to expert skier who wants to improve, particularly off the groomers, this ski will help you step up your game. I've skied on friends' old, stiff as a 2x4, competition skis before, and the Comp 110 is nothing like those. Even with this evolution in competition skis, naming a ski "The Comp", still calls back to that era of enormous, nigh unbendable skis. With the Comp 110, its name is a misnomer. Since I've goaded myself on this far, I might as well throw in my suggestion for a different name. The ski is smooth, maneuverable, powerful, stable, and FAST. The topsheet on this ski has an airplane, so I thought of airplanes. Then, I noticed a bit of a similarity in Sego's Logo and the overhead profile of a particular plane.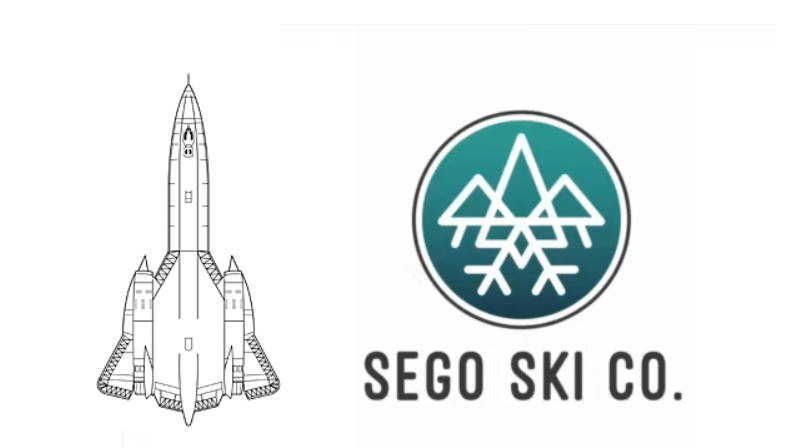 Sego has a Condor in their lineup, how about a Blackbird?
In case you're unfamiliar, the SR-71 Blackbird was a spy plane developed in secret by the U.S. in the late 50s. It could cruise near the edge of space and if a missile was launched in it's direction, protocol was to speed up, since it had a top speed of Mach 3+(2500 mph). To this day, it holds the record for the highest altitude sustained in horizontal flight and the fastest speed for a non-rocket powered aircraft. It rendered every other spy plane in the world completely obsolete by comparison, and it was awesome. Come on Sego! Think about it!
Make the whole mountain your flight path: Sego SR 71-The Blackbird
TTFN
-BigPurpleSkiSuit