Boot: Roxa R3 130 TI I.R.
Reviewer height/weight: 6'1", 195 lbs
Boot weights: 1597/1590 g
Size Skied: 27.5cm BSL: 310 mm
Flex: 130
Locations: Teton Pass, Grand Targhee
Conditions skied: Just about every type of snow you can imagine
Days skied: 100+ on the previous version, 5 on the new version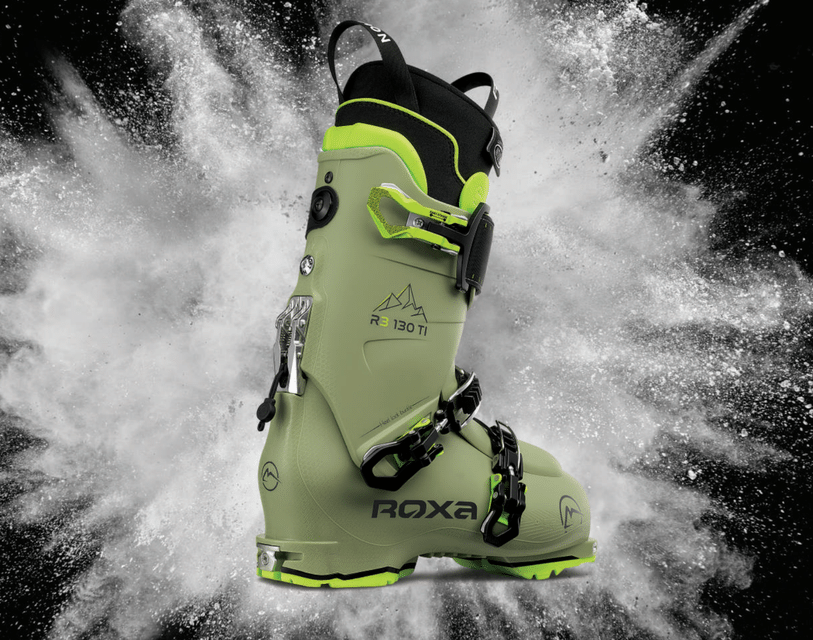 Just get Full Tilts?
On this website we talk about rails, we ride twin tips, and we just buy Full Tilts without consulting a boot fitter, right? Well, kinda, sorta, not really. Roxa's boot offerings tend to fly a little under the radar in North America and that's a real shame since they're making some really good boots. This current iteration of the R3 130 is the third version of this boot I've skied, and spoiler alert: I'm a huge fan. While many boot brands are content to release new colorways without making any real changes to the boot, Roxa continues to tweak and dial their boots in, and this latest iteration of the R3 130 is a wonderful boot that more folks on this website should be aware of. In fact, I think for many skiers who started off on Full Tilts, this is the best first touring boot on the market, and a great one boot quiver as well.
What's New?
When I first skied the R3 130 five years ago, it was a decent 50/50 boot. It didn't ski like a 130 flex inbounds boot, and it didn't walk as well as a pure touring boot, but it struck a nice balance. When I skied the next version in 2019, Roxa had updated it to ski like a true 130 flex, without really gaining weight, and also modded the buckles to make it walk a little better. It's rare that a company changes a product in exactly the ways I want it to change, so this was exciting. Now, for 2022-23, the R3 130 gets a new tongue that should allow it to walk even better.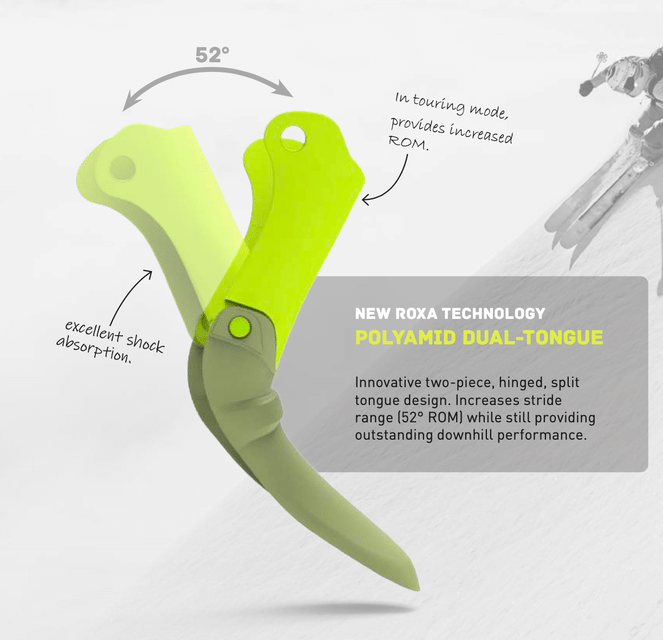 I only have a few days in the new version, but, given that I've spent over 100 days in the last iteration, and it's only been tweaked a little since then, I feel comfortable delivering my verdict.
Fit
Go. To. A. Boot. Fitter. Listen to them, tip them, etc. That said, I have weird and messy feet. I have a wide forefoot, an average heel and ankle, tailor's bunions, and a stupid high arch and instep. For the past several years I've only skied three piece boots because the design places less stress on my sensitive insteps. I've found that with a three piece boot with an ankle pivot to ankle pivot buckle, I can get away with sizing up for forefoot comfort, without losing too much control or precision. So, while, by the numbers, I ought to be in a 26.5 R3, I love the fit of the 27.5. They have a somewhat long, narrow fit, if you like the fit of the Full Tilt Classic shell, you should get along very well with these.
The R3 is heat moldable, but thanks to sizing up, I have just molded the Intuition liners. If I was to purely tour on this boot, I'd probably size down to a 26.5 and then heat mold the crap out of it, but for 50/50 duties, the 27.5 is great.
Ski Performance
With the wrap liner, the R3 130 provides a similar level of flex and power transmission to an Atomic Hawx 130, or a Full Tilt 12 tongue. They're plenty stiff for my somewhat chunky self. Skiers will debate the merits of a progressive overlap flex vs. the more linear three piece flex till the cows come home. I'm not fully convinced that I'm tuned in enough to notice it, and I doubt that many of us could actually tell in a blind test, all other things being equal. So I'll just say that I usually get along well with 130 flex boots from other brands. The R3 130 skis like a 130 boot. It can drive big skis in weird snow just fine. It has a "hard" and "soft" setting you can change with an allen wrench. I ski mine in the "hard" setting.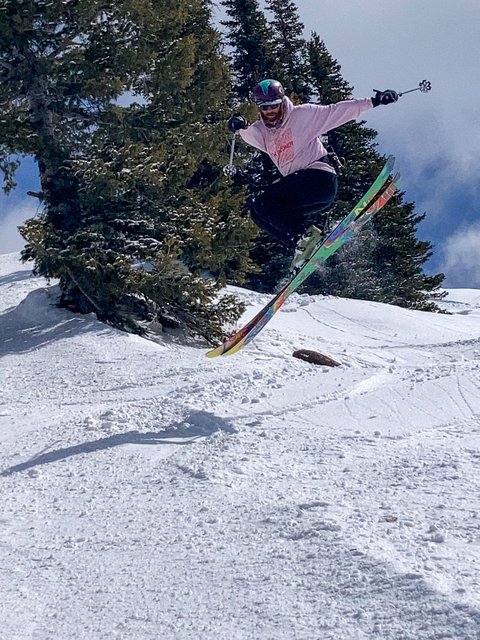 Since 2019, I've been skiing R3's as my only inbounds boot, and I'll continue to do so with this new version. They go downhill better than any touring boot I've used, and if you're looking for more, it's easy to add a booster strap.
Uphill Performance
This has typically been the weakness of the R3. It's tricky to make a three piece boot with a simple walk mode that actually goes uphill well. The new R3's walk mode is unchanged. It only blocks reward flex, so when opened it gives you more rear ROM, but no extra forward movement. Roxa claims 52° of motion, but it feels like a fair bit less than the Scarpa Maestrale or Dynafit Radical Pro's 60°. These aren't dainty walking slippers.
That said, the new hinged tongue gives the boot even more rearward ROM than the previous version. I used to recommend taking the tongue out of the boot for most tours, but with the new tongue it's not quite as necessary. The new tongue means that it tours much better than its main competitor, the Full Tilt Ascendant. And the new tongue also has cutouts that would make it easy to carabiner it to the outside of your pack if you do want to take it off to tour.
For big days with long flat approaches and exits, the R3 is not my top choice. But the three piece boots I'd ski instead give up a lot of downhill performance to the R3, so if you want more boot for the down, it's a great choice, and not that much of a pain to haul up.
Options
The R3 is available with either a tongue or wrap liner. I love this. More boots should offer that choice. I personally go with the wrap. I've found that with my tall instep, the tongue often gets pushed off the top of my foot, creating a gap that the plastic shell can dig into. But with a wrap, I can run the lower buckle almost open and still get a secure, comfortable fit. However, the R3 does walk significantly better with a tongue liner, so if that's your priority, consider that option.
Weight
This is newschoolers, we don't care about weight, right? That aside, the R3 is competitive. The 27.5 Roxas weigh only about 70 grams more than my 26.5 Dynafit Radical Pros. The claimed weight for the 26.5 is exactly the same as the Radicals. The new version with the hinged tongue gains about 16 grams over the last version according to my scale. That's negligible.
Compared to the Full Tilt Ascendant, the Roxa is around 300 grams lighter. That's over half a pound per foot.
Comparisons
Compared to the Full Tilt Ascendant: While their fits are pretty different, the R3 130 skis about the same as the Ascendant (I like the R3 better for its taller cuff), it walks significantly better, and it weighs less. Go to a bootfitter, get the one that fits, or that can be heat molded to fit, but all else being equal, the R3 does the same things but better.
Compared to the Full Tilt Classic: If Full Tilt ever gets around to releasing a touring boot based off of the Classic or Soul shell, we'll have a better reference point for comparison. For now though, if you're just skiing inbounds, the R3 skis pretty much exactly like a First Chair, but has tech fittings, and the ability to walk uphill.
Compared to the Dynafit Radical Pro: I've spent a bunch of days in Dynafit's Radical Pro this year. It's my favorite touring boot ever, and I've got a review coming for NS. The Radical Pro has more range of motion than the R3 and the Hoji lock is slick, it makes transitions super fast. But while the Radical skis better inbounds than any other pure touring boot I've used, the R3 delivers more power, more consistently.
I wouldn't love to daily drive the Radical Pro inbounds at a mountain like Jackson Hole. But I wouldn't hesitate to do so in the R3. And it's worth noting that other than the Hoji lock, the R3's top strap/buckle combo is my favorite on the market. It's easily adjustable and secure, but makes for very fast transitions. I've retrofit them onto several other boots with great results.
Compared to the old R3: This one's easy, it skis the same, but walks better. So if you liked the old one, this one is the natural upgrade. And, since it's just the tongue that changed, you could potentially just upgrade those.
Who should be lusting after this boot?
If you ski Full Tilts right now, and think you might want to get into touring, this boot should be on your short list. It's a very natural transition, it feels the same going downhill, and walks better than Full Tilt's touring options.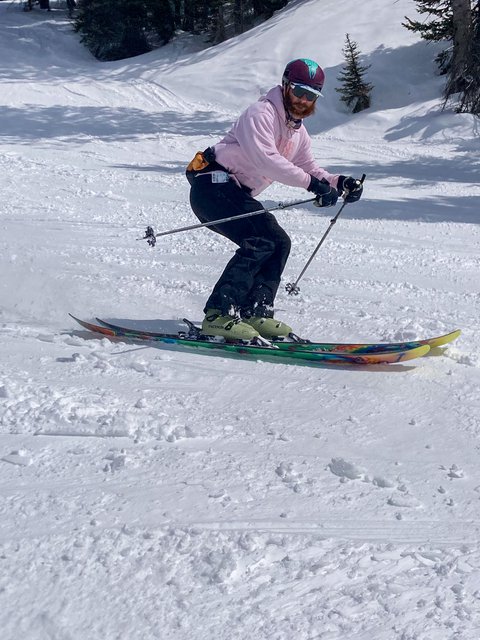 This is my "trying to show off the boots for the camera" stance. It's not pretty.
If you like three piece boots, and you want something that is a nice balance of inbounds and touring performance, this is your boot. It's a great companion for a binding like Shift or Cast.
So many people buy touring gear unsure of how much they'll actually use it in the backcountry. And when they get super light gear, they end up sacrificing inbounds performance. The Roxa R3 allows you to keep that option to walk uphill in tech bindings open, without losing anything inbounds. That's pretty special.
Conclusion
It's less exciting for a brand to gradually tweak and perfect a product than it is for them to unveil something flashy and new every few years. But with the R3 130 TI I.R. Roxa has done exactly that, and I commend them for it. This has been a go-to boot for me for the last five years, and this latest version is better than ever.