In Depth Review - ON3P Jeffrey 118 Tour - The Roofbox
Ski: ON3P Jeffrey 118 Tour
Reviewer height/weight: 6'1", 180lbs
Ski weights: 1870/1874 g
Length Skied: 186cm
Straight tape-pull length: 186.69 cm
Dimensions: 146-118-136
Radius: 23.5m (for 186 size)
Mounted: -3.5 cm from True Center
Bindings: Atomic Shift
Locations: Teton Pass, Grand Targhee
Conditions skied: Just about every type of snow you can imagine
Days skied: 10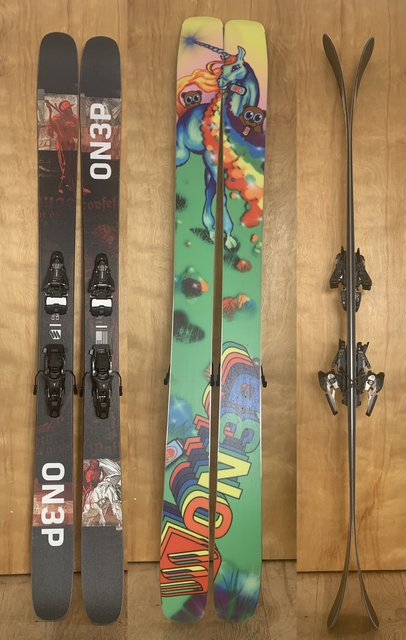 A Manifesto
Last February, mired in a typical Teton cycle (4-8" of light, fresh snow every day or so for weeks) I made a bold assertion: I was over practical touring skis, all I needed was a pair of light, fat pow skis, and a pair of touring snowblades. I just wanted to ski big lines in stable snow, or deep pow, with nothing in between.
That idea meant that instead of skiing the very practical Moment Deathwish Tour, I ended up fighting the186cm Moment Ghost Train on a bunch of very variable condition days, and wallowing my way down some very deep soft snow on 108 cm long ski blades. When a surprise photo gig meant that I spent a few days chasing some pro skiers around as they made the most of variable conditions, I finally relented and borrowed a pair of actually practical touring skis and was reminded that versatile skis are popular for a reason.
But that dream lived on. With the right pow ski and snowblade combo I should be able to cover my bases, right? So I kept my eye out for a pow ski that was lighter, and a little more capable in mixed conditions than the Ghost Train, but still a blast on deep, deep days. Enter ON3P's new touring layups.
I've been a fan of several of ON3P's skis. The Jeffrey 114 changed how I approached inbounds skiing, and its successor, the Kartel 116 was my favorite inbounds ski for a few years. But I've had bad luck with the one ON3P touring ski I tried, a Steeple 102. So I was excited to try out the spiritual successor to the Kartel 116, combined with ON3P's current touring layup.
What is an ON3P "Touring" Layup Exactly?
Over the last few years, ON3P has leaned more and more into their custom ski program, allowing customers to mix and match models, topsheets, and flex patterns. They also offer "Stock," "50/50", and "Tour" layup options. The "Tour" layup shaves weight by utilizing a thinner base and edge and a mixed Bamboo/Palounia core, instead of the pure bamboo their stock skis use. They claim it sheds 250-400g per ski.
The stated weight for a stock Jeffrey 118 is 2350g per ski, so my "Tour" layup Jeffrey 118 is 470ish grams lighter than stock. That makes sense since the longer and wider a ski is, the more weight will be saved via the layup and materials swaps ON3P makes.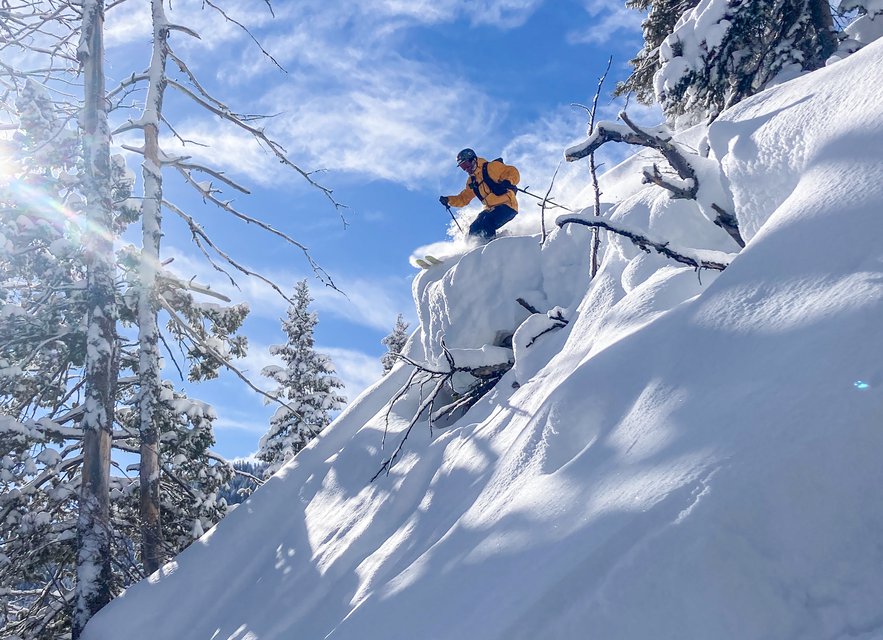 It's worth noting that ON3P doesn't offer a Jeffrey 118 Tour as a stock option. The only stock touring options they list are for the more directional Billygoat and Woodsman series of skis. That's not a surprise, there's less of a demand for tour weight skis from the demographic of skiers who are looking for a jibby, playful ski like the Jeffrey 118. So the only way to get the ski I'm reviewing here is via ON3P's excellent custom ski program.
Why review a custom ski? Well, while I understand why ON3P only offers the Jeffrey 118 Tour as a custom at a higher price, I think it's a truly great ski that's likely to fly under the radar, and with the right level of demand, I'd love to see them incentivized to offer a non-custom tour option.
A Note on Flex
Often reviewers quantify a ski's flex in terms of how hard it is to deflect with your hands. I understand why we do that, but it doesn't tell the full story. It's like judging bike suspension via air pressure alone. It's a one dimensional assessment of a multi-dimensional product. High end bike suspension is adjustable via volume spacers, high and low speed compression and rebound circuits, air pressure, and sometimes even has a tunable negative chamber. All of these adjustments affect the bike's feel in subtly different ways.
Ski flex is similar. In a typical hand flex, the Jeffrey 118 feels pretty soft, similar to a Bent Chetler 120 that's broken in. But on snow, it does a better job of absorbing impacts and chatter than any ski of a similar weight I've been on. The ski feels damp and composed, both on big, slow impacts (landing a big drop in pow) and quick, small, repeated impacts (chattering across frozen tracks.) Hand flexing a ski never tells the full story and that's especially true with the Jeffrey 118 Tour. It feels, well, like an ON3P.
On Snow
I purchased the Jeffrey 118 Tour in anticipation of a normal snow year in the Tetons. We did not have a normal snow year. We're sitting at 340ish inches of snow so far, when on average we should be closer to 500". I dreamed of deep days as I waited for the J118's shipping notification, and, while I did get to ski a few bottomless days on this ski, I also got to spend a lot more time dealing with dust on crust, mank, and shmoo than I expected. Those conditions don't make for great skiing, but they do really clarify a ski's performance in ways that day after day of great snow won't. So in a way, I'm thankful. Sort of.
Deep Pow
This is what the Jeffrey 118 was made for, and when things get deep and light, it doesn't disappoint. This ski floats ridiculously well. I've become accustomed to the instantaneous float and wild agility of the Moment Ghost Train, and while the J118 doesn't have quite the same buoyancy, it's dang close. I never felt like I was even close to burying my tips on the Jeffrey 118. I notice skis' float the most at lower speeds in tight terrain. When I'm working my way down a heavily treed and featured slope, trying to line up each hit while also skiing carefully to avoid partially buried obstacles, it's very apparent how much a ski's tips want to stay up. In these conditions the Jeffrey 118 excels. It's very easy to skid and turn, and gives a nice consistent platform to work off of.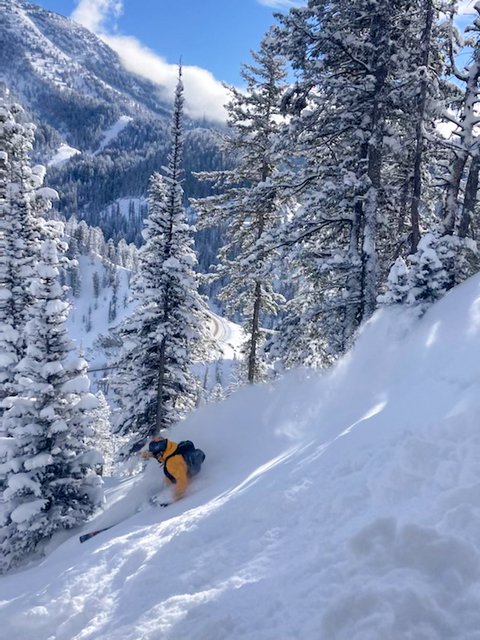 At higher speeds, and on bigger landings, the J118 felt much more composed than the Atomic Bent 120 I was skiing before. Some of that comes down to length, the 186 ON3P is a lot longer than the 184 Atomic, but I also felt like the J118's flex pattern came into play here. It's more predictable, and provides a better platform to stomp onto.
Chop
I initially planned to ski the Jeffrey 118 Tour with pure tech bindings, almost only in the backcountry. But the shipping gods left me with a pair of Shifts at the right time, so I threw them on. That means that I've skied the Jeffrey 118 tour inbounds a lot more than I expected to, and I haven't regretted it at all.
The Jeffrey 118 Tour is really fun on typical resort pow days. It's a blast for those first couple runs of relatively untracked snow, and then when things get cut up, it's very easy to pop, slash, and spin your way around. It doesn't respond well to a chargy "truck through all the obstacles" style, but if you slow things down a little, and try to ski smoothly and make the most of every turn, it's a delight. And when that chop turns to soft moguls, it's quick, agile, and fun.
Variable Snow
In breakable crust, dust on crust, and heavily sun affected snow, the Jeffrey 118 is predictable. It lets me get away with a lot of sloppy skiing, which is exactly what I want from it. If your response to truly bad snow is to make fewer turns and just charge through it, the Jeffrey 118 Tour is not the ski for you. But, if you're just trying to make it back down to the car in one piece, and in control, it's a consistent and reliable ride. If you're shopping for this ski, you should already know that variable snow is just not the point. Buy something else if that's what you're into.
Slush
Pow skis are really fun in slush, light pow skis are even more fun. The J118 tour is no exception. This is a really fun ski to bomb a slushy hill on, searching for side hits. It's the easiest ski to butter I've been on in ages, and everything about it begs you to look for bonus hits to slash and 180. This ski is a blast.
Groomers
It's a 118 underfoot, light, soft pow ski with plenty of taper. No, I did not "arc GS turns" on this ski. I did have plenty of fun carving turns and running out straight lines on groomed snow. But again, not the point.
In the Air
I really like fat, light skis. They're so much fun in the air, and they're easy to get off the ground. With the Kartel 116, I got used to steeling myself before I set spins. If I didn't, I felt like I might strain my core muscles or dislocate a hip. Heavy skis just take more work to shifty, let alone spin. The Jeffrey 118 has none of that. It's very easy to spin, and its soft, wide tips make it one of the easiest skis to butter I've ever been on. It's forgiving of under or over rotated spins, and is just easy to live with in the air. If you forced me to film a backcountry freestyle segment with my very limited repertoire of tricks, this is easily the ski I'd choose to do it on.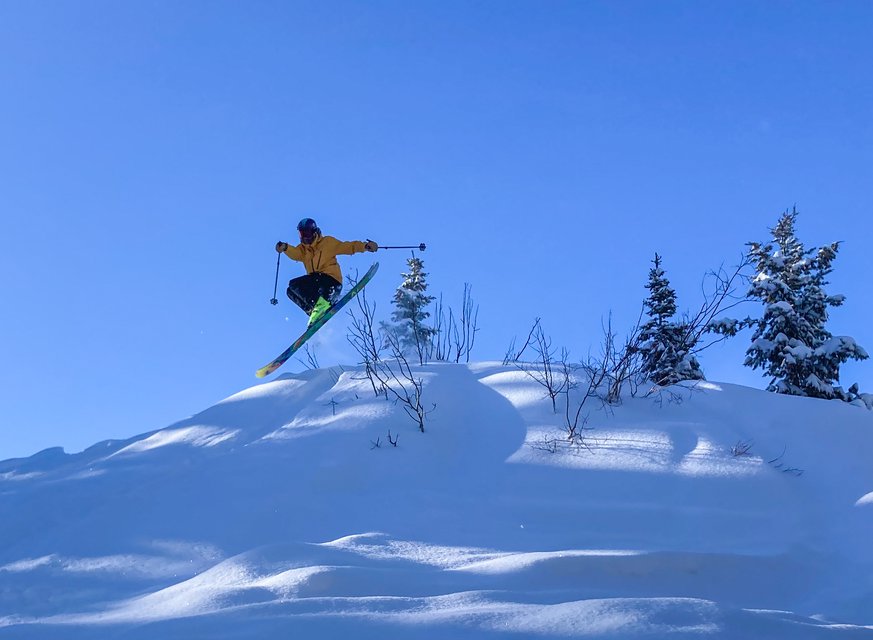 Comparisons
I haven't been on what I think is probably the best comparison for this ski, the Armada Whitewalker. So I can't say anything there. But here's what I can say:
Kartel 116: When ON3P made the jump from the Jeffrey 114 to the Kartel 116 as their premier jibby pow ski, the ski got a little more taper, and became a little more of a pow-specific weapon as opposed to an all-mountain beast. The Jeffrey 118 makes a similar step. It's more tapered, and as far as I can tell, more rockered than the Kartel 116. Of course, my pair is also a lot lighter. But I'd assume that the regular Jeffrey 118 is just a little more deep snow specific than the old Kartel 116
K2 Reckoner 122: The Reckoner 122 is heavier than the tour layup Jeffrey 118, but honestly, I don't think it's really more capable in variable snow or at higher speeds. The Jeffrey 118 Tour just feels more confident in just about every condition.
Moment Wildcat Tour 116: This is where things get interesting. The 184 cm Wildcat Tour weighs just a hair less than the 186 cm Jeffrey 118. It's also a little stiffer, and the flex and rebound feel "snappier". In most conditions, I'd take either of these skis happily. However, in very deep snow, the Jeffrey 118 planes and floats a little better, and in chopped up inbounds snow it responds a touch more intuitively to my particular skiing style.
That's no knock on the Wildcat Tour 116 at all though. I think that skiers who like to live a little more "in" the flex of their ski will maybe jive better with the Jeffrey, while those with a more "stand up and let the ski do its job" style might do better on the Wildcat. But the differences are very subtle. And of course, you can get a custom "stiffer" layup for the Jeffrey 118 that might narrow that gap.
So Many Options
ON3P's custom builder is almost overwhelming. Beyond just the graphics and layup, you can also choose a custom stiffer or softer build. Based on my preferences, I went with the stock build, but I think slightly heavier, chargier skiers will really, really like the stiffer layup of this ski, or the 50/50 option.
How to Attach it to your Feet?
I love skis in this 1850ish gram weigh range because they work well with a variety of bindings. Personally, a 50/50 layup Jeffrey 118 mounted with Attacks would probably be my ultimate inbounds pow ski. And while I'm very happy splitting time touring and inbounds on Shift (and would be even more happy on Cast), I wouldn't hesitate to put an ATK Freeraider on this ski either. This would be an excellent pure touring ski anywhere that gets a fair amount of snow.
Conclusion
ON3P's custom ski structure is so vast that sometimes really interesting options get swept under the rug. For too long playful backcountry skiers have had limited options. Moment has, rightly, dominated that space, so it's exciting to see that ON3P's new tour layups are competitive both weight, and performance wise.
The Jeffrey 118 Tour is a fun, versatile ski that playful backcountry skiers will get along very well with. If you're looking for something to earn your (often slashed, skidded, popped, and spun) powder turns with, the Jeffrey 118 Tour should be very high on your list.