Review is co-written by @TheWeaz
Ski: Moment Wildcat 101
Length skied: 184cm
Actual Length (Tip-tail w/ straight tape): 182cm
Claimed weight: 3.91kg/ 1955 g each.
Measured weight (each ski): 1994g/1968g
Shape: 128-101-121
Sidecut: 21 meters (184 cm)
Mount: Recommended line (-5cm)
Binding: Pivot 14.
Days skied: 15+
Reviewer height/weight: 5'5, 140lbs
Review Location(s): Jackson Hole, Grand Targhee
Conditions skied: shallow pow, groomers, corn, slush, refrozen, chopped pow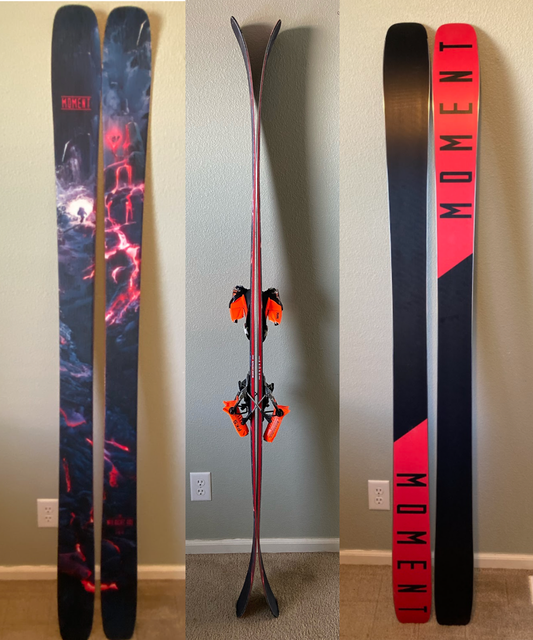 Intro:
The Wildcat 101 is the narrowest ski in the Wildcat lineup, there is also a Wildcat 108 as well as the original 118 width that has been in Moment's lineup for years under a few different names. The 101 is the newest iteration of a ski that moment has also been making for a few years, previously called the PB&J. The differences between the 20/21 Wildcat 101 and the 19/20 PB&J are very slight, the feel of the skis should be in general the same. The available lengths are slightly different, the mount point has moved 0.4cm forward, and the most noticeable change is that the ski is slightly heavier. The Wildcat 101 is about 100 grams heavier per ski than the equivalent length of the PB&J. Overall the feel should be very similar to the ski it is replacing, but has been geared ever so slightly more towards the firm snow side of the spectrum.
Moment's description of these skis really pushes the firm snow and all-around capabilities, as well as mentions the east coast, specifically Vermont with lines like: "If you're seeking an energetic, do-it-all ski that can carve, spin, stall, slash, and shine in all types of snow, from coast to coast and from Vermont to Valle Nevado, well...bon appetit, baby. Because that's exactly what the Wildcat 101 is designed to be." Having grown up skiing in Vermont I was interested to see if the Wildcat 101 lives up to the description.
https://www.newschoolers.com/videos/watch/1029935/SnapInsta-161638450-284964202987587-8222141563434426885-n-mp4
Shape/Flex/Construction:
The build of this ski is pretty standard, full sidewall, wood core, 2.2mm edges, no wacky technology or materials hiding inside. When I unboxed these skis I found that they had a better finish than most skis I see coming from the larger brands, the base pattern was very defined and consistent throughout the ski, as well as the base proving to be flat from tip to tail when checked with a true bar. The edges were incredibly sharp, with the rockered portions slightly detuned. I found the tune to be too sharp for my tastes and detuned the rockered portions pretty aggressively, I understand why they send them out extra sharp but if you enjoy a looser feeling ski or doing nose butters I would suggest giving them a bit of a detune.
The Wildcat 101 has a lot of rocker for a ski of this waist category, the rocker lines are deep as well as having a high amount of tip and tail splay. At the same time they also have a pretty significant amount of camber underfoot. In terms of flex pattern the 101 is similar to the wider Wildcats, I would rate the tips at 6/10, underfoot at 9/10 and the tails at 7/10, so pretty stout overall but the tips and tails combined with the rocker profile seem to be pretty accessible for butters and such.
On-Snow Performance:
Groomed trails (basic skiing performance):
With enough speed these can carve good enough, the 21-meter turn radius isn't quite as lively on the groomers as a more carving-oriented ski with a turning radius in the teens. The sharp edges and camber provide plenty of edge hold in the conditions I've gotten them into but if groomer zooming was high on my priority list I would look elsewhere, (and also probably not read reviews on Newschoolers).
https://www.newschoolers.com/videos/watch/1029934/SnapInsta-131062738-417357312723395-2093622923974451925-n-mp4
Powder/Float:
For a ski of this waist width, the Wildcat 101 does impressively well in fresh snow, no doubt helped by the large rocker splay and deep lines. I comfortably had these in 8-10 inches of snow and had no issues, although if your mountain is on the flatter side you might want something wider so you don't lose as much speed sinking into the snow. They did much better than anything close to this narrow that I have been on before in medium depth fresh snow, I didn't experience any weird tip dives, and the medium-long turn radius proved to be hook free in odd snow conditions. I wouldn't choose this ski on deep days if I had the option of something significantly wider but I also wouldn't be pissed if I only owned this ski or only had this ski with me on a trip and found myself skiing on a pow day.
Mixed conditions:
In soft chop/crud the Wildcat 101 performed very well. I was surprised how well it did dealing with light to medium soft chop, it had no issues blasting through up to 6" of chop, past that depth I felt like the tips were folding a little bit, not enough to be disconcerting but enough that I noticed it.
If firmer chop/ refrozen under soft chop I was not super impressed with the Wildcat 101. It is a relatively lightweight ski overall, but for its width if not that light. The ski could use more weight or some sort of damping material to really crush harder variable snow, granted if the ski were built with this in mind it would sacrifice playfulness.
Playfulness:
For how versatile this ski is in variable conditions, it also performed well when hitting park jumps and doing butters all over the hill, as well as natural airs all over the mountain. It definitely isn't some sort of butter machine like the Line Blend, but its performance on the rest of the mountain more than makes up for it.
https://www.newschoolers.com/videos/watch/1029933/SnapInsta-133791467-4886738804731966-5468208904563233874-n-mp4
Durability:
I smashed a rock right near the edge which left me with a big core shot as well as worries of having totally blown up the ski and causing a huge delam. I was impressed after I looked at the base that the edge hadn't been bent out of the ski at all. Earlier this year I hit a rock on my touring skis that I will not name but were from a different brand, I barely felt the rock I hit, and skied the rest of my run without thinking about it, only to find multiple inches of compressed sidewall and edge when I inspected them at the car. In contrast with that I absolutely smoked the rock I hit on the Wildcat 101s and left with no permanent damage to the ski, so I would say Moment has passed the durability test with flying colors.
Comparisons:
Wildcat 101 vs. Faction Candide 2.0 (2020):
The main difference between these two skis is that the Wildcat is significantly stiffer throughout the entire ski than the Candide 2.0, this leads the Wildcats to be better outside of the park and playful side of skiing, while the 2.0 is much easier to butter and do jibs on.
Wildcat 101 vs. Volkl Revolt 95:
These two skis aren't totally comparable, but I did spend most of a season skiing in Vermont on the Revolt 95. The revolt is more symmetrical and has a closer to center mount point, as well as having significantly less rocker. Despite this I actually found the revolt to be a super fun all-mountain ski, its a pretty heavy and damp ski for a park ski which lends itself to being better than you would expect in shallow chop and firmer snow. I would say it smooths out ultra-firm snow and chatter better than the Wildcat does. On the other hand the Wildcat does way better in powder and the swing weight feels lighter which is good for whipping around tricks on small jumps. The revolt is softer in the tips and tails but the Wildcat has more rocker so I'd say the buttering ability is about a draw between the two.
Wildcat 101 vs. Dynastar Slicer (Menace 98):
Similar to the comparison above I spent most of a season in Vermont skiing on the Dynastar Slicer which has since been renamed the menace 98. The slicers tips and tails are way softer than the Wildcats, because of this sometimes it can suffer from the tips folding, but it provides a very damp ride that helps counteract the loss of stability from being so soft. Overall I'd say in the right conditions the Wildcat feels like it has a higher speed limit, but the slicer deals with truly horrible snow better simply because of how it absorbs a lot of the small high frequency vibrations that the Wildcat doesn't seem to smooth out quite as well. The Wildcat again gets the upper hand as the snow becomes softer.
Conclusion:
I could see this ski serving a lot of purposes for different people, it could be a great low tide more jib oriented ski than something like the commander 98. I could also see it being used in the park with occasional trips to the rest of the mountain, but theres are better pure park skis out there. I could also see it being an east coast 1 ski quiver, on the deepest 5 days of the year I might wish I was on something wider, and on the worst 5 days of the year where it rained the night before and then re-froze I would probably wish for something a little heavier and damper. But for the majority of the season for conditions from dust on crust to spring slush to moderate pow days I would be perfectly happy on the Wildcat 101. If I had to choose a describing word for the Wildcat it would be Versatile, with a bias towards shallower snow and hardpack. The 108 version would be a good option for a more soft snow oriented versatile ski.