[Editor's Note: Our review was conducted on the 16/17 Line Honey Badger. In 2018-19 the core material was switched from Bamboo to Aspen and that continues for '19-20 and '20-21. The ski still feels very similar, to the point where we didn't feel a new review was required, but it does feel a touch smoother, lighter and slightly more stable at speed].
The Roofbox is back for 2016-17, with one aim: No bullshit, in-depth ski reviews, by ski bums for ski bums. No sponsored athletes, no 'we took 3 runs at a ski test'. Brands send us the sticks and we spend a solid chunk of our own seasons shredding them. Then when, and only when, we've spent enough time on a ski to judge it fully, we tell you what we honestly think about the pros and cons of a ski and who we think it will work for. It's a matter of pride for us that 'NS Tested 'means something and that we advise you as best as possible what you should be slinging in your roofbox.
Ski: Line Honey Badger
Length skied: 177cm
Tip-Tail Length (Straight Tape): 176.5cm
Shape: 120-92-116
Measured weight (each ski): 1603/1620g
Mount: True Centre
Binding: Tyrolia Attack 13
Days skied: 7
Reviewer height/weight: 5'9, 145lbs
Review Location(s): Saas-Fee, Lech am Arlberg
Conditions skied: Slush, groomers, park, some falling fresh snow
The Honey Badger doesn't give a shit. It's the snarling, punching above its weight badass of the natural world. So you can see why Line would see it as a perfect name for their new park ski offering. The name conjures an image of rampant destruction in a modest looking package. And at face value that's what this ski is: a cheap, tough, lightweight solution to your park and all mountain needs. In my editor's picks at an early season ski test, I picked these as one of my 5 skis to watch out for. So does the ski live up to its billing?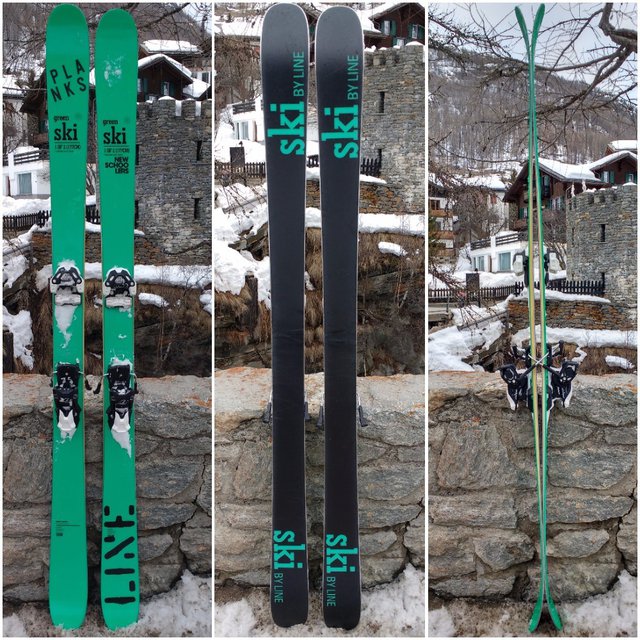 First, a few words about the shape and profile. On paper these are a rockered park ski, with 3mm rise tip/tail and 3mm camber underfoot. Unweighted, mine had very little rocker to speak of and a lot more camber than that. The profile seems like a slightly higher cambered version of the last Anthem (called the TC Ski, Green with Compton Chompers). The tip/tail heights are pretty low, and the actual tips aren't all that defined. I find that a bit spooky as I've felt them starting to hook on nollies a couple of times. The 177 is pretty true to length and skis as such. The sidecut is pretty similar to the Chronic, in fact on paper the ski is more or less a pricepoint Chronic, but on snow, they are a very different beast.
The most obvious characteristic of the Honey Badger is they are stupidly fun/easy to play around on. You can flex them with next to no effort in both tip and tail, so you'll be pressing, buttering and generally having a blast all day long. In fact they are so flexy that you can easily overflex them when buttering. At the same time the swingweight is almost non-existant. They feel incredibly light on your feet, too light in my opinion as I find super light skis a bit uncomfortable. But for anyone asking "what are the lightest park skis I can get my hands on"… the answer could well be these with Attack 13s. They'd certainly be up there, mine are around 2,500g for ski+binding despite my Badgers being around 100g over catalog stated weight. And you get fat edges and bases in that package.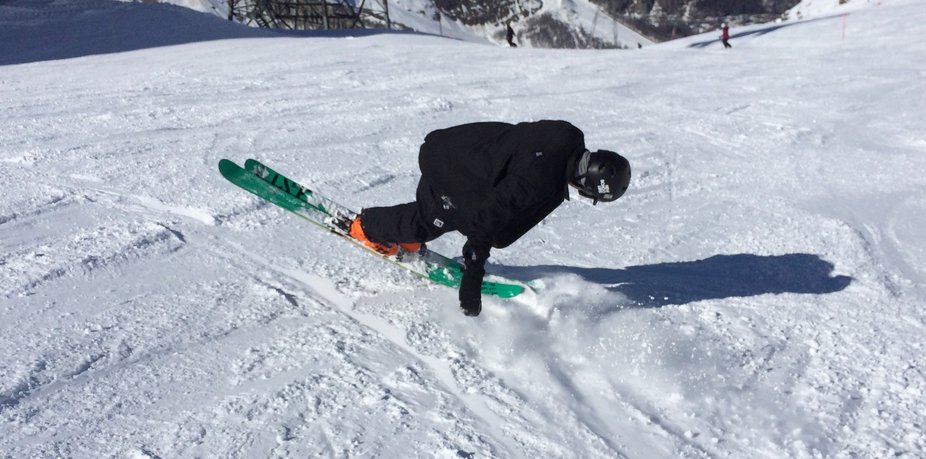 As mentioned, the Honey Badgers have plenty of camber underfoot. And so despite being very soft, you can take them on jumps and they aren't ridiculous unusable noodles. They aren't a jump ski by any means, but I wouldn't worry about taking them on a few mid sized jumps. You could certainly shred a few laps without needing to worry and you do generally have to be deliberately buttering or pressing to flex them, rather than accidentally washing out all over the shop. The very low weight also makes them easy to control in the air.
The bamboo core is seriously poppy and has loads of energy off lips and for nollies etc. I frequently found myself popping higher/further than expected thanks to being used to a damper ski. The possible pro or con (depending on your buttering style) here is that they want to snap you back out of butters rather than making it easy to stall them out. But without question, where they most obviously excel is for jibbing small features and hitting rails. They are so light that switch ups are stupidly easy and they make quick tweaks and taps that much easier too. If your primary function for a ski is hitting rails, trying to do a ton of swaps and 630s, these are going to be a great ski for you.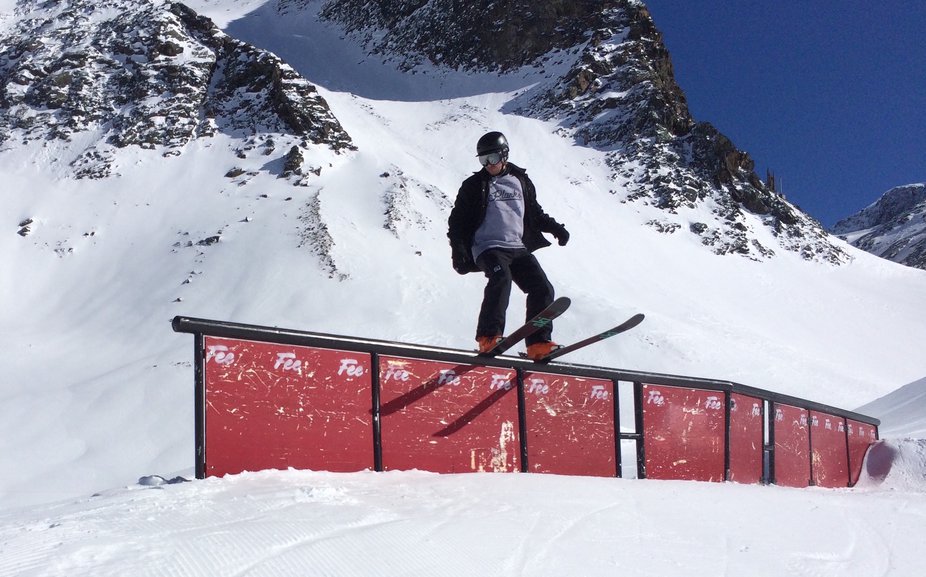 Line are one of the few big brands to still make skis solely to appeal to the niche within a niche that is jibby playful skiers. That's a rad thing because you get a ski designed to be as playful as possible. But as a result, when you take the Honey Badger outside the park, you do run in to some issues. The main one is that the skis are super soft torsionally, probably the softest I've ever skied. When you lay it on edge on hard or icy snow, it twists rather than grips and doesn't really hold an edge. This isn't a major issue at slow speed but when you put your foot down, things get pretty scary. They are also too soft overall to handle mixed snow/crud, they just get bounced around and you end up knackered fighting for control, something exacerbated by a fairly narrow waist by today's standards. It's a typical cap ski problem but these are one of the skis I've noticed it the most on. And it almost goes without saying, but on a ski this size and shape, especially centre mounted, any pow is pretty uncomfortable. They also have extruded bases which tend to come with most skis at this price point. There is no escaping the fact that while they are tough and easy to fix, they are also noticeably slow.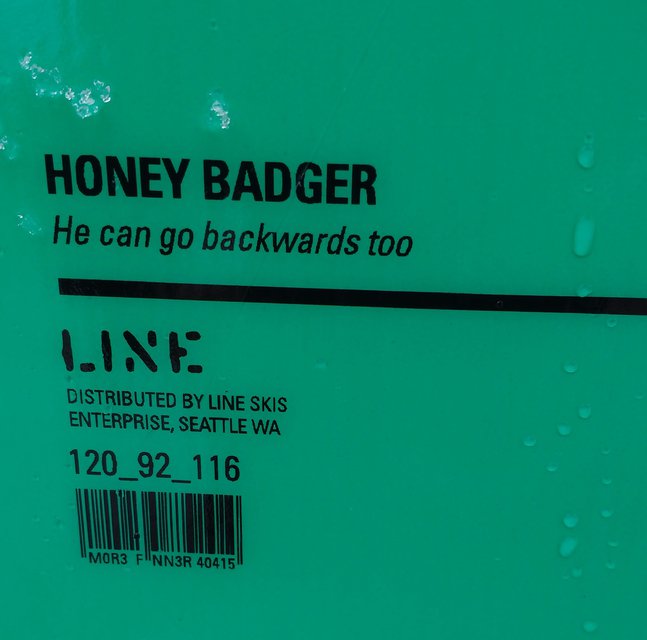 Happily durability was no issue during the week I was on them. The cap topsheets were in great shape after 7 days and I haven't seen any real damage from 4 days of rail laps. Anthems/TCs always held well for the price in the past and these are a similar idea from the same brand, so I would expect these to be comparable. If you're looking at Line Skis in particular, you can pay more money for the Chronics, but for that you get a ski in almost the same shape which is far more versatile. If all mountain performance is a major concern for you, it's well worth the upgrade. I'd see the Honey Badger as a competitor for the Infamous, which I find lifeless (and NS members have seen so many durability issues with), and other similar pricepoint park skis. Compared to skis in the same range, the Honey Badger are a pretty attractive offering.
To conclude, I would say these are skis that will work incredibly well for some and not for others. I'd call them a Marmite ski but I'm not sure the majority of you guys would get that. I couldn't personally ski these as my daily park driver because on the mountain I tend to rail around, ski some cruddy bump runs and high speed all mountain jibs even on my park skis and these felt too torsionally soft for me to push. Even simply lapping park in Saas Fee requires a pretty lengthy high speed run back to the lift and these got pretty jittery on it. But if I was skiing a smaller mountain, for example on the east coast, in the midwest or indoors they would be a perfect lightweight park ski. Playing around at low speed, hitting some urban etc these are perfect. Buttering a ton but still needing a lightweight ski to do nine switch ups on a rail, these are perfect. I said it in a preview review and I'll say it again, the Honey Badgers are going to make a lot of jibby skiers happy and not cost all that much while they do it.
Shop For line honey badger

Merchant

Sale Price

Retail Price
Shop For line honey badger

Merchant

Sale Price

Retail Price
Skied the Line Honey Badger? Let us know what you think and add your review in our review section:
http://www.newschoolers.com/reviews/4525/Honey-Badger
Follow my insta to check out what I'm reviewing at the moment: @twig_spens
Read our in depth review of the 2017 K2 Poacher here. Next up: Line Magnum Opus