Ski: G3 SEEKr 100 2022
Length skied: 178 cm
Shape: 132 / 100 / 120mm
Weight (each ski): 1470 g
Mount point from tail: 815mm
Binding: G3 ZED 12
Skins: G3 Alpinist + Glide Climbing Skins
Days skied: 5 days, end of last season (2022)
Reviewer height/weight: 5'10, 135lbs
Review location(s): Shames Mountain (BC), the Howsons Range, Northern British-Columbia (CAN)
Conditions skied: Hard-pack, icy, glacier, sastrugi, spring snow
_
Playful. That's one word to describe how I feel after trying out the G3 SEEKr 100. I was looking for a ski that would accompany me on big days during my end-of-season ski missions, through thick and thin in technical and complex terrain, while still allowing me to be agile while playing with the many natural features in the backcountry. I spent time with a full G3 backcountry kit, trying out the G3 SEEKr, ZED12 bindings, and their Alpinist+ Glide Skins for the uphill.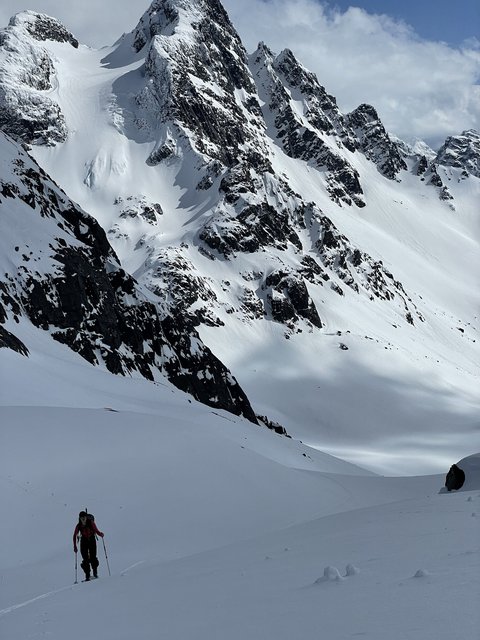 Shape / Flex / Construction
At 100mm underfoot, with 132mm tips and 120mm tails, the G3 SEEKr is made to be a versatile ski. With its medium radius (18.3 meters), the ski is built to be maneuverable and able to handle different length turns in an array of terrains, all while remaining stable in variable conditions. There is a long, early rise in the tip and tail which allows smearability, while the slight camber underfoot helps maintain stability. This, combined with the radius, is awesome for terrain requiring quick reactive moves (like glades or backcountry), but I could definitely feel some chatter when entering wider and steeper terrain, and when building up speed. I'll talk about this in more detail later in this review.
The SEEKr is a very light ski, but even so, quite a stiff one too!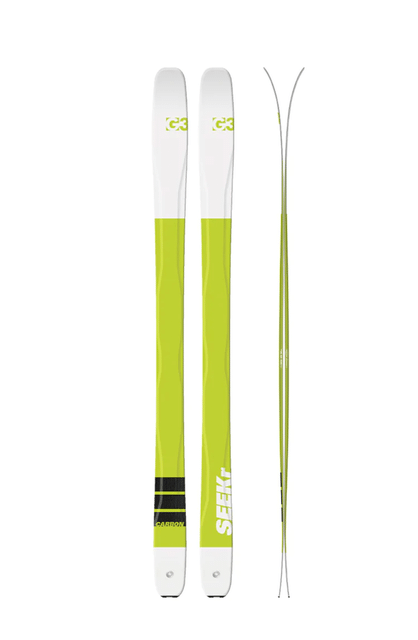 I am usually wary of very light skis as it's easy to lose power and control while going downhill in the weight tradeoff. But that's not the case with the G3 SEEKr. They are definitely the lightest 100mm underfoot skis I've ever skied! The preshaped poplar and paulownia wood core provides a feeling of lightness and high performance. It rests between two layers of triaxial stitched carbon fiber allowing for a strong, light, and torsionally stable tool. Add to that a titanal aluminum mounting plate ensuring mount integrity, as well as polyurethane sidewalls for more dampness and a super light textured nylon topsheet for durability and you have an impressively versatile ski. This topsheet also sheds snow and ice more effectively, which is great for the uphill experience in the backcountry.
_
Uphill
"Ridiculously light" is the most claimed and written thing about these skis. Well, it is true, they are ridiculously light. Which for the uphill makes such a difference. I am used to skiing my 4FRNT Hojis CC, which are 1888g per ski. The G3 SEEKr 100 is 1470 g per ski, that's over 400g lighter... per ski! No need to explain further: I felt like a new woman while going up on my long ski missions!
The accentuated shape of the ski between tip / underfoot / tail did make it a bit challenging on very steep uphill traverses. At some point, the edge underfoot barely touched the slope, which can make it hard to feel safe while going up these types of terrain. It helped to put the G3 ski crampons to help with stability while going up. What's amazing with those skis is the new magnet feature G3 integrated. Yes, the skis hold together even without a ski strap! I mean, it's not perfect in a way that I would still put a ski strap to carry them around, but for boot packing up a small section of a ridge, or having a bit more safety in handling your skis while transitioning to boot crampons, this feature is definitely a great add on for us backcountry skiers, especially if you don't have stoppers on your bindings (which a lot of us don't)!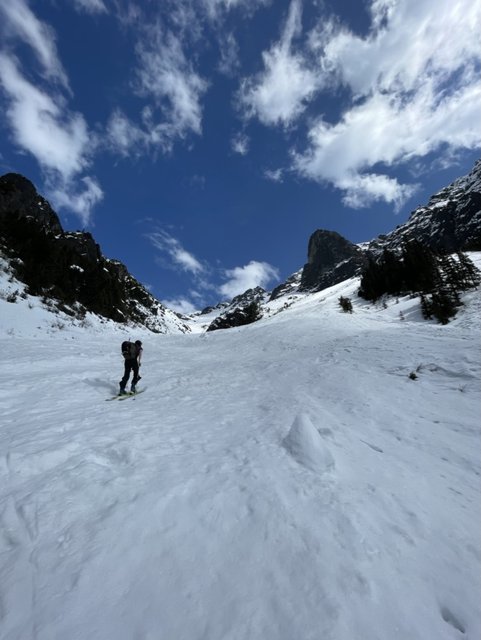 As for the Alpinist+ Glide Climbing Skins, they are a 70/30 mohair/nylon blend, allowing a good grip and glide on the snow. I am used to using the equivalent in Pomoca skins for the past few years, which are very effective on the glide aspect. The G3 skins didn't surpass them on that end. Though, the G3 tail clip is definitely more effective than the Pomoca's, which consistently slid off my ski. I am also quite confused about the "fish skin-like" plastic construction of the tip of the skin. It is there to help reduce the accumulation of snow under the skin, but honestly, I don't really see a substantial advantage for the more space the skins take when folding them. Personally, I am not a fan of this feature and miss how small my Pomoca skins could pack and how easily they could fit in my jacket's pockets to keep them warm on the ski down. Another point is the glue on the skins: the G3 skins are very sticky. Less so than the Black Diamond skins, which were impossible to pull apart at times, but definitely stickier than my Pomoca skins. This has its advantages and disadvantages. Advantage: it sticks better, and longer throughout the day than the Pomoca skins. Disadvantage: it is sometimes harder to open the skin when folded on itself, I am wary of the long-term quality of the glue. They left traces of glue on the ski base, the same thing that happened to me with Black Diamond skins which were very similar and ultimately did not last as long as the Pomoca skins.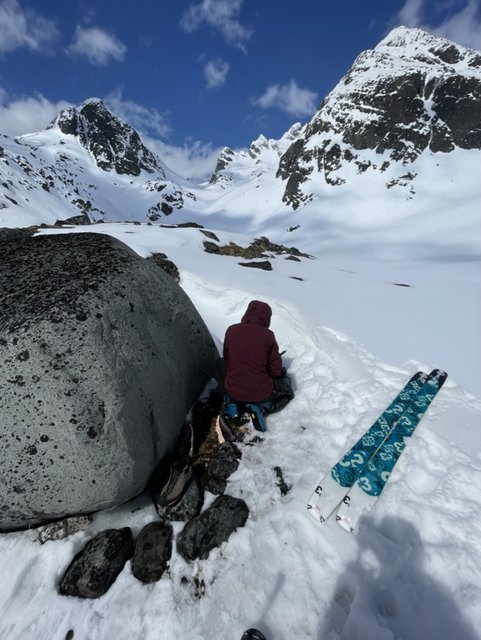 _
Downhill
Steeps and Big Mountain:
I had took the chance (potentially recklessly) to test the G3 SEEKr for the first time on a quite steep icy glacier run. I knew these skis were known for their agile playfulness and float capabilities but hadn't read much about their ability to hold while building speed in steep terrain. And they held! My conclusion is that there are, of course, better skis for this type of terrain (like the Hoji CCs which thrive in the steeps, or even the G3 FINDr which is made for big mountain terrain). But I truly enjoyed the versatility of this ski. They were very cooperative on steep jump turns, and I could easily be agile, even in tricky conditions with patchy snow, ice and sastrugi. Their short radius of 18.3m made it easy for me to go from short turns to larger GS turns. Though, as expected from very light skis, they started to get a bit shaky and have a bit of chatter while building up speed in a wide radius turn. That seems unavoidable with the pronounced rocker (designed for floating). Their carbon core reinforcement really does help reduce this side-effect though, making them still manageable and reliable in this type of terrain. And it's totally worth, a bit of chatter for the lightness you gain on the uphill.
_
Powder/Float:
The G3 SEEKr are advertised as floating tools. And with their very pronounced shape, prominent rocker and super lightweightness, they definitely are. They are comparable to the feel of my old Black Diamond Amperage which I totally fell in love with and were my go-to pair for many years in the past. So, even if I've yet to test them in the 40 cm days, I see the pattern of a floaty, playful ski build which allows to really enjoy backcountry pow days. I personally chose to go with narrower skis as I wanted a ski for my end of season missions, so I would totally suggest getting the wider version of the ski at 110mm underfoot if you intend to ride them regularly in deep pow, but even then narrow shape feels floaty.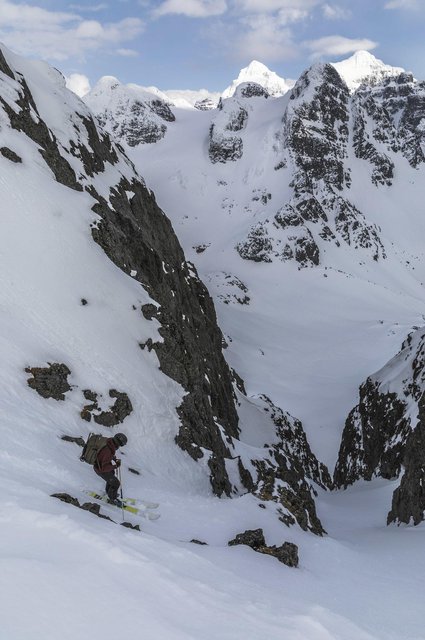 Backcountry/Glades
As I mentioned before, the G3 SEEKr average turn radius is 18.3m. Which is the perfect radius for agile turns in variable terrain in the backcountry and glades! It's a bit of a relief, coming from skiing 4FRNT Hoji CCs which have a turn radius of 30m. I finally feel like I am riding a ski that is more of an "all-arounder", a ski that reacts and follows me when navigating tree runs or terrain where you need to make quick reactive decisions. Their lightness also allows for a very playful time in the glades as it allowed me to jump anywhere I wanted, huck small bumps and features and feel very agile on my feet. It definitely doesn't drag me down and back! Though, this lightness made me hesitate to huck bigger features like I would with the Hoji CCs. My 4FRNTs were very stiff and sturdier which made me feel safer in catching me if ever I was a bit too front or backseat in my landings. With the G3 SEEKr, I feel like I have to stay a bit more on top of my game. They aren't as reliable or sturdy when compensating for me not being centered on landings. Also, the tail being quite flat, they aren't the best option for riding switch or landing switch on features. But overall, this ski is made for skiers wanting to play with the natural features of the backcountry and I cannot wait to take them out again next year to explore more of their capabilities!
https://www.newschoolers.com/videos/watch/1048965/IMG-7999-MOV
Groomers
I didn't have the chance to ski the skis on groomers per say, but I did ski them on hardpack end of season snow, which is very similar. It was no surprise to feel the agility of the G3 SEEKr. It was very effortless to transition from short to medium radius and I really felt the carbon core has lots of energy and even a bounce between turns, which I get with my race skis (at a different intensity obviously). As mentioned before, it is not the best ski for large super G turns. The pronounced shape of the ski, especially at its tip, sometimes "bites" into the snow which causes the edge to grip on the surface. This leads to sometimes getting a surprise "quicker-narrower-turn-than-expected" as the ski falls into its 18 meter radius. But nothing any advanced/expert skier couldn't handle, and nothing to make me want to exchange the playfulness of this ski!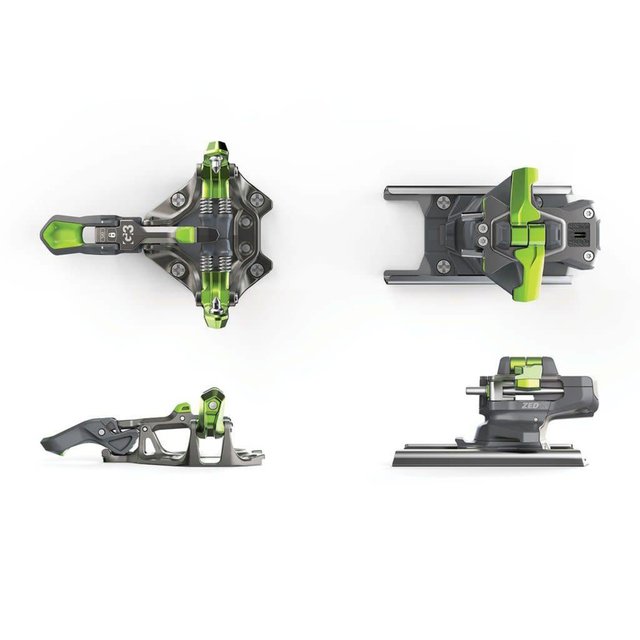 What about thoseG3 ZED 12 bindings?
The G3 ZED is a light, minimal version of a robust backcountry binding. Not as minimal as the Marker Alpinist 12, but lighter than the Dynafit Rotation 12, the G3s are sleek-looking and user-friendly. Without brakes, they weigh 370g per binding, which for a robust touring binding is pretty good! By comparison, the Dynafit Rotation 12 stands at 605g per binding. That being said, when you add brakes and crampon attachment pieces, the weight goes up to 460g per binding, which is more comparable with others on the market.
With one aft screw, you can adjust both lateral and vertical release. And with another screw right below it, you can easily adjust the length of the binding. I've never felt the need to lock in my boots while going down as the toe piece on the ZED 12 has more elasticity and a reliable release system. Another good point is that it doesn't accumulate as much ice and snow under the heel as the Dynafit Rotation 12 does. In that regard, the Zed 12 is more comparable to lighter models of bindings like the Marker Alpinist 12 which very rarely accumulated snow while walking.
For transitions, it uses the usual twisting of the heel piece at 90 degrees, but for the G3s, in either direction. Once in touring mode, the ZED 12 has 2 levels of risers (excluding level 0) which is such a relief after skiing the Markers which only have 1. What I also really enjoyed about the ZED 12 bindings are how easy they are to clip in. Coming from Dynafit Rotation 12 (which are also fairly easy to clip in), the G3 ZED experience seems almost magnetically reactive. The mechanism of the pin binding isn't arduous to line up with your toe piece, nor is it tough to lock in or lock out. I find it tough sometimes to clip out from pin bindings which can be a stress while transitioning in exposed terrain like couloirs.
Talking about exposed terrain, let's be real about the G3 ski crampon system. The crampons themselves are great, nothing to declare on that end. But the locking system is almost too simple and easy to lock in and… to pull out. Let's just say my ski crampon dropped a few tens of meters in very steep exposed terrain which was… well… not ideal. I pulled the cord that releases the crampon accidentally with my boot when clipping out of my bindings, which led to the fall of the ski crampon. For that, the Dynafit system of sliding in the crampon is much sturdier and doesn't create a possible scare of accidentally releasing your crampons in technical terrain.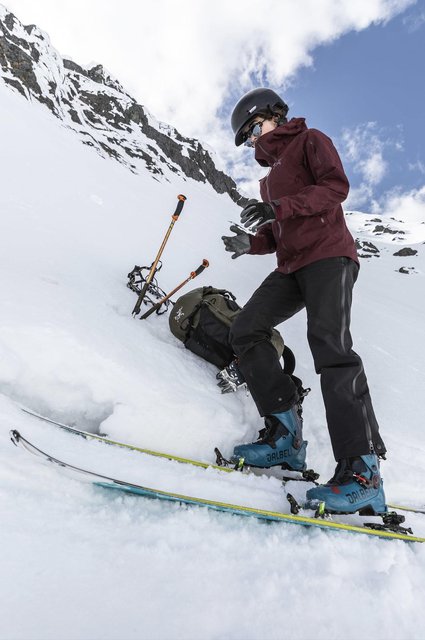 Durability
I haven't ridden my G3s enough to give a full review on their durability, but so far so good! I also have a few friends riding different G3 models, and nothing to declare on their end either!
_
In Conclusion
I largely enjoyed all the elements of this G3 setup. Everything was accessible, versatile and a great choice to enjoy both the uphill and the downhill experience. Ski-wise, I would definitely recommend the G3 SEEKr to advanced/expert backcountry skiers who are looking for an all-around versatile ski to accompany them through all kinds of variable terrains and conditions. With their extremely low weight, they are definitely designed to be a backcountry tool, but are still good fun to ride in and out of the resort!
Check out the products featured below on G3's website below:
–
I'd like to thank the talented photographer Alexandre Choquette for these amazing shots!