Ski: 4FRNT HOJI CC 2022
Length skied: 177 cm
Shape: 127 / 112 / 119 mm
Weight (each ski): 1888g
Mount point from tail: 815mm
Binding: Dynafit Rotation 14
Days skied: 15
Reviewer height/weight: 5'10, 135lbs
Review location(s): Shames Mountain (BC), other backcountry spots in the Coastal Mountain Range, Northern British-Columbia (CAN)
Conditions skied: Moderate to deep pow (10-80 cm of fresh and wet), backcountry features (pillows, cliffs), groomers, park, hard-pack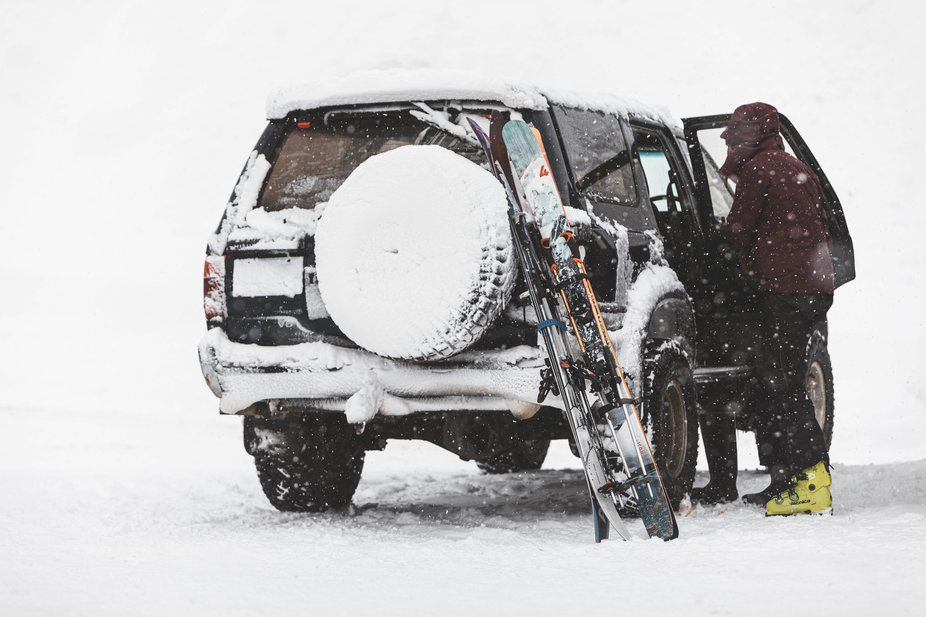 4FRNT is back with a revisited version of the already quite-the-hype Hoji and Hoji CC skis. These top of the game big mountain skis are winners of multiple awards, and 4FRNT has updated the "refined powder tool" to be a bit more versatile outside of powder lines, adapting them to a skier's everyday requirements. The Hoji CCs for 2021-22 are definitely improved since their last iteration in terms of a balance of powder performance and firm snow versatility. Plus, it feels amazing to have charging women's ski: no need to go seek performance on the men's side anymore!
Shape / Flex / Construction
At 112mm underfoot, with 127mm tips and 119mm tails, the Hoji CC is made for hitting big lines. Compared to many touring and all-mountain powder skis on the market, the shape of the Hoji CC is quite straight, with not much width difference from tip to waist to tail.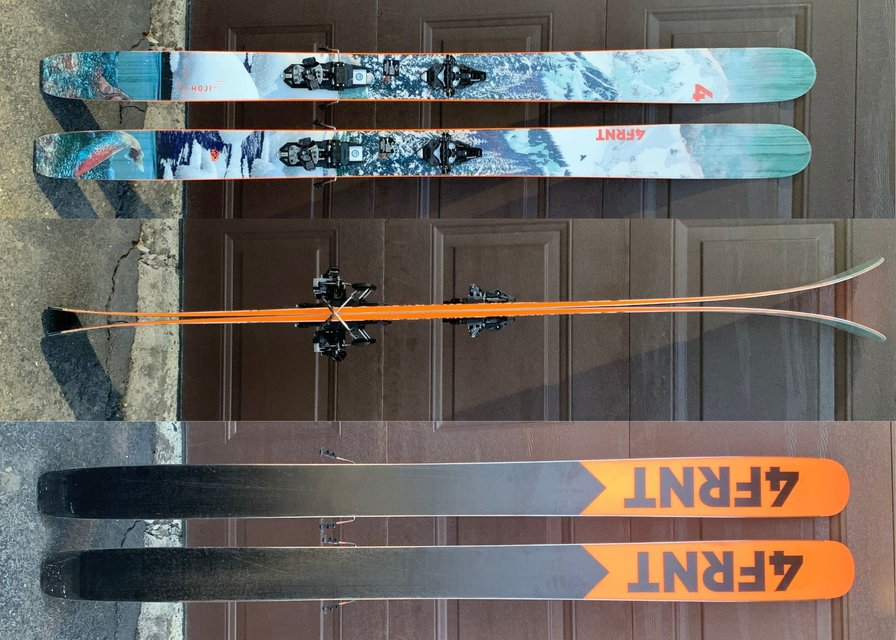 What's interesting with 4frnt is the multi-radius design which allows you to play around even with this stiff, powerful, 30m (average) turn radius ski. In addition to this, the updated Hoji CC has been designed for, tested and approved by female riders. They've added what they call a "Coutour Core", a women-specific core designed to create leverage where power when it is centrally generated, all while maintaining balance and positioning with the ski's natural sidecut center. In more simple terms, 4FRNT shifted the stiffest part of the core rearward to naturally match the point of power for women, which generally comes from our hips. I definitely feel like the Hoji CC embraces my strengths in my differences as a woman through its design features and makes them super fun to ride from powder to hard-pack snow.
The tip rocker is huge at 88mm, with a visibly smaller, but still significant rise at the tail. With the updated shape, 4FRNT brought down the curvature (splay) of the tip rocker to have a longer surface of contact for more control and versatility on firm snow. They've also shaved some weight off the tip and tail to keep that balance of lightweight construction with maximum stability.
The Hoji CC is definitely a stiff and powerful ski, with an Aspen core, and Maple inserts to support binding retention without adding too much weight… plus an added carbon fiber stringer running the length of the ski to add pop.
Uphill
Hojis CC is definitely built to support you no matter what while going fast downhill. They sit on the heavier side as far as touring skis go, weighing around 1 888 g per ski (3,78Kg for the pair). I could feel the extra weight while going up, especially when they started collecting snow in the wet coastal snowpack. If we compare with an equivalent length and width in my G3s, the SEEKr 110 is 348g lighter per ski and the Black Diamond Helio Carbon 115, is 313g lighter per ski. Both of these models are more dedicated touring options for skiers looking for lighter alternatives.
I mounted Dynafit Rotation 14s on my skis which are not the lightest either. As an aggressive skier who enjoys feeling stable on my skis going down, I do prioritize the downhill experience to the skin up, always have, knowing I will pay a bit on the weight of the gear. Having ridden last year on the ultralight Marker Alpinist 12 – which did not impress me at all, plenty of technical issues with the risers and brakes – (mounted on the Hojis 2019), I decided to return to the durability and reliability of Dynafit bindings. I like knowing I can rely on my gear on long-day and multi-day trips in the backcountry. The stability of the Hoji CCs in steep variable terrain paired with the reliability of Dynafit bindings is great for missions leading to skiing big lines high in the alpine, but the weight of my setup is noticeable: I am absolutely going to invest in a second set up that is lighter in the uphill and more playful in the downhill.
Even if the skis don't have the new Hoji Hole 4-lock system, I've never had any issues with the skin clips not staying in place.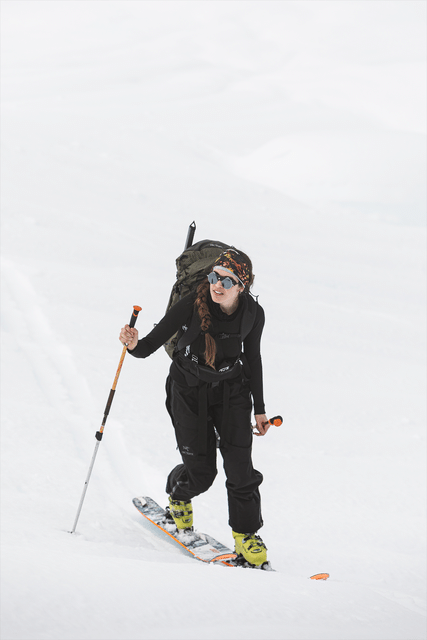 Downhill
Steeps and big mountain:
The Hojis CC are at home in steep and big mountain terrain. With a 30m turn radius, I can feel that the skis are in their element when on steep, big open faces, and in all snow conditions. Those babies will hold even (or especially) when you build a lot of speed while charging them in large Super-G-shaped turns. I feel very confident hitting any lines and taking air, thanks to the stiffness of the Aspen/marble and carbon core which always catches me even if I end up falling a bit backseat in my landings. With my pair of Hojis 2019, I felt like the skis were constantly leading the way in front of me. Even being quite an aggressive skier, I always felt like I had to charge them to the max or else I would end up being led by the ski, way backseat. I am always one to gravitate towards men's gear as I find it hard to find equivalent women models in terms of flex and power, but no need with these skis. With the new Countour Core construction (see above), it's easier to initiate turns and focus on playing with the terrain rather than putting all your energy to stay above the ski! 4FRNT has embraced women's strengths in their differences; I absolutely felt it and absolutely love it.
Powder/Float:
Though the Hoji CCs are definitely powder tools, there are a few details that affect their floating capacities compared to other skis. Skiing in the very abundant snowpack of the Coastal Mountains in Northern BC, they have allowed me to float on 40 cm plus days. But the weight of the ski does affect float and though its shape makes up for it by offering a playful feel on pow days, its straight shape from tip to tail led me to some tip diving issues on very powdery days (50-80cm). 129mm is not a wide tip for a pow ski and while the shape of the ski is very powder focused, there are some times when a little more lift from the tip would be nice, with skis like the Armada Whitewalker and Bent Chetler 120 being examples.
However, this was rarely noticeable enough to make me want to exchange them for a larger width as this ski is a good compromise between the floatability of a larger 120 mm underfoot like the Atomic Bent Chetlers and the reactivity of a more all-mountain ski but if you like the most floaty ski, this isn't it.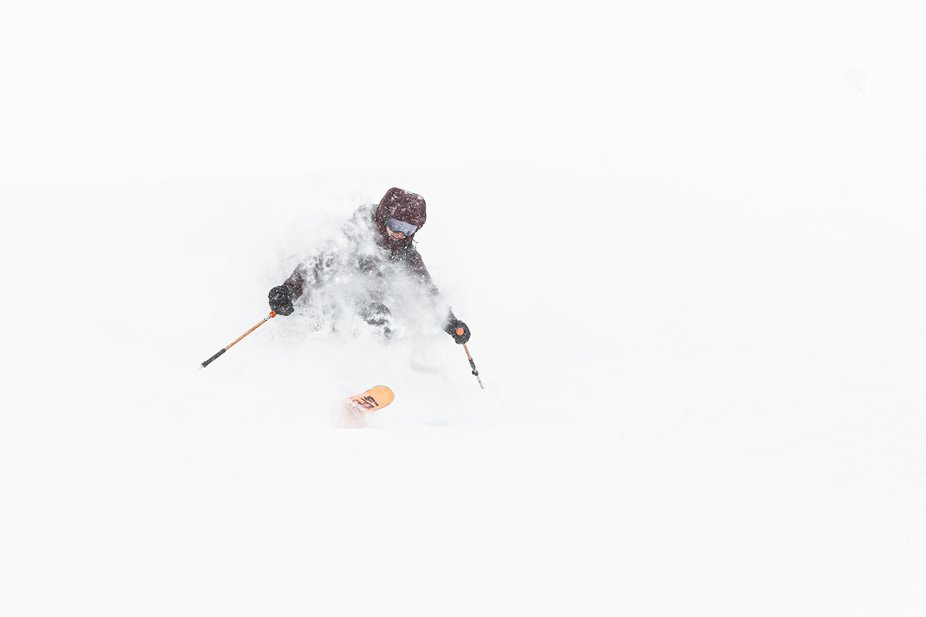 Backcountry/Glades
As I mentioned before, the Hoji CC's average turn radius is 30m, which is pretty long these days. It is no surprise that makes them challenging when navigating tree runs or terrain where you need to make quick reactive decisions. That being said, the Hoji CC's updated shape definitely makes them more versatile and playful than their previous 2019 model. My 2019 Hojis were really hard to pivot quickly which made me regret many times not having a second more playful pair for tree skiing days. However, this experience allowed me to appreciate the changes made to this year's model. I do feel a big difference in the playfulness and versatility of the ski: it is more responsive and easier to turn. But even with these improvements and the updated shape, I do not consider the Hoji CC to be playful: it stays a ski made for more open terrain and is still hard work to navigate in tight terrain. I will without a doubt get myself another setup for storm skiing days and would recommend having a second pair of skis if you tend to ride a lot of glades and tree terrain. Nonetheless, if I know I'll be taking air off pillows and dropping cool backcountry features, I can always count on the Hoji CC to catch me. And they have added enough versatility that I will put up with the lack of playfulness in tight spaces.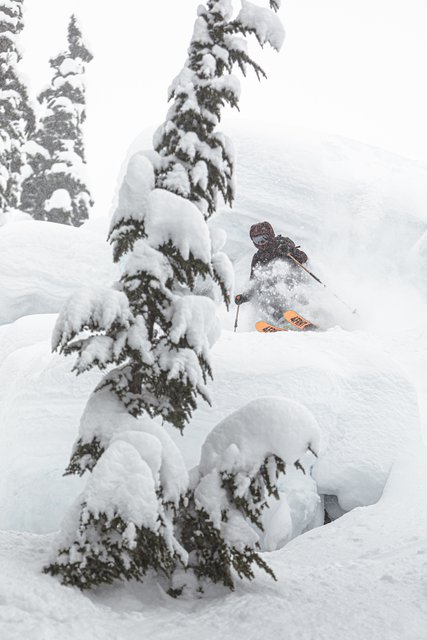 Groomers
What a great surprise it was when I skied groomers with the Hoji CCs! As I said, I skied for a couple seasons on the 2019 Hojis 179cm and many times when hitting groomers, I had the feeling of hopping on train tracks. The skis were hard to turn and when the edges took a grip in the snow, it took much energy to take them out of long turn radius. They were not very playful and not so versatile outside of big mountain terrain and powder lines. The updated rocker profile and 4FRNT's signature multi-radius design has paid off. By slightly reducing the curvature of the rocker underfoot they've increased the effective edge to improve the ski's capabilities in firm snow. I can more easily switch from short to GS turns, and even go into a deep carve which I had a really hard time doing with the 2019 Hojis. That being said, the Hoji CC still have a 30m radius and are quite stiff skis. They are meant for expert skiers: you still need to work for your turns as they won't just turn by themselves like other more shapely skis (I've definitely had better times in moguls). But as far as chargy powder skis go they are still pretty fun to ski in the resort. Not the best skis to ski switch as the tail rocker isn't that pronounced and the tail itself isn't rounded which makes me a bit worried I'll edge cut (but it didn't happen yet). I didn't ski much icy terrain, but I had a lot of hard-pack snow, wet snow and colder groomer days. They've adapted well to all of them.
Durability
I haven't ridden my Hoji CCs enough to give a full review of durability, but so far so good! With its tail block, an insert which adjoins the core end and runs out to the tail edge perimeter, the Hoji CC is made not to delaminate with the clipping and unclipping of skins. I have had issues with this in the past with skis that didn't have that feature, but no problems at all with the 2022 Hoji CC nor my pair of Hoji 2019.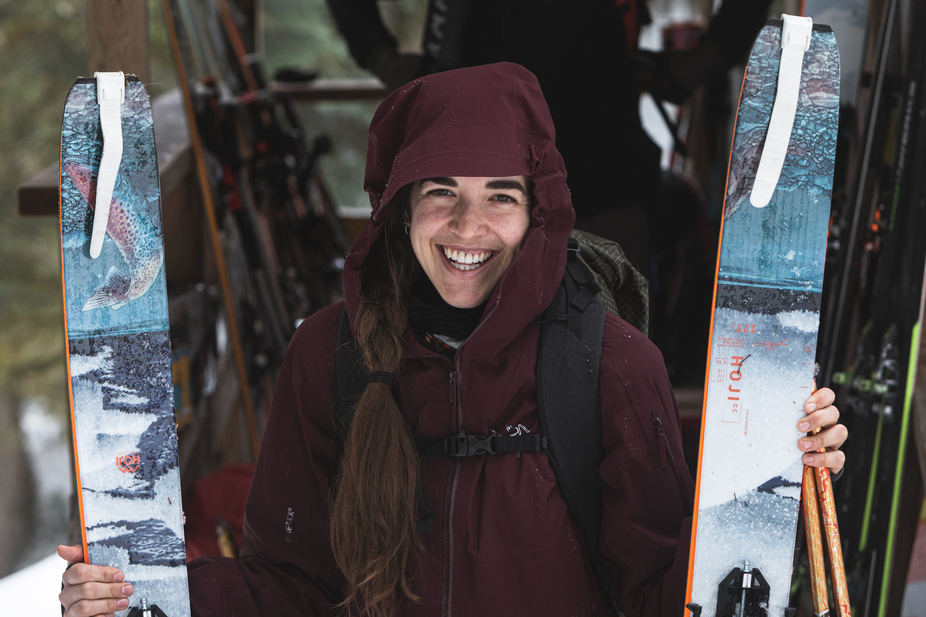 In Conclusion
I highly recommend the 2022 Hoji CC for advanced/expert skiers who like skiing steep and fast in big mountain terrain and playing around in powder. They are more of a downhill ski than a touring ski, but they are a good choice for skiing in resort, slack country, as well as for catski or heliski adventures. If, like me, you do choose to take them out touring further than in the slack country, the aggressive downhill capabilities of the ski definitely make up for the extra weight you'll carry with you in my mind. Even if they are more versatile than their previous model, there are certainly lighter and more versatile options out there that are as stiff but more playful than these skis. I would definitely recommend pairing them with a second pair of lighter and more playful skis for longer touring adventures and/or tree runs. That being said, if you're all about sending it, taking air on backcountry features and charging your lines head on, you will not be let down by the stability, power and reliability of the Hoji CC.
** Thanks to Alexandre Choquette for the great photos!