Ski: Atomic Bent 110
Reviewer height/weight: 6'1", 190lbs
Ski weights: 1860/1855 g
Length Skied: 188cm (180cm Twig)
Straight tape-pull length: 186.5 (178.5 Twig)
Dimensions: 134-110-125
Radius: 19m (for 188 size)
Mounted: -3 cm from True Center (-2cm Twig)
Bindings: Atomic Shift/ATK Freeraider 14, Tyrolia Attack 17 (Twig)
Locations: Teton Pass, Grand Targhee, Grand Teton National Park, Big Hole Range
Conditions skied: Just about every type of snow you can imagine
Days skied: 20+
_
History
When Atomic announced that their newly renamed "Bent" lineup finally included a 110 mm wide ski earlier this year, long-time devotees of the brand let out a collective cheer. That's because its spiritual ancestor, the Blog, is one of most mourned skis around. The Blog was available from 2010 through 2014, and while detractors will point out that its tails (and to a lesser extent its tips) were softer than modern skiers would appreciate, it was still on the cutting edge of fun and versatile mid-fat skis.
For newschool skiers of the era it struck a nice balance. The Blog was capable on deeper days in untracked snow, but still light and snappy enough to be really fun in tracked out snow, and in the terrain park. And it was unapologetically made for jibby skiers who cared about spinning and skiing backwards. At its core, the Blog was a ski that allowed everyday skiers, with everyday conditions, to do their best at imitating the Nimbus guys (or Durstchi's EDIAS segment). The Blog was an easy sell.
And then Atomic killed it and replaced it with the Automatic 109 (less sex appeal) and then the Backland 109 (even less sex appeal). Finally, the Backland line became even more directional, and for a few sad years Atomic was sorely lacking a 110ish underfoot, jibby ski.
Now, for the 2022-23 season, Atomic announced the Bent 110. And while they're quick to point out its all new molds, shape, and construction, it's undeniably the Blog's spiritual successor.
My pair of Blogs broke in 2015 when a girl I had a crush on didn't close the ski rack before she got into the car. They flew off the roof at 65 mph, and I haven't been the same since. So to say I've enjoyed my time on the 188 cm Bent 110 would be an understatement. And Twig has been getting time on the 180 cm version, so he'll be chiming in with his observations.
_
Topsheet, Rocker Profile, Base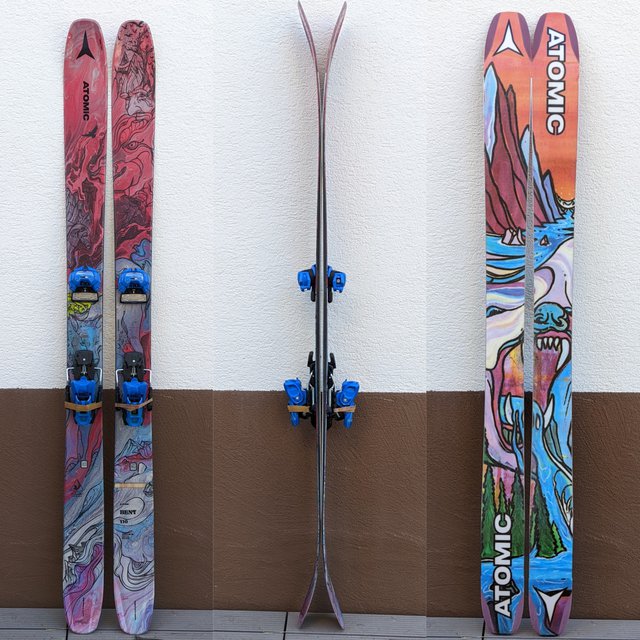 _
On Snow
First off: If you're reading this review because you really want Bent 110's and you think they might be fun in a wide variety of conditions and you just want to read some reviews to reinforce your almost-made decision to buy them, stop reading, and make that purchase. They ski exactly as well as you'd hope. My first impression was "Atomic is going to sell a whole bunch of these, and make so many skiers really happy."
That said, let's dive in with a little more nuance. I started out with pin bindings on the Bent 110 since Atomic's Shift availability was a few weeks out. I got one very deep powder day in the backcountry, and then a whole bunch of variable skiing in everything from blower pow to breakable crust, to sun-fucked mank, and more. In all of those conditions I would describe the Bent 110 as "consistent."
This is a ski that does exactly what you'd expect it to, all of the time.
_
Powder
In deep snow it doesn't plane quite as quickly or float as well as the Bent 120. It takes just a touch more speed and skier imput to make turns and pop off things in deep fresh snow. But it's right on par with the other skis in this width class. And its stiffer flex makes for a confidence-inspiring platform when speeds pick up and landings are further away.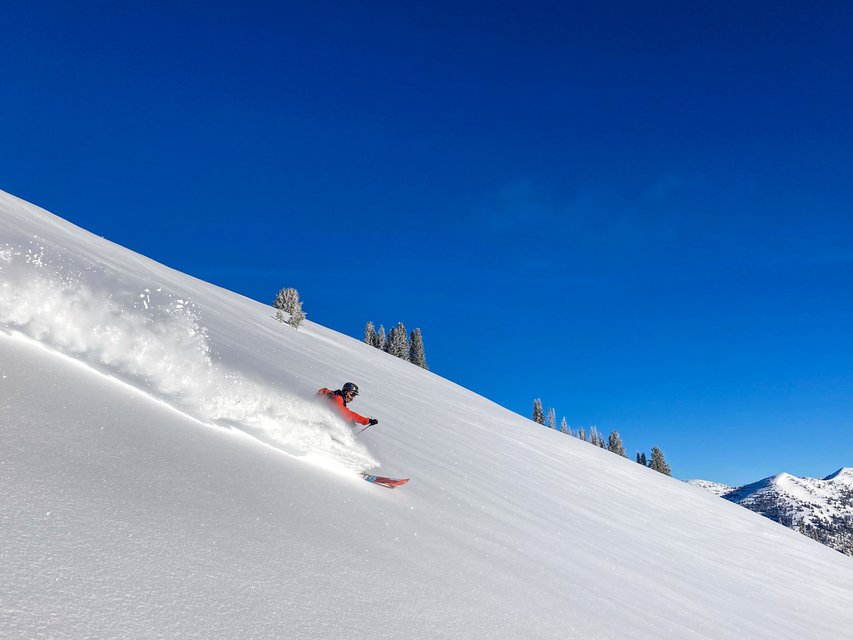 [Twig: Ok, they aren't the Bent 120 or other super fat ski but for a ski that is 110 underfoot and 'only' low 130s in the shovel, I thought these floated amazingly well, even with a -2cm (from true) mount. I don't really get to ski 'epic' days very often but for 30-40cm of generally heavier snow, I thought these were very impressive. They go sideways unbelievably comfortably and they have the perfect shape for buttering etc in soft snow. Unfortunately, in a 180 they were just a bit short, so I have had issues going over the bars.]
_
Chop
My favorite conditions on the Bent 110 were slightly consolidated powder, untracked, or cut up. This is one of my favorite "day after the storm" skis ever. It's light enough that it's very easy to pop and spin, but the stiffer flex pattern, and overall stable feel mean it's very capable of higher speeds and bigger airs than I'd be comfortable with on most skis at this weight. It's a really, really fun ski to rip around a featured zone on, it had me looking at new gaps, and going bigger than any touring ski I've been on in the last few years.
I consistently found myself carrying more speed out of features than I usually would on a touring ski, and waiting longer to shut it down because I was confident that the Bent 110 would truck through anything in the way.
[Twig: Totally agree, the predictability of these skis impressed me in all kinds of mixed snow. They aren't a charger, they have relatively soft shovels and tails, but they are solid underfoot and never react or deflect in an unexpected way which makes them reassuring to ski. If you don't know what conditions you're getting, or you end up skiing a big variety of conditions, from hard snow to park to relatively deep days and you want one ski, these have to be right up there.]
_
Firm Snow
I'll let Twig speak more to groomers, but on firm snow, the Bent 110 is capable and consistent, but not inspiring. I skied some pretty terrible snow in some reasonably steep and narrow couloirs on the Bent 110, and never really found myself fighting the ski. It's easy to pivot into tight turns on bad snow, and it handles breakable crust consistently. But it's not one of those snappy skis that makes me want to get weird on firm snow. It will carve a fine turn on groomers, but it never left me wanting to do more like some skis (the Line Sakana comes to mind) have.
[Twig: I skied the shorter 180cm version and with the amount of rocker, they really do feel quite short on hardpack, even for my 5'9 (174cm) self. I'd totally agree with Cy the skis are consistent but compared to other jibby skis in a similar width (Prodigy 3.0, Sir Francis Bacon, Reckoner 112 etc) these are not the most exciting or engaging hardpack ski. They don't really have any energy in the turn and while they grip, there is so much rocker and a relatively straight sidecut, so they don't grip that well. They are fine, and on softer groomers they feel better but if energy on groomers is an important thing for you, I wouldn't put these very high on the list. I think that to provide the versatility in all conditions these skis offer, Atomic had to make them somewhat dead underfoot. There has to be a compromise somewhere because there's no such thing as a perfect ski.]
_
Park/In the Air
In the air, this ski feels light. It's very easy to spin, but it's a little harder to press into butters than softer skis like the Bent 120. However, it's much more stable on chopped up landings.
[Twig: The 180 weighs in as light, or lighter than, most comparable sized park skis. So, as Cy notes, they feel very light in the air. But let's not confuse things, they are still a wide ski which means they 'drag' in the air more than a 95mm ski, regardless of actual weight. The near-center mount and modest tip/tail width do keep swingweight reasonable and for sure, these will handle all the park most users will throw at them.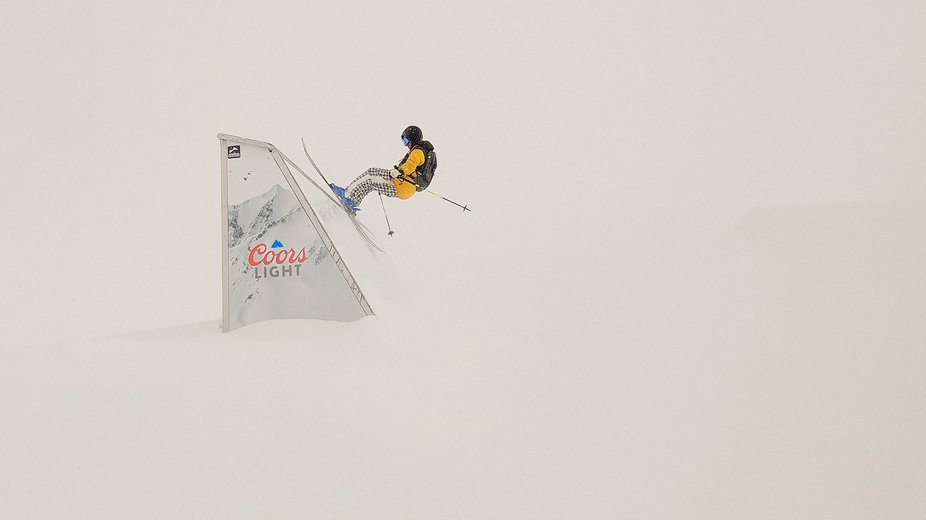 They're perfect for going straight from freeriding to park features. P: Hanne Lundin
_
In fact, if you like wide skis as your daily park ski, these could work. They have a nice balance of stability underfoot with medium softness in the rocker which means they feel fairly comfortable from jumps to butters. To me, they lacked the pop and energy to be a really jibby ski, but for a combo of all things park on a wide platform, they're a good option. I'm not sure the edges/construction would hold up to a ton of rail abuse but I haven't skied them enough to say either way. The rocker is symmetrical and the sidecut seems like it would work well with a large variety of mount points too, so I think you could even center mount these without paying much of a price except for float. In fact, I suspect you will start to see these skis on the feet of Atomic athletes in the park quite regularly this spring because they are more playful/fun than the Bent 90/100 in my books… if a bit less stable in the tail on jumps.]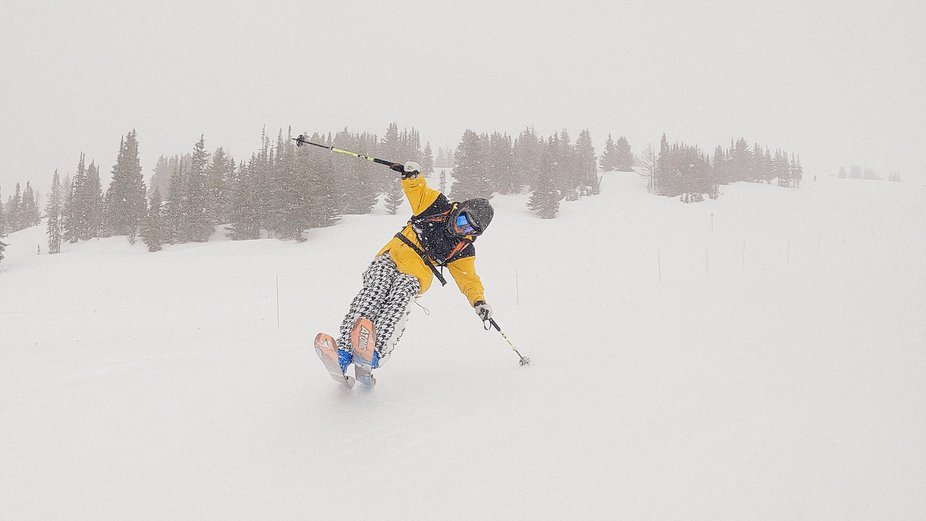 With that much rocker they are definitely buttery too. P: Hanne Lundin
_
Sizing
Has this review sounded a little gushy 'till now? I get it, reading about good skis that work well for the reviewer can get a little boring. That said, I don't love the sizing breakdown on the Bent 110. I'll qualify that by saying: Atomic probably has great market research suggesting that the 172/180/188cm breakdown makes sense for their primary market, but it does make choosing a ski challenging.
The Bent 100 has a similar breakdown, but with the addition of a 164 cm length (a Bent 110 for shorter folks would sell very well, and I'd guess a 16x version will make it to market soon). But, the Bent 120 breaks at 184 cm and 192 cm.
If you're coming from a Bent 100, sizing a Bent 110 is straightforward. But for newschool skiers, the Bent 100 didn't seem to really catch on. It's a good ski that's somewhat uninspiring for the non-dad crowd. Whereas, the Bent 120 had the distinction of being one of the first light, jibby, mainstream branded pow skis. So a lot of folks who might be in the market for the 110 are skiing a 184 or 192 120 right now. And the 180 to 188 cm size break leaves them goldilocksed.
I fall into that category. At 6' 1" I love the 184 cm Bent 120 as a pure touring ski. And I'm sure I'd love the 192 version for mechanized skiing. But the 188 cm 110 is just a little long to be a truly comfortable everyday touring ski for me. It's a little too long and stiff, and requires just a little too much more input to turn than I want from my everyday walking uphill ski. When I'm gassed from the climb and just trying to survival ski bad snow back to the car, I don't want to have to think about the ski. And the 188 cm Bent 110 requires a touch more input than I want to give in those scenarios
But the 180 is undeniably too short for me. So, I really enjoyed the 188 cm Bent 110, but the whole time I struggled to decide what size I'd recommend to anyone used to skiing 184 cm skis like I am, who's a little smaller or lighter than me.
If Atomic wanted to take a bunch of folks' money, they'd just release a 185 cm version next season, and I bet a solid half the skiers who bought a 188 or 180 length would want to change to that middle ground. In the US there are a lot of skiers who don't want to go shorter than a 183 or longer than a 186, and for those folks, the Bent 110 presents a conundrum.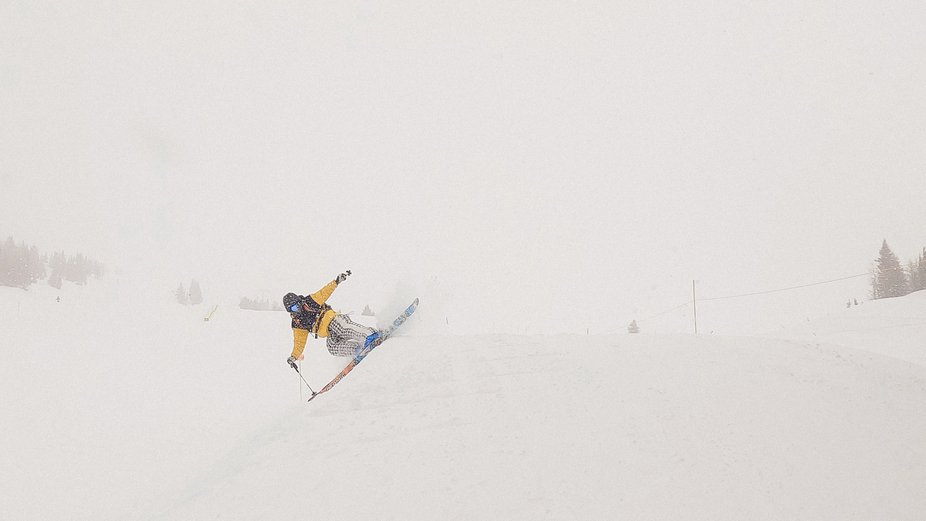 In a 180, I found them really easy to break loose in the turn. P: Hanne Lundin
_
[Twig: As a significantly smaller/lighter person than Cy, I fall into this exact conundrum. I like the 180, but on deeper days, I would like a little more length and 183-184 would be better overall. If I were much taller/heavier, I'd probably size up to 188, but there would be days when I wished I hadn't.]
_
Compared to the Bent 100 and 120
I've spent a bunch of time on the 110's narrower and wider siblings. Initially, I hoped it would just be a narrower 120. But instead, I think it more exactly splits the difference. The 100 manages to have a somewhat traditional and directional feel, even when mounted very close to center, and the 110 retains that. It feels stiffer, and more locked in than the 120 in every situation. But, it provides a much more stable landing platform and more float than the 100. The Blog was just a narrower Bent 120, if anything it was softer and more jibby. But the Bent 110 is a more modern ski for a more modern age, and as such, isn't quite as much of a poppy jib noodle.
[Twig: To me, there are essentially two branches to the 'Bent Family' with the 90/100 being very similar, and the 110/120 sharing much of the same DNA. Yes, the 110 is stiffer than its bigger sibling but to me it's much closer to the 120 than the narrower skis. Perhaps that's because I mounted a little forward of Cy and skied the shorter ski so they felt more playful.
The 100 & 90 are almost identical skis except for width and feel much more locked in (I have a 90 with the identical mounting point to my 110). The noses of those have some flex but the cambered sections of the skis are solid and they really like to rail on edge.
_
What Bindings Should I Mount?
At 1860 g per ski in the 188 cm length, the Bent 110 falls directly between the weight range of skis I like to purely tour on, and the sort I don't want to walk uphill with. That's a pretty cool line to straddle in my opinion, and it opens the Bent 110 up to a lot of possibilities binding wise.
I wouldn't hesitate to mount the Bent 110 with alpine bindings and just ski inbounds with it. It's not going to be as stable as something like a Dynastar M-Free 108, but it holds its own surprisingly well at higher speeds in rough snow. And inbounds I love the 188 cm length and wouldn't want to go shorter.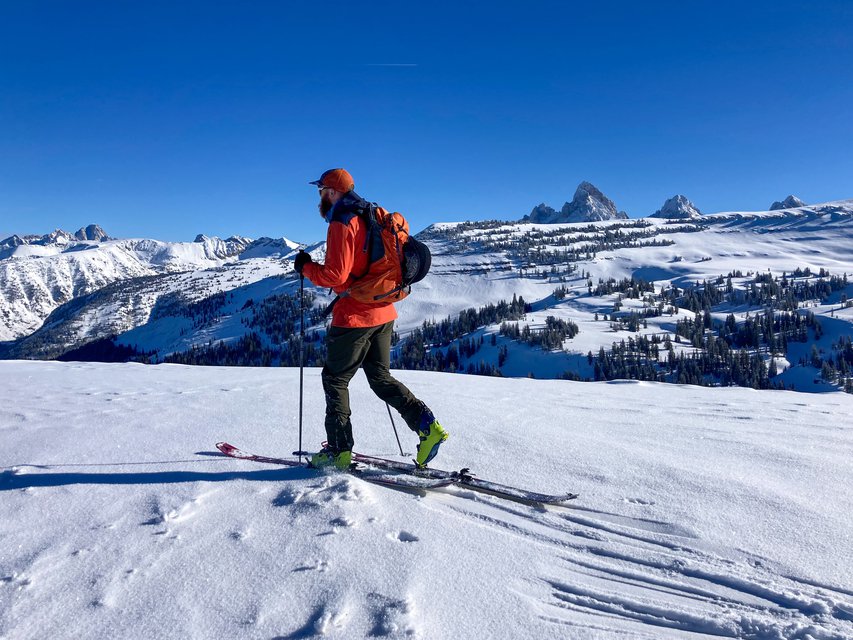 I also wouldn't hesitate to just tour on the Bent 110, like I have for much of this winter. Throw an Atomic Backland pin binding (or an ATK) on there, and you've got a setup that's light enough to never hold you back, but still will handle challenging snow and higher speeds better than most touring-specific skis.
So, of course, that means that the Bent 110 is a great candidate for Shift or Cast. This is a great ski for anyone who's looking for a playful ride that strikes a very nice balance of compromises for both inbounds, and touring use. I'm not sure I've ever skied another model that felt so well situated between those categories, and that's exciting.
_
Comparisons
Over the last few months I've been coming up with various analogies and comparisons, only to toss them away as inadequate. I think this is a pretty unique ski on the market right now. So here's how it falls in the spectrum of similar skis I've been on.
Moment "Tour" layup skis: The Bent 110 is heavier and longer than the Moment Wildcat 108 or Deathwish Tour, and it shows. It's more stable at speed, absorbs chatter better, and can be skied harder. That said, it's not as nimble in tight spaces, and not quite as easy and effortless to ski. If you're looking for a pure touring ski, go Moment. If you're looking for a mix, the Bent 110 is a great choice
Atomic Blog: The Bent 110 is more "serious" than the old Blog. It isn't quite as ready to press and jib the smallest lips. It wants to go faster, go bigger, and maybe ski a little less goofily. If you used to wear 3XL Saga, and now you wear medium Patagonia, you've probably evolved in the same way this ski has.
Atomic Backland 109: The Bent 110 is more fun than the Backland 109. I felt that the Backland 109 lacked torsional rigidity, and while it hand flexed similarly to the Blog, its slower rebound felt both more "damp" and also more "dead." The Bent 110 has more pop, is stiffer, and feels more precise than the Backland 109.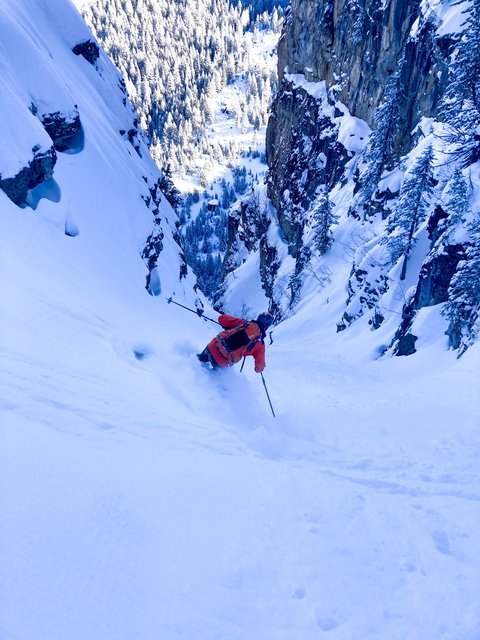 Moment "Regular" layup skis: The 184 cm length regular layup Deathwish has a higher speed limit and handles inconsistent snow better than the 188 cm Bent 110, but it's closer than I expected. It's very impressive how much stability Atomic has managed to eke out of this 1860g ski. Put me on top of a freeride comp venue with only these two choices, and I'd rather be on the Deathwish, but I wouldn't cry too much if you put me on the Bent.
K2 Reckoner 112: The 184 cm Reckoner 112 feels even heavier than the Bent 110 than the scale would suggest. It's a little more work to muscle around in tight areas, and that work is rewarded by more high-speed stability. Inbounds, the 112 has a higher speed limit and is more forgiving of misplaced landings in chopped up snow. But if I was planning on hiking at all, I'd choose the 110 everyday.
Salomon QST 106 I haven't been on next year's QST 106, but compared to the old version, I'd say the Bent 110 has everything that made that ski a best seller plus a little additional fun and sex appeal. Anyone who likes the QST 106 will get along fine with the Bent 110, but with the added bonus of cooler graphics and a twinned tail. It's similarly easy and accessible to the QST 106, and is a great alternative.
Line Sir Francis Bacon: The SFB is a far softer ski than the Bent 110, but somewhat similar in purpose. It's a more buttery and surfy feeling ski by a margin, and it is much more rewarding on groomers when they are soft but it doesn't have anything like the versatility in mixed conditions or stability on landings.
My guess is that the best comparison to the Bent 110 would be a 186 cm custom ON3P Jeffrey in a 50/50 layup, but I haven't been on a pair, so that's just speculation.
_
What's not to like?
I think that many, many skiers will really enjoy the Bent 110. Everyone from diehard park rats looking for an all-mountain ski, to dads looking for something cooler to replace their Soul 7's will get along just fine with this ski. So my list of beefs is small. But in the sake of reviewing, here we go:
Length: I touched on this already, but the hordes of American skiers who always buy a mid 180's ski are going to have to choose between a touch long and a touch short, and the truly tall folks who enjoyed the 192 Bent 120 are left out to dry. It will be interesting to see if there are more sizing options available in the future.
Groomers/consistent firm snow: The Bent 110 just feels a little too serious, a little "buttoned up" on groomers. It carves well, it turns consistently, it just doesn't have that grin-inducing snappy quality that some other similar skis manage to carry. That said, that's probably a necessary tradeoff for how competent and fun it is everywhere else.
_
Durability
I thought I'd core shotted these skis the first run. I hit so many rocks, and they made so many terrible noises, but I came out with some light scratching. Since then, I've amassed one deep gouge, and some more light scratching. The edges and sidewalls are still in good shape, even though I've definitely stomped hard onto rocks. I'm not typically hard on skis, but these seem to be holding up well.
_
Conclusion
Atomic's Bent 110 is an exciting and unique ski. It's great to see a mainstream brand come out with something that caters so well to skiers who like to jump, jib, and spin, but also like to walk uphill on occasion. The Bent 110 manages to deliver a performance that's greater than the sum of its specs, and lives up to the legacy of the Blog.
[Twig: Additional conclusion here but, I was impressed by the Bent 110 overall. I agree with Cy that they fall short a bit on hardpack but they still aren't 'bad'. And for everything else… well, to me they are versatility personified (ski-ified?) given the low weight. They might not be the most energetic ski but they are truly predictable and dependable. Those might sound like boring qualities but when you ski them, you'll understand. From park laps to the deepest days of my season they worked. They are simply good, versatile skis.]