Ski: Völkl Revolt 104
Length Skied: 180
Actual Length (Tip-tail w/ straight tape): 178.5 cm
Measured Weight (left/right): 2052g / 2097g
Profile (Tip/Center/Tail): 132-104-122
Mount: Team Recommended
Binding: Marker Duke PT 16
Days skied: 12 (Twig: 5)
Skier Height: 183 cm (6 feet)
Skier Weight: 72 kg (158 lbs)
Review Location: Verbier
Conditions: Freshly Groomed, Powder, Sidecountry, Park, Spring Slush
[Editor's note: Our review was conducted on the 2021 Völkl Revolt 104, which is unchanged for 2022 & 2023 except for graphics]
_
The second ski in Völkl's 'Built Together' program, with skis developed directly by cooperation between the skills of the engineers, and feedback from the pros, the Revolt 104 was a blast to ski. Twig started out this review but due to his ACL injury, I took over from there but his notes will be added throughout. Out of the 12 days on these skis, I can safely say that every single day I skied the Revolt 104; I had fun. This being a cursed review my phone got destroyed and so I have no media on these skis either, so what we have is from Twig's early season tours.
Unchanged for 2022, the 104 is Völkl's offering to the mid-fat all-mountain freestyle category of skis, akin to the new Candide 2.0, ARV 106, and Reckoner 102. The 104 was unlike anything I'd ever skied before, I'm normally more of a fan of stiffer, chargier skis, but the playfulness of the 104 was a pleasant surprise for sure. Völkl has had a reputation in the past for making stiff, uninspiring competition skis, but after skiing these, I can safely say that that couldn't be further from the truth.
_
Shape / Flex / Construction
The Revolt 104 measures in at 104mm underfoot, with 132mm tips, and 122mm tails, and a fairly tapered overall shape. The Revolt 104 has a pretty deep rocker profile in both the tip and tail, with the contact point at the front being at about 35cm in front of the boot center, and 45cm at the back. That leaves somewhere around 100cm of ski left to butter and smear around with. The profile seems to be inspired by its bigger brother; the Revolt 121 but slimmed down a considerable amount. (Although I can't speak on how similar they are to ski)
As for the flex, these skis definitely like to butter, with flex and rocker like this, they're basically asking to be thrown into a nose or tailbutter at every opportunity, which is exactly how I found they were the most fun to ski. I'd describe the flex as a 6 at the nose, 7-8 underfoot, and a 6 at the tails. Personally, I felt it was a little bit too soft, but In general, I prefer stiffer skis.
[Twig: I would possibly even go 5-5.5 in the tails, these things are really quite soft back there, especially when combining the flex with the long rocker profile.]
Although the 104 is soft and buttery, they're not the poppiest ski in the world, they don't get the same pop out of a nose butter as you would expect them to, doing nosebutter 3s I felt like I was pushing through the ski when I gave them a lot of force, and I had a little bit of trouble doing nose butter 5s at first. On the other hand, a ski like the Candide 2.0 that has a lot of spring in the nose, sent me flying the first time I tried to butter, and I overrotated a 3 into a 5. This damper flex does have some benefits that I'll get into later.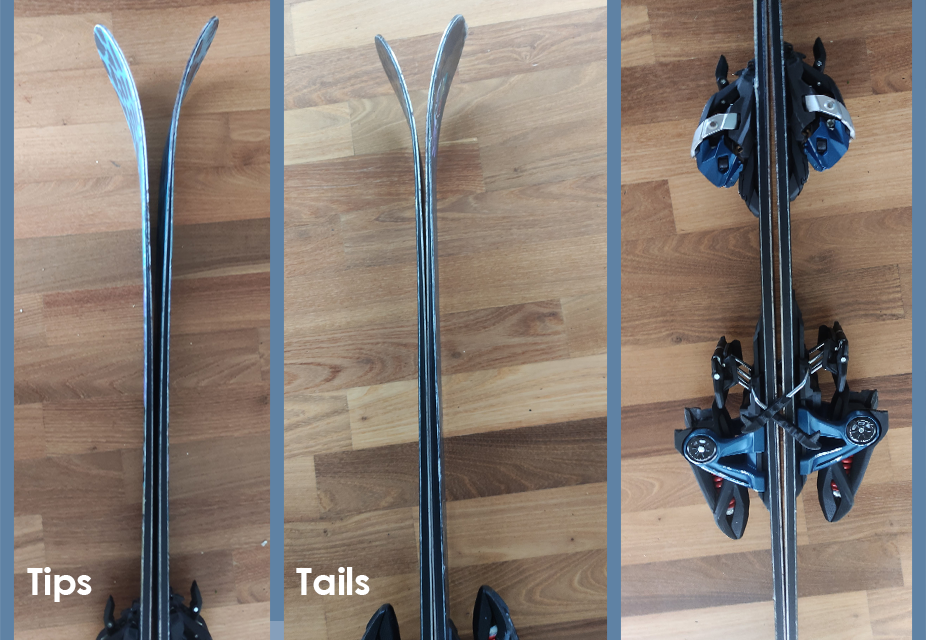 _
On Groomers / Piste
On groomed snow, these skis were a blast in the right conditions. Because these skis have a lot of rocker, I didn't have too much effective edge, and the tapered shape doesn't give you much tip and tail to work with, on the snow so I didn't feel super confident carving at first, and as I slowly pushed them more and more I found out you can take these skis quite a bit further than a ski with this amount of rocker and flex should.
A ski this soft has no business carving as well as it did, it definitely exceeded my expectations here. The real fun to be had doesn't come from solely carving on these, like I said earlier, the 104 is just begging to be buttered, smeared, and slashed all over the mountain. The deep rocker lets the 104s pivot on a dime, and the 20.2 meter side cut, combined with its stiffer flex underfoot, gives it a nice, quick turn when you put some power into the ski. Initiating the turns felt very quick, but it wasn't as firm and confidence-inspiring as it would have been on any stiffer ski, by this I mean I didn't feel as I could be as aggressive and chargey.
[Twig: I'm lighter and shorter than Luke and I was very pleasantly surprised by these skis on groomers. I thought they held an edge impressively and made skiing extremely easy. They aren't skiing for charging super hard on groomers but they are very fun for the daily cruise.]
Here I agree with Twig, these skis are absolutely a blast to cruise on, because of the soft and damp feeling I mentioned earlier, they're very easy to ski, and don't take as much effort to turn or ski In general as I did on the Candide 2.0 I mentioned earlier.
Once I got more confident I did notice a sort of "speed limit" on these, where they would become pretty squirrely, chatter a touch, and didn't give me a lot of confidence when holding an edge, especially on harder snow. This was to be expected from a ski of this flex and rocker, but the speed limit was a lot higher than I would have guessed it to be, and I didn't hit it all very often.
These skis are definitely not trying to be super-oriented for on-piste carving. performance, but they really do a great job holding up to it for a ski of this type, but once you mix in freestyle elements skiing on the slope can be just as fun as the park.
_
Other Conditions
In crud, and chopped-up conditions these skis don't perform exceptionally, as you would expect any soft ski to, but as long as there's snow up to your ankles, they perform great.
In cruddy conditions, they don't get thrown around as much as I thought they would, but they do get pretty squirrelly when the conditions go south. You can charge some pretty sketchy stuff on these as long as you keep them under control, but once I lost them, I found them especially difficult to get them back under control.
For how soft these skis are, they definitely perform far better than I expected (If you haven't noticed, this seems to be a common theme here). They definitely got squirrelly and out of control, but I might have been pushing my own limits as a skier there. No matter how bad the conditions, as long as it wasn't solid Ice I felt confident I could comfortably make it to the bottom of anything I skied.
I didn't get many powder days on these, but they definitely held up to the task, they wouldn't be my first choice for anything deeper than boot to knee-deep, but if you ask them to they will perform, just don't slow down. The tapered shape doesn't give them the greatest float in the world, and the forward mounting point did make it pretty hard to ski
I skied the Revolt 104 at 180 cm, for reference I'm 183 cm tall (a touch under 6' in freedom units), and 72 kg (158 lbs) and I definitely felt like I would prefer the 188 cm version of these skis. The 104s are one of the softer skis I've ever skied, and I'm definitely someone who prefers stiffer skis, I think the added length would definitely help the ski feel more stable to me.
These skis did get me up here before I blew my knee - Twig
_
In the Park
I only skied a few days in the park on these skis, but when I did they felt pretty damn nice. I noticed I really had to be bolts on the landings when skiing these, the tails were far softer than any ski I've ever ridden, but me being used to stiffer skis could have been a factor for sure. The soft tails felt different to what I was used to, I'm not the greatest at jump tricks, but just throwing some big floaty 360s and a few 540s did feel good. I felt like I had to be leaning a touch more forwards then I normally would on jumps, but nothing I couldn't get used to quickly.
I didn't hit too many rails on these, but on a foggy day, I had a really nice hike session on a down tube with my friends. I was able to get as comfortable on these as any other ski, but they did feel nice. After some getting used to I was able to do all of my normal tricks I could on rails. The taper on the skis did lower the swing weight noticeably, as they felt a bit easier to do 270s on than they do on my normal skis (183 prodigy 2.0), and the swaps felt nice and snappy.
Buttering around on these was super fun as I mentioned earlier, although they are on the softer side of what I like to ski, but the softness was more fun in the park where it was anywhere else on the mountain.
I talked about the dampness earlier, but It really is a double-edged sword. It allows the ski to be much nicer skiing all-mountain, as you don't get thrown around, and are really easy to cruise on, but in my opinion, it was one of the shortcomings of the ski in the park. But if you prefer softer park skis, then these will be right up your alley.
I did like the taper on the tips, I didn't get caught up on my tips much at all when buttering, compared to a ski with the widest point further to the tip, and I felt pretty confident doing butters at speed, and just throwing them anywhere I wanted. I found the tails to be a bit too soft for my liking; as like the noses, it felt like I was pushing through the tails when doing switch tailbutters, rather than popping off of them. Personally, I am not a fan of this type of flex on a ski, but If you prefer a softer ski in the park, these might be right up your alley for a more freeride-oriented ski.
[Twig: I like a softer ski but for me, these are a little bit too soft in the tails on jumps. The swingweight is low and they feel great to me for buttering, I like how smoothly they flex. But they feel more at home jumping into soft snow than stunting on hardpack. For rails, I enjoyed them a lot and they are one of the best skis for surface swaps and presses I've tried.]
As Twig said, they definitely feel more at home on sidecountry kickers jumping into soft snow, which Is where I spent a significant amount of time on these. I'd really like to reiterate here that these definitely feel like an all-mountain ski rather than a fat park ski.
_
Durability
I had no issues with the durability of Revolt 104, save for a few topsheet scratches. I had one or two proper rail sessions, and no edge cracks as a result. Take this with a grain of salt though. I've never been particularly heavy on my skis in general, so I would need more time to say if these are truly durable or not. There were a few scuffs in the base, but nothing deeper than 1-2mm, they look worse than they are in the photos, just from some leftover wax.
_
Conclusion
The Revolt 104 is definitely a fun ski. No doubt.
Combined with the Duke PT bindings, and a set of skins in my bag, I could go out for a day having no clue what I wanted to do and go home happy. I was able to do everything I felt like doing. If there was no good snow inbounds; I could skin up. If the weather got bad; I could go to the park, and still have a great time
When skiing the 104, I was really able to have a lot of fun doing everything I wanted. They might not be the absolute peak of carving performance or give you perfect float in pow, but they do everything above average, making them one of the most versatile skis I've ever ridden,
The 104 is the ideal ski that I would give to the average park rat who wants to take their tricks outside the park.
_
I hope you liked this review, this is my first time doing anything like this, but it was super fun. Special thank you to Twig for giving me this opportunity, heal up soon! Feel free to ask any questions :)