Ski: Line Blade
Length skied: 176cm
Measured weight (each ski): 2030 & 2045
Shape: 154-95-124
Sidecut: TIIGHT ~13.5m
Mount: recommended 4.5cm back
Binding: Tyrolia Attack 16 (2018 model)
Days skied: 15
Reviewer height/weight: 5'10, 170lbs
Review Location(s): Quebec hills (Bromont & Saint-Sauveur) Canadian Rockies ( Sunshine & Lake Louise)
Conditions skied: Ice, summer slush, fresh groomed, indoor, shallow pow
[Editor's note: Our review was conducted on the 2022 Line Blade ski, which is unchanged for 2023 except for graphics]
_________________
The Line Blade caught my attention back when I was hearing rumors that Line was making a turny freestyle ski with metal. The ski turned out more directional than I first imagined, but I'm now 31 years old and no longer ski park like I did 10 years ago (I still do quite a bit, but I'm not pushing it so hard). My style has changed to a more aggressively fast, slashy skier who still hits jumps and just about every side hit possible. What interested me most was potentially finding something more maneuverable and edge-heavy than a park ski but that still provided the fun factor. It's certainly marketed at freestyle skiers who want a ski that carves hard but can still take flight and rip switch, and nowadays, that's me. I've always wanted to carve a full uphill 360 and thought these might allow for that. The Blade turned out to be the perfect ski and I was able to do my first "Heule 360" on them.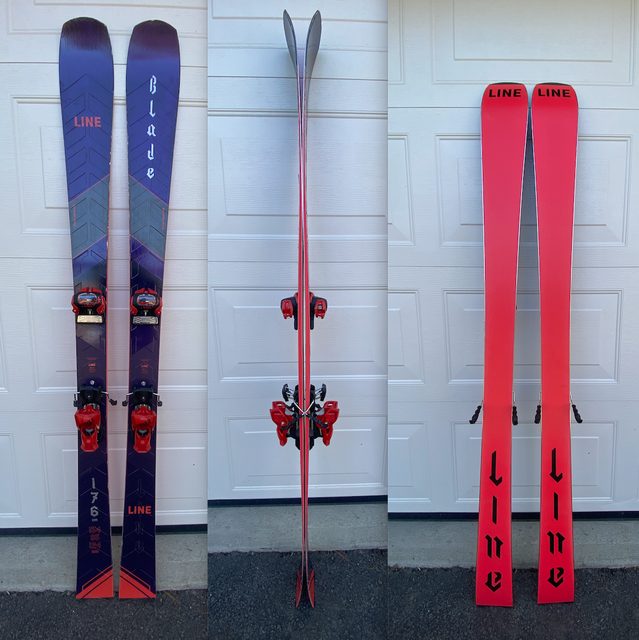 Shape/Flex/Construction: The profile of this ski really is like nothing else out there. It has an excessively fat shovel tip at a staggering 154 which winds down to 95 and spreads back out to a mini fishtail at 124. Reading the dimensions doesn't quite make sense but somehow it really works. The tails also have ample lift to land switch on side hits and rollers as well as carve backward with zero concern about catching, on hard snow at least.
The ski I could compare this to would be the Sakana oddly enough. Both have similar profiles but the Blade is much more pronounced and carves much harder than the Sakana. Where the Sakana can still carve it's definitely more of a floaty ski in my mind.
As for the design itself, you can see through the topsheet where they installed the metal and right away you notice it's not a full strip tip to tail. The spacing is noticeable between the metal sheets which gives it more flex than the name implies. The core is still made of wood so it still has some give to it. I anticipated that it would be much stiffer but it's actually quite forgiving - wouldn't go as far as saying soft, but sort of. It does chatter a bit at really high speeds so it's really not a race ski by any means, but definitely more of a freestyle carving ski.
The edge thickness is beefy for a carving ski, on par with all other skis in the freestyle realm - 2.5 X 2.2. You could definitely hit rails on them and they'd hold up but my idea for this ski was a sharp carving freestyle all-mountain weapon so I did not slide any rails sideways.
_
On Snow Performance:
The blades do great in open terrain but with such a small sidecut it makes for an awesome east coast mountain ski as well because you can turn on a dime. If you like to rip trees on less than favorable conditions these skis will definitely be a blast.
Groomed trails:
This is one of the many conditions this ski thrives in. They are made to carve and made to turn hard (or soft). Although the radius is tight you can still make nice, wide turns. I had a blast ripping open alpine groomers in the Rockies with these and believe me I was hauling ass with lots of control [Editor's note: Pete rips so don't take this lightly - @Twig].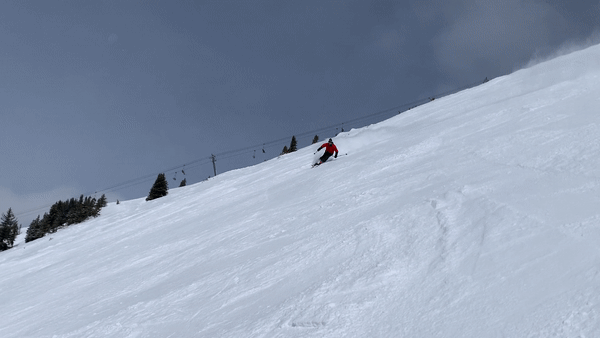 Steeps:
This ski does have a metal laminate but it's not quite your traditional full metal jacket (topsheet). It still has some decent flex to it so it's not the most chargy ski in the steeps. It handles its own and holds an edge very well when the snow is hard, but reaching top speeds can give you a little chatter. Compare to a traditional park ski these things can be considered stiff and decently chargy but most freeride skis will outperform these in steep terrain.
Powder/Float:
Due to the abnormally large tips of 154 there is some extra float involved. It's not a powder oriented shape so you shouldn't expect it to be a great pow ski but it can handle crud and some fresh snow with ease. The ski does have some strong camber which makes it less floaty than its counterpart pow skis or say the Sakana.
Mixed conditions (Crud/Slush/Ice):
I'm pretty sure they called this ski the Blade because it can literally cut through anything. I tested these on some classic QC ice and had no problem holding an edge as well as some chundery pitches out west.
Park/Playfulness:
This ski is soft enough to generate pop and firm enough to really turn hard into any maneuver. Whether you would call it 'playful' depends on your type of skiing but for me, as someone who likes to slash and bump over features, these skis are very playful. If you're more of a butter skier who likes slower speeds and holding presses this may not be the most playful for you because they aren't super soft. The extent of my park riding on these was riding up landing walls and doing huge carve slashes. Also a growing favorite trick in my bag - air to carve - so damn fun and easy with these. If you want to see what is possible on these bad boys check this video out → BLADE GANG
The downside is the fat tip, narrower tail and slightly back mount are pretty noticeable when spinning, particularly if you want to go past 360. Sure, it can be done but if it's a focus, a park ski is just better.
_
Durability:
I only got about 15 days on these so I can't speak to the long-term durability but I can say they are seemingly "untouched" in terms of performance. Because I'm not slamming into any rails the edges are still sharp and the flex seems to be the same as when I received them. The topsheet however does take some damage on the very front of the ski as the shape is quite flat and wide. Nothing major but still a couple of little chips. It is also normal to expect some chips on the side for when the blades come in contact.
_
Conclusion
To me, the Blade felt like everything I imagined it would be and I strongly recommend it. It doesn't rip as hard as a full-on groomer/race ski, but you get a big percentage of that performance and a whole lot more playfulness to go along with it.
If you find yourself riding all-mountain more and more and want to try something new, this ski could very well fit the ticket. If you like to go fast and carve into slashes this ski will be very fun for you. But as stated earlier, if you're a buttery type skier this may not be your cup tea and the Sakana might be more up your street. The Armada stranger might also be of interest as it also has a very short turning radius (not as tight as these though). You can still hit jumps, tweak side hits, and ski switch with ease on these, which makes them a really nice progression for an older park skier who still wants to make the mountain interesting. Having skied dull edges and center mounts for the last decade, the blade was a refreshing take on skiing for me. I feel like everyone would find a place for these in their quiver, for anything from groomer days to just spending time gapping around the hill. They probably won't be your daily park driver but they have enough freestyle DNA for most older park skiers who are branching out. I loved them and will be keeping them in my quiver for many seasons to come.
_
Next up on The Roofbox - Icelantic Nomad 95 by @Twig