Ski(s): Armada Whitewalker, Armada ARV 116 UL
Lengths skied: 185
Actual lengths (Tip-tail w/ straight tape): 183.4
Shape: WW: 139/116/139, JJ UL: 139/116/135
Measured weight (average): WW: 1890g, JJ UL: 1784g
Mount: -2.5cm WW, -3cm JJUL
Binding: WW: Armada Shift, JJ: Armada Shift (me)/Look Pivot
Days skied: Me: WW: 4, JJ UL: 1 (+ski test days), Linus 10 + days
Reviewer height/weight: Me: 5'9, 135lbs, Linus:
Review location(s): Saas-Fee, Davos
Conditions skied: Pow, groomers, Sidehits, jumps
[Editor's note: Our review was conducted on the 2022 Whitewalker and JJ UL, which are unchanged for 2023 except for graphics]
View ski data, including measured flex and shape details, courtesy of Sooth Ski
_
This is a somewhat strange Roofbox review, because I blew my knee just a few days into skiing the Armada Whitewalker and with just a few runs on the JJ UL, though I had skied the UL a couple of times before. I passed the skis on to a friend of mine, who is a much better/younger skier than me, to give me some more feedback on soft snow performance and this is what we cobbled together. I decided to combine the two into one article because the comparisons between what are almost identically shaped skis on paper, should make for some interesting reading. Again, due to my knee injury and some bad planning, this review is a bit cobbled together and lacking in media, especially comparison shots of the skis, my apologies for that.
_
Shape/Flex/Construction:
Both skis feature pretty similar constructions and rocker profiles. Both feature Caruba cores, 1.7mm edges, and Armada's smear tech tips/tails (no edges and some horizontal rocker). They even have the same footprint on paper. But these really are very different skis. The Whitewalker is much stiffer than the JJ UL and features pinned noses and tails.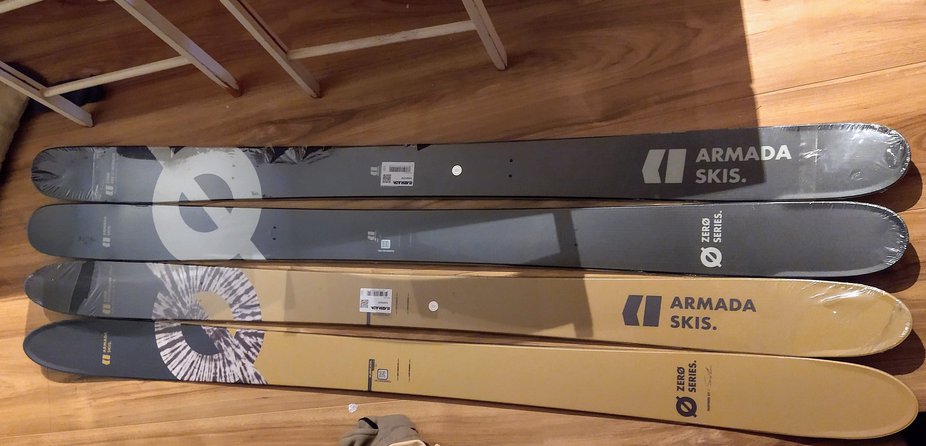 Armada has some fairly strange flex ratings listed on their website, and I'm going to attempt to rate the flex of both skis from tip to tail ignoring those numbers completely.
Whitewalker: 7-8-10-9-7
JJ UL: 5-6-8-6.5-5
To me, the WW felt essentially rigid under the boot and was pretty solid up until the rockered section. Both the tip and tail did have some give though, and I quite enjoyed buttering around on them. The JJ UL is much softer all through the ski. It has a more traditional 'deep snow only' flex with fairly flexible rockered sections and a moderately stiff underfoot to provide some landing platform.
_
Groomers:
Both of these skis will hold an edge on packed-snow groomers but the Whitewalker is a far superior ski for laying into turns on. As far as fat skis go, they are still a lot of fun to take out on a groomer day. They'll hold an edge until you push them pretty hard, have very minimal tip flap for a rockered ski, and generally feel solid whatever you throw at them. They have a medium radius that will handle most turn shapes and just enough flex that they don't feel like 2x4s. They are still 116 underfoot, so they certainly have their limits but I was impressed the moment I got on them.
The JJ UL, by contrast, is below average on hardpack, even for a fat ski. They will get you back to the lift just fine, but they have a lot of flap, are easily deflected, and aren't a ski I feel particularly confident throwing on edge in anything but the best of conditions. To be fair, most pow skis fit that description and that is even more true of lightweight skis. Something which makes the only marginally heavier Whitewalker even more remarkable.
_
Jibbing:
Both of these skis are primarily freestyle tools. The difference here is in the flex. The JJ UL is very buttery and playful, it doesn't take much to get the ski wheelieing and they feel most at home bouncing around in soft snow. They'd be a really fun buttery surf machine in the park, but I wouldn't recommend it on 1.7mm edges and a lightweight core personally.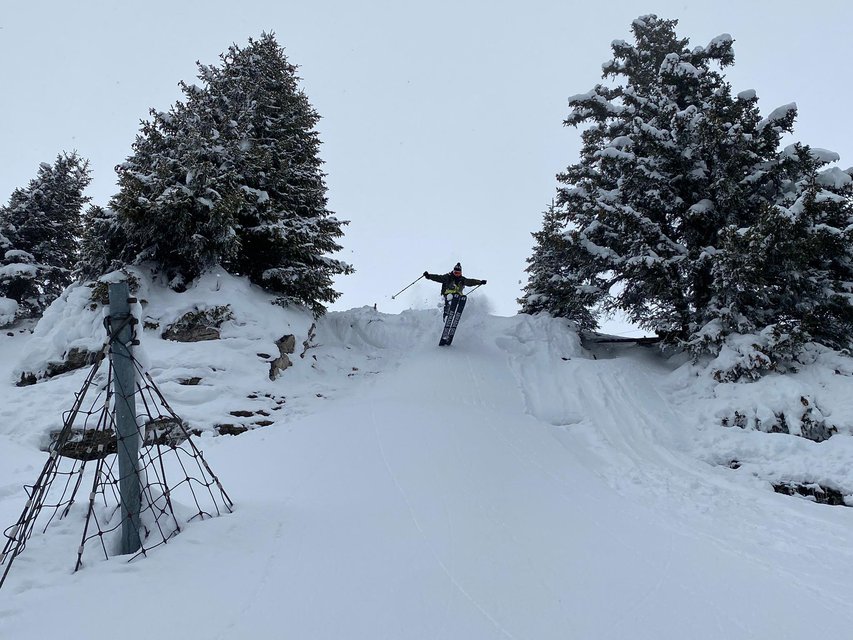 The Whitewalker, by contrast, is fairly stiff. They take some concerted effort to flex on hard snow, though even as a lightweight individual, I could still butter around on them, even at moderate speeds thanks to the generous rocker. In soft snow, I'm pretty sure I wasn't flexing the skis at all when buttering, but the pinned shape and horizontal rocker make it a breeze to pivot and smear in soft snow. Despite the stiffer flex, I'd put them on a par with the JJ UL for that kind of stunting, thanks to that pinned profile.
Both skis have a lot of tail rocker and land switch comfortably in deep snow. The Whitewalker was probably the best ski I've ever tried for skiing switch in pow, which I imagine was thanks to that pinned shape combined with a fairly central mount. I didn't try skiing switch on the deepest of deep days, I might not be a good enough skier for that full stop, but the way the tail shape cut through the snow skiing 30-40cm of fresh was impressive. I found myself taking 4 laps of the same short pow pitch, dropping in switch each time, and loving the feeling of cruising those switch pow turns.
_
Mixed snow/Pow/Freeride:
Performance away from the resort is another tale of contrasts. The JJ UL is a floatier ski, more of a true pow ski. The soft flex and wider shovels give the ski more total lift. So when you're looking to bounce in and out of the soft stuff, they are the superior tool. If I was to pick one of these skis to ski the deepest days of my life (or my imagined trip to Japan), it'd be these.
However, the second the snow gets heavy, cut up, or tracked out, the roles reverse. The Whitewalker, with its stiff, fairly damp (for a light ski) flex, is light years better than the JJ UL at dealing with deflections. Thus, it's a much better ski for charging, dropping big features, landing jumps, etc. And it goes sideways almost as well as the UL too, thanks to the pinned shape. The only place it falls short by comparison is in terms of lift when bouncing around.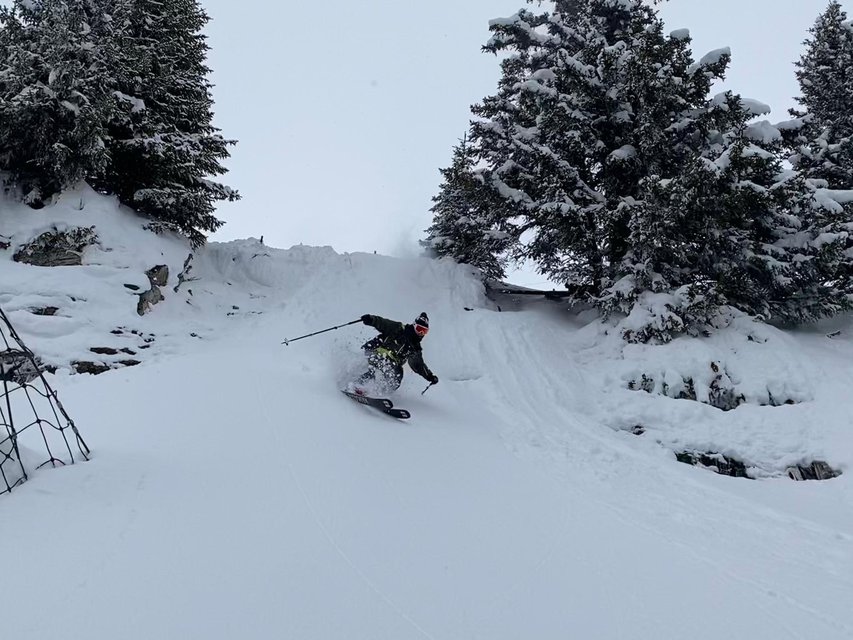 That's not to say the UL isn't a good ski, Linus loved them, he described them as feeling like a park ski, but in pow form and I think that's fair. They are a super fun, playful option, and it's not that they are particularly bad in other conditions. They are no worse than lots of the other soft pow skis out there in terms of versatility, it's just that they aren't remarkable.
But the Whitewalker is a blend of the UL shape and some charging ski elements, exactly as Sammy wanted them. Pre-knee explosion, I could have considered skiing the Whitewalker on 50%+ of days. They'll handle some crud laps, I could go ski a steep line, cruise around the resort, ski shitty pow, even hit some park jumps. To take the UL out, I'd want to be fairly sure that I was in for a blower day, and that's the difference.
_
Durability:
Neither of us had issues with either of these skis but we didn't ski them all that long and mostly skied them in good snow. It's hard to make a comment here other than 'no issue'. Both skis felt like they had a solid mounting platform when drilling, it wasn't easy to get the drill/screws in which is always a good sign in my books. Both skis have narrow edges to keep the weight down, so I wouldn't follow Keegan's example and ski these in the park if I were paying for 'em but both skis seem well built.
_
Other comparisons:
There aren't that many other true backcountry freestyle skis in the same weight category as either of these skis, but the obvious comparison is the Bentchetler 120. The Bentcheteler and the JJ skis have always shared a lot of DNA and with the Bentchetler now also a lightweight offering, it definitely sits in the same marketplace as both of these skis. It's a little wider and making it more of a pure pow offering than the JJ UL, but also a little stiffer, meaning it can deal with mixed snow a little better. However, it has nothing like the stability and versatility of the Whitewalker in my eyes, falling short by comparison in all conditions except deep blower.
_
Conclusion:
This is a hard conclusion to write because the JJ UL is a good powder/freestyle ski, with low enough weight to be usable on long-distance tours and it's a really fun ski for playing around on. On a blower day, I can't think of a better touring option, but then, I'm generally too lazy to tour on a blower day. Linus enjoyed them a lot but didn't get to ski the Whitewalker so a comparison from his side doesn't exist.
But in my opinion, the Whitewalker is just a much better ski for 95% of days and skiers. Yes, there is a minute loss of performance on the deepest of days, and yes, they are slightly heavier. If you're a beginner or a very light human, maybe you'd prefer the JJ UL. But otherwise, the Whitewalker is an improved ski across the board. It's better almost all the time and in almost all conditions. I'd probably go as far as to say that with the introduction of the Whitewalker, I don't understand why the JJ UL or for that matter, the regular ARV 116 JJ, still exists. The Whitewalker is one of the best skis I've ever skied, simple as that.