Ski: J skis Allplay
Length skied: 178
Actual Length (Tip-tail w/ straight tape): 181.1 cm
Measured weight (each ski): 2004g 2008g
Shape: 119-98-117
Sidecut: The turn radius is ~18m
Mount: -2
Binding: Tyrolia Attack 16 (2018 model)
Days skied: 25
Reviewer height/weight: 5'10, 170lbs
Review Location(s): Quebec resorts & Sunshine Village Alberta
Conditions skied: Ice, park, summer slush, fresh groomed, shallow pow,
[Editor's note: Our review was conducted on the 2022 JSkis Allplay, which is unchanged for 2023 except for graphics]
_________________
Like most J Skis the name of this ski indicates what it's intended for. Much like how the Vacation is meant to be your 1 ski-quiver vacation ski and the Slacker is meant for slack-country riding, the Allplay ski is great for playing in all types of conditions. It has a mid-fat park ski width that is really maneuverable in the park but can also handle all-mountain. I would say this is a park ski first with an all-mountain function attached to it. There haven't been any significant changes to the construction or shape of the Allplay heading into 21-22 but that isn't necessarily a bad thing - If it ain't broke, don't fix it.
These skis have been out for quite some time and the popular demand has swallowed the need for the original J Skis park ski, the Whippits. As a skier who loves lapping the park for half the day and then ripping around on side hits for the other half, I really enjoyed these skis and I can see why. I got the Phil Gray X Collab, (love to shoutout to indigenous community) and the colors really pop. I know a lot of people say don't buy skis because of the top sheet but we all know you do. I
I found it to be softer than rival model Liberty Helix 98 but quite similar to the Armada ARV 96 with slightly softer tails. Compared to some other similar park-oriented skis like the Dollo's, B-dogs, or Blend's these are stiffer underfoot and in the nose - perfect for going a little faster in variable conditions.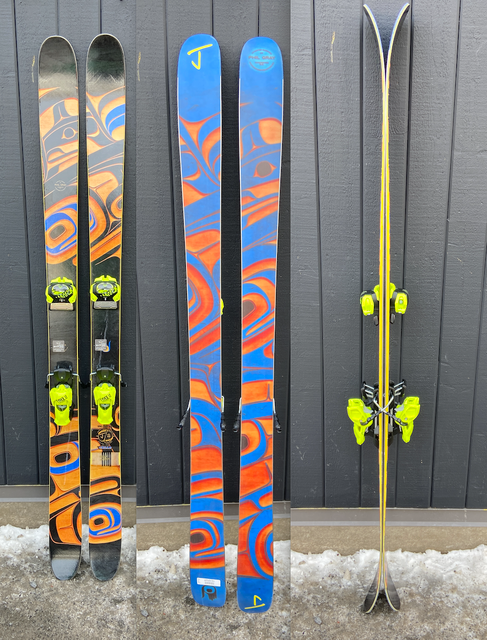 _
Shape/Flex/Construction:
The Allplays have a turn radius of ~18m which held up quite well at high speed. With a wood core and no metal there is a point at which the ski will become chattery at speed. But I love going fast and slashing my way over bumps and hits which can be effortlessly achieved with these skis. The Allplay does have a band of carbon fiber from tip to tail which helps absorb some of the noise but it's no titanium. It's got a very freestyle oriented flex pattern that allows you to comfortably use the tail to catch landings before they come and use the flex to pop even higher.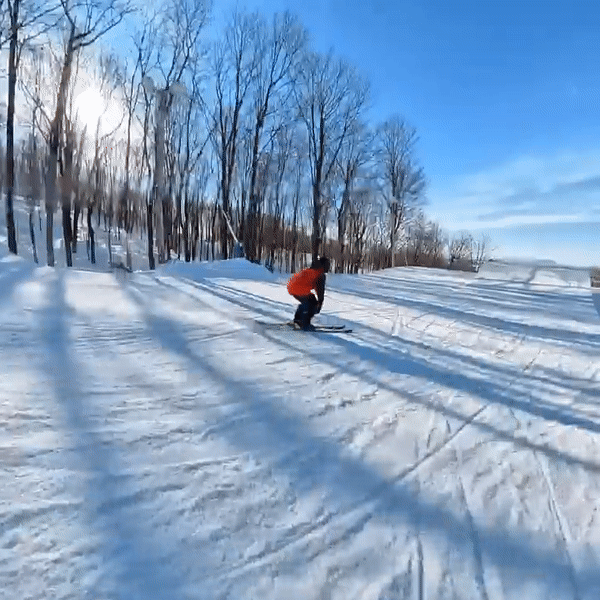 As for as edge build, the Allplay matches industry rivals with a burly 2.2mm X 2.5mm edge - same as Lines and many others but not quite as thick as ON3P who used 2.5X2.5. Is there a difference? I don't know.... I love disasters and hitting rails at near perpendicular angles yet still have not cracked the edges. Jay knows that these skis will be smashing metal all day long and his builds take that into consideration. If ever you've mounted a pair of J Skis yourself you'd know the screws do not go in as easily as other ski manufacturers, these skis just feel solid.
_
Groomed trails / Mixed conditions
The Allplay's have enough camber to hold an edge and enough stiffness to charge through a bit of chop. I love a good dad carve on early morning groomers and these absolutely allow for that. They have enough effective edge to really rip but as a result they are definitely not as swervy as some other heavily rockered park skis. I used these skis in Quebec quite a bit and like any east coast skier knows- some days it's icyer than other icy days and I still held an edge. There is enough camber that you can turn with confidence but enough rocker to make them very maneuverable (even for a smaller guy like me). Spring days are the best days. When it's harvest season these skis really shine. The 119 nose to 98 underfoot makes it much easier to slash around in slush with enough base to really push through the heavy, wet snow.
_
Steeps:
I also took the Allplays over to Alberta where we rode some larger more rugged terrain and still had a blast. They underperformed a bit for my liking in steep moguled terrain but that is to be expected with a progressive park mount. This also wasn't really an issue for me because I don't like skiing steep moguls - does anyone?
_
Powder/Float:
With a waist of 98 they are not quite a go-to on a powder day but if it snows under 10-15cm you'll still have a blast. They're enough for most east coast days. The shape of the skis helps keep you afloat, with enough waist to not feel like you gotta lean back for your whole run. Although this is definitly more of a park ski these are decent all-mountain weapons, so if you pull up to the mountain and it starts snowing you're still in for a fun day.
_
Park/Playfulness:
PARK SKIING! My style of park skiing has evolved over the years to where I don't switch up as much but really like to go fast on everything. I'm a shorter fella and with 178's and 98 waist I felt really in control. The width is fairly wide for a park ski but very stable on rails and effortless for going over kinks. The softer tails were a bit less forgiving when landing backseat on jumps but still enough to get by. Really big jumps could be a bit more iffy if you don't land perfectly but they are more stiff than many other park skis (Armada's Bdog, Wets, Icelantic nomads etc). Additionally, if jumps are under 40ft you don't really notice the softer tail on landings. I don't think these are super jib-specific skis like Vishnu Wets or some of the aforementioned skis, but Sam Zahner certainly makes them look like they are in THIS CLIP. I'm not exactly into butters but I was still able to nose manny my way over lips and nollie easily enough on humps from leaning forward. They aren't quite Blends but you can still butter your toast just fine.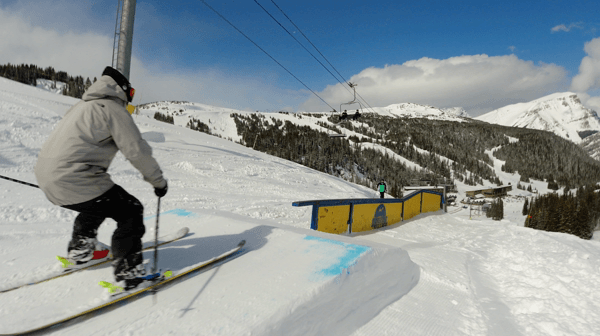 Durability:
I love J Skis for how open they are with warranty and customer satisfaction. Something they wouldn't do if they didn't stand behind their product's durability. With that I think these skis are built extremely well. I had a pair of Whippets years ago and again with these Allplays I've noticed very little serious damage to them over the years and could see myself getting through at least 2+ seasons. The topsheets hold up better than almost every brand of ski I've been on, perhaps except for Liberty.
_
Conclusion
The J skis Allplay is a great ski for park skiers who also like to ride all-mountain as well. It's a fun nimble ski for such a wide park ski and requires very little time to break-in. I've skied on dozens of skis and I could tell within 2 runs these were going to be great fun and easy to get along with. I would add if you're just getting into park skiing these could feel a little wide at first but that should not deter you from getting a pair. Once you go wide you don't go back. For any seasoned park skier - get yourself a pair or try some out at a local ski test - you wont be disappointed.