An in-depth look at the all-new 2020 Line Vision 118 powder ski. Cover photo by Shannon Corsi.
_
Ski: Line Vision 118
Length skied: 183cm
Actual Length (Tip-tail w/ straight tape): 182.5cm
Measured weight (each ski): 1849g/1823g
Shape: 152-118-138 mm
Sidecut: 19.5 meters (183 cm)
Mount: Recommended line (-6cm)
Binding: Cast Freetour/ Look Pivot 18.
Days skied: 15
Reviewer height/weight: 5'5, 140lbs
Review Location(s): Jackson Hole, Wyoming
Conditions skied: Touring, pow, groomers, corn, slush.
[Editor's note: Our review was conducted on the 2021 Line Vision 108, which is unchanged for 2022 & 2023 except for graphics]
_
I, Erica [EA] and my boyfriend Dylan [DD] are Jackson Hole, Wyoming-based skiers. We're fortunate enough to be able to share equipment, and therefore are bringing a double perspective to the powder and big mountain ski Roofbox Reviews on Newschoolers. When applicable, our individual opinions are noted with our initials.
_________________
The Vision 118 is a new ski from Line this year, which rounds out the Vision collection that already includes the Vision 108 and Vision 98. We spent a fair amount of time on the Vision 108 last year for the Roofbox Review, and liked it so much we both decided to get our own pairs of 183cm versions, so we were both pretty excited to get out on the 118.
The manufacturer's description is: "When the storms start frothing and the snow keeps flying, the all-new Line Vision 118 is your ticket. A finely tuned taper and rocker profile, light core and reinforced with THC, the 118 can blast, arc, and surf the deepest of deep. The award-winning chassis is chomping at the bit; drop in and forge through anything the mountain may throw at you."
Line seems to be marketing this ski in a very similar manner to the 108 based on the description. Like the 108, the 118 is lightweight for its size but should ski damper than its weight would suggest, just like the rest of the Vision skis. We chose to mount the 118 with a CAST Freetour set up so that we could use it for tours as well as inbounds at the resort. While this ski is very light for its size, it's not as surprisingly light as the 108 is, this should lead it to having a bit more composure inbounds and in variable snow, at this weight, it could be a very good option as a 50/50 soft snow ski that sees powder days at the resort as well as touring days out of bounds.
_
Shape/Flex/Construction:
The dimensions of the Vision 118 are exactly the same as the 108, but widened by 10mm. The tip is very wide and has relatively moderate taper, the tail has what I'd call an average amount of taper. The Vision 118 has pretty deep tip rocker, medium tail rocker depth, and there is a small amount of camber underfoot, 3mm per Line's description.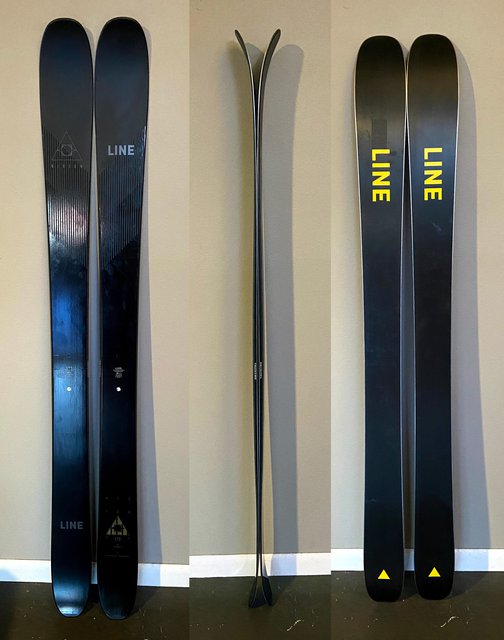 The flex of the 118 is marginally stiffer than the 108. I rated the 108 as 7/10 in the tips, 8.5/10 underfoot and 7.5/10 in the tails. I feel that might have been rating the 108 a bit stiffer than it really is, but if I'm sticking with that rating then the 118 would be 7.5/10 in the tips, 9/10 underfoot and 8/10 in the tails. If I were to rate the flex of these and the 108's based on a blank slate I would decrease the rating by 1 all across the board (also noting here, as big mountain skiers, we tend to have a 'higher' stiffness rating than other reviewers here at NS). The tail of 118 is what I would call a partial twin tip, there's enough tail there to hit park jumps switch, but I wouldn't want to be landing switch in pow on these. The Vision 118 is built with what Line calls "THC" construction, which basically means the skis have a layup that is claimed to be damper than a traditional ski of the same weight.
_
On-Snow Performance:
Groomed trails:
Due to the width of this ski I only took them out on the deeper pow days of the season, meaning that when they saw groomers, they were very soft groomers. For a ski this wide they did perfectly fine on groomed snow, they carved intuitively and had plenty of effective edge. They took a little speed to really get up on edge but once up to speed they transferred edge to edge just fine for a ski this wide. I typically detune my tails pretty aggressively so they released pretty easily out of a carve into a slash.
_
Steeps:
The Vision 118's have a flatter tail than a lot of the skis I usually prefer, but those flatter tails make for a very trustworthy platform when the terrain gets steeper. Due to the flatter tail and lack of taper in both the tip and tail, there is plenty of effective edge that can be used to bite into harder snow that tends to be what you find on steeper terrain. The lighter weight of the Vision helps get hop turns around, which means getting through a tight section takes less energy than on other skis. Similar to the Vision 108, I found the 118 to ski much damper than any ski of a similar weight that I have spent time on, it smoothed out rough traverse tracks and other small firm patches of snow much better than skis of similar weight, this was most apparent as speeds picked up in the run outs of the steeper terrain.
https://www.instagram.com/p/B9mfnO6lJLy/
_
Powder/Float:
At 118 underfoot and with very wide tips it should be no surprise that this ski floats incredibly well. I [Erica] hopped on the Vision 118s on one of the deepest days of the season. While the skinnier 108s float great, I've encountered a couple of days on them that couldn't handle the snow depth. The 118s on the other hand truly floated like a dream. As Dylan's about to touch on, you really aren't going to come across a day too deep for the Vision 118.
I [Dylan] spent a few days of this season skiing on an old pair of K2 Pon2oons, which are 132 underfoot and have an absurd amount of rocker, and while they definitely floated better than the Vision 118, the difference is actually less than you would expect, and the Visions are far more versatile. I would say that the Vision 118 should provide plenty of float for most people out there other than maybe some people who get to heli-ski all the time. The only place that the Pon2oon performed significantly better than the Visions was on flatter terrain where the extra float kept you from getting bogged down.
Photo by Shannon Corsi
Mixed conditions (Crud/Slush/Ice):
No ski has surprised me with how well it performed in mixed conditions as much as the Vision 118, except for it's little brother the Vision 108. Line has done a great job of providing a damper ride than most companies can provide at a similar weight. Again this ski isn't some rocket ship crud blaster like skis with tons of metal, but of comparable weight skis, this ski far outperforms others in its class. Whatever Line has done with this THC construction, it does what they claim. I'd say this is the strongest suit of the Vision, it provides a smooth ride, but the lightweight keeps it maneuverable. I wouldn't choose to take this out on a bulletproof refrozen day in the spring but I am more than happy to keep them on my feet all day at a resort on a powder day as the snow gets chopped up.
_
Park/Playfulness:
Its lightweight nature makes for a ski that is easy to do tricks on, though the swing weight isn't particularly light due to the lack of taper. The flatter tail and medium flex provide a pretty stable landing pad for airs, the tail is just soft enough that a heavy backslap doesn't immediately give me shin bang, some stiffer skis tend to be very punishing on a miscalculated trick. The Vision isn't really aimed at park skiing but it would hold up just fine to jumps, I didn't ski any rails on them but I wouldn't imagine a ski of this width and shape being a very good rail ski, and the lightweight construction might prove to make durability a bit of an issue. In terms of wide powder skis there are more playful skis out there, ones with more centered mount points and more symmetrical sidecut and taper. But for a more directional ski, the Vision 118 does spins and flips pretty well, no doubt assisted by the weight. I had no problem doing nose butters off of firmer snow like cat tracks, I did catch the tips a few times trying to do nose butters in pow, but I can't blame the skis on that one, that's all my minimal pow butter skills. I also had no problems hitting firm take-offs switch, I didn't try landing or taking off in pow switch but some of Line's athletes have posted videos on instagram of them doing it so I would say if you are a skilled enough switch pow skier then they will perform fine. When facing forward they are easy to slash, easy to pop out of the snow, easy to stomp landings, the low swing weight makes pulling and twisting them around to stalefish and safety grabs, basically if you want to ski like Dylan Siggers these will make it just a little bit easier in pow.
_
Durability:
For now, I am happy to report no top sheet issues, no edge delams, and no unwarranted base damage. I will update this if any durability issues pop up, but a deep snow ski such as this doesn't see a lot of rocks unless a mistake is made.
_
Comparisons:
Vision 118 vs. Vision 108:
The 118 is slightly stiffer and heavier throughout than its little brother the 108. Due to both of these, it does better than the 108 in variable snow, and also in pow due to it being wider. The 108 is significantly lighter which lends itself very well to being a playful touring ski. I would have no hesitation putting a binding like the Cast Freetour, Shift, or Duke PT on 118 and using it as a resort pow day ski as well as either lift-accessed backcountry or shorter tours, or tours where you want a more serious binding and the additional weight would be an advantage.
Vision 118 vs. Atomic Bent Chetler 120:
The Vision 118 and Bent Chetler 120 both come in at a very similar weight. Bent Chetler is a more symmetrical design with a closer-to-center mount point, additionally, the tips and tails of the Bent Chetler are significantly softer. The Bent has a lower swing weight and more tail rocker making it better for landing switch in pow or throwing down bigger tricks. The Visions more damp and directional ride makes it more comfortable skiing technical lines than I felt on the Bent. I found that the Bent was easy to sink the tips when landing a bigger air into pow and had to adjust my stance to almost land backseat to keep the tips up and prevent accidental punch front flips on landing. With the Vision, I was able to stomp more landings in a centered stance without feeling like I was going to flip forwards. I would choose the Bent Chetler is switch pow skiing and landing was a big priority of yours, in most other cases the Vision 118 would be a more appropriate ski.
Vision 118 vs. K2 Reckoner 112:
The Reckoner 112 is a new ski from K2 that we spent time on this season and wrote a full review on (LINK). The Reckoner is narrower at 112 but also weighs a bit more than the Vision, Additionally, the tips and tails of the Reckoner are softer. Like the Bent Chetler I found the Reckoner to be a little more oriented towards tricks than the Vision is. The softer tips and tails of the Reckoner lead to a ski that is pretty easy to butter once you lean into the softer sections of the ski. Because of the softer flex and what seemed to be not as damp construction, I found the reckoner to get a little more unsettled in rougher firm snow, but if the snow was at all soft the skis were pretty comparable. The Reckoner needs a little more speed to get itself up on top of the snow due to being narrower. The Reckoner has significantly more taper which meant it dealt with wind crust a little better than the Vision did, the tails seemed to catch less when the snow was extremely grabby and the tip cut through the crust better than the fat tip on the Visions. Both skis are suitable in-bounds pow day skis or heavier touring skis, again I would say the Vision suits a more directional skier while the Reckoner would lend itself to more switch skiing or someones who wants a 1 ski quiver since 112 is a little more reasonable to ski every day than the 118 waist of the Vision.
https://www.instagram.com/p/B8uI05EFPOk/
_
Conclusion:
The Vision 118 is a pretty versatile wide ski, it is light enough to serve as a fat touring ski, yet is also stiff and stable enough to serve as a resort pow ski. It is a little more directional than a lot of similar skis on the market and I find it offers a nice blend of playfulness and stability for what I prefer out of a "big mountain" ski. The swing weight was low enough for me to perform my bag of tricks that includes spins up to 720 and backflips, if one were throwing significantly bigger tricks a more symmetrical ski might be more desirable, but it was nice that I could feel comfortable tricking this ski and then taking it into some gnarly skiing in the same day without feeling held back by the skis at all.
So who is the Vision 118 for? Someone looking for a directional twin that can be skied pretty much anywhere there is soft snow, throw some small to medium-sized tricks, and is looking for a lighter weight option to save energy on a long day of skiing. Overall the ski is very easy to ski and doesn't have any weird traits that I found. On the other hand, I wouldn't recommend the Vision to someone looking to blast down the mountain as fast as possible, or who consistently is skiing Freeride World Tour style lines. I also wouldn't recommend them to someone looking to do a bunch of switch skiing or ski a ton of park on your pow skis just because of the shape and rocker profile of the ski.
_
To see our reviews before anyone else, download the Newschoolers App: iPhone - Android
Next up on The Roofbox - 2021 K2 Reckoner 102
Shop For Line Vision 118

Merchant

Sale Price

Retail Price
Shop For Line Vision 118

Merchant

Sale Price

Retail Price